When the bride and groom describe their wedding day as 'the best party they have ever been to' you know it's been a good day! Today's wedding is just that, full of wonderful wedding goodness, including a beautiful outdoor ceremony, complete with pink door, fur rugs and mantelpiece! As well as this there is a fabulous Tipi full to the brim with gorgeous hand designed (by her groom) wedding details, they even have their own flags! And to top it off some beautiful bridal portraits in a nearby field! Thanks to Katy Lunsford for the gorgeous photos.
'The best party we have ever been to'
Becs and Wes were married on 23rd June at Shortflatt Tower, Belsay, Northumberland. 'We viewed several 'typical wedding venues' and Shortflatt was the last place we visited. Even in the pouring down rain it looked and felt right. We chose the venue because of the open minded eccentric owners who gave us free rein to create our own unique wedding and were completely supportive of our plans for an outdoor slightly alternative wedding. We had 100 guests and it to 12 months of very careful planning (mainly by Wes!)'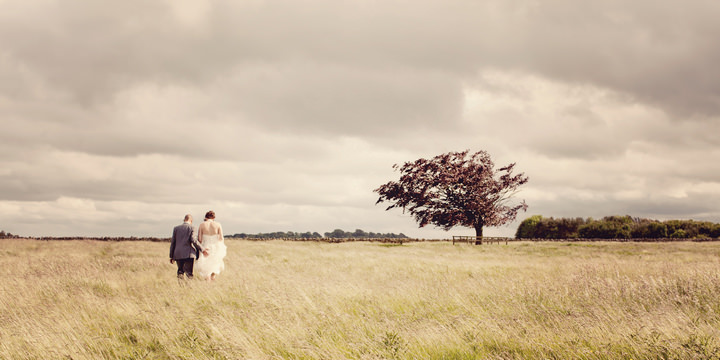 How they met
We have been together for 9 years (7 when we got engaged and 8 and a half when we got married). Wes and I met on a night out in Newcastle. Wes was on a boys weekend up north and I was on a typical night out with my friends. Wes will say I chatted him up, it was definitely the other way round! And the rest is history.
The proposal
Wes had recently set up his own design agency and took me away for the weekend as a big thanks for all my support. We stayed in a beautiful hotel in Devon (Gidleigh Park) and spent the day/evening eating great food and drinking great wine! After dinner Wes suggested a walk around the grounds which I was not too pleased about! And moaned/protested for about half an hour! Eventually agreeing, through gritted teeth we went for a lovely (cold) walk! Finally free of dog walkers Wes picked his moment (definitely pre picked as it was a quaint bridge over a lovely little stream) … not your usual proposal with his opening line being 'now I have you got out here you pain in the arse, I wanted to ask you to be my wife'!! Followed by a lot of laughter by us both (and a few tears from me) the yes came out!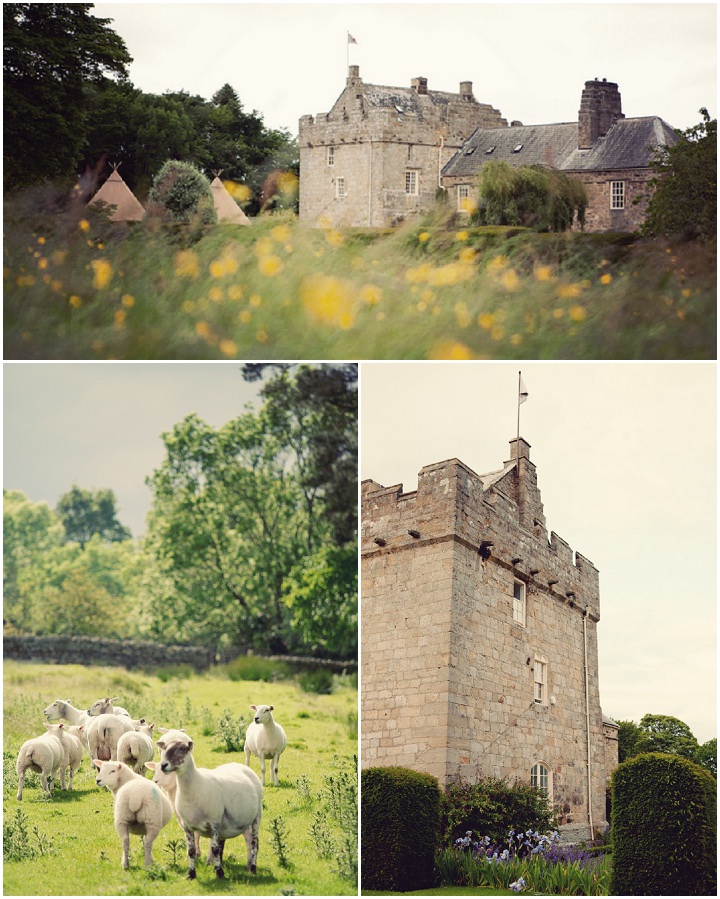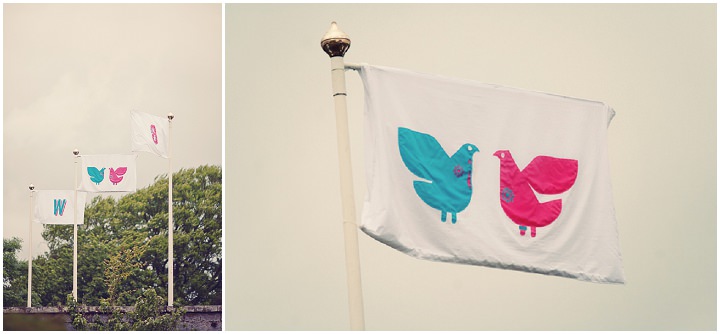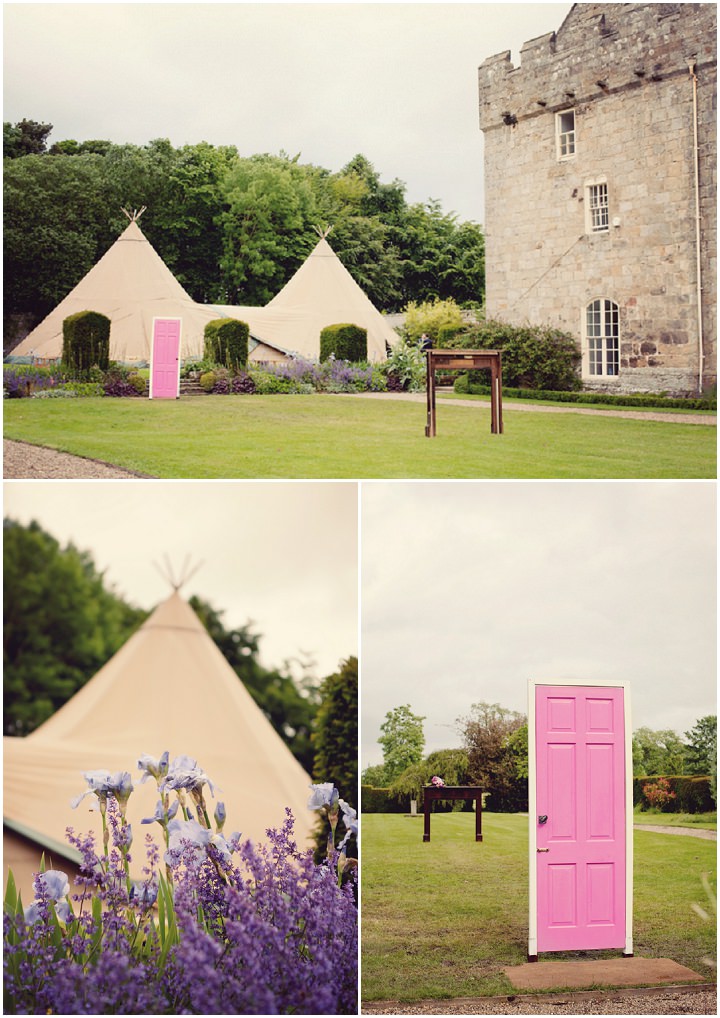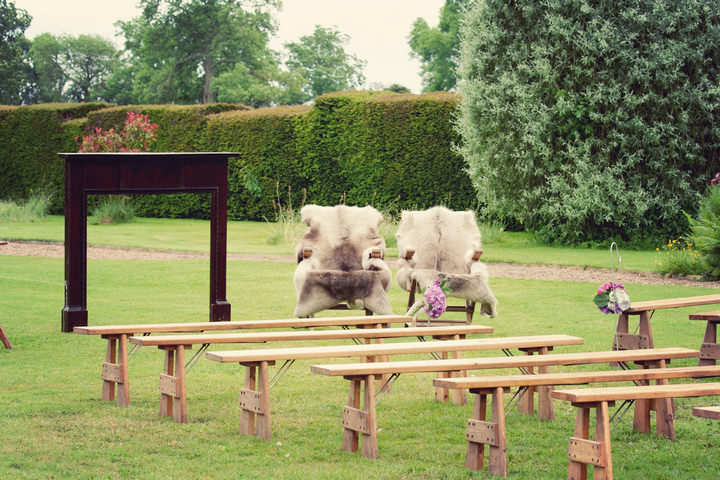 Why did you choose your photographer?
We chose Katy because of her cool, modern vintage style. And when we met her, we loved her and could never have had anyone else.
The dress
Dress by Benjamin Roberts, shoes by Kurt Geiger and accessories were borrowed from my sister in law with a vintage watch belonging to my bridesmaids late grandma.
The suit
Mens suits were Kenneth Cole and all of the ties were vintage Liberty found after A LOT of searching!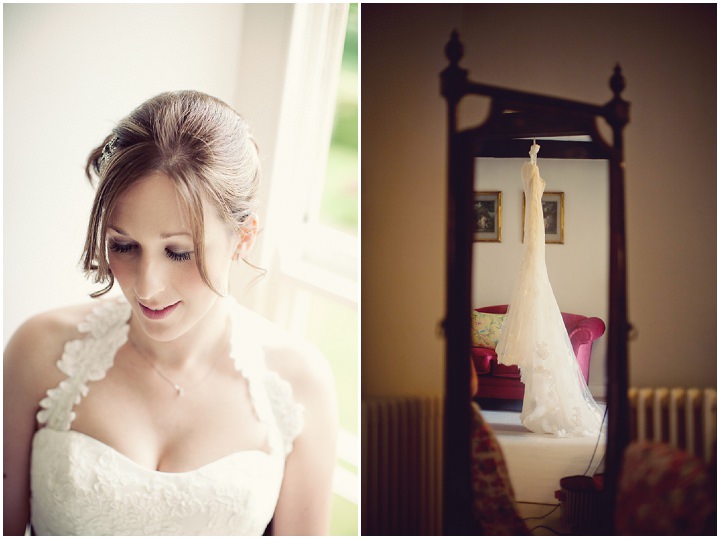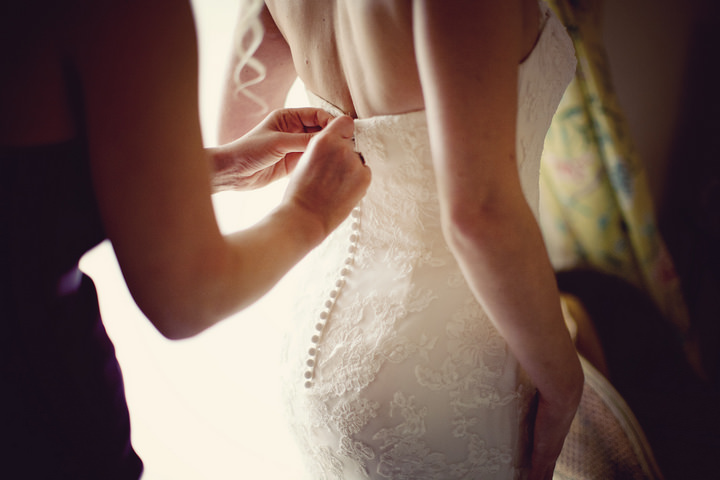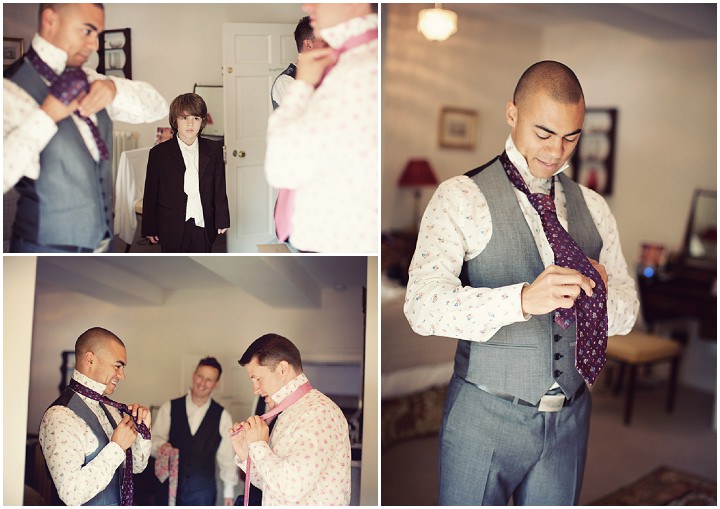 Food
With the help of Emily Botham our fantastic caterer we designed our own menu – taking from inspiration from various holidays.
Canapes: Chorizo with date and honey, Five spice belly pork cubes, Scallops and black pudding, Tempura king prawns with chilli dipping sauce,
Main Course: Ropa Vieja – a cuban dish with custom made bird shaped pie tops
Dessert – Triple chocolate brownies, sticky toffee pudding and lemon posset with shortbread and berries
In the evening we had a buffet of meats, cheeses, home made pickle and home made bread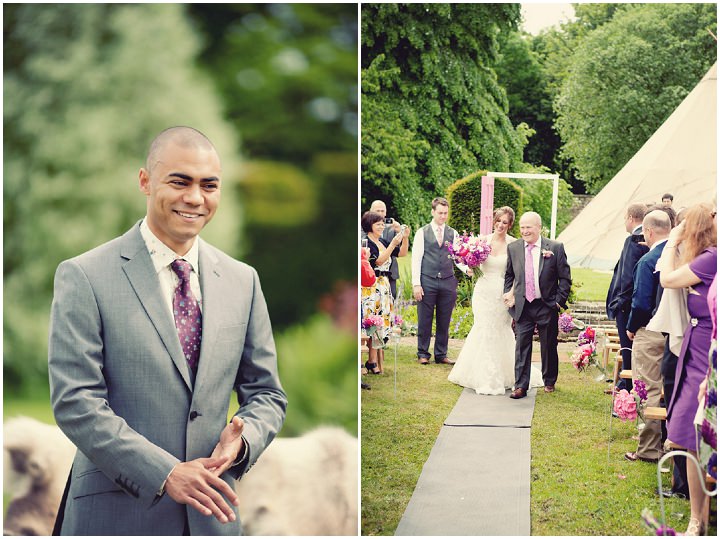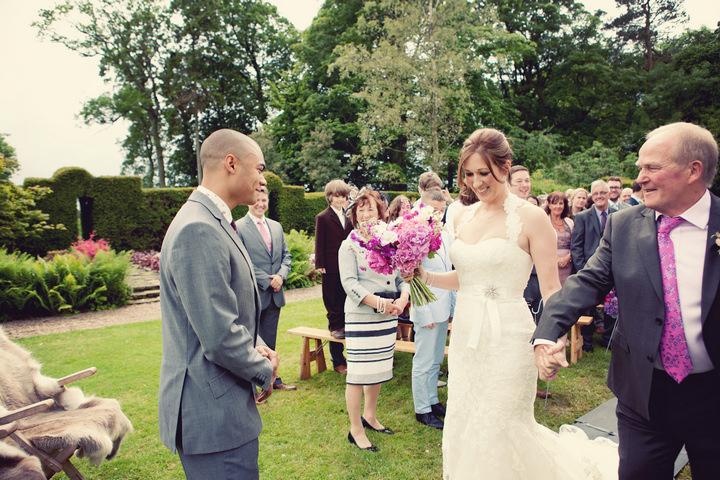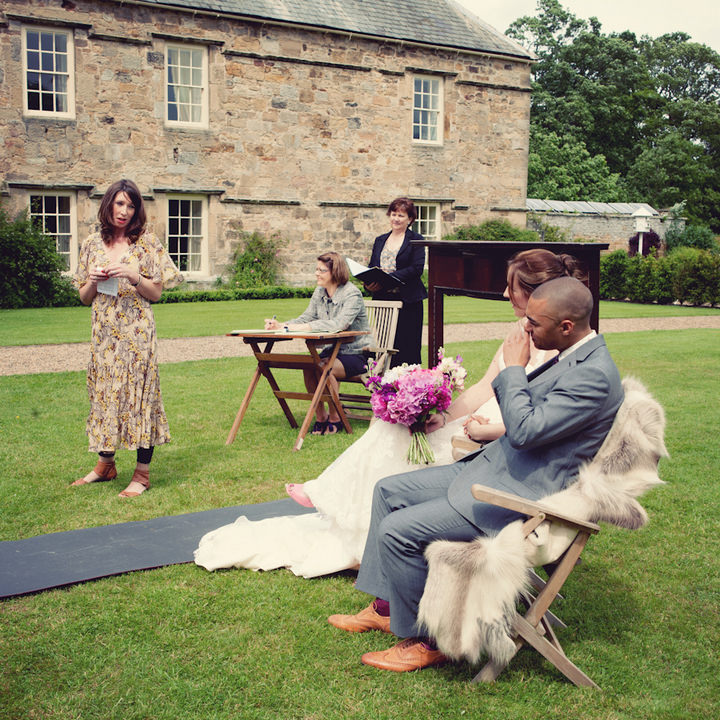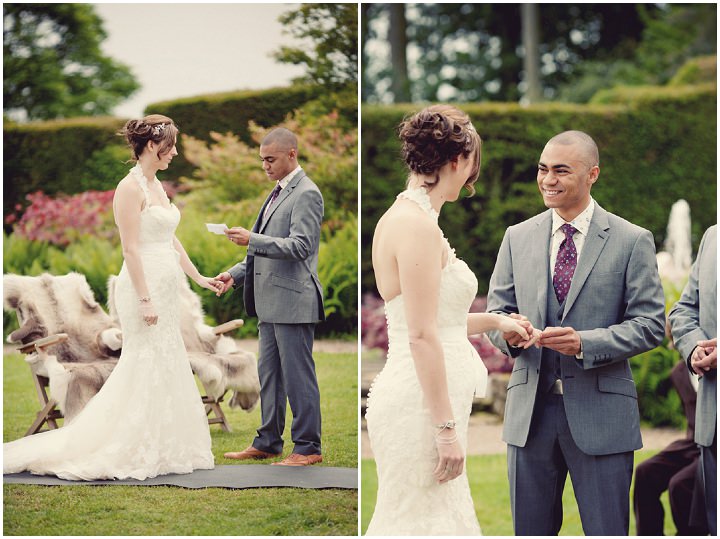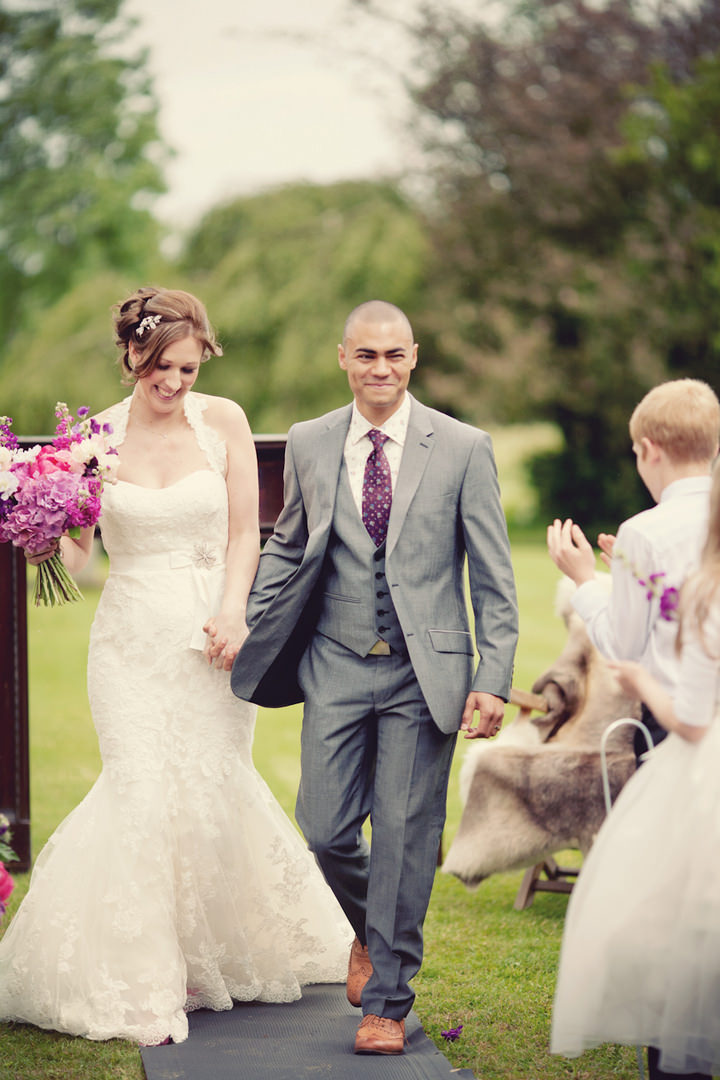 Entertainment
The first dance was sung by Becs brother with her uncle playing guitar. They sang a special version of Stand by me.Then a good old disco.
Flowers
Brightly coloured hydrangea, peony, sweet peas and forget me nots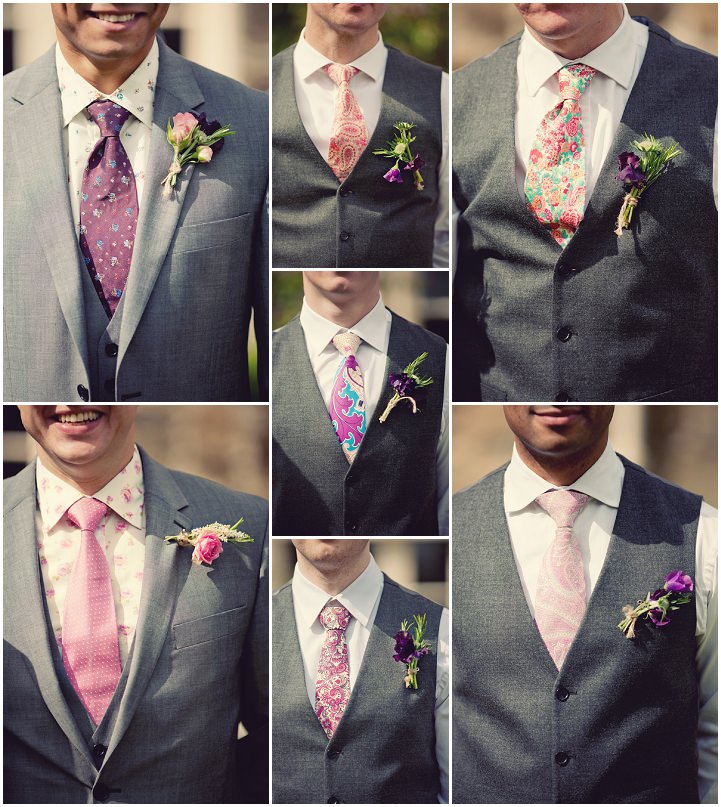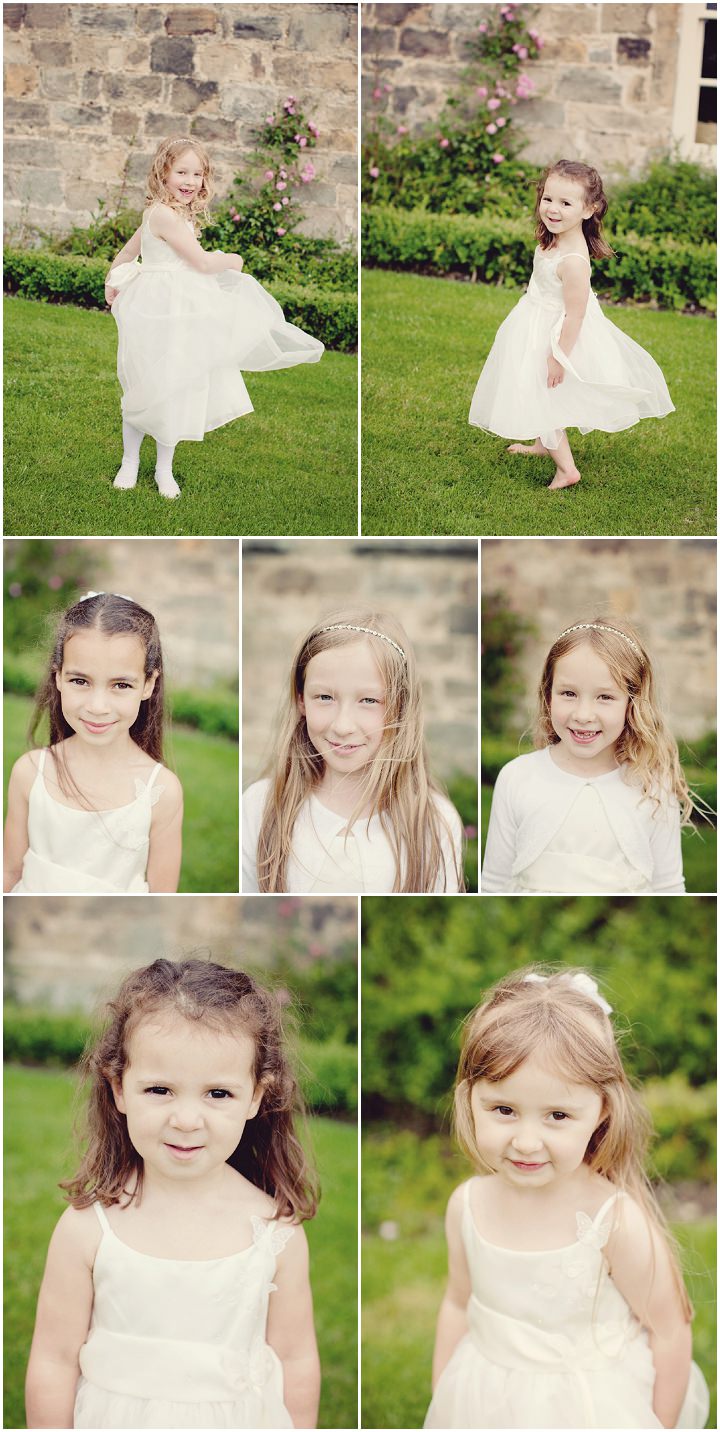 Theme or colour scheme
Bright and bold!
Decoration
see below! However Papakata did also provide disco ball, fairly lights, flames, fire pit and reindeer skins!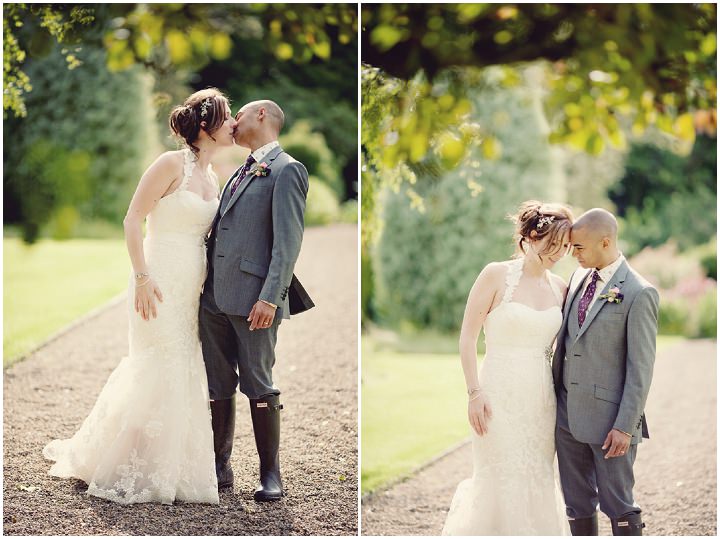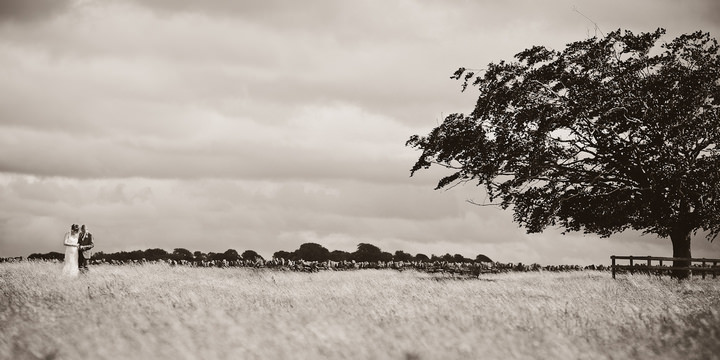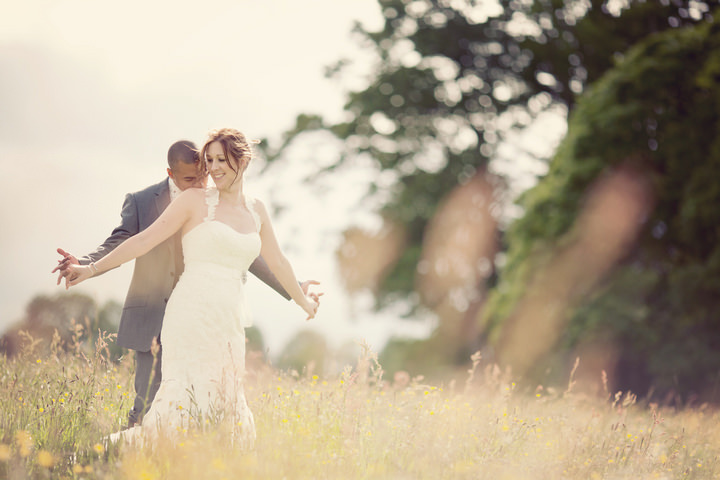 Personal touches
Almost everything!
• Wes designed all the invites, stationary, table plans, name places, beer names and badges!
• All the interior design for the papakata.
• We made all the bunting, table runners, cake stands, customised flags, cushion covers
• All the table décor was sourced by us; bottles, vintage books, bird cages, vintage scales, napkin bindings etc!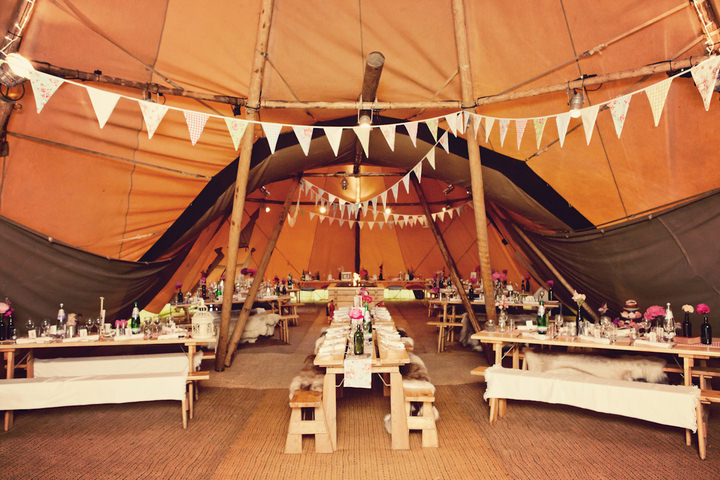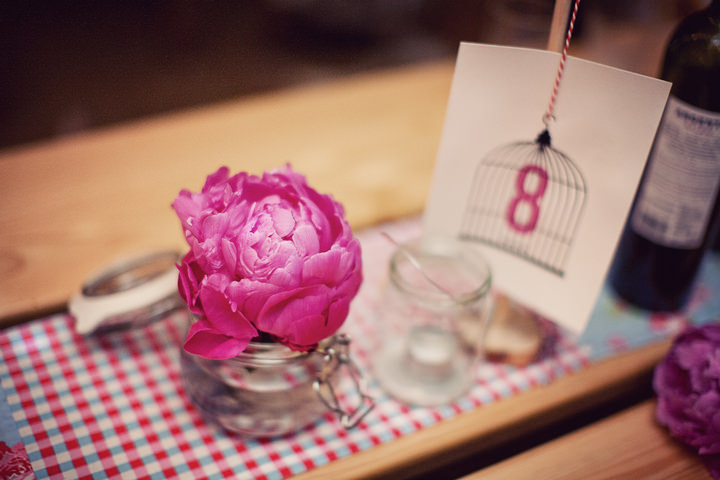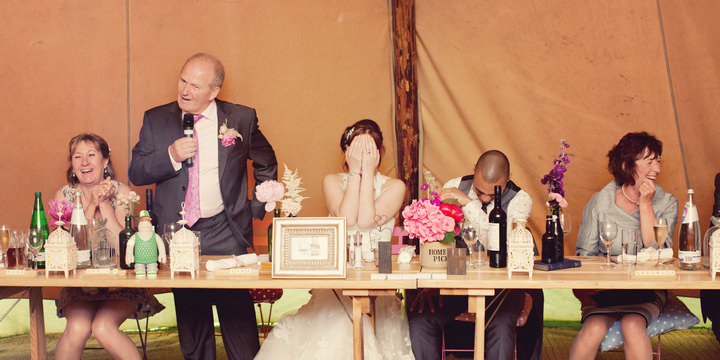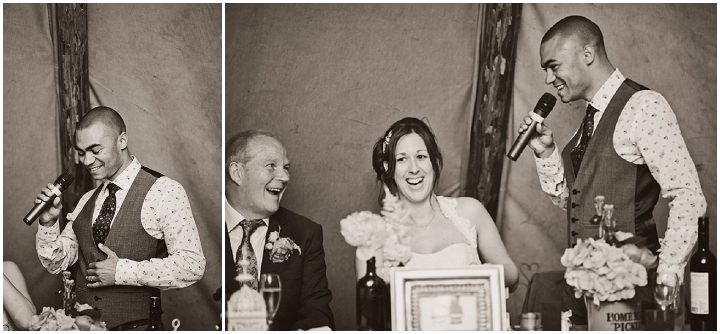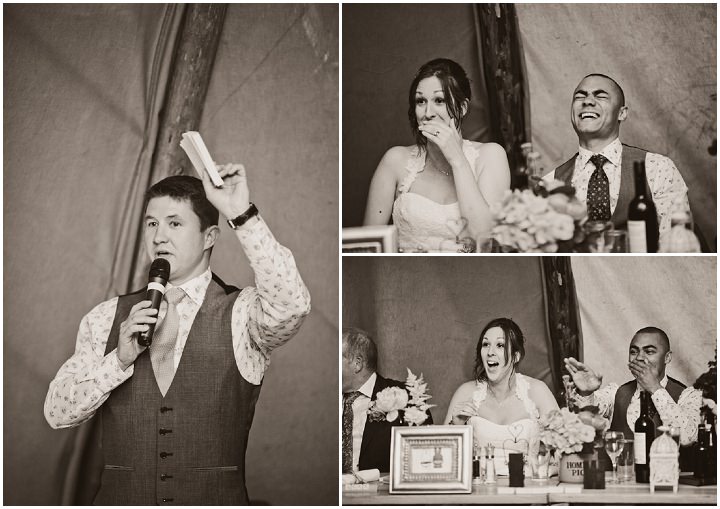 Special moments
Having our amazing family and friends share the whole experience with us!
Advice
Enjoy it, and plan the wedding you want – don't be afraid to be different!
Biggest surprise of the day
How much fun everyone had and how full the dance floor was, constantly!! And the fact the rain held off!!!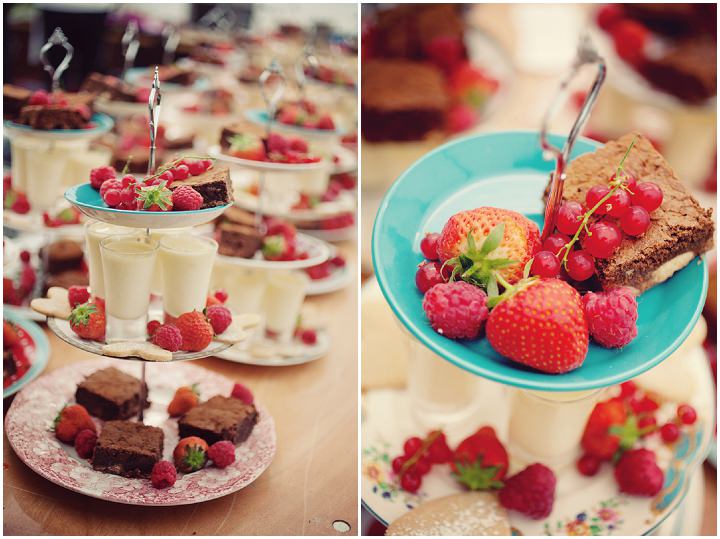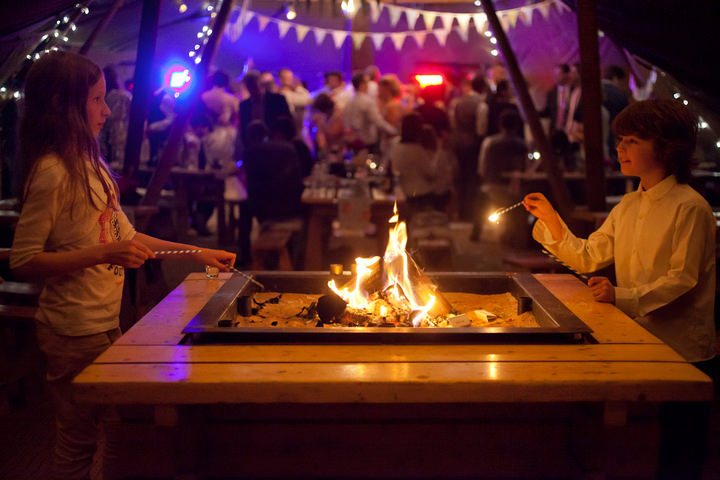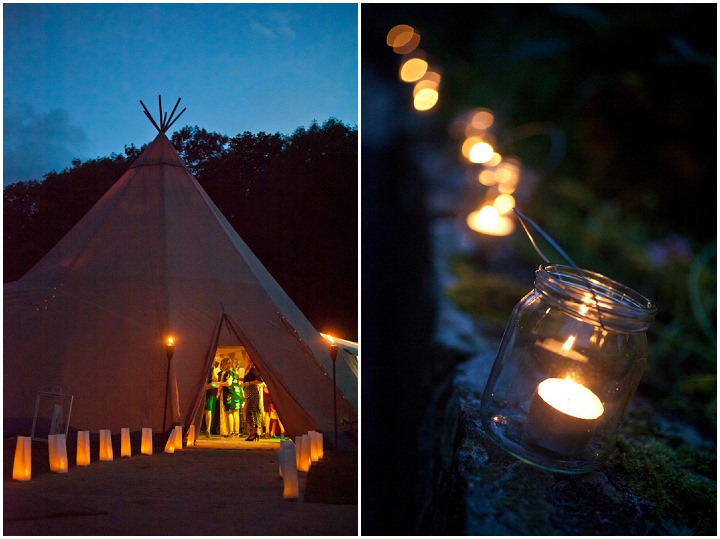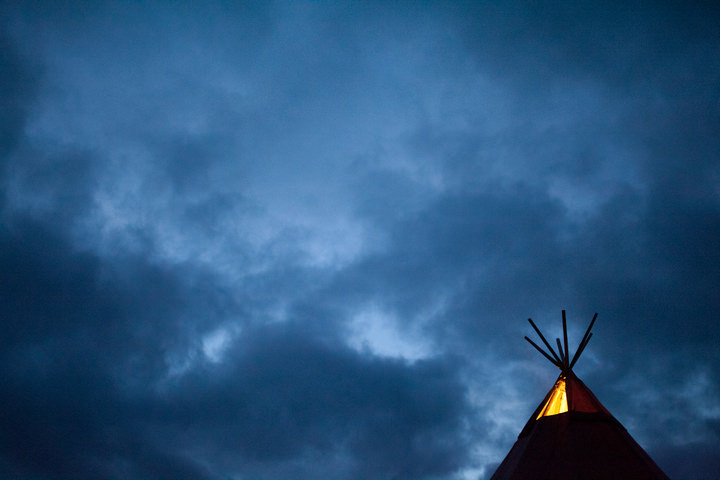 Supplier Shout Outs
Fore more information on Katy's work go to:
www.katylunsford.com
http://blog.katylunsford.com
[email protected]
FACEBOOK
@katylunsford