Men's fashion isn't something I cover very often on the Blog, after all my research has shown that it is mainly women who read the blog.  However I have been wanting to put together this  post for quite some time now as it is something I do feel strongly about.
Being a planner and a Blogger I get t see a lot of wedding outfits, some are good and some are bad and I'm not just talking about the bride and bridesmaids. I am talking about the men. Now I don't want to offend anyone here, but I am going to put it out there and say that the traditional hired morning suit is one of my pet hates when it comes to weddings. The mix match of swirly patterned waistcoats and the satin cravat is something that as a blogger I really do try to stay away from featuring. You will notice that I very rarely feature weddings with such attire, and is the number one reason why I reject weddings when they are sent to me. Why? well because there are so many other options out there for men these days.
A few years ago when scatter crystals and organza chair covers were the norm at ever wedding it seems customary for the man to head off to Moss Bross and get him self kited out in a penguin suit and have his cravat match the bridesmaids dress. These days there is SO much more to offer the groom, with a decent 3 piece suit from M&S or next costing less to buy than a morning suit is to hire. Or if you want something bespoke there are so many options available for you.
Today I want to show you a few options.
3 Piece Suits
A classic and timeless option for the Groom,  and one that is super smart and can be adapted for his own style. These can be any colour, from classic grey, to burgundy, right through to pretty pastels or tweed. Mix it up with a jazzy tie or even better a bow tie, add in a pocket square and a pocket watch and your onto a winner!
Royal blue suit with purple flower (photographer Shell De Mar) /  3 men in mixed suits (Photographer Sarah Morris ) /  dark grey suit with navy shirt / grey checked suit (photographer Chris Milner) / navy suit ( photographer Ellie Gillard ) / royal blue suit on bus (Photographer Marie Wootton)
2 Piece Suits
2 piece suits are a great option if you are looking for something smart with a casual twist, as they can be dressed up or dressed down. Dress up with a bow tie and a slim fit style, or dress down by losing the tie and adding trainers.
grey suit with bow tie (PhotographerLove Me Sailor) / group of men together in navy suits (photographer Lee Scullion) / slim fit navy suit with checked tie (photographer Blush Photography) / maroon suit (photographer Andrew Billington)  / suits and trainers (photographer Rose Street Studio)  pale blue suit
Black Tie
Black Tie can be added to a wedding to make it super smart, and often when the ladies are to be cocktail wear. It adds an element of sophistication to any wedding and it's a really easy option for a man to choose as there are no clashing colours going on, just pure class.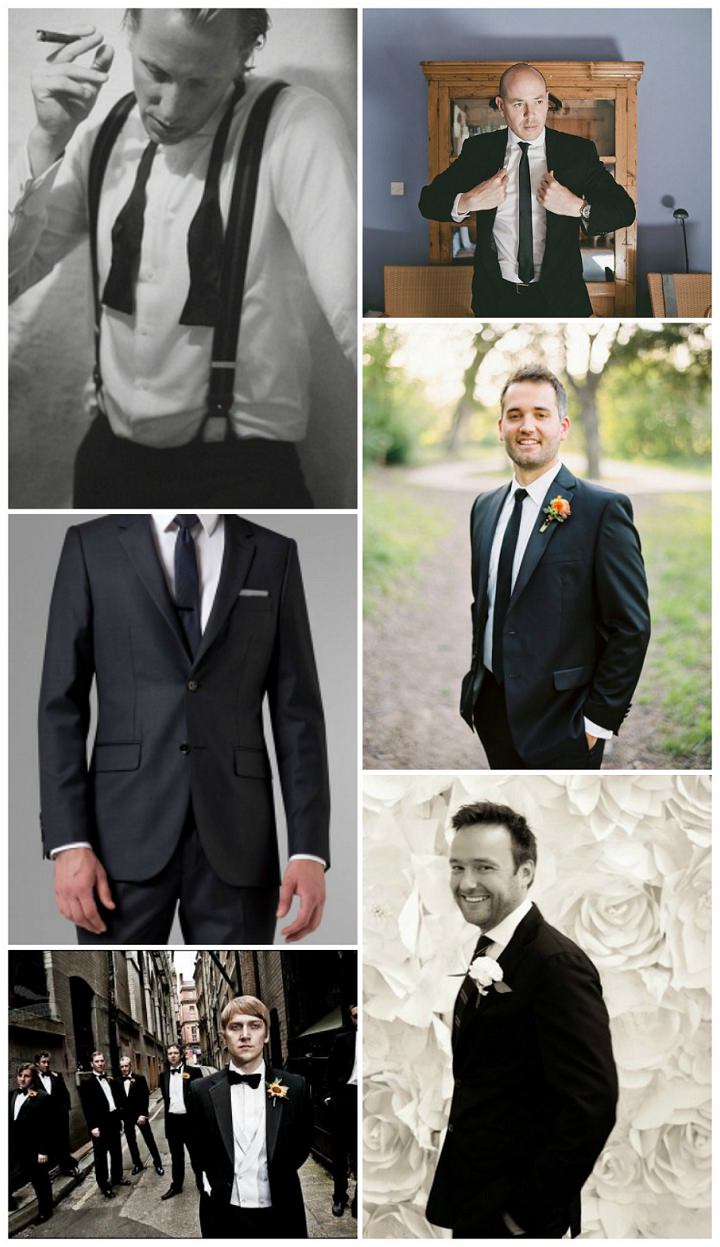 Bow tie undone (Photographer Malin Bornholm ) / black suit and thin tie top right (photographer Bayly and Moore) / black suit with orange flower (photographer Ryan Ray Photography) / black suit with pocket square  / group of men (photographer Raw Wedding ) / black suit against flower background (photographer Donna Newman)
Casual
I love the casual look, and it gives grooms and groomsmen the most amount of flexibility, from open neck shirts and no ties, to bow ties with cardigans. Mix and match your bridal party some with ties, some with waistcoats, put them in jeans or shorts, braces. basically anything goes!
Grey tie and braces (photographer Christine Pobke) / suit not tie (photographer Louise Holgate ) / yellow bow tie (Photographer Michelle Roller) / 4 men in grey (photographer Ryan Polei) / 3 mix and match (photographer Alex Knight Photography) / 12 wedding party (photographer Simply Bloom Photography)
Bow Ties
I have to admit I am a little obsessed with bow ties at the moment, I just love them! They seem to g with everything and can really add to an outfit. They give a cute quirky feel to any suit, and can also be worn more casually with trousers or shorts.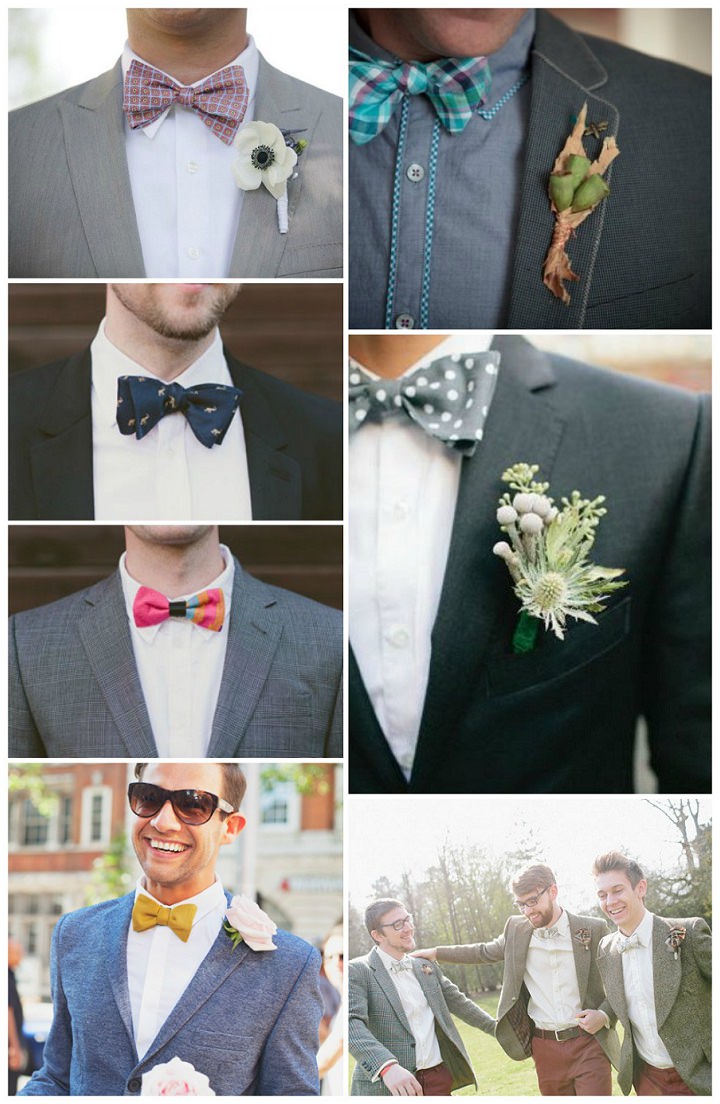 Pink/purple bow tie (photographer Joielala Photographie ) / checked bow tie (photographer Harper Point photography) / blue bow tie and pink bow tie (photographer Jonas Peterson) / grey polka dot (photographer Shannen Norman) /  mustard bow tie (photographer Maureen Du Preez Photography) / 3 men (photographer Richard Skins)
Accessories and Shoes
To finish off an out fit you have the right accessories, whether it be cuff-links, a stylish cravat or,  fancy socks, a pocket square , shoes or trainers. What you accessorize your outfit with will really pull the whole look together.
pink socks (photographer Christian Ward photography )  / Frank shoes (photographer Emma Case ) / cravat (photographer Joseph Hall Photograph ) / converse multi (photographer Sweetwater Portraits) / cuff links I do (photographer Anne Brookshire ) / cuff links map (photographer Tux and Tales ) grey converse (photographer Sweetwater Portraits)
So there you have my selection of men's wedding attire and not a swirly waistcoat or shiny cravat in sight! I hope it has given you some ideas if you are currently looking for grooms wear. Remember that the high street ca be your friend, there are so many amazing suits that you can buy off the peg now. You can pick up a decent 3 piece suit from Next or M&S for just over £100, or if you fancy spending a bit more try Reiss or Ted Baker.  And if you want something bespoke there are plenty of places to choose from, there is nothing finer than a suit made just for you and something that you will definitely be able to wear after the wedding!
I'd love to know what you think? what is your groom planning on wearing on your wedding day? Are you having anything to do with it? or is it going to be a surprise on the day?
[jprel]