I am delighted to bring you today's wedding, as it is the wedding of one of my lovely Boho weddings readers. Not only that but it is Luisa who won last years Boho readers survey prize . That prize included a whole host of wedding goodies, including her wedding photography from the very lovely Sarah Morris (the full list of prizes can be seen here) Sarah was kind enough to offer her services for free and I'm sure she is delighted that Luisa won, as every bit of her day is full of Boho loveliness and amazing DIY details. I'm sure you will agree that Luisa looks amazing, as does her husband John, I am LOVING her dress, absolutely stunning!
'Fun, relaxed and full of the people we love. Not long enough!!'
Luisa and John were married on Sunday 26 May, the ceremony was held at Battersea Arts Centre and the reception at Battersea Mess & Music Hall. 'After quite a bit of dilly-dallying, we settled on a London wedding. We wanted a Sunday wedding, and knowing that some guests would be travelling from far and wide, we wanted to make it simple for everyone to get to. We loved the BAC as a ceremony venue. The foyer has a wonderful atmosphere, and you stand surrounded by your guests, which is a lovely feeling. Battersea Mess & Music Hall is a great venue; it has some beautiful spaces downstairs too. Anthony who runs it was just so helpful, and made it very easy for us to do pretty much whatever we wanted for the reception. In the end, not sure what the exact figures were!! We had about 115 day guests and about another 40-50 in the evening. We were engaged for 18 months, but I think we probably booked the venues about a year ahead, so kind of slowly planned over the year. John and I were both away in the weeks just before the wedding, so it meant we had to get everything done quite early (which more or less saved us any last minute panics!)'
How they met
We were both working at the same theatre when we met, although we didn't get together until a couple of years later. We'll have been together for 5 years this August bank holiday.
The proposal
John tells this story way better than I do! We'd gone down to Brighton under the auspices of Christmas shopping and catching up with some friends down there. It was a lovely crisp morning so we picked up a coffee to have a quick walk along the beach. Brighton beach on a Sunday in December is not at it's prettiest, I think it's fair to say. The seaweed and the seagulls enjoying the dead fish will forever stick in the visual memory of this day! Anyway, John carried along trying to find somewhere a little nicer to get down on one knee. Which he did eventually do! I laughed. He presented me with a lovely joke ring (Big sparkly plastic red flower), asked me to marry him and said that we better go replace it with something nicer from the lanes. Shopping round the gorgeous antique jewellery shops together was a lovely experience, and I love that we chose the engagement ring together.
How did you choose your photographer?
We were SUPER lucky to have been gifted Sarah by lovely, lovely Kelly @ Boho!!! by winning her in the amazing competition. Sarah has a fab energy about her, and did some engagement shots for us as well.

The dress
I bought the dress on eBay. 'd tried some on in various shops, but none were quite what I was aiming for. The dress came without buttons, so I set about finding a mix, some of which had come from my great grandpa's old sewing box. I put a zip in the side because the poppers that were in didn't sit quite right, and added all the bits of lace.
I kept it simple accessories-wise, partly because I found the choice so overwhelming! I wanted a drop earring, and tried to find 'something special'. In the end, I found pretty much what I was looking for £6 in Accessorise two weeks before the wedding! Shoes were from Bertie.
The suit and bridesmaids
John's lovely 3-piece was from Reiss. He ummed-and-ahhed a lot about what style to go for, and enlisted both his mum and gorgeous friend Russell in helping, as he wanted to keep it a surprise. Though he did let slip that he was wearing a gingham shirt a few days before the wedding. I'm really glad he bought one, as it means I get to see him in it time and time again. His two brothers were his best men, and we just told them and my Dad to wear whatever they wanted.
I had one bridesmaid, my best mate and Sister-I-Never-Had, Laura. We had a day of shopping with no other rules than finding something nice. We did try on some more glamorous affairs, which she looked gorgeous in, but knowing that we were having a relaxed day they didn't quite seem right. It was from Debenhams, and on the way out, we both fell in love with a pair of red shoes – so that was the outfit pretty much sorted! I came across the cardigan in Sainsbury's, of all places, 2 days before the wedding, and it looked much better than the other cover-up I'd found for her.
Theme or colour scheme
Not really. We just stuck to the, 'get what you want and it will all make sense together' theme!
Decoration
Our friend Jeff put up a whole load of lights and made the Battersea Mess look stellar! John's Auntie Kaye made metres & metres of beautiful bunting. We also borrowed some bunting from a friend of John's mum, John's Aunty Val made us some bunting with our names & the wedding date on, and John's sister made 'crazy bunting' out of wooden dolls. We also had little trinkets from eBay on the cake table (sylvannian families, trolls etc) and my mum crocheted a bride and groom bird topper for the cakes. We put up poems and quotes that we liked around the room, and some photos of us from over the years. We also had little heart decorations via the competition.
We didn't have any decorations at the Battersea Arts Centre, as the building didn't need it.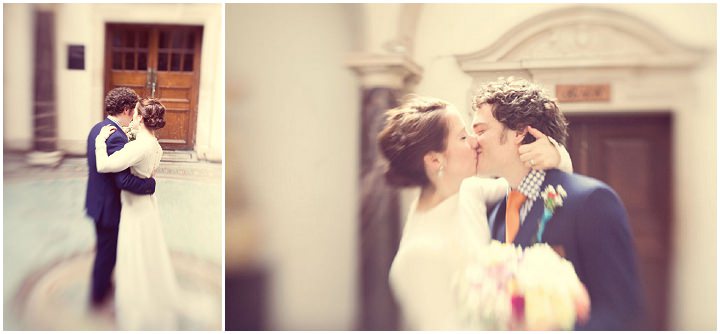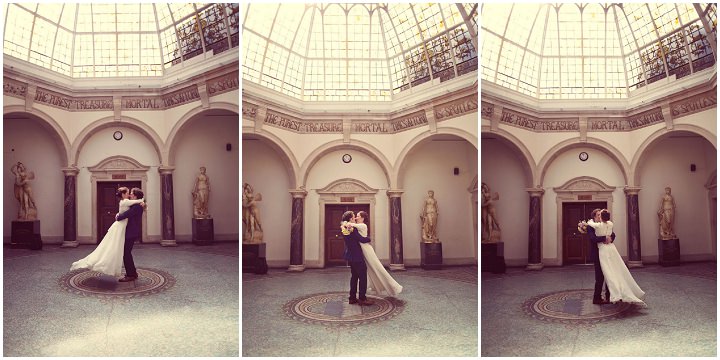 Food
We had a lovely roast dinner at the Battersea Mess. They'd served up mixed boards of beautifully cooked chicken & beef for the meat eaters, and a lovely veggie wellington. It was proper yum. Dessert came in the form of a cake table, made up of beautiful cakes lovingly made by some of our nearest & dearest, and cheese from Neal's Yard Dairy. We then kept the cheese coming, along with some bacon baps for later in the evening.
Entertainment
The wonderful Django Lives played after dinner and before the disco. John put together a disco playlist, which went down a treat.
Flowers
We had originally planned to do a Covent Garden Market early hours flower dash, but with us both being away beforehand, and only being around in the couple of days before, we opted out of that idea. Instead we bought the flowers online from the Triangle Nursery, who were brilliant. John had a chat with the incredibly helpful people on the end of the phone, and they came up with a mix that worked for us. We just wanted loads of gypsophilia, with a mix of colours to include carnations as they're my mum's favourite. There were also gerberas, delphiniums, roses and one or two others I can't remember the names of. John and I made the bouquets and buttonholes on the Friday (with help from one of John's best mates, Mike) and then family helped put them into bottles & jars we'd collected over the year on the Saturday. I have to say, I think my Dad may have even enjoyed it.
Personal / DIY
We were very lucky to have lots of people help out to make our wedding possible!
We did try to keep things personal.
• There are all of the decorations as listed above from family.
• I embroidered a sign for the cake table (All you need is love…and cake).
• We stamped names on old hankies for name places.
• We printed and stamped all the invitations and orders of service.
• Because of the long tables, the simplest way to do a table plan seemed to be to just write people's names on a big sheet of paper!
• We made table runners to go down each table, so instead of numbers you went to the 'pattern' on your table.
• We had some pictures up of family on the card table/dresser
• My sister-in-law, Leonie, made us a beautiful box for our cards.
• We had a guest craft book, with loads of paper, pens, crayons and stickers for people to leave us a message.
• John's brother did us a fantastic fancy dress photo booth in the evening.
• We slowly sourced all the cake stands, along with one or two borrows, for the cake table. We'll probably sell these on now, so that someone else can enjoy them for a wedding.
• Oh, and I did mine and Laura's hair for the day – neither quite went to plan, but it's ok!
Special moments
It's so difficult to pick out moments from an incredible day. I suppose all the things that made us laugh in the ceremony; me practically falling up the stairs for stepping on my dress; mouthing 'phwoar' at John while Mark, our fantastic celebrant, was trying to set the scene, and causing everyone to laugh over him, which was incredibly impertinent of me; John's brothers passing over the rings via silly running up the stairs; grinning uncontrollably through all of the readings. The speeches – each and every one had so much character about them, I'm so pleased we got them videoed as I can only remember how they made me feel, as opposed to what was actually said. And millions of others moments too.
Biggest surprise
John dropped off a chilled bottle of champagne and my lovely teapot gift to the hotel on the morning of the wedding.
Advice
• Just do what you want. It's such a whirlwind of a day for the bride and groom, and you'll feel like you've barely seen anyone, but loads of people said that the day was very 'us' and so everything you put into the day is a way of keeping in touch with people through the day.
• Give yourself ridiculous amounts of time to get ready. I totally underestimated how long it would take when you're taking your time, as I usually just whack some make up on in a rush.
• You can't really decide anything about the day until you work out what's important to you. We were clear that we wanted to spend the day with all the people we felt were important to us, and had shared in our relationship, and we hope will be around for the future. Everything else fitted in around that, and although we could only squeeze some in as evening guests, we're really happy that we managed to make it all work.
• Expect your families to have expectations. It's fine that they do, just be clear about what is important to you.
• Have a think through the day beforehand and work out if there's little jobs that need handing over to other people – John's brothers were great at making sure all the little bits fell into place.
• Have a good breakfast, and get your best man/bridesmaid/whoever it might be to keep a banana or snack nearby. And some water – we had to go with gin in a tin, as it was the only thing to hand!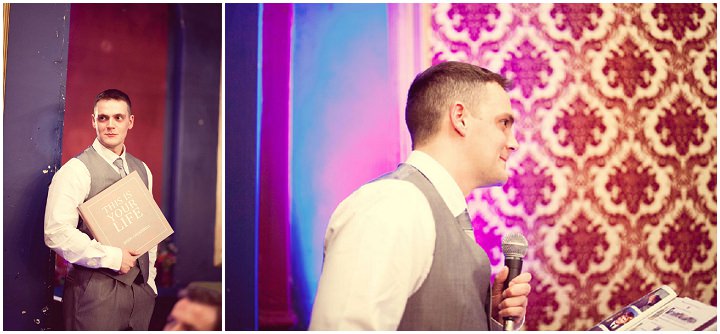 Supplier Shout Outs
Other Boho Prizes…
For more information on Sarah's work go to
www.sarahmorris-photography.com
http://srmphotography.wordpress.com
[email protected]
FACEBOOK
@smphoto79
07956106205