I normally post my Real Weddings on a Friday, but as I have had so many wonderful submissions in recently I decided that I needed to get them up quicker so for the next few weeks I will be posting a real wedding every Monday and Friday.
The first Monday real wedding is this rather stylish 60s Mod wedding from Andy Rapkins. I'm not going to call it a themed wedding as this isn't a Mod theme, this couple live and breath the mod lifestyle, they met at a Mod night so wanted this element to be reflected in their big day. I love how honest the wedding is, and how it is is a true reflection of them as a couple.
Nicki and Leon have also been good enough to answer some questions for me to give you a better idea about the day itself and also them as a couple!
A massive congratulations to them both!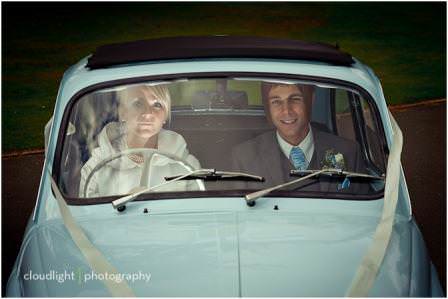 Names
Nicki Hewitt-Hart (formally Hart) and Leon Hewitt
How we meet/ how long together?
We initially meet in the February of 2002 at a Mod all-nighter in London called Crossfire 1. This is an event held by a collective called The New Untouchables.
We were introduced and just got talking. Unfortunately that was it for our first meeting as I was seeing someone at that point. In the May of 2002, Whit bank holiday weekend to be precise, We randomly bumped into each other at another Mod Function in Mayfair and this time I was single!
The fact that he was there on a blind date was insignificant in the whole matter.
Date of the wedding
The Wedding was held on September 25th 2010
Location
The Wedding was held at The Node in Codicote, Hitchin, Hertfordshire.
Who was your dress by
My full dress was made by family friend, Shirley Storey. Shirley very patiently put together my design of an image that I remember from a Sunday afternoon watching the Cloths Show. I remember seeing this 1960's hooded dress on what can only be described as a 60' royal wedding. I searched high and low for this footage without any joy. With Shirley's eye for detail and skill, she made the dress that I had always wanted. My evening dress was an Internet purchase made for me across the pond, it was a copy of Audrey Hepburn's gown in Funny Face, and for such a bargain price, the quality and finish was amazing. No regrets!
The Suit!
The Groom and the best mans suits came from "Adam Of London" Portobello Green. Exceptional style, quality and Service. Mod through and through.
Theme / Colour Scheme
Without the wedding turning into a theme party and all of our friends rushing out to hire fancy dress costumes, as you can see from the photos, we decided to have a subtle vein of the 1960's running through the day, as this is our lifestyle choice. The colour that we tied into the day was a really nice pale blue, from table decorations to cravats, flowers, bridesmaid dresses. The flowers ended up a slightly more purple shade of blue on the day, but looked beautiful all the same. You can't argue with nature at the end of the day.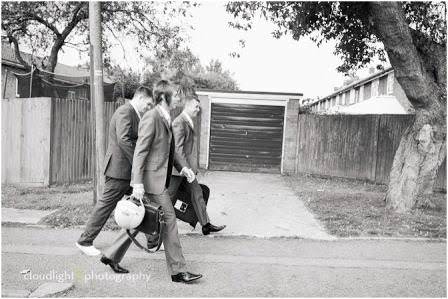 What made us decide to get married where we did?
We chose the venue earlier this year when we attended a wedding fair which was our second visit to the venue. It was a beautiful day, brisk and glorious sunshine. Just like our actual wedding day turned out. We had previously been to a private party at the Node on the same weekend as our wedding the previous year. After a second visit in their care, we were very happy to book up with them.
Personal touches/ things we did ourselves
A lot of little things that made up the whole day were arranged personally between ourselves and with family and immediate friends. My friend Natalie spent days dying cooking rice baby blue for confetti, the personalised stamp that we designed through the Royal Mail for the invitations. I also sourced a company in Brighton, to make up personalised stick of rock, theses had our names running through the middle as well as our stamp picture in the wrapping of the rock. There were a lot of little images of us around on the day, but not to the point of overkill. Our personal touches were complimented by Our Photographer Andy Rapkins who also positioned small business card size images on the tables with images from our engagement shoot. These finished off the tables perfectly as we had taken them by the sea side near my family home in Dorset and they full of different blues to compliment.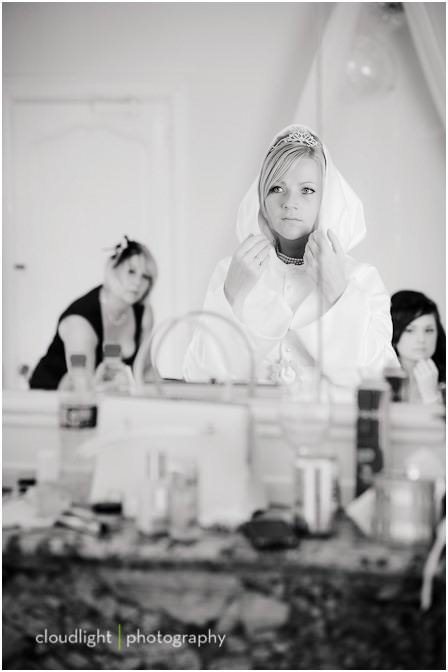 How may Guests
We had a total of 75 guests for the wedding breakfast, with a few extras in at the ceremony. At the evening reception our numbers came up to approximately 160 guests in total.
Our special moments of the day
We had several special moments during the day, from the gifts that Leon and I left for each other. One of Leon's highlights was when he got of the buss at the train station to meet our guests and the scooter clubs to walk around the corner to find 25 scooters and one vintage Fiat 500 instead of the expected 6 or 7 scooters. This then became my highlight to watch them all arrive in such excitement and style.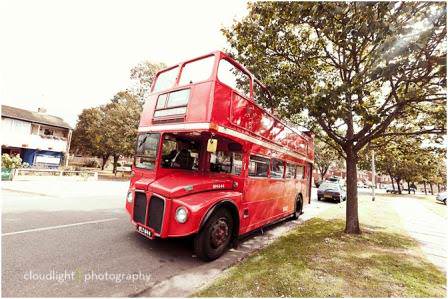 Is there anything we would do differently?
I would have to say no, not really! The little things that went wrong failed to cause any major disruptions to the day, they only made the day richer. The groom being late to the ceremony, thanks vintage bus! What an arrival all the same. The venue was super but a lot of food was wasted in the evening as numbers and invites were slightly dictated to the amount of guests and we did not go for the full buffet which we would have been allowed to cater for a percentage. Be brave, play the system, don't let it dictate your actions.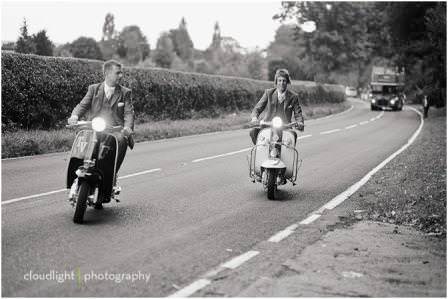 Advice to other couples
Be savvy and arrange as much as possible yourselves! Use the Internet, it's an amazing tool for finding anything that your heart desires. If you are lucky enough to have plenty of help and volunteers on the day of the wedding you can save a fortune, parents and god parents sat blowing balloons up and making rice confetti bundles. We couldn't have done it without them all. At the same time, staying busy keep us both in focus and helped us stay calm about the huge event in front of us.
Make sure that you have picked like minded people to create your wedding film and photographs, if they understand who you are and what you like, they will capture the day in its best possible light.
Lastly, try and meet up with your other half every hour or so in the evening celebrations as the evening will run away with you.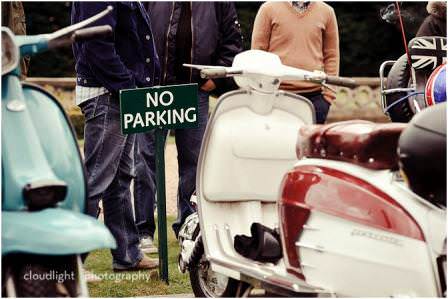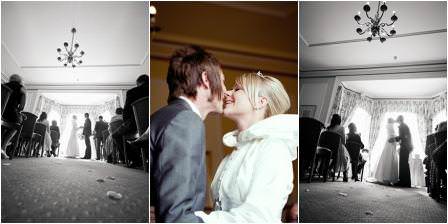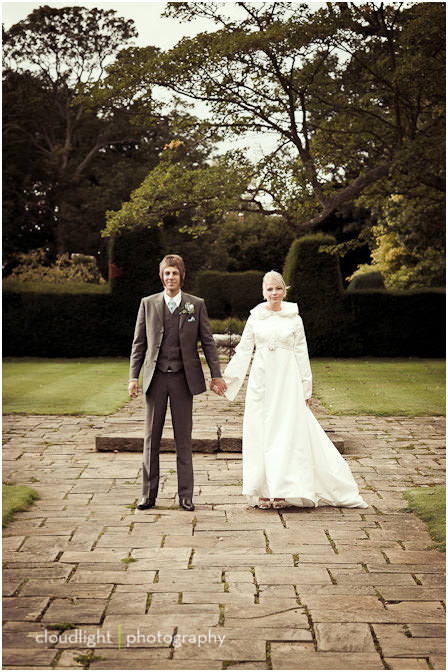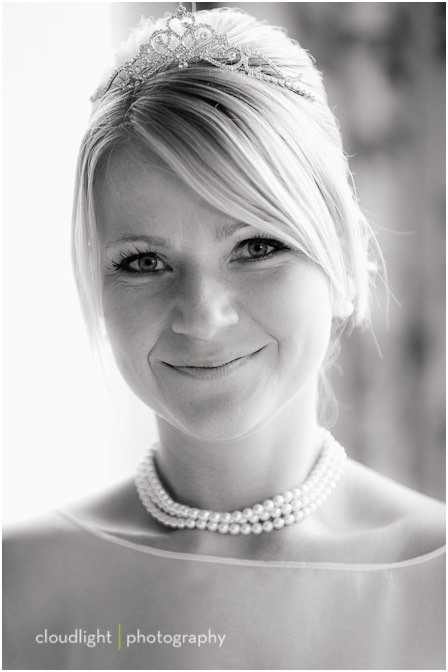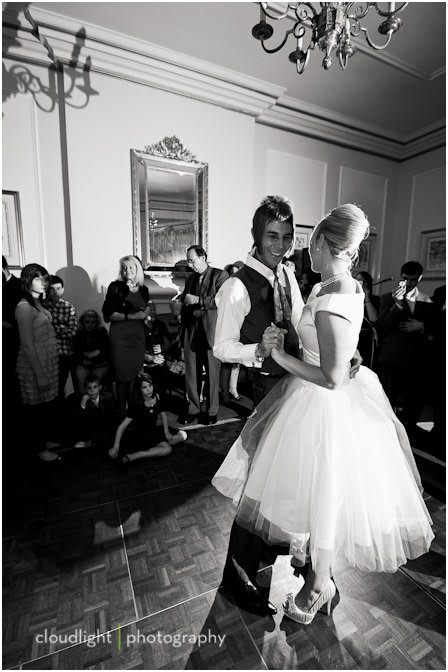 Thanks so much to Andy for submitting these gorgeous pictures, I hope you love them as much as I do!
For more info on Andy's photography services go to:
Andy Rapkins, Cloudlight Photography
www.cloudlight.co.uk
www.cloudlight.co.uk/blog
www.facebook.com/cloudlight
www.twitter.com/andyrapkins
07743 870828
Second shooter:
Greg Thurtle, TP Photography
www.twitter.com/tpphotography.