It' back to the normal blogging schedule today, which means starting the day off with a gorgeous real wedding. This wedding has been sent into me by Pete & Laura from Lawson Photography who I have been wanting to feature on the blog for a while now, so I am thrilled to have them gracing the pages of my Blog.  The wedding is full of DIY details as well as a cute book theme that runs throughout the wedding, but my favourite element has to be all the lovely shades of yellow, my favourite colour!
'The happiest blur of a day, filled with so much love, laughter and fun and surrounded by our most favourite people. It was everything we hoped and imagined it would be.'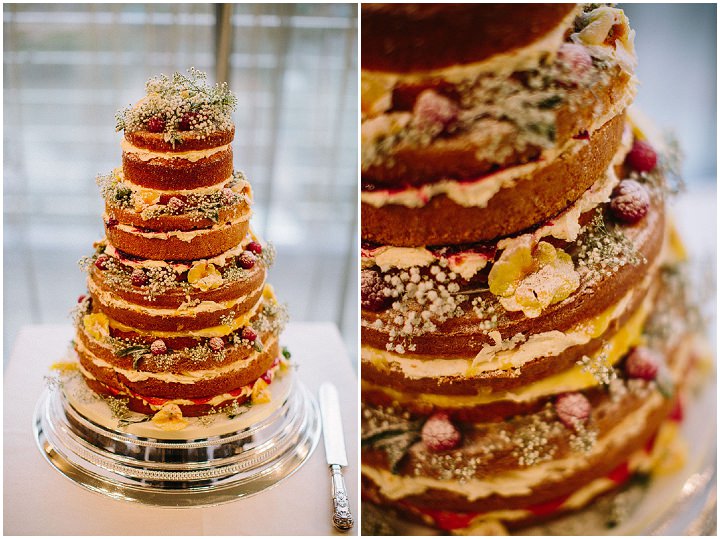 Lauren and Dan who were married on 13th April. 'The ceremony was held at Holy Trinity Church, Dan's Dad's is the Vicar so we know straight away that we wanted to get married there, and The Vincent Hotel, which are both in our home town of Southport, We just knew that we wanted to be together, as cheesy as that sounds! We had about 90 guests in the day and that increased to about 160 in the evening. We were a bit worried about how many extra people were coming in the night, but in the end it was amazing as the party had a fab atmosphere. We got engaged just before Christmas 2011, so it was coming up to 16 months.'
How they met
We've been together for 8 years. We met working at Vue Cinema, when I got a summer job there after my first year of uni and Dan was working part-time while he did a Ph.D. My dad said in his speech that 'our eyes met over the cheesy nachos'!! Which is only part true… it was the salty popcorn!
The proposal
Dan surprised me when I got home from work. It was a random Tuesday, a few days before Christmas and I came home from work to find the flat lit by the Christmas tree lights and candles and Christmas carols playing. I was in total shock when he asked me, he said he wanted me to be surprised and I really was! He proposed with his Nan's 1930's engagement ring, which made it all the more perfect.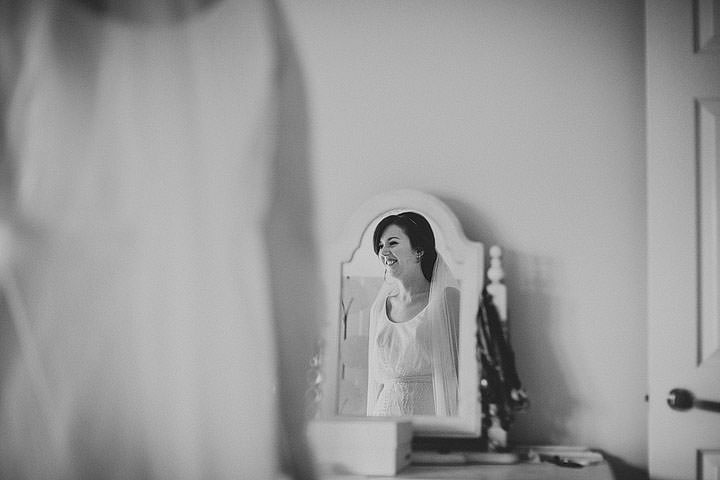 Why did you choose your photographer?
This was the easiest decision! We came across Lawson Photography when we were looking for a venue online and absolutely loved their style! We looked at others online but once we met Pete & Laura we knew they were the photographers for us. I honestly can't recommend them enough, they are the nicest people, they make you feel comfortable and relaxed and they captured beautiful moments without ever being intrusive. Plus all their photos are AMAZING, we over the moon with ours.
The dress
My dress was Dehesa by Pronovias, it is beautiful silk tulle, with straps and blouson top, which gives it an vintage look, slightly downton-esqe! First time I tried I couldn't choose between it and another dress, which was completely different in style. However when I tried it on the second time, I knew it was the one for me! I felt so comfortable in it and I didn't want to take it off! Unfortunately the first place I got my dress from went into liquidation!! But we were rescued by the amazing guys at Eternity Bridal Wear in Warrington. They also made my beautiful single layered silk tulle veil, which perfectly matched my dress. I also got my amazing Jenny Packham Anisette headband from them. My shoes were stunning Mimi by Rachel Simpson which were perfect for my vintagey dress..
The suit and bridesmaids
The suits were quite easy to find as Dan's only request was that they were light grey. He ended up getting a Ted Baker from the super helpful guys at Moss Bros in Southport and his tan shoes were from Loake. We really struggled to find yellow ties but ended up getting them online from Swagger & Swoon. The bridesmaid dresses took ages to find as I wanted pale yellow and couldn't find the shade anywhere, also they need to be floaty to go with the style of my dress. After looking everywhere, I ended up getting them from my work, Very.co.uk; they were in the sale and only had size 14 left so I ordered 4 for £21 each!!! I had to then get them altered to fit each bridesmaid but still it was a great bargain!!
Theme or colour scheme
Not a rigid one but the first thing we settled on was yellow for the bridesmaids, as I love the colour and think it really represents springtime. We also used white, grey and a little green to complete the colour palette. Dan & I are avid readers so that also featured in the day; the RSVPs included in the invites were Penguin book cover postcards (we got a box of 100 from Amazon for £10), on the Order of Services we had quotes on love from different writers and each table was named after one of our favourite novels.
Decoration
We didn't have many decorations really. In the church we had the flowers at the altar and I made white paper flowers that went on the end of each pew. At the venue, we just had the table decorations, as the room was long and thin so we didn't want it to look too overcrowded. I think it worked, the room look simple and light.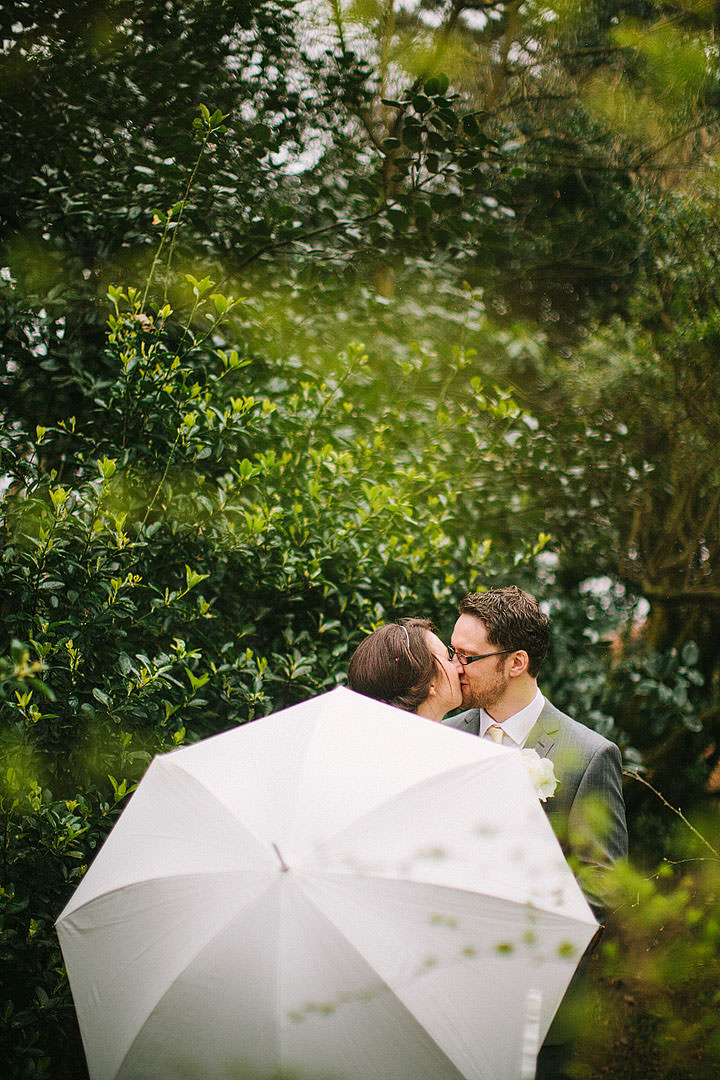 Food
We had a selection of canapés for when guests arrived at the hotel. The wedding breakfast was a buffet, which included, clove studded honey roast ham, Singapore noodles, oven roasted salmon, rocket salad with pancetta and soft boiled eggs, etc, thankfully it went down really well with the guests, especially the desserts! In the evening we had mini fish & chip cones, chargrilled haloumi and pineapple skewers and mini burgers. We also served up the wedding cake.
Entertainment
We had a fab DJ called Jeff Wall, who kept the dance-floor nice and full all night!
Flowers
Lots and lots of gypsophila! The amazing ladies of Holy Trinity Church did a beautiful Gyp/Ivy arch! While our brilliant florist Aaron Mark did the rest; the table decorations were tall vases with big bunch of gyp on top (they looked like little trees!) and the top table had a long section of gyp across the front. The Grooms-men had white peony and eucalyptus buttonholes, while Dan's had an added bit on gyp in his. The Mums had white lisianthus corsages. The Bridesmaids had big bunches of gyp and I had white peonies, yellow tulips, white lisianthus, yellow ranunculus yellow freesias, eucalyptus and gyp!
Personal / DIY touches
I went a bit DIY crazy for the wedding, when I was putting together the 100th Order of Service I wonder why I had done this to myself, ha! But actually on the day and now when I think back I'm really proud that we made so much of it ourselves. Ok here goes, we made…
• All the invitations – We had a stamp of our names made by Berin Made, which we embossed on to all the invitations, it gave them a lovely personal touch. We also included an info sheet on either yellow or grey card (depending on whether it was a day or evening invite) and a RSVP postcard. They were all tied up in yellow and white bakers twine from Notonthehighstreet.com.
• Paper flowers that went on the end of all the pews at the church – I just followed the instructions for making pom poms, but only opened them one way.
• Order of Services – Think we made about 150 of these in the end!! They had the same design as the invites with the embossed names and the inside pages were tied with the same twine as the invites.
• The Table Plan – This was really simple, just a list who was on which table; I bought a large white frame from Ikea and I found some floral Laura Ashley wallpaper that was yellow, grey and white (perfect!), which I got a free sample of and I use it to back the plan.
• Menus – Again really simple, just typed up everything on the buffet and printed it on grey card.
• Favours – These also doubled up as name places. I bought a selection of pastel coloured sweets online(mini eggs, flying saucers, sherbet lemons, assorted bon bons, love hearts and mini marshmallows) and my mum and I made mixed bags of sweets for each guest. We tied the bags with the same twine used on the invites/order of service and attached the guest name to it. The name tag was also backed with the Laura Ashley wallpaper.
• Table Names – This was really simple in the end, even though it took us ages to decide on how to do it. It the end we bought 10 plain white frames from Ikea and inserted the front covers of our fav books. It was so easy to do and it looked really affective, I would recommend it!
• Post Box – We bought a flat packed white one from a local wedding shop and decorated it ourselves.
• Oh and don't know whether these qualify as DIY but we didn't hire a car because my Grandpa offered to be the chauffer for us. It was really lovely having him drive me to my wedding. Also my wonderful friend Rebecca, who I've been friends with since school did mine, the bridesmaids and my mums make up.
Special moments
Oh there are so many!! I think one of highlights of the day was Dan's Dad marrying us, it made the service even more personal and special. The speeches were also a massive highlight, they were so funny but also really touching! They all did such an amazing job! I also really loved morning of the wedding, getting ready and spending time with my favourite girls.
Biggest surprise
How happy everyone was! We looked around in the evening and everyone seemed to be really enjoying themselves.
Advice
I know everyone says it but cherish every moment. The day goes so fast!! We couldn't believe it when evening guests started arriving, we were like 'how is it half 7 already!!' Also take some time for it just to be the two of you. After the meal, Dan and I nipped up to our room to freshen up and it was so lovely just to be us two for a couple of minutes. We sat down and were like, 'wow it's really happening!' Oh also, do what you want to do! It's your day, don't let anyone tell you that you have to do it a certain way! Make it the day you want .
Supplier Shout Outs
For more information on  Pete & Laura's work go to
www.lawsonphotography.co.uk
www.lawsonphotography.co.uk/blog/
[email protected]
[email protected]
FACEBOOK 
@LawsonHQ
07855 312857