A couple of weeks ago I went across to Manchester to meet a some new suppliers one of them being a couple of guys called David and mark from  Acushla Creations Acushla is wedding stationery, but not your normal run of the mill wedding stationery, this is the elite of wedding stationery! creative, original, quirky, made from the highest quality materials and all totally unique and 'out side the box' ideas. these guys didn't just send me a few samples…they bought me a whole box of stuff to look through and left me with a photo album style book to show to any Prospective brides and grooms…………very, very impressive!!
And what I loved is that you could see the passion for what they do come through as they were talking to me. They don't want to create normal run of the mill wedding stationary, they take each couple they work with as a completely new project and work from scratch with them to create something new and totally amazing!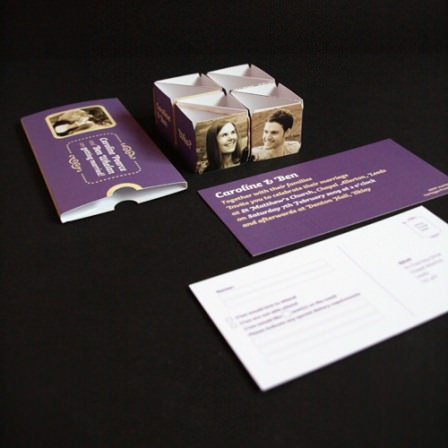 'Acushla Creations are a fresh and exciting creative design who are quickly establishing a worldwide reputation for producing unique, bespoke and extravagant wedding and event stationery with a difference. Our 100% tailor-made approach allows limitless possibilities!  They live by the philosophy that each new project is approached without preconception. The rulebook goes out of the window and fresh, innovative ideas are generated for each and every couple.
No more cheap, hand-made invitations. No more set fonts or colours. No more chintzy designs and clichéd wording.  They don't do faceless generic cards – they develop bespoke, chic and conceptual wedding stationery to express your personalities and wedding themes to their fullest. Whether it be Moulin Rouge, fantasy winter wonderland, bohemian chic or vintage elegance, they are here to turn those initial sparks of inspiration into a raging inferno. Anything you require to create a lasting first impression and make your special day truly memorable. Whether you require invitations through to thank you cards, or table plans to guest books, they offer the full stationery package and more.'
Acushla founder David tells me a bit more about the designs, and how it all come to be:
Acushla (meaning 'beat of my heart' or 'darling' in Gaelic) came about when I was asked to design some table numbers and escort cards for a friend of a friends wedding. Being a graphic designer I get this sort of request a lot, but at the wedding I got a lot of positive feedback from guests telling me I should start a business making wedding stationery and even got a thank you mention in the speech despite not really knowing the couple!
The more I thought about it, and knowing what wedding invites generally consisted of at that time (i.e pieces of cheap folded card with uninspiring designs fulfilling every wedding stereotype you can think of), I realised that there must be a market for more modern, creative and unusual stationery and decided to launch Acushla.
After just a year the work was soon picking up and we were being contacted from couples in Ireland, Holland, Greece, Russia and Austria and without any real advertising in place this was a really good sign!
The thing I love most about Acushla is that the people who come to us want something extra special, or something really different to the norm, so we know from the start that each job we do will be different to the last and we love coming up with new and intriguing solutions to our couple's briefs. We always think outside the box and approach each job with a blank canvas and no pre-conceptions on what the stationery should consist of which allows the end product to take any shape or form. We love it when we can surprise our clients with an idea that makes them go "Wow! I would never have thought of that in a million years!".
Our origami peacocks we designed for Sarah and Nikki are a good example of this. Although it took quite a bit of paper engineering to arrive at the final solution, once they saw the prototype they fell in love with it! The invite arrives in an envelope as would any normal wedding invite, but having their guests tear along perforations and fold along fold lines to create a mini ornament meant that the final form of the invite was anything but normal or traditional.
That's not to say we don't get involved with more traditional styles and formats because we do, but we ensure that what we produce still feels completely bespoke and could not be simply bought off the shelf somewhere else. Basically, as long as we know our clients are pleased with the end result, and could not have got the same invite/stationery set anywhere else, we can feel happy that we've achieved what we set out to do.
I totally love this company, David and Mark are great guys who have a huge talent and a massive passion for what they do. Anyone using Acushla for their wedding stationary will be offered alternative ideas and imaginative wedding stationary, and a promise that no one else will have the same design as you, anywhere!!
For more information go to:
[email protected]
www.acushlacreations.co.uk
www.twitter.com/AcushlaForYou
+44 (0) 1254 777 555
+44 (0) 7812 461 027
Due to an email issue if you have emailed me between the 2nd & 9th of December, please resend it.
X