This afternoon we are talking invitations in particular Knots and Kisses wedding stationery and their re launched 'English Eccentrics' range.
Nikki from Knots and Kisses has been a sponsor of mine for over a year now and I have to say she is one of the most popular sponsors I have on the blog.
'Knots and Kisses offers gorgeous bespoke and 'off the peg' vintage inspired wedding stationery, for stylish couples who want something that stands out from the crowd.'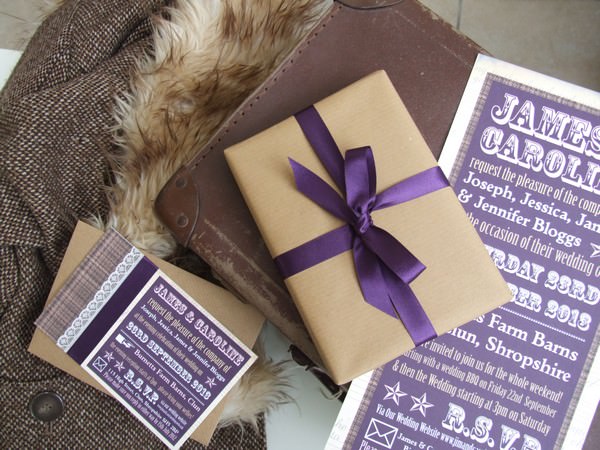 Nikki tells us more about the range………..
'English Eccentrics' was originally launched in January of 2011 with much success … I had several winter and bonfire night brides who felt it was perfect for their weddings! I felt it was time for a bit of an update and wanted to look again at the original festival and circus inspirations for this range.'
'The range is still essentially inspired by exactly the same things as before … my love of Victoriana, Lace, Vintage Circus flyers and Tweed .. giving the range a fantastic country feel, and is perfect for Autumn and Winter Weddings with lots of fur details, or just as easily a fun Festival style wedding at any time of year!'
'The Day Invitation is now a concertina style, with a colourful typography interior, and on the outside wrapped in a tweed and lace band with a diamante detail.
You can also buy the range as a Day Invitation Pack, including a Information Card and RSVP Postcard, and each invitation comes in its own special box style envelope, wrapped in brown paper and tied with matching purple ribbon. They are then pre-addressed to your guests … already for you to just pop a stamp on and put in the post!
The evening invitation is similarly decorated with tweed effect and lace but in a flat postcard style and a matching brown kraft envelope.
To show you Nikki's variety in style here are a few other designs from her current collections.
Fore more information Knots & Kisses Wedding Stationery go to
www.knotsandkisses.co.uk
http://knotsandkisses.blogspot.com
FACEBOOK
TWITTER
07976625201