To finish off the week we are heading over to Brisbane for something  a bit different. It's an Eco wedding set in the JC Slaughter Falls, which the couple chose for it's spiritual energy. The wedding is completely DIY with the bride not only making her dress but hers and the bridesmaids bouquets as well as catering it all herself as well. It is full of colour and life and is totally personal to the couple…and after all that's what weddings are about! Thanks to Sarah Maree for the images.
'A unique and meaningful celebration of love, to evoke all the senses a midst Mother Nature with our nearest and dearest'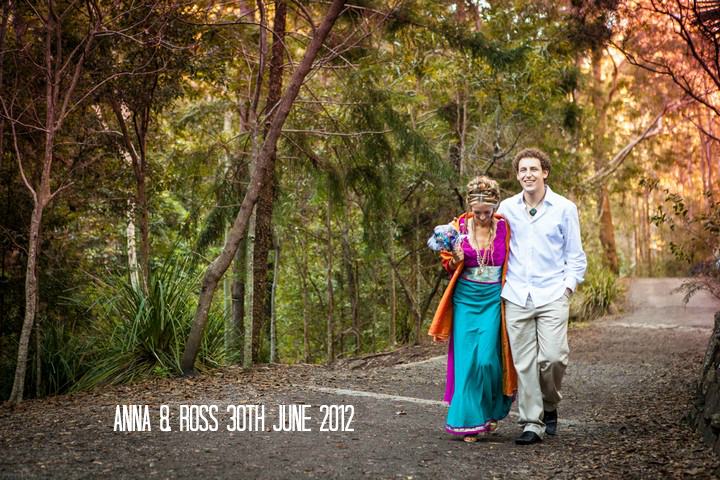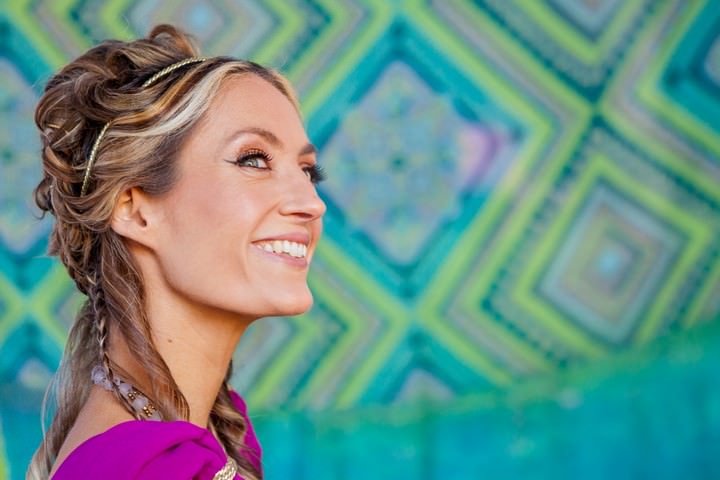 Anna and Ross who were married on 30th June at JC Slaughter Falls, Mt Cootha in Brisbane. 'It's a beautiful location with great spiritual energy, that we both feel an affinity too. We had champagne and cup cakes at the wedding site and then party back at our house in Paddington, Brisbane. We had 68 guests, I probably started planning about 10mths before the wedding, doing little bits and bobs here and there and researching ideas'
How they met
We meet at university in Liverpool, UK through mutual friends. We were together for 10 years before getting married.
The proposal
In a box at the Lion King Musical in London. Ross got down on one knee popped the question and as he tried to put the lovely antique emerald ring on my finger, it snapped off the setting! There were a few audible gasps from onlookers and luckily it landed on my lap. Ross' mum kindly gave me her nan's engagement ring to wear until we got mine fixed.
Fortunately, many jewellery repair technicians on the market can help fix broken pieces like rings. But if fixing is no longer possible, several jewellery providers offer a wide range of ring collections. For example, Diamondport's engagement rings and other similar choices online may provide couples like us choose a ring that symbolizes our love story.
Although in my experience, I had to get my engagement ring fixed, there's nothing to worry about because there's a great collection of beautiful rings to choose from. Hence, for those who want to propose to their partners, it's best to get ready with the appropriate ring size to make the proposal smoother and more memorable.
Why did you choose your photographer?
I had worked with Sarah in the past on some collaborative projects and we both really liked her style as a photographer and easy going personality, as well as Sarah taking some beautiful engagement photos for us.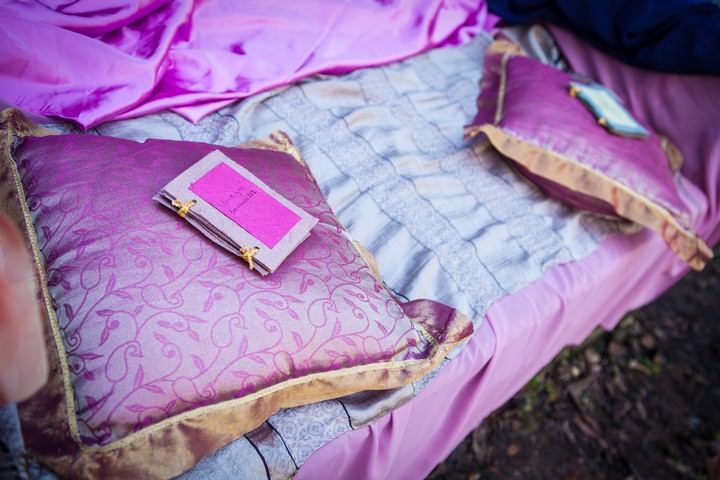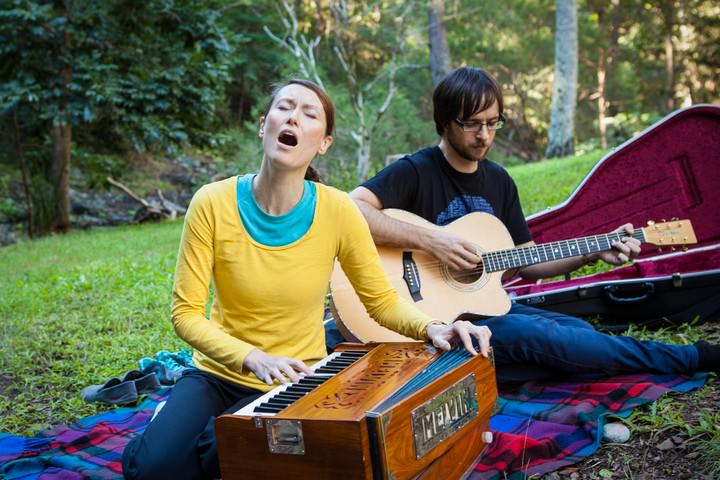 The dress
I made my own dress, with a little bit of help from a friend. It has always been a dream of mine to make my own dress, especially as I didn't want a traditional white wedding dress. We also had a second wedding in the UK, a 3 day wedfest and I made another dress for the hand fastening and 5 bridesmaids dresses. I made all my own bouquets from recycled fabric, beads and feathers. The shoes were a cheap pair I bought off Ebay and covered in glitter.
With all these things said, it's good to say that weddings don't need to be expensive. For someone like me, who wants to be eco-friendly as much as possible, there are many ways to get the dress I want without spending a fortune.
Suit and Bridesmaids
Ross went to the Myer centre where my bridesmaid worked and she helped him pick out a pair of trousers and a shirt in the Mens department, the bridesmaids wore their own dresses and the bush usher men all wore fishermen pants.
Theme or Colour Scheme
There was no particular theme or colour scheme, just wanted to make it as eclectic as possible and to evoke all the senses. While setting up one man asked if we were preparing an art installation, which in some aspects it was.
Flowers and decorations
Instead of flowers we had handmade bouquets and I decorated the wedding alter with fabric and ornamental lettering. We also used carpet tiles decorated by Hands on Art to form a circle for people to sit on and we collected river rocks and beach pebbles and hand wrote a positive affirmation on each stone, that people took home as gifts. I made a wishing tree, that people could hang messages on and deposit financial love into the slot in the trunk.
DIY Details
As I already mentioned I made my dress, bouquets for myself, bridesmaid and lady of honour, decorated the alter, made a wishing tree, cooked food for the guests and we each wrote and made our own vows books. Ross put together a play list of all our favourite tunes for back at the house.
Food
My lovely team of girls were cup cake bakers extraordinaire the day before the wedding and I prepared a selection of vegetarian curries, veggie chilli and nibbles. Given these circumstances, it's indeed possible to make a personalized food menu for the wedding.
Entertainment
As the opening to the wedding, my lovely house-mate Sarah carried a sage smudge stick and led the wedding guests in silence to the wedding site where they were met by the sounds of chanting, by Candace and Simon from the School of Yoga and Meditation in the West End. All the wedding guests warmed our rings as they were passed round and each guests had a river rock or beach pebble with a positive affirmation on it which they sent out as a good intention. At the end of the ceremony a couple of close friends Tom and Andy played some acoustic music on guitar and mandolin. Later back at the house we cranked out some tunes as the party got into full swing!
Indeed, there are many ways to provide quality entertainment for a wedding. For someone like me, simple entertainment methods like the ones mentioned above would be sufficient to make my eco-friendly wedding more fun and exciting.
Special moments
The overwhelming sense of love and energy from our wedding guests and having two of our close friends agree to recite some meaningful readings. The location itself is steeped in energy and history and it felt like we had a sense of approval from its spiritual ancestors. These special moments deserve to be cherished forever, as weddings usually happen once, depending on the circumstances.
Advice
Be true to yourself and remember that weddings are about a celebration of love and commit the two people getting married are making to each other, rather than trying to accommodate all the wants and needs of wedding guests. Weddings don't have to cost the earth, literally or figuratively, so try to be mindful of not creating lots of waste and sourcing your materials ethically and locally, or better still have a go at making them yourself. By doing all these, you'll be able to experience your dream wedding while staying eco-friendly at all times.
Biggest surprise
My dear friend Tracy turning up with some sexy underwear first thing in the morning at my house, as I'd only been saying the night before that I'd forgotten to buy any.
Supplier Shout Outs 
I would like to say a special thank you to our wonderful and very talented friend Jane Smith for doing me the honour of dressing my hair and being my maid of honour and to our lovely friend Theresa Lord Jenkins for doing such a fabulous job of my make up.  You both made me feel like a goddess.  And a special thank you to our incredible celebrant Jen Belither who created and delivered such a beautiful and meaningful ceremony.
Fore more information on Sarah's work go to
www.sarahmaree.com.au
[email protected]
FACEBOOK
@SarahMareePhoto
0412 792 112
I am based in Brisbane, Australia – though I am absolutely willing to travel, I actually have a wedding coming up in August that I am being flown to Fiji to photograph.
I would describe my style as very natural; I love to shoot a cross between fashion and spontaneous natural posing. I take great joy in being able to show you how beautiful you look through my eyes x