Hiring your wedding entertainment is one of the most fun and exciting parts of a wedding planning journey. This is where your wedding takes on a whole new persona as you start to include all of these incredible details and memory-making moments!
When we talk about wedding entertainment hire, most couples think of a live band, a wedding DJ, and other splashes of excitement throughout the day such as magicians, caricaturists, and more.
It's easy to get excited and start making enquiries into live bands and entertainers as soon as you've booked your wedding venue.
But we need to chill out for a second and just check a few things!
Today I have invited wedding entertainment experts Warble Entertainment onto the blog to give us some first class advice on questions to ask your venue before you actually book your wedding entertainment.
Before you hire your dream wedding entertainment, here are some questions to ask your wedding venue.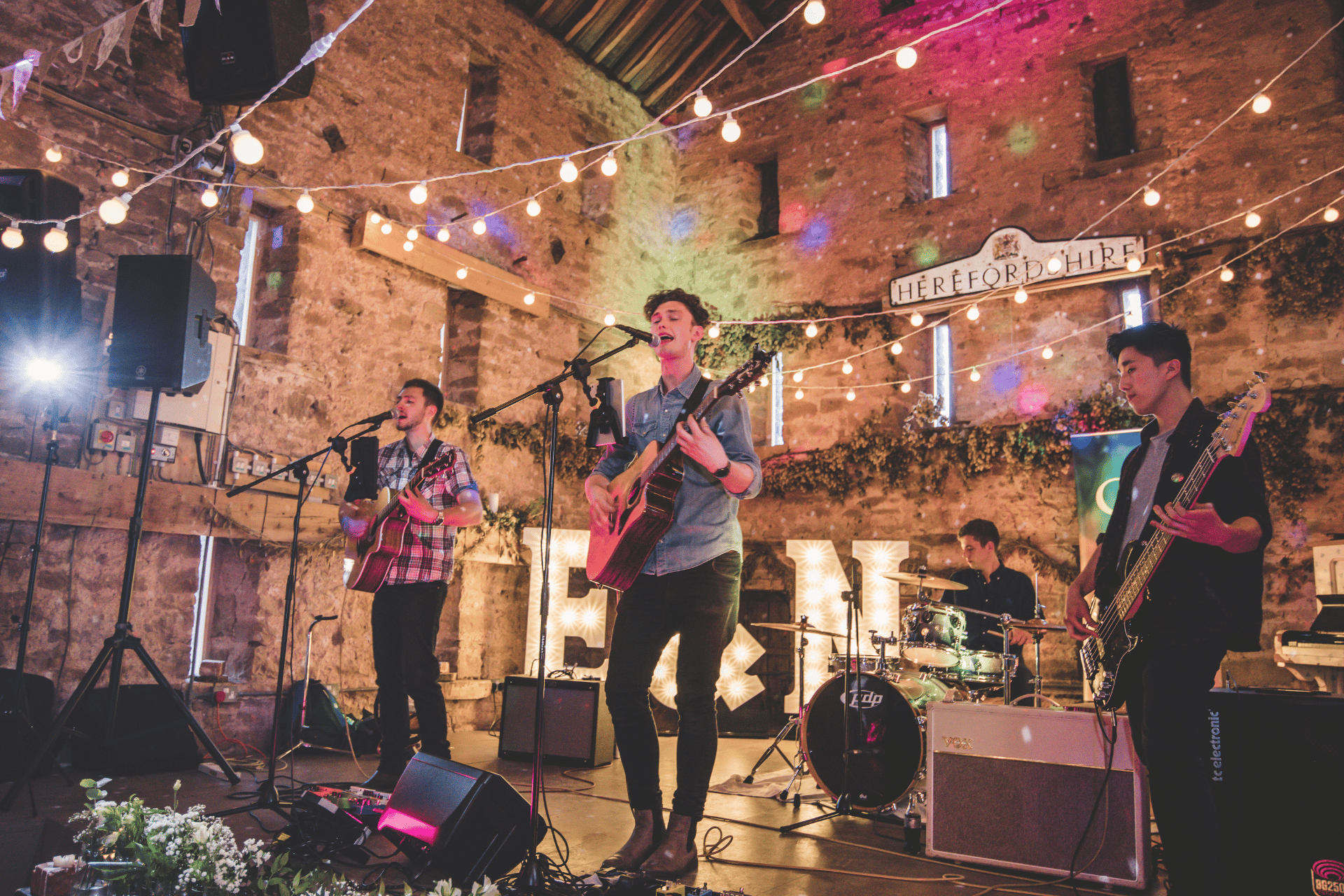 1.  Does The Venue Allow Live Music?
Every single day at Warble Entertainment, we speak with couples who are obsessed with live music and bands. As music lovers ourselves, we can relate!
They have their hearts dead set on having a wedding band or any live music during their wedding party.
If this sounds like you, this question isn't just a suggestion. It's a necessity.
Although this isn't extremely common, you may stumble across a venue that simply doesn't allow live musicians or bands to perform there for a myriad of reasons.
Of course, this is something you need to know about before you start trying to book a live wedding band!
2.  Is There A Sound Limiter At The Venue?
Most wedding venues will allow live musicians and bands, but sound limiters and noise restrictions are becoming more common.
The majority of wedding venues are switched on to this and are forthcoming with details of their sound restrictions before you sign on the dotted line to book.
This is one question you should really ask before booking the venue though, just in case.
You might be reading this thinking, "what on earth is a sound limiter?".
Basically, it's a system used to control the level of noise. There are different kinds of limiters, some harsher than others. Some cut power to the stage if the noise in the room reaches a certain level, some compress the sound, and others are just a visual aid.
If a venue does have a sound limiter, you might not know how much this could affect your wedding party and choice of musicians.
What you really need to know is:
The decibel limit the limiter is set to
What happens if the limiter is tripped (does it cut power, or is it just a visual 'traffic light' aid)
Armed with this information, you can start speaking to wedding entertainment experts like us who can advise you on bands that can work with those limitations.
3.  Is There Any Curfew For Music?
Before you make any party plans, you need to know what time you need to stop!
This will allow you to plan your timings accordingly in order for the band to start and finish at the correct time.
You don't want any nasty surprises on the night when you find out that curfew is much earlier than you imagined.
If you are a bunch of party animals and plan to be enjoying yourselves into the early hours, you need to make sure your venue can accommodate this.
It's also worth checking the bar licensing and if they have a similar curfew.
4.  Do My Wedding Musicians Have To Use An In-House Sound System?
In order to have control over the sound and volume, some venues have a PA or sound system installed at the venue – which entertainers are required to use instead of bringing their own.
Whilst this might not seem like such a big deal, it can affect your choice of entertainment or live wedding band.
Some bands and wedding musicians are totally fine with using another sound system and will happily perform at venues that require them to do so.
Other acts may not be comfortable using a sound system they are not familiar with or have a more complex setup of their own that is needed for them to sound at their best!
5.  How Much Space Is There For A Band?
Before hiring a band for your wedding, you need to see how much space there is for live performers.
The reality is, some wedding groups are going to need more space than others.
If you had your heart set on a big 12 piece soul band, but the venue has limited stage space, they might not be able to accommodate bands of a certain size.
Remember, a live wedding band is more than just the musicians and their instruments.
They will have speakers, stands, lighting, a mixer… they need enough room to do their thing!
6.  Is The Bar In The Same Room As The Dance Floor?
One of the biggest vibe killers of any wedding party is when the bar and dance floor are super far apart.
This can have a huge impact on the atmosphere at your wedding reception as guests have to choose between sitting at the bar and chatting, or spending the night singing their lungs out on the dance floor!
Having the bar in the same room is definitely preferable for optimal party vibes.
This means that guests can enjoy the entertainment whilst being on the periphery of the dance floor, or they can get stuck in at will!
7.  Can You Recommend Any Entertainers?
A good place to start when it comes to hiring wedding entertainment that is sure to work with your wedding venue is by asking them for recommendations.
Most wedding venues have a supplier list or at least a mental note of wedding vendors they trust.
Who better to ask for reassurance than the venue themselves?
As well as bands and singers, the venue may also be able to recommend other ideal suppliers such as wedding photographers, videographers, decor, and more.
8.  Can We Hire Entertainers Outside of Your Supplier List?
Once you've asked the venue to recommend some wedding suppliers for your consideration, it's worth asking if you are allowed to source your own suppliers.
You might take it as a given that you can hire who you want to supply services at your wedding, but some venues only allow 'approved' suppliers that feature on their list.
This puts a huge cap on the amount of choice you have when it comes to booking wedding bands or entertainers for your big day.
You will have gone from potentially anyone in the country and your pick of thousands of the best entertainers to a small list.
If this is the case, make sure their list has enough choice on it and that you are happy with the suppliers that are approved there.
9.  Can I Have Entertainment and Live Music Outside?
We've already talked about sound limiters and noise restrictions but some venues operate differently.
When thinking about entertainers for your ceremony and drinks reception, you might be thinking about background musicians like saxophonists, harpists, acoustic duos, and more.
If you had in mind that these musicians would perform outside at your venue, you need to ask if they allow bands and singers outside.
Some venues may have a strict rule with no live music outside.
Others may allow an acoustic wedding singer outside for example, but they have to be unamplified and completely acoustic.
10. Do You Allow Fireworks and Fire Performers?
This one always seems to be an afterthought for couples when thinking about the end of the night.
There are so many important bits to focus on and logistics that it's easy to overlook.
If you had dreamt of enjoying a firework show or hiring fire performers to entertain guests as the night draws in on your big day, check if this is okay with your wedding venue first.
Your venue should be able to advise on how to navigate this and what restrictions they have if any.
The noise level, firing times, and other aspects need to be taken into consideration when hiring fireworks or similar.
this is a sponsored post