I have a gorgeous wedding for you today from the lovely Claire Penn. Claire has become quite the regular on the blog and her weddings are always popular with you all. This wedding is no different, it features some beautiful beach shots, as the couple took some time away from the wedding to spend some time on their own and get those all important portrait shots. There are also some lovely shabby chic details, bridesmaids in black dresses and a lovely laid back feel to the day.
'A personal, country, rustic celebration exactly where we wanted it to be, and exactly how we wanted it to be. It was a perfect day that we will never forget, even my beloved horse made it!'
Liz and James  were married on 1st September the ceremony was held at the Immaculate Conception Roman Catholic Church, Church Street, Pembrokeshire, with the reception held in a marquee on a family farm at Pembrokeshire. The church we got married in has been our family church since my grandparents moved to Pembrokeshire when I was a child. From weddings, baptisms to funerals, it has seen it all for my family. My granddad raised money to have the stained glass window put in at the back of the little church. It is tiny, and when I walked in with my mum I was so overwhelmed at how full it was and looked with all our friends and family, I made a very high pitched noise! Our wonderful Irish family priest, Father McGreal gave us such a special service, it meant so much to be getting married there and by him, everyone commented on how lovely and personal the ceremony was. There was no-where else in the world I would have wanted to get married, it was perfect. We had 110 guests and it took a yar to plan.
How they met
James and I met in a bar in Greenwich, London in August 2008. James' friends were chatting to my flatmate and I, and I asked who their mute friend in the corner was….It then took a year of weird dates, the odd drink, a meal here and there… and then meeting up at V Festival on 23rd August 2009, we fell in love, life changed forever and the rest is history!
The proposal
For our two year anniversary on 23rd August 2011 James said he had booked us a meal at our favourite restaurant in Blackheath – Beunos Aires. James had suggested we walked through Greenwich park up to Blackheath It was a drizzly and grey evening, and I had four inch heels on so I wasn't overly keen……..but James insisted. We walked up the steep hill to the Royal Observatory in the park, and stopped at the top of the hill to take in the amazing view over London. I turned around and James was down on one knee saying 'Liz will you marry me?'. I basically then hyperventilated for a significant amount of time, only snapping out of it when James said, 'Please answer! Please say yes!' I then said 'Yes, yes of course!' and put the most beautiful ring on me. I then continued to hyperventilate…feeling completely overwhelmed! We then turned around and about 50 Japanese tourists were standing there taking photos and videos, we hadn't ever noticed! We scuttled off, drank champagne, ate steak and then called our families and closest friends! It was the best night of my life at that point…only beaten by our wedding of course!!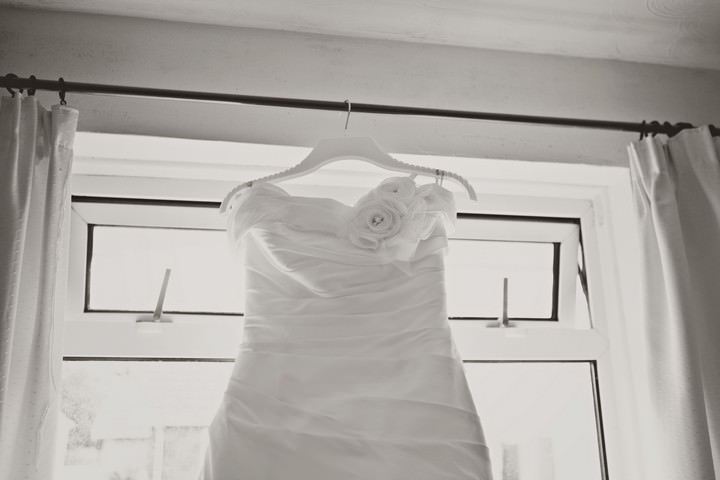 Why did you choose your photographer?
Our original photographer was a kind of friend of a friend, who cancelled on us in the April so we had to search for another one. We were given a list of recommended photographers, of which Claire Penn was one of them. We looked at all of their websites, and Claire's really stood out for us. The style was perfect, a bit 'vintagey', not staged, natural, it was exactly what we were looking for. When we contacted Claire we were delighted she was still available and we were really happy that she was so real, down to earth and human about the whole thing, no fakeness whatsoever!! We loved her from the start.
We absolutely love the photos that Claire took, they are natural and timeless, it makes me so happy when I look at them! Claire was just perfect on the day as well, during the mayhem of getting ready she was like an old friend and perfectly calm! She managed to capture the most wonderful moments!! The best money we spent by far and on such a lovely lady as well!
We also had a videographer, MJ Films, a mix of HD video and Super 8. Mark gave us an excellent service and we absolutely love the video, I've watched it so many times!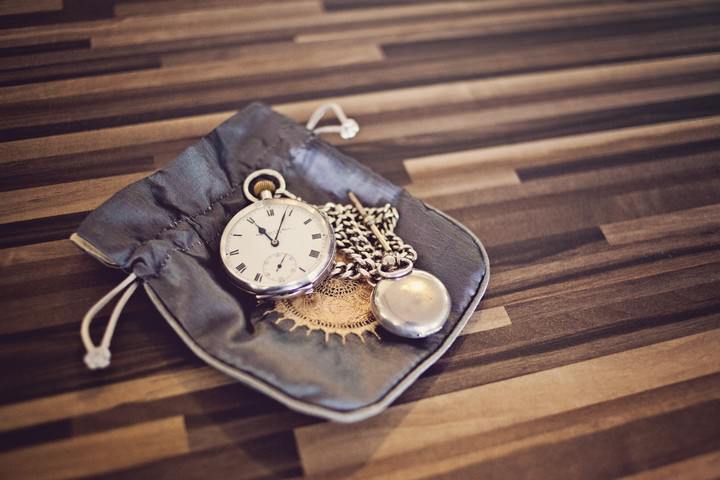 The dress
My dress was Sienna by Marylise (Christina Sposa) with a single tier veil both from the Bridal Gallery in Broadstairs, Kent they were brilliant. Shoes were Alexa from Rainbow Club. My earrings were a wedding gift from James.
The suit and bridesmaids
James had a bespoke tailored three-piece Navy suit made by a London based tailor. The pocket watch is a family heir-loom that his father gave to him the night before the wedding. Shoes were from Russell and Bromley, and his cufflinks were a wedding gift from me.
I wanted the bridesmaids to feel as comfortable and confident as possible on the day, so I got them to wear individual black dresses, on the basis that every girl feels good in a little black dress. I didn't want a matching look so it just felt right to have them in different dresses and feeling glamorous. They were happy, so I was happy, and they each have a dress that they will enjoy wearing again and again.
The pretty lace flower girl dresses were from BHS and I just loved them. They fitted the lacy country theme and were perfect!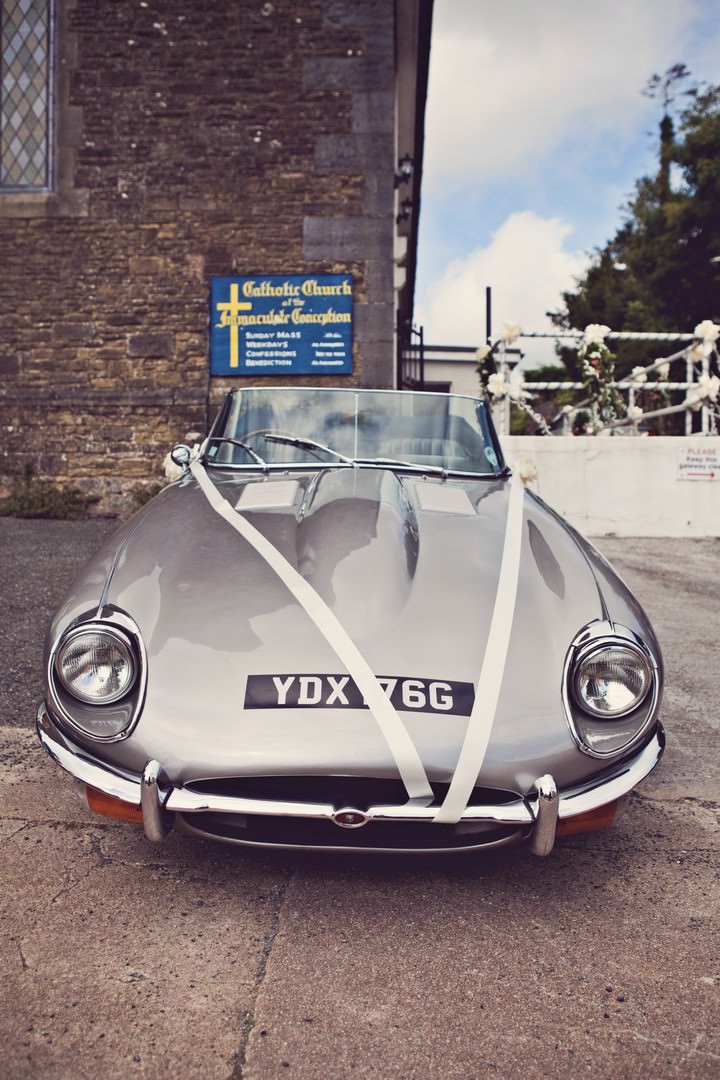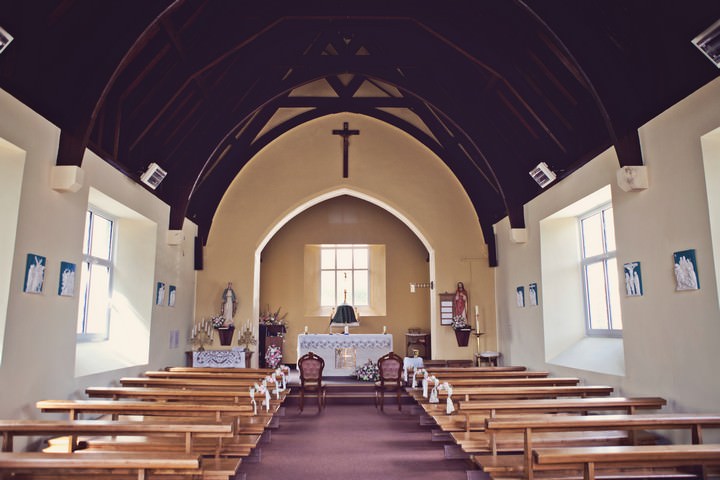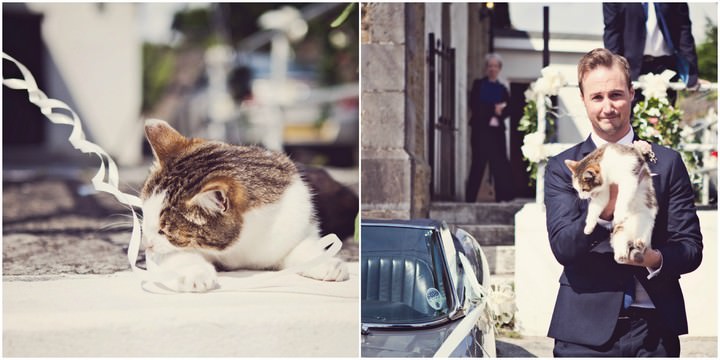 Theme or colour scheme
The main flower was light pink roses, but I wanted a 'picked from a meadow/garden' type look to the whole thing. I wanted it to be rustic, a bit shabby chic and very country-wedding, but also glamorous….obviously!
Flowers
I had light pink roses with gypsophila. My mum's next door neighbour is a retired florist that very kindly did all of the button holes and church flowers. Between our mums the marquee table vases were filled with ferns from the field, gypsophila and three light pink roses per vase. The bouquets were done by Wedding Flowers by Shelley, who was wonderful from start to finish. She totally understood the brief and I absolutely LOVED mine and my bridesmaid's bouquets, I actually cried when they arrived!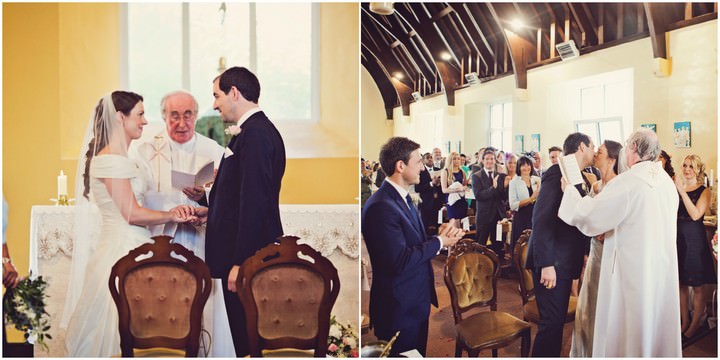 Decoration
When we started the process of having a marquee wedding we soon realised it was a bit of a risk to not have anyone 'managing' the day, so a friend recommended Finesse wedding planning who offer a two day service for marquee weddings. We had Dee from Finesse to help us set-up the day before and was there from start to finish on the wedding day itself, making sure it all ran smoothly and to be a master of ceremonies when we arrived etc.
I wanted everything to be very rustic and pretty. Dee recommended we hire some bunting and material hearts to put up around the edge of the marquee, and they were so pretty, tied up with raffia in a bow.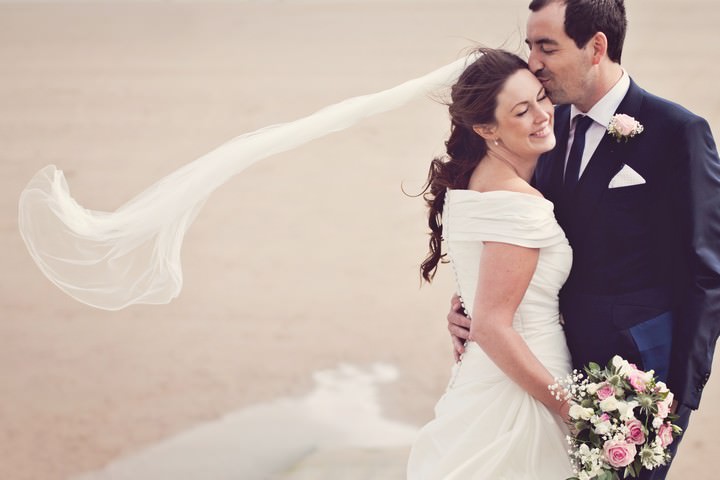 Food
After quite a lot of searching for outdoor catering suppliers, and talking to quite a lot of unhelpful and uninspiring companies, we were hugely relieved to find the Four Cooks catering company. They were fabulous from start to finish.
When guests arrived they had lots of prosecco, or elderflower presse for the non-drinkers with gorgeous canapés.
The main meal was a hog roast a local served with artisan breads. With the Four Cooks providing: Hot new potatoes, Green Leaf Salad, Cherry Tomato with Feta , Olives & Basil, Home made creamy Coleslaw, Sugar Snap, Baby Corn & Pepper salad with ginger/sesame dressing
In the evening, we had bacon rolls, which were also completely delicious!
Entertainment
The Brakes, a fabulous band James booked through Warble Entertainment, highly recommended, they were brilliant and we have passed their details to many of our friends and contacts because everyone loved them and danced all night! –
Personal / DIY touches
Lots of personal touches, I love a bit of DIY!
• For our 'save the date' cards we painted two wooden boards with 'Save the Date' and '1st September 2012' on them, and asked James best man to take a photo of us holding them at the exact point where James proposed by the Royal Observatory in Greenwich Park in London. The wedding invitations and RSVP cards followed a similar route by using our engagement shoot photos.
• We bought little wooden hearts from ebay, James mum put a clear varnish on them and wrote the guest's first name on one side and 'Mr and Mrs Gilbert 1st September 2012' on the other. This nicely doubled up as a favour for the guests as well, which they all seemed to love!
• I had a rug with 'Guest of Honour' printed on it for my 32 year old horse Bobbie, and put the fencing close up to the marquee so that the horses seemed part of the wedding party.
• The menu board was an old picture in a gold frame that my grandma had been trying to sell at her monthly charity sale that we painted with blackboard paint and I chalked on the food options two nights before the wedding day, a bit of a rush! The seating plan was another picture frame that I painted white quite thinly and then printed off the table plans on nice cream paper and blue-tacked on to the board.
• The table names were from all of our favourite or special places we eat or have eaten. All had a special place in our hearts and relationship. The name places were printed off in the same paper as the table settings and a slit cut in the top of a wooden stick, a bit of raffia tied in a bow around it, and stuck in an old milk bottle on each table.
• Around the vases with the flowers in, there were about 8-10 jam jars (which I'd asked everyone to save for me over the year before!) with a little scented candle in and a bit of raffia tied around.
• We bought 20 light pink polka dot disposable cameras and placed them in a wicker picnic basket lined with some beautiful material, this doubled up as somewhere guests could put their cards. The cameras however were RUBBISH! They kept the little ones entertained but they were a total waste of money… no-one used the flash and the quality was really poor. Don't rely on these!
• James' dad made the wooden direction signs to the field, and painted on 'Liz and James Wedding' and hammered them in all around the village!
• The flower girl baskets were old wicker baskets my grandma had, and I painted them thinly with white paint to make them look similar to each other and ordered dried rose petals online to put in them.
• For the confetti James mum made the cones out of card and I had ordered dried hydrangea petals in lilac and pink for our guests to use.
• The orders of service I printed myself on some nice cream card and James mum and sister tied gardening string around the spine to hold them together, they looked beautiful and rustic displayed in a half moon shape on the table at the entrance of the church, I loved them!
• Dee also bought us six terracotta plant pots and we got these really pretty purple bedding plants to put in them, they lined the entrance which was gorgeous!
• We had garden trellises separating the drinks reception area and the seating area, which Dee then moved out to line the entrance to the marquee when we all sat down. The trellises were 'prettied' up with more jam jars and tea lights and some silk light pink flowers. It looked so pretty when the sun went down, I loved it!
Special moments
♥ Walking in to the church and seeing it so full with all my favourite people, so overwhelming!
♥ My mum walking me down the aisle, it was amazing.
♥ Seeing my amazing fiancée standing at the front waiting for me, and sensing my nerves and tension, when the ceremony started he whispered to me, 'enjoy it' and I just thought, yes, this is it, there is nothing more I can do to make this perfect, I am going to have fun now!
♥ Driving off in the open top jag that James had hired through the beautiful Welsh countryside on the most beautiful sunny day.
♥ Running barefoot along Amroth beach with James
♥ Arriving at my grandad's field with everyone waiting for us and then going through the marquee to the field where the horses are and seeing my 32 year old boy Bobbie who I've had for 21 years with his specially printed 'Guest of Honour' rug on was one of the best moments ever.
♥ Dancing to 'Your Love is Lifting me Higher' for our first dance, and everyone thinking we'd choreographed it, but clearly alcohol just helped our previously absent coordination.
♥ Seeing everyone dancing like crazy all night and having an absolute blast.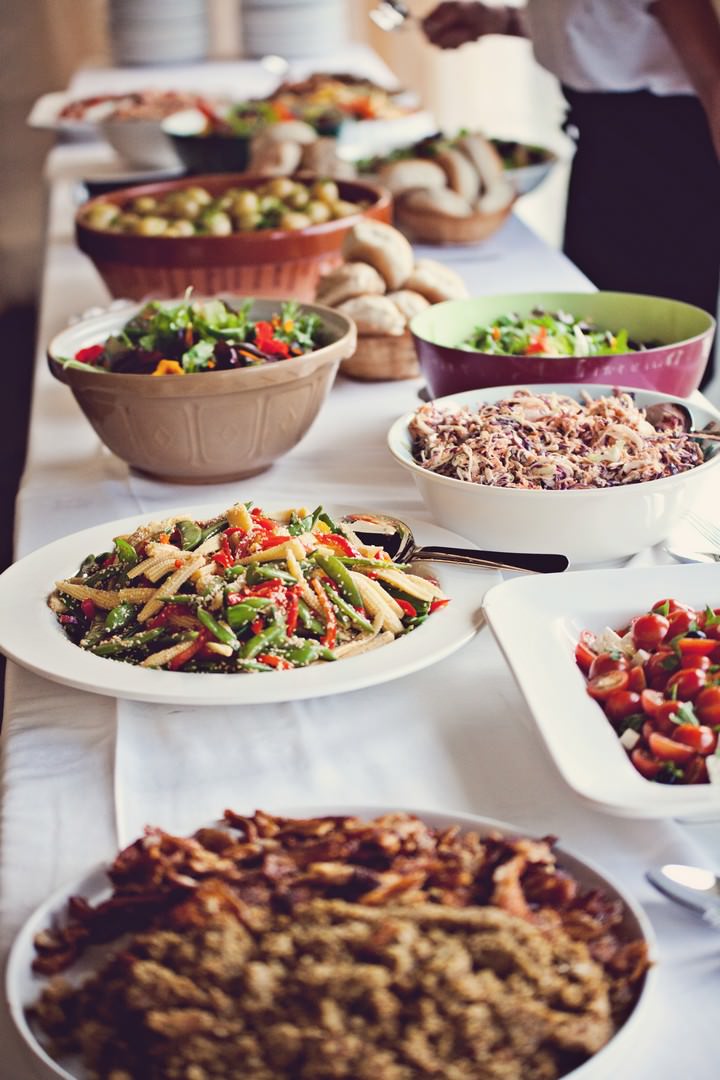 Advice
• Do what you want to do, not what you think you should be doing. Do what feels natural and right for you.
• On the day itself, it's too late to change anything. Stuff won't go to plan. We were an hour late to our reception due to having photos on the beach and me having memory loss about how to get there (and back!) despite it being a route I've done a million times, and we made a stop to see my Grandma who was too poorly to come to the wedding so that she could see us on the day and we could get some photos with. Anyway it was all still perfect and it didn't change a thing in the grand scheme of things. Our Mums were a bit worried but the guests said they'd forgotten about us they were having such a good time enjoying the prosecco and canapés!
• Don't put too much pressure on yourselves for it to be 'the best day of your life', it will be, but if you worry too much that it won't be, it won't be!
• Have fun, relax and don't worry!
Biggest surprise
That we were the last ones there in the marquee at 1am having had the best day of our lives!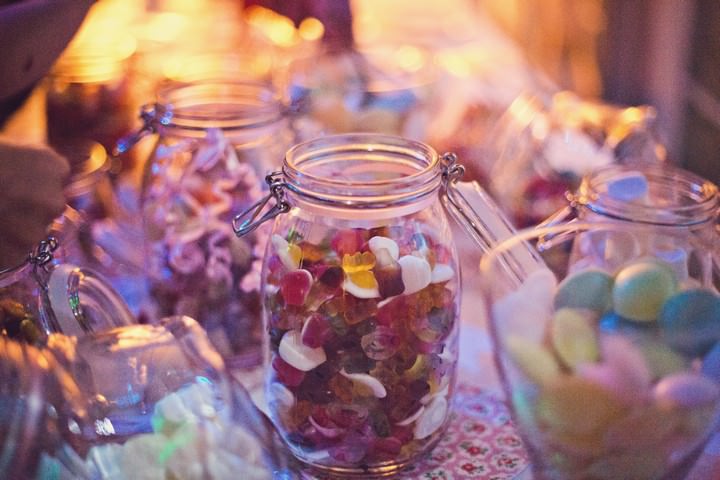 Pembrokeshire Wedding Film Highlights | Liz + James from MJ Films on Vimeo.
Supplier shout outs
For more information on Claire's work go to
Website: www.clairepennphotography.com
Blog: www.clairepenn.com
Email: [email protected]
FACEBOOK 
TWITTER
Phone: 07729 282519

 

[jprel]