As the UK weather is so rubbish at the moment, I thought I would take you to California today for a bit of warmth and sunshine. This wedding shot by Wildflower Studio is perfect to add a bit of warmth to those cold bones and make us ever hopeful that summer is just around the corner. I am loving so many things about this wedding, the location, the amazing outdoor reception with 1000 mason jars containing tea lights (soooo pretty) the low light portrait shots, the yellow and grey colour scheme, the lavender bouquets, it's has all been so perfectly put together! and so much of it was designed by the very talented bride!
'Our wedding day was exciting, nerve-wracking, and filled with love! We designed and made everything so it was amazing to see all our hard work come to fruition.'
Melissa and Joshua who were married on 13th October at Dekker's Ranch, Ojai California . The Ceremony was held in the riding corral with cocktail hour and the reception held around the pool and on the lawn. 'We couldn't imagine saying our vows on a golf course, or a big fancy hotel; it's just not us. What we imagined was a big backyard BBQ filled with all the people we love, outside under the stars. My friend's ranch was the perfect location. We had 150 guests and we were engaged for 7 months so the wedding took 6 and half months to plan.''
How they met
We met when a mutual friend secretly set us up. She was a longtime friend of mine who had been dating Josh's best friend for about 3 years. I had met her fiancé many times but had never met Josh. When the timing was right she put us together in the same location and we hit it off! Well, to be honest I originally wasn't interested because I was planning on moving out of state…but Josh saw something between us and pursued me…just a few weeks later I was hooked! And we have been together for 3 and a half years now (3 years when we married).
The proposal
Josh made reservations at the wine bar where we had our first date. He had worked with the owner to have a table with flowers, wine and a fireplace set up for us upon arrival. He was super nervous and started talking about how great our relationship was and was getting emotional (I was thinking…what the heck is he getting so choked up about?) then in a matter of seconds – but felt like slow motion – he got down on one knee and asked me to marry him. He popped open the ring box to display the custom ring he had worked 2 months on designing. I was speechless! And impressed by his design skills…the ring was GORGEOUS!!
Why did you choose your photographer?
I had worked with Michelle Dransart of Wildflower Studio for years. I always loved her vision and the whimsical, dreaminess she captures with her lens. When it came time to choose a photographer, it was a no brainer for me. I just had to convince her fly out from Rhode Island to California! She was amazing and worked her schedule so she could be there and we couldn't be more thrilled with the results.
The dress
Dress: Kitty Chen, Shoes: Heels – Badgley Mischka. Boots – Madden Girl, Earrings – Forever 21, Bracelet – ShopBop, Hairpiece – Etsy.
The suit and bridesmaids
Groomsmen Suit: Pants – Calvin Klein, Shoes – Vans, Shirts – Men's Warehouse, Suspenders and Custom Ties – Etsy. Bridesmaids: Dresses – J. Crew, Boots were the bridemaids.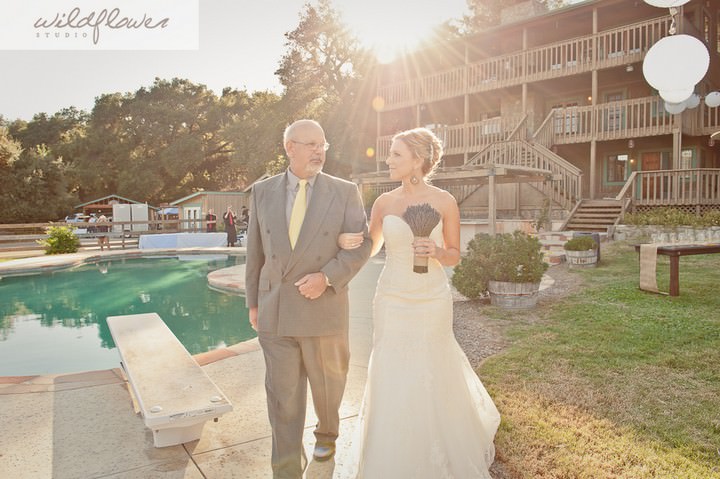 Theme or colour scheme
Josh told me he wanted to wear Grey, so I chose yellow and lavender as the complements to that. We also were getting married in Ojai, California which is known for its lavender, so it seemed like a perfect accent colour. The theme was Country Chic which went perfectly with the Ranch we chose for our location.
Flowers
I didn't want to hassle with a florist (or add another stress!) so I ordered all the boutonnieres and bouquets from Etsy. They were all made of dried flowers so they didn't require any day-of deliveries or water. And my bridesmaids got to keep them! We didn't use any flowers on the tables either, just a ton (almost 1,000!) mason jars filled with candles. Our family friend decorated the aisle and arbour with Sheppard's hooks and lavender arrangements that she made.
Decoration
Being outdoors on in the beautiful location that we were, we didn't need much. We were lucky enough that our location was filled with it's own beauty and we didn't want to distract. The few things we did was create light, and Josh built the arbour that we were married under. I wanted the place to glow once the sun set, so we lined each table with hundreds of mason jars filled with candles. It created a sea of light flowing down the centre of each 30 foot table. It came out better than I had imagined.
Food
Going with our backyard BBQ idea, we had of course BBQ! We had BBQ Chicken, Tri Tip, Mac N Cheese, Peanut Coleslaw and garlic rolls. Appetizers during cocktail hour consisted of Fruit and Cheese platters, BBQ Meat Balls, Grilled Balsamic Shrimp and Cheesy Spinach dip on fresh breads. Our caterer brought out a huge outdoor grill so our guests could smell the goodness being grilled during cocktail hour!
Entertainment
We had a DJ as well as a photo booth which I surprised Josh with the day of. That was a great last minute splurge; not only did our guests have a great time with the box of props and limitless photo prints, but we got a photo album custom designed by our guests as well as a flash drive with every image captured from the night.
Personal/DIY Details
We did everything, or we had a friend who did!
• I designed and crafted our invitations, website, program fans and all décor for the wedding.
• Josh built our arbour and made the large chalkboards that we used for seating assignments.
• Our good friend made all our desserts for our dessert bar,
• My good friend did the bridal party hair, another friend did the bridal party make up
• Josh's family friends decorated the arbour and aisle for us.
• Josh's uncle married us and we also hired a friend for month-of coordination.
• We wanted our wedding to be filled with family and friends, not strangers. And I think our friends and family liked being a part of our day as well and sharing in that memory with us.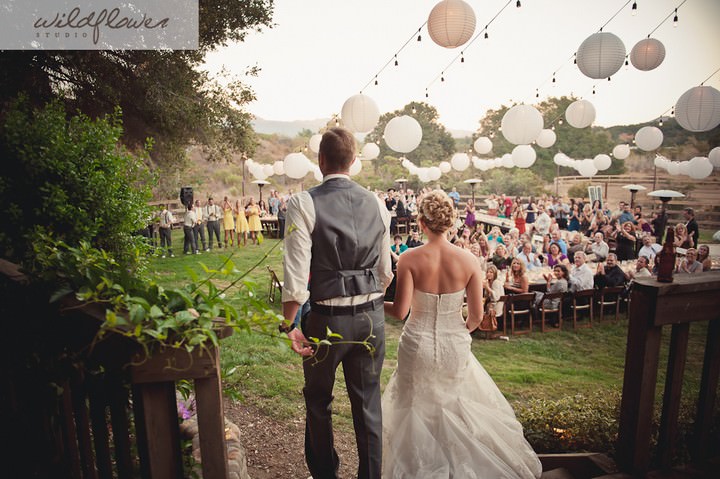 Special moments
Special moments for me were seeing my dad waiting to walk me down the aisle, having my grandmother there and my dad's speech. I know for Josh, having his family there including his cousins from out of state were special for him. I think as a couple, stepping aside and looking out at the reception gave us a minute to let it all sink in and to see how loved and supported we are.
Biggest surprise
How quickly it goes by!! There's so much preparation and then it's over in a flash.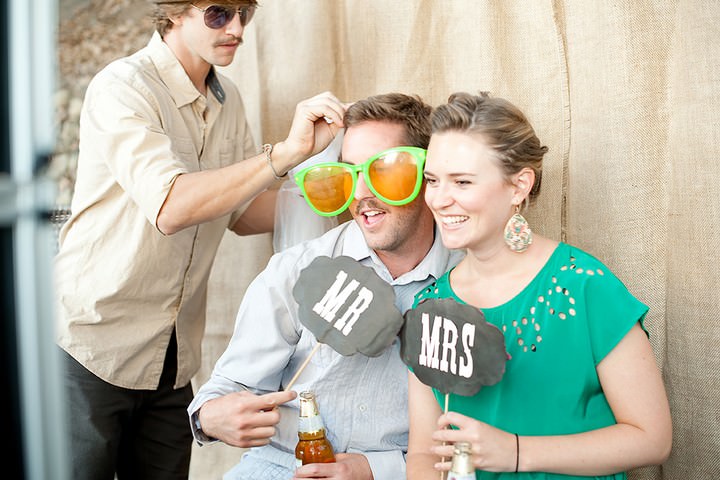 Advice
• Advice for couples planning their big day…start now! There is nothing worse than saving everything for the last minute. Photographers, locations, bakeries, etc. all book up quickly especially if you're getting married during a popular season.
• Plan it together. I know a lot of couples where the woman planned the entire thing and the man was just fine with that, but I wanted Josh to feel a part of this day that we were creating so I involved him in everything. And looking back, he wouldn't change a thing. He loved being involved in the planning and decision making. And he is now a lifetime customer of Etsy!
• Another word of advice, hire a coordinator. We hired one for month-of and it was the best advice I was given. I would have surely lost my mind had she not stepped in in those last few weeks to take over and handle everything.
• Tips for the big day, stay calm and remember to soak it all in. It goes by in the blink of an eye. Sometime during the reception, take a moment with just the two of you, step aside and look out over your day. Everyone is there to celebrate you two, and nothing else. It's an incredible feeling of love that truly needs to be experienced.
Supplier Shout Outs
LOCATION: Dekker's Ranch, Ojai CA – Private Residence
CATERER/APPETIZERS & DINNER: Woodranch BBQ – Ventura Location, www.woodranch.com
BAR: The Attitude Adjustment Shop – Ojai CA, www.attitudeadjustmentshop.com
RENTALS: Ventura Rental Center – Ventura CA, www.venturarental.com
DESSERT BAR: Heather Miller – Friend,

[email protected]

MONTH- OF COORDINATOR: Amber Weir – Ventura CA, www.amberweir.com
DJ/LIGHTING/SOUND/PHOTOBOOTH: In the Mix Events – Ventura CA, www.inthemixevents.com
PHOTOGRAPHERS: Wildflower Studio: Michelle Dransart with assistant Kristy Ellison, www.wildflowerstudiophoto.com
INVITATION & WEDDING DÉCOR PRINTING:  Jano Graphics – Ventura CA, www.janographics.com
BRIDAL PARTY HAIR: Melissa McBeath – Westlake Village CA, www.johnofitaly.com
BRIDAL PARTY MAKE UP: Jestina Ojeda – Westlake Village CA, www.johnofitaly.com
BRIDE'S CUSTOM DESIGNED RINGS: Torgny & Co Jewelers – Thousand Oaks CA, www.torgnyandco.com
POTTED PLANTS FOR CEREMONY: Diane Larson – Thousand Oaks CA, www.gardensbydi.com
Fore more information on Shell's work go to
www.wildflowerstudiophoto.com
www.wildflowerstudiophoto.com/blog/
[email protected]
FACEBOOK
@WildflwerStudio
About Shell: Her style is often described as whimsical, soulful, intimate and fun; Shell Dransart, owner of Wildflower Studio, is a boutique lifestyle portrait photographer who shoots on location using nature's available light (and also the inner glow from her clients. Shell is available for custom sessions world-wide, and is currently located in Rhode Island and Ventura County, CA.