Today we head across to California for this brilliantly warm and sunny wedding that took place near the Silver Lake area of Los Angeles. Jen and Karl created a fun and personal wedding full of amazing DIY projects, while incorporating their two different heritages into their day.  'Latin America meets the South' was the theme mixed in with a gorgeous colour scheme of pink and turquoise.  Their ideas work so well with this amazing venue, that had both indoor and outdoor areas, and also gave them the freedom to plan the wedding they wanted! Big thanks to Maggie Zulovic of Margo & Mia Photography for the photos.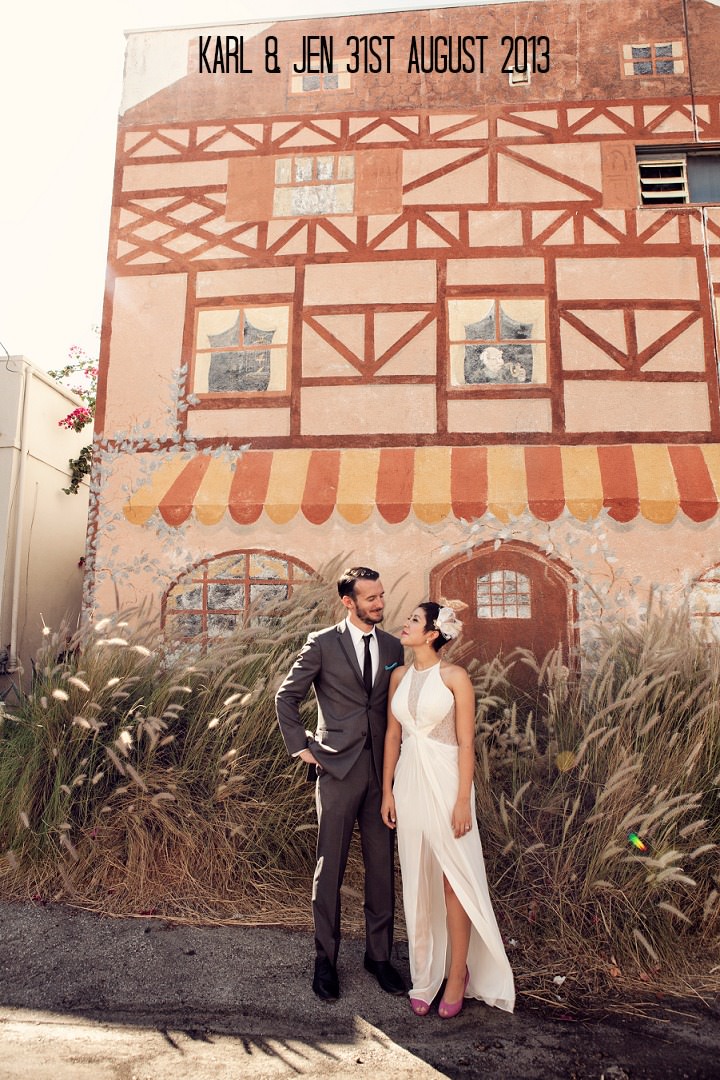 Karl and Jen were married on the 31st of August, and the ceremony and reception both took place at Elysian near the Silver Lake area of Los Angeles. 'We wanted a venue with personality, and if possible, an outdoor location that would allow us to take advantage of the warm California weather. We were initially dismayed by the rental costs and restrictions (i.e., vendor requirements, time and noise restrictions) by the majority of the venues we looked at. Then we found Elysian: It had character, indoor and outdoor areas, no specific vendor requirements, and because it is located in an industrial area we were allowed to party late into the night! It was a fairly new venue at the time that we signed on, so I think we were able to get a good deal because of that. We had 75 guests and the wedding took 1 year to plan.'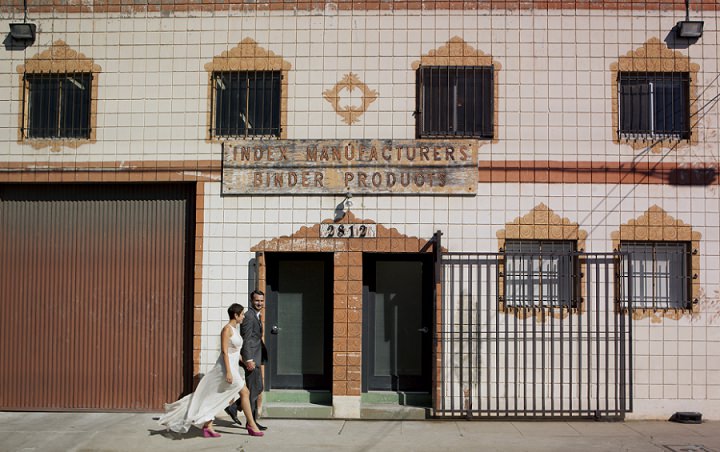 How they met
We met at UC Santa Cruz, in Northern California, where we were both living at a housing complex for graduate students. We were both in the first year of different graduate programs and we met within the first few weeks of moving in. We had both been eyeing each other during those first few weeks, but we officially met through mutual friends while watching the Vice Presidential debates between Sarah Palin and Joe Biden at a bar. Being that we lived in the same housing complex, we became inseparable after our first meeting. We got engaged after dating for four years and got married one year later.
The proposal
Karl: It was Jen's birthday and her last day visiting me in Los Angeles before she went back to school at UC Santa Cruz (we were beginning a year-long distance relationship with Karl in LA and Jen in Santa Cruz). l used the birthday as an excuse to take Jen on a scavenger hunt around the city, giving her notes and small presents along the way. After multiple fake outs, including going to the beach (a locale I knew Jen would hate to be proposed to), I proposed to Jen during our concluding picnic at Griffith Park as the sun set over the city.
Why did you choose your photographer?
I saw Maggie's photography on weddinggawker.com and was immediately blown away. I thought, there's no way that we would be able to afford a photographer with her talent. But, I was so enamoured with what I was seeing that I decided to contact her anyway. To my surprise, she wrote back right away and was extremely enthusiastic, professional, and offered her services at a reasonable price. The first time we met, I knew that she was the right photographer for us because it was clear that she saw the task of photographing our wedding as an art project, rather than a business endeavour. Also, I can be a little closed off to new people, but she made me feel comfortable right away.
The dress
I knew I didn't want a traditional/puffy/layered/uncomfortable wedding dress, but I was having a hard time finding one that I liked. I tried looking at vintage stores, but I wasn't finding anything that spoke to me. And then, surprisingly, I found the perfect dress from BCBG's bridal collection. I had to order it online because it wasn't available in stores, and amazingly it fit perfectly with no alterations! My hot pink shoes were from Steve Madden. My hair accessory was from the GildedShadows shop on Etsy.
The suit and bridesmaids
The groom and grooms-men rented Vera Wang "Black" Tuxedos in grey. My bridesmaids are very fashionable ladies so I let them pick out their own dresses based on a neutral colour scheme. They found their dresses from a range of sources: vintage stores, H&M, Modcloth and Nordstrom.
Theme or colour scheme
Our colours were hot pink and turquoise. That definitely raised some eyebrows when people first heard about our choice, but I think we pulled it off
Flowers
We used mostly hot pink gerbera daisies for the table arrangements, and green hydrangeas, smaller pink daisies, baby's breath, and green chrysanthemums for the bouquets and boutonnières. I took care of the floral arrangements: I made all of the bouquets and boutonnières. Each table had a simple arrangement of beer and soda bottles with a single hot pink gerbera daisy in each one. We bought all of the flowers we needed for the entire wedding for $50 at the Los Angeles Flower Market!
Decoration
We wanted to incorporate both of our very distinct cultural backgrounds into the décor of the wedding. Karl grew up in Georgia, and my family is from El Salvador, so we had a Latin America meets the South sort of theme. To represent the south, we had mason jars, burlap table runners, woven baskets, and pie instead of cake. To represent Latin America, we had papel picado banners, Loteria (Latin American bingo) characters instead of table numbers, and a day of the dead inspired guest book table.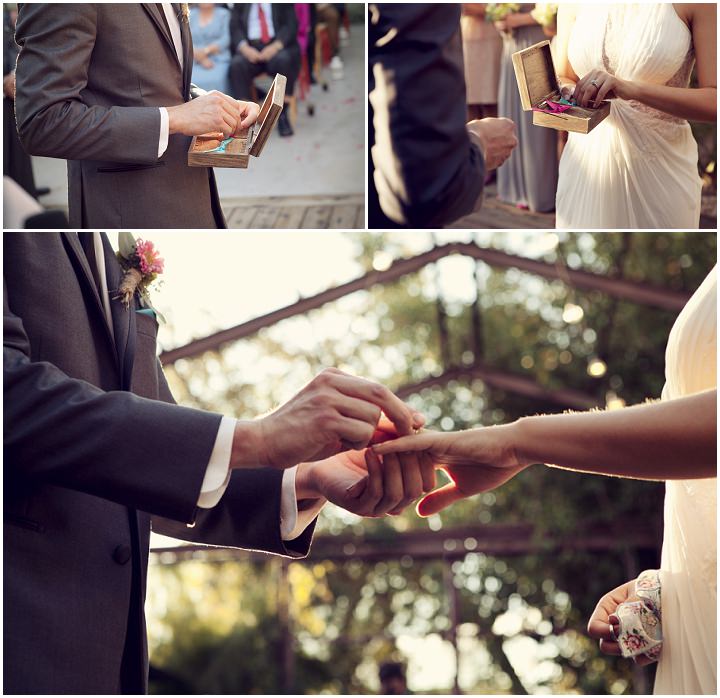 Food
Appetizers were soyriso (vegetarian chorizo) empanadas and wild mushroom and goat cheese tartlets. For dinner, we had a shellfish and a vegetarian paella buffet.
Wedding Cake
Instead of cake, we had pie: Southern Pecan and Apple. I don't like cake, and we thought pie fit well with the Southern theme
Entertainment
We had a DJ who played mostly songs that we had chosen, but also added her own flavour to the mix. I don't even like to dance but I did so all night!
Buy or DIY your Stationery?
I designed all of our stationary: Save the dates, invitations, wedding program, table name cards, and personalized name flags for each guest's straw.
Personal or handmade touches
Our wedding had as many DIY elements as we could possibly get our hands on!
• I hand cut all the burlap table runners, designed and printed all the stationary, and I made all the bouquets, boutonnières, and floral arrangements.
• I also designed personalized mason jars for the guests to take home as wedding favours; each mason jar had either a turquoise (for male guests) or hot pink (for female guests) straw with personalized name tags that directed each guest to their assigned table (we printed and hand glued each name tag).
• Guests were also given a Loteria board to take home; on the backside of the board, we glued an envelope full of forget-me-not seeds for the guests to plant at home.
• We also spent a year collecting vintage china from thrift shops for guests to dine with, rather than renting plates.
• Finally, I gave all the bridesmaids vintage handkerchiefs to cry into during the ceremony!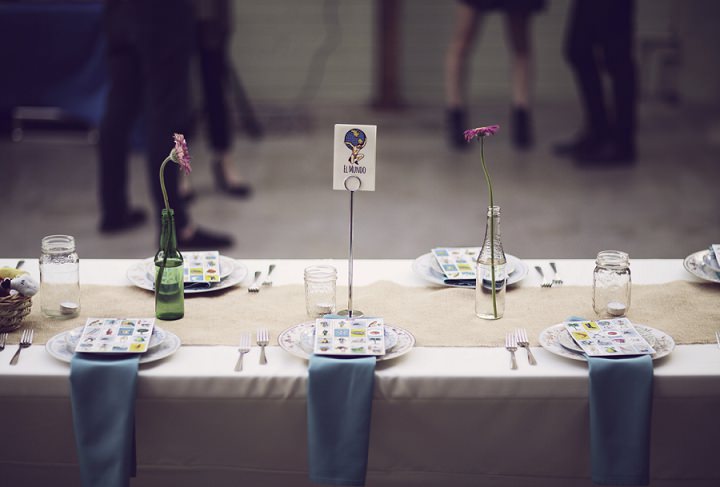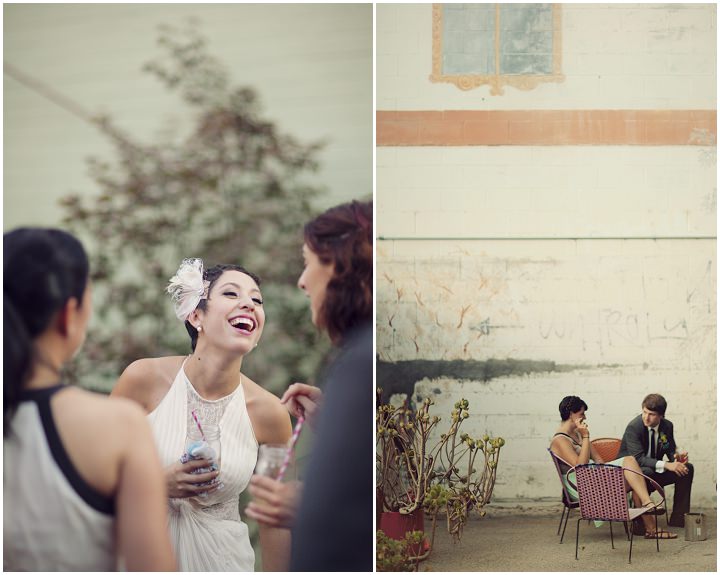 Special moments or highlights
One of the flower girls, my two-year-old half-sister, began crying a few minutes before she was going to walk down the aisle. Cindy, our AMAZING day-of-coordinator, was able to get her to stop crying seconds before she walked down the aisle by blowing bubbles and allowing her to walk down with a mickey mouse plush toy in her basket—you can see the toy in her basket in the pictures! It was a good to see that even when things don't go exactly as planned; it doesn't really matter in the grand scheme of things. And now we have a funny story to tell!
Biggest surprise
My dad is generally a reserved and quiet man, and English is not his first language. Knowing this, I expected something simple and modest. Instead, he blew us all away with his emotional and eloquent speech that perfectly tied every element of our wedding together. I looked around the room to see almost every guest in tears; it was actually the only time I cried during the whole night!
Advice for other couples
I'm going to pass on the advice that several DIY brides have given to me: HIRE A DAY-OF-COORDINATOR! No matter how organized you are, or how confident you are in your DIY abilities, I think a day-of-coordinator is really there for your peace of mind. I was able to enjoy myself and not worry about what was supposed to happen next because I knew I could count on Cindy to take care of it. They are also very experienced with weddings (i.e. what could go wrong) and will bring up scenarios you had never even considered. Seriously, it was one of the best decisions we made during the whole process.
Also, don't let anyone fool you into thinking that there are elements that must be present at your wedding. We decided against so many aspects of traditional weddings (i.e, cake, bouquet toss, etc.) because they didn't match our personalities, and that's all right!
Supplier Shout Outs:
For more information on Maggie's work go to:
http://margoandmia.com
FACEBOOK
@Maggiez