Today is my 2 year wedding anniversary, so I'm revisiting the first real wedding I posted back in December 2009, my own wedding and updating it with some more photos. I didn't really share that many photos with you back then so I thought the post needed a bit of an overhaul, and it's given me the chance to go through my wedding pictures again.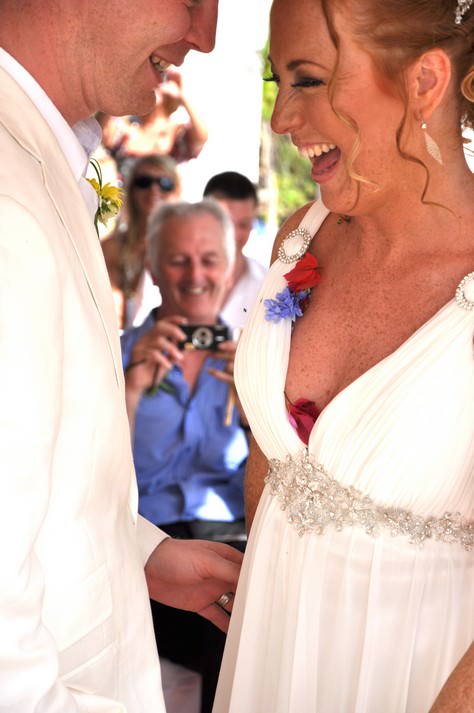 Looking at your wedding pictures years after it happened (and yes 2  years does count as years to me) can make you think about the things you would do differently, which is never a good idea! admittedly there are a few things I would change about my wedding knowing what I know now about the wedding industry……but overall my wedding was perfect! and the main thing about is that I married my gorgeous husband Nik!
Looking back on it I realise that it's not the little details that make a wedding, it's the people getting married and the marriage itself. I think people get so caught up in the wedding planning and get stressed out about the overall appearence of the day itself, that they loose sight of why they are getting married in the first place!…..I know this because I did it! I was consumed by my wedding for 18 months and once it had been and gone I didn't know what to do with myslef….so I became a wedding planner.
The first year of marriage was hard, anyone who tells you marrige dosn't change the realtionship is a liar because it does! Me and Nik had a tough first year of marriage for one reason or another, but I'm pleased to say that our 2nd year of marriage has been amazing. I love him more now than I have ever done! he really is the best thing in my life and I just can't imagine life without him.
So I'd like to dedicate this post to Nik and say thank you for the last year, you have been amazing, so supportive and so patient! I hardly have any time for you at the moment yet you are always there for me when I need you and always go that extra mile to make sure I'm happy. You have sacrificed so much for me, I just want you to know that you are truly appreciated and loved with every bit of my heart!
…………………….so enouigh of the slushy stuff and on with the wedding!
Nik  proposed to me on September 1st 2007, we were in Cornwall which is where I'm from originally and we were standing facing the sea, looking at my favorite view in the whole world
After planning the majority of our wedding to be held in a Marquee in Cornwall we then decided we wanted a less conventional wedding, something that was a bit more 'us.' so I canceled the church,  the marquee, the photographer, the catering, the florist, the VW camper and planned the 2nd version of our big day!
We both love clubbing and had been to Ibiza on several occasions, so decided that it was the perfect location for us, and still close enough to the UK for our friends and family to attend. The following October 2008 we went across to Ibiza to meet my wedding planner and after 3 days we had our venue, minister and catering all sorted.
The laws in Spain don't allow you to get married unless one of you is Catholic, which neither Nik or I are so we went for a blessing in Ibiza instead. This meant that we had to have a civil ceremony in England and get the wedding blessed in Ibiza. We did this a couple of weeks before the wedding in Ibiza on Nik's Birthday. We went down to Cornwall to make it a bit more special with 6 guests , to us it was just the 'paper work' that made the Ibiza wedding possible.
We decided on a Villa wedding opposed to a beach venue as the Villa gave us more privacy and it meant that the whole thing was ours for 2 weeks ( we both felt like rock stars!)
So on 16th June 2009 at 6pm I married my husband Nik. It really was the best day of my life. The weather was incredible; we actually had a heat wave while we were there! Luckily I had got personalised paper fans for all the wedding guests as favors, which helped keep them a bit cooler. With invitations and order of service from ever after designs.
I wore an Alfred Sung , Grecian style, empire line dress, and Nik wore a white Linen suite, the jacket stayed on for about 30 minutes……….it was so hot!!
The colour scheme was white and yellow. The Bridesmaids wore Miss Sixty kneelength dresses, I wanted to keep them looking funky and up to date. My Bouquet was Phalianopsis orchids with yellow centers and Pale yellow Gerberas, (maybe it could have done without the gerberas!) the bridesmaids had hand tied pale yellow Gerberas.
I walked down the isle to Adel 'feel my love' (I chose it before it had got attached by X Factor) we had a wonderful lady carry out the blessing, who I can not recomend enough! ! We had 2 readings and we wrote our own vows. I would advise anyone to write you own vows. It is a bit daunting at first thinking that you have to come up with something heartfelt, but it is so well worth it on the day. Our vows were so personal to us; there wasn't a dry eye in the house!! the we signed the register to  Stevie Wonder 'All I do'
After the ceremony we moved up to the pool area for photosand pomegranate champagne and canapés.
We decided to have the speeches before the food, so Nik and the best man could relax. The food was amazing,  Spanish tapas to start and then a main of sea bass or chicken The desert was the wedding cake which was strawberry and blueberry cheesecake. (although Nik is allergic to starwberries, something that the catering company forgot when makeing the cake, so he didn't get to eat any of it!)
It didn't need much décor as the Pool area was so beautiful, there were loads of trees and natural flowers around; we just had Phalianopsis orchids for the table centers wrapped inside a clear vase, with loads of tea lights dotted around the area.
The whole mood of the day was totally relaxed. Even though there was a tight time line that I had put together, none of the guests had a clue. It was totally informal and chilled out. just as we liked it!
After the food we had a DJ called Brian who plays at Space night club (where we had gone a couple of days before for our joint hen and stag do) he was amazing. All our guests were dancing, even my mum! He played all or favorite dance tracks and kept everyone dancing round the pool till the early hours.The party carried on till about 5am with most of us ending up in the pool…including Nik who decied it wa a good idea to jump in the pool in just his white boxers..which then went see through!..Nice!
We had a truly amazing time. One piece of advice I would  give to you is to make sure you book your photographer till it gets dark and you get some dancing pictures in, ours just stayed till the speeches which were before the meal and then the starter, after that I had to rely on my friends to take the evening pictures…which as you know is never a good idea!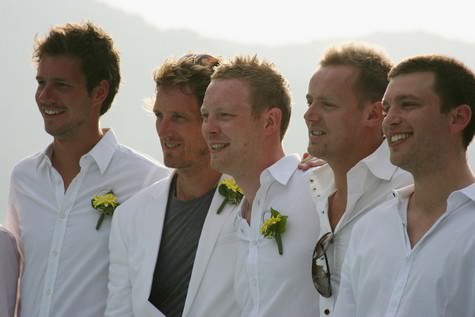 I keep saying to Nik we will have to renew our vows there in a few years time, I say 5 years, he says he can't see the point! but I will work my magic I'm sure. I now plan weddings out there myself so I'm pretty sure I could come up with something fabulous, just the two of us and maybe a few close friends!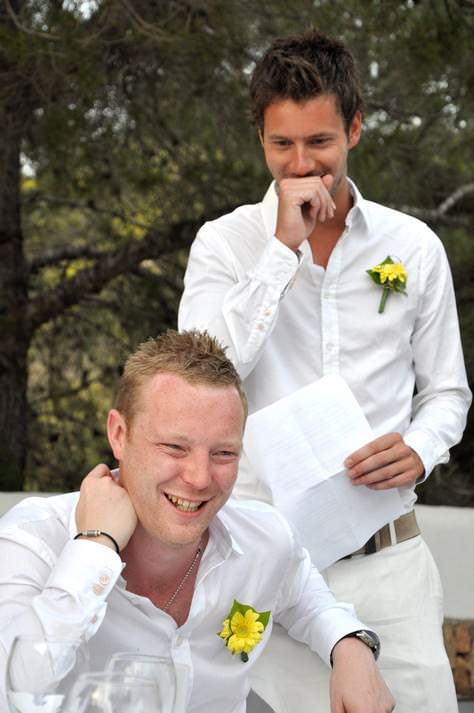 Photography: www.anniepeelphotography.com
Villa: private hire
Cornwall venue: www.foweyhallhotel.co.uk
Dress: www.alfredsungbridals.com
Bought from: http://miragecouture.co.uk/
Shoes: www.russellandbromley.co.uk
Bridesmaids dresses: www.misssixty.com
Bridesmaides shoes: www.tedbaker.com
My jewellery and bridesmaids gifts www.tiffany.co.uk
Niks suit and best man: Steel and Jelly
Niks shirt and best man www.tedbaker.com
Catering and Flowers: www.eat-ibiza.com
Staionery: www.everafterdesigns.co.uk
DJ: www.beezwax.co.uk
Paper Fans: www.lenoram.com