Today I'm really pleased to welcome Jen back to the blog. Her own wedding was featured here last year  Jenny and Josh's Relaxed, Handmade and Crafty Cambridge Wedding and since then she has bee creating some wonderful DIY tutorials for the Blog. Jen also has her own craft Blog called Tea For Two which she runs with her twin sister Elena.
Today Jen is going to be showing us how to make these cute Teacup Candles, which can be used as part of your wedding decoration, as favours, or as pretty birthday gifts or Christmas presents.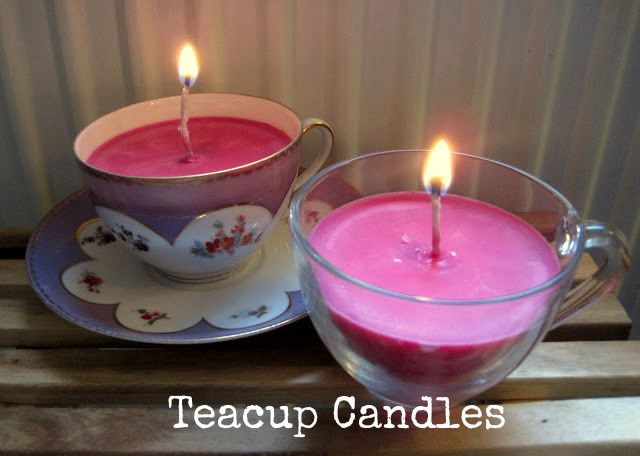 I'll pass the Blog over to Jen…………
Hello all!
Teacup candles are really popular right now, and you can pay anything from £10 upwards in shops for them. But making your own is actually really simple and can add that lovely homemade vintage-chic look to your tables. Plus they can double as favours!
Teacups  –  I sourced mine from charity shops and car boot sales
Candle-making kit – I bought mine from eBay and it came with 1kg soya wax plus dye of my chosen colour, wicks and pins
Double-boiler of some kind – I used a pan and bowl that I didn't mind getting covered in wax and therefore not cooking with again!
Step 1) Start by preparing your teacups with their wicks. My kit came with wicks and tabs to stick to the bottom of the cup, which was so useful. But you can easily do this with glue or tape. Then tie the top of the wick (leaving enough length above the top of the cup) to your pin and balance this so that the wick stays in the centre of the cup.
Step 2) Next, put boiling water in your pan and empty the wax into the bowl, then melt this over the water pan on a low heat on the hob. Be patient and don't let the water over-boil. I did it bit by bit, slowly adding more of the wax once the rest had melted.
Step 3) When all of the wax has melted empty your dye into it. I chose a pretty raspberry colour to match the colour scheme at my wedding.
Step 4) Then (very carefully!) pour the molten wax into your teacups. My 1kg wax filled 8 teacups which I was so pleased with! Definitely excellent value for money. Allow to set for 24 hours.
Step 5) Once the wax is completely set glue any cups to their saucers so that you have a complete teacup candle. I chose to do some with saucers and some without, so I've got a beautiful mix of styles and sizes!
Et voila! Better-than-shopbought  beautiful vintage teacup candles!
Enjoy crafting!
Jen x
Thanks so much Jen.  Jen will be back in a few weeks to share with us another one of her fab creations.

For more ideas from Jen go to:
http://teafortwodiary.blogspot.co.uk
[email protected]
PINTEREST

[jprel]