Today I'm really pleased to welcome Jen back to the blog.  Jen  has her own craft Blog called Tea For Two which she runs with her twin sister Elena and it is full of  wonderful DIY ideas. last time Jen showed us how to make some cute Teacup Candles. Today she is showing us how to make these super cute Frosted Jar Tealight Holders, which will look gorgeous at your wedding, either at the ceremony, or on the tables during your wedding breakfast or dotted around your reception venue. They would also look great decorating your home.
I'll pass the Blog over to Jen……….
Hey gang! Today's post will show you how to make these lovely tealight holders out of simple household food jars. They are perfect as either tealight holders or containers for flowers. Aren't they pretty?!
Jars – use any empty food jars, but clean thoroughly.
Frosting spray – I got mine from ebay but I think any good DIY place has them
Masking tape – for creating any shapes and covering any bits of the jar that you don't want frosted
STEP 1) First, apply the masking tape to each jar to create the frosted look you want. With mine I went for a mixture of shapes – hearts, a 'J', and stars – and also did a few with a simple frosted band around the centre of the jar. The object is to cover any part of the jar that you don't want frosted.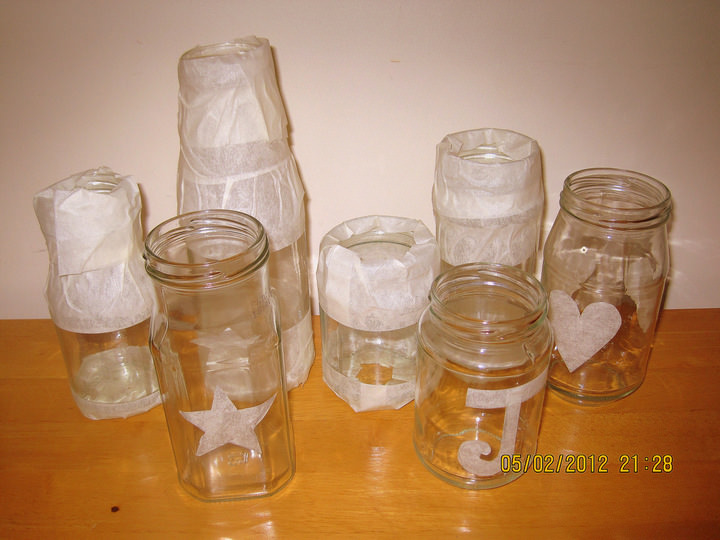 STEP 2) Next, in a well-ventilated area and with newspaper down, spray each jar with the frosting spray. The trick is to make sure you do an even spray all around from a fair distance. Wait for this to dry, and then do a second coat. This way you will get a nice even coverage. You might even want to do a third coat depending on how it looks.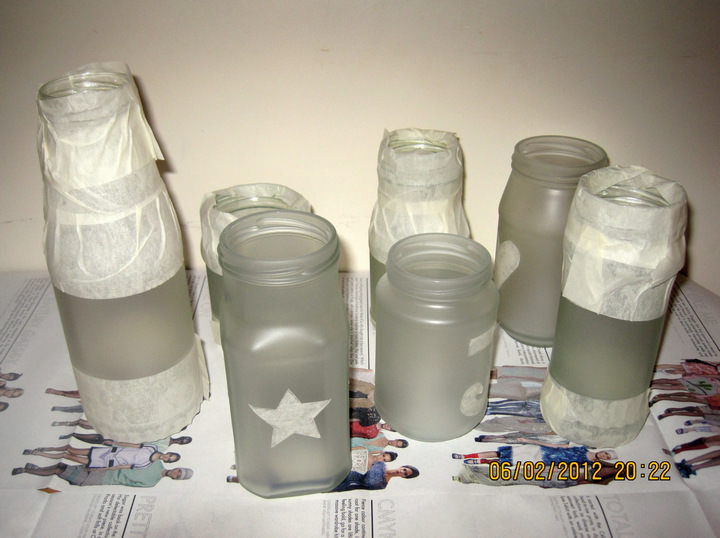 STEP 3) Once it's thoroughly dry carefully remove the masking tape. Then decorate each jar with buttons, lace or ribbon as you see fit. I used my glue gun (my favourite toy!) to create a heart shape with buttons on one jar. On other jars I wrapped lace or ribbon around the neck or base of the jar. The beauty of this DIY is that there is so much freedom to create exactly what you want!
Then fill with candles, tealights or flowers, and display! They look so cute in a row, and I love the way the light shows through the shapes not frosted. Enjoy!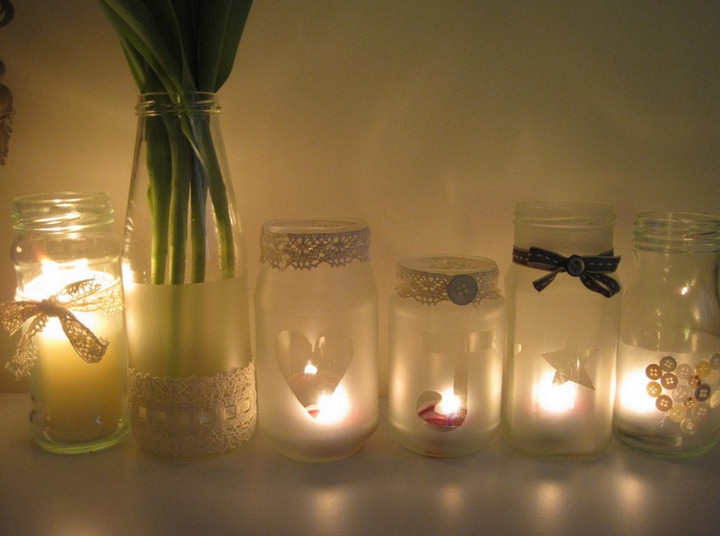 Enjoy crafting!
Jen x
For more ideas from Jen go to:
http://teafortwodiary.blogspot.co.uk
[email protected]
PINTEREST