Welcome along to another week on the Blog, I hope you all had a good weekend and are ready for the week ahead? I have something a bit different for you today, a wonderful intimate wedding for 20, all the way from Rhode Island in the US. Not only did the couple get all of their wedding party outfits from thrift shops, but the bride also planned the whole thing in 2 weeks! AND she wore a black wedding dress. Thanks to M.Studios for the photos.
The lovely couple are Rachel and Ryan who were married on 31st December (new year's eve) The ceremony was held at Slater Mill in Pawtucket, Rhode Island and the reception was at Pizzico Ristorante in Providence, Rhode Island.
'Rachel was raised in the mountains of Colorado; I was brought up against the Mississippi River, smack in the centre of the country. We wanted a wedding that would symbolize both our ties to our new family's home and those character traits that we admire in each other. Slater Mill, the birthplace of the American Industrial Revolution, is nestled against the Pawtuxet River in the once prospering mill town of Pawtucket, RI. It was here that Samuel Slater took secrets stolen from England and began the process of mechanizing the production of textiles. Since our beginning I have likened our partnership to the gears of a clock: those character traits I am lacking Rachel more than makes up for, and vice versa. Slater Mill, a source of pride in the smallest state in the Union, with its antiquated, rudimentary machines used to combine various textiles into one complete piece suited us perfectly.'
How they met
Ryan and I met at an art-based day program for adults with disabilities, Resources for Human Development. Actually, Ryan trained me on my first day. He asked me where I was from, I said 'Denver, Colorado'. 'I hate Denver'. Later he said, 'so, I guess you like the Broncos then, huh?' Thinking we might have a winner I said that yes, I love them. He snapped, 'I hate them too'… definitely love at first sight
The Proposal
I always knew I wanted to spend the rest of my life with Ryan. I just didn't know if marriage was the way to solidify our union. We were both married before so "partners" seemed much more natural and organic. After all, we have children together: Ava, whom Ryan treats as his own daughter, and Liam our own toddler. However, six year later has proved us wrong. Marriage is something we did want. Something more meaningful now than ever. All this was evidenced when Ryan did propose, on one knee, and a naked baby on a changing table diaper all filled…isn't that typically how they happen? Very traditional
Number of Guests
To start M.Studios (our photographers) and our Korean friend were going to be our witnesses, along with our children. However, the state doesn't allow a 10 year old or a 2 year old to be legal witnesses. So we asked a couple people, soon word got out and 20 of our closest friends took time out of their day for us. Because this wedding was getting out of hand we needed music. Two friends, who had never met, took our quick song list of Fleetwood Mac, Junior Kimbrough, and Joe Cocker, and gently gave our little ceremony life.
Photographer
M.Studios have consistently turned out great photos for all sorts of weddings, so it really was determined from go that they would be the pair for us. And we love them, too.
Clothes
We decided that since weddings weren't new to us, why should the clothes be? Rachel and I are firm believers in thrift store shopping for almost everything. Our wedding was no different.
Bride's Gear: $30 marked down to $15 at Salvation Army. The wedding ring was a gift from Rachel's Sicilian mother. Originally it belonged to Rachel's grandmother who got it new in 1945.
Groom's Gear: The shirt was found in a thrift store in Philly and bought expressly for the wedding. Everything else came from the closet- an amalgam of job interview slacks and sports jackets. I did wear a pin that was presented to Rachel's parents when she was fresh out of the womb. It has her name and I re-newed it as a tie clip
Bride's Maid/Ring Bearer/Flower Girl: Ava wanted to look more like a young lady than a wee tyke. Non-plussed we acquiesced and allowed her to borrow a dress from a friend of Rachel.
Baby: Entire outfit purchased over weeks from various Salvation Armys and second hand stores in the greater Providence area
Shoes: Go big or go home. New shoes for all! Rachel and I sported Doc Martins, the baby had classic ADIDAS Sambas, and Ava had stylish sensible flats.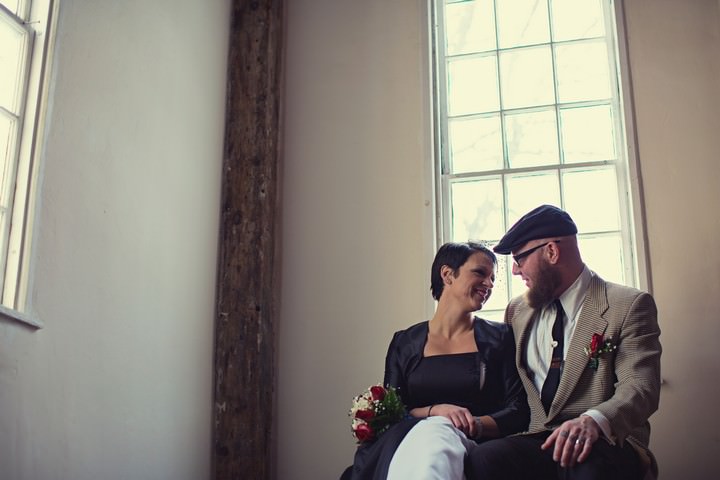 Theme or colour theme
In keeping with all things non-traditional we decided to incorporate more than the ubiquitous white into our wedding. We kept the colour not the tradition. In it's most base form the white symbolized the beginning of our relationship -think New England snow on the first of the year. The red was the life, our hearts coming together as one. The black… well, black just looks so damned good against the white and the red.
Flowers
Believe it or not, I bought our flowers at a local grocery store. I knew that they got their deliveries on a Sunday, we were getting married on a Monday. Guaranteed fresh flowers. They were beautiful, they were simple, they were cheap.
Surprise and Advice…
The ease at which Rachel pulled this whole thing off in less than two weeks is nothing short of amazing. Our budget was cheap, and Rachel succeed in coming in under budget with money to spare for matching tattoos later in the evening. So our advice is this: relax, it's just one day that will last. The. Rest. Of. Your. Life. Make it fun and whimsical, invite your friends to be a part of it. A wedding is a celebration of you and your partners life together. In the words of the great Lionel: 'It should be easy like Sunday morning'.
Fore more information on M Studios got to
www.mstudiosri.com
mstudiosri.com/blog
[email protected]
FACEBOOK
@MstudiosRI
401-954-0577.
We are based out of Rhode Island servicing all of New England and NYC.  M is for Melissa and M is for Marisa – two girls doing what they love.  We photograph weddings with a sense of fun, style and romance.
[jprel]