I am delighted to be able to share with you another of the wonderful weddings I worked on last year, one of my very own Boho Planned Weddings. As you know I not only write this Blog but I also Plan Weddings. I love my role as a wedding planner, I get to meet the most amazing people, get to work on some of the most wonderful weddings and it keeps me bang in the heart of the wedding industry, which means the blog stays fresh.
My last wedding of 2012 saw me we work with Dee and Steven on their Darling Buds of May wedding. Dee and Steven booked me a year prior to the wedding so I had lots of time to get to know them and exactly the sort of thing they were looking for for their big day! When I first chatted with Dee we got on straight away, not only because she was called Dee (my cats name) but I could tell that both her and Steven weren't looking for the normal run of the Mill wedding, they were full of energy and enthusiasm and I could tell they were going to be a lot of fun to work with. (You can see the original inspiration boards I put together for them HERE)
'Full of Catholic tradition followed by a fete of food, fun and cocktails in a beautiful village hall, totally relaxed and us!'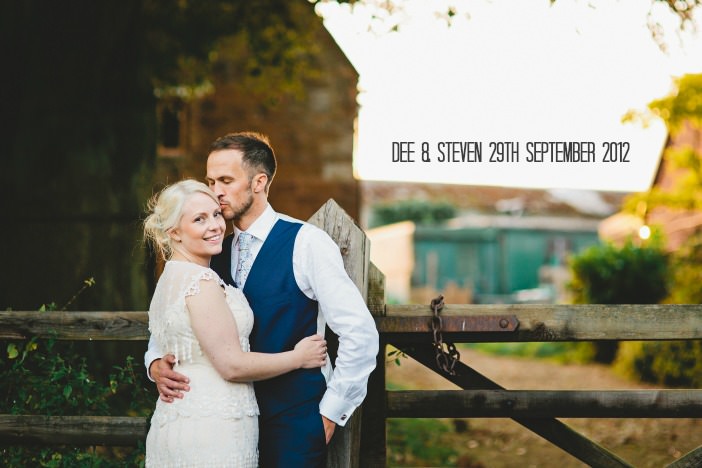 The two were married on 29th Sept 2012. The wedding took place at St Thomas of Canterbury Chapel, Exton Park and the reception was at Braunston & Brooke Village Hall in Rutland. From start to finish this wedding is full of personality. Dee and Steven had some amazing ideas and added their own stamp with all the little details. I also got to work with some of the best wedding supplier in the business, which means the wedding ran smoothly and without a hitch!  With the day being captured so beautifully by Shell De Mar and Philip White, I am sure that Dee and Steven will have a life time of memories to see them though their marriage together.
Congratulations to you both I wish you every happiness in the world together.
How they met
The short version! Seven and a half years ago, through our friend Andy. As he describes it, Dee had been swinging around some gay bar and despite being a total random, had been invited back to Andy's for a party where Steve and Dee were later to be found canoodling on his bench in the garden.
The proposal
That took at least four months longer than should have been (arguably seven years!). It would have occurred in November 2010, but after a trip to Afghanistan Steve got admitted to hospital and we had to postpone a planned holiday until the following March. Even then he made me wait! After a three week trip across South Africa with parents and friends in tow (Steve having asked my Dad for his blessing on day one of the trip) he finally decided to pop the question on a beautiful beach at sunset, where my parents live in Pringle Bay. He almost forgot to get down on one knee but remembered half way through! The next day I got to experience most girls' dream, of designing my own engagement ring! I'm very lucky that my Mum's friend is the most amazing jewellery designer so we sat around his kitchen table strewn with diamonds and designed my own unique ring.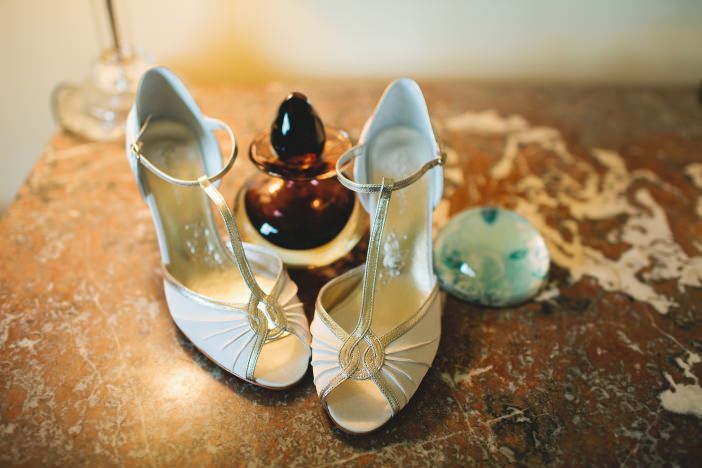 The venue
Apart from being half way between where we live and Steve's family in Loughborough, the catholic chapel at Exton Park is not only stunning beautiful (unlike most catholic church's) but it also allowed you to bring your own priest! The family priest had been relocated to Ipswich soon after we got engaged but we knew Father John was the only one we wanted to conduct the service, and the parish priest in Oakham gave us permission. A lot of the local wedding venues left us either a bit cold or with far too many compromises, all we really wanted was to find a nice village hall with a nice bit of garden for our family and friends to gather. Many internet searches and visits later we came across Braunston Village Hall and we were sold. Although it was a bit of a squeeze! We had 126 guests and another 30 in the evening. It took18 months from engagement to the wedding but planned in 9 months.
Why did you choose your photographer?
This was actually the very first thing we booked right after we got engaged and even set the date for the whole wedding! I'd seen Shella's amazing work on the blog and loved the fresh light style.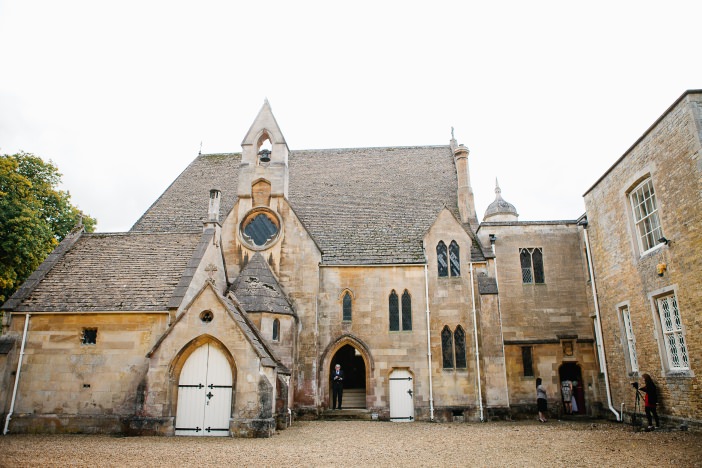 The dress
I chose a Claire Pettibone, Kristene dress. After insisting I absolutely didn't need an expensive designer dress, my chief bridesmaid and I took a trip to the fabulous White closet in West Didsbury where predictably I feel in love with just that! I'd seen the dress in a magazine on a model and dismissed it straight away, not being of model proportions. My chiefy insisted I tried it on and although the sample didn't fit I still fell in love with it. Even though I lived over 150 miles away it was worth the trip for fittings just for the service alone, after some bad experiences elsewhere I can't rate them highly enough.
Rachel Simpson shoes, veil and hair piece also through the lovely girls at The White Closet.
The suit and bridesmaids
My gorgeous groom, the best man and dad's all wore beautiful Duchamp suits, shirts, ties and pockets of their own choosing. I've never been a fan of morning suits, especially the hired variety. We also wanted a formal but relaxed colour and the indigo blue was perfect.
The bridesmaids were a little more tricky, finding a dress that worked for all three big ones of different ages and sizes, we found the perfect answer with a gorgeous dessy dress, in two different colours, a beautiful tutti frutti colour for my chiefy Rachel and a less bright aubergine for Victoria and Francine, being teenagers they wouldn't be seen dead in pink!
Emilia, Sophia and Ruby, The little bridesmaids where easy all being under 7 the criteria was princess and twirly! Their dresses came from John Lewis.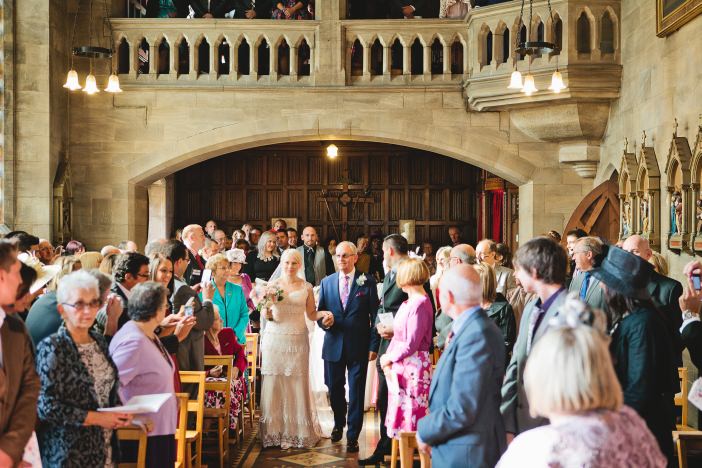 Theme or colour scheme
I was dead set against any such theme! Although my mother insisted on calling it a "Darling Buds of May" wedding! I was even more against a colour scheme but it evolved all of its own accord, and before we knew it we had our bench moment on the invites (beautifully designed by Chessie at Fresh Designs in Peterborough) and cake with the colours coming from them too.
Food
Pimms, Crisps and ice cream on arrival.
I originally wanted picnic baskets filled with lovely treats for people to help themselves too, but with limited space on the tables the baskets had to go. We visited the caterer, Hazells of Sheffield who laid out a table display to match our requirements. We chose Tarts, warm potatoes, salad, continental meats and salmon. Followed by my favourite Eaton mess and fantastic cheese boards all served family style.
In the evening we had fish and chips (from Stockport!) and cocktails a plenty! It was important to us to have a free bar so everyone could relax and enjoy themselves and you can't have a party without cocktails. We spent months buying the alcohol. The Lansen was on a 50% off deal in Morrisons and one mad weekend we had everyone out buying it!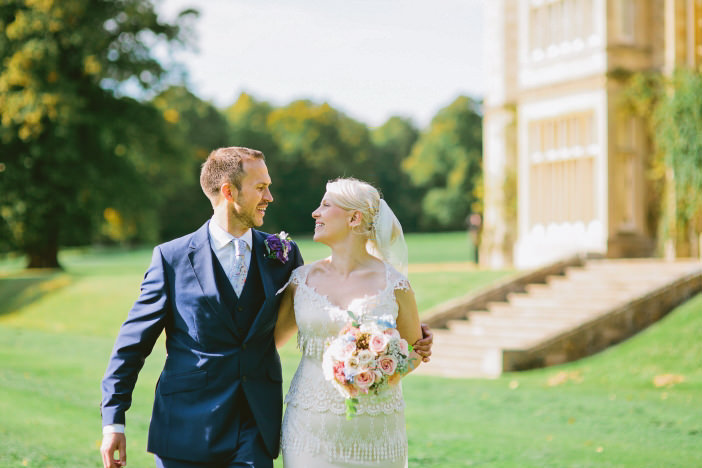 Entertainment
We wanted a real family feel to the day as we had loads of kids coming so plenty of games to keep them happy. We borrowed a coconut shy from the local scout group, the space hoppers we'd bought for a party years ago, and then lots of boxes of glow sticks (from Wilkinsons!). We also hired an amazing Juke box (one of Steve's favourite things) and a vintage arcade game console from SM Jukeboxes. The kids loved it and so did the grown men!
The brilliant Bespoke Bartenders ran the bar. Everyone still comments on how fantastic they were. The cocktails, flairing skills and magic tricks, not to mention the fact that they boys are very easy on the eye! Even my Mum (an apparent teetotaller) was bowled over by the mocktails!
In the evening we had a fab local band called Infuzion, who played a brilliant mix for everyone to get jiggy to!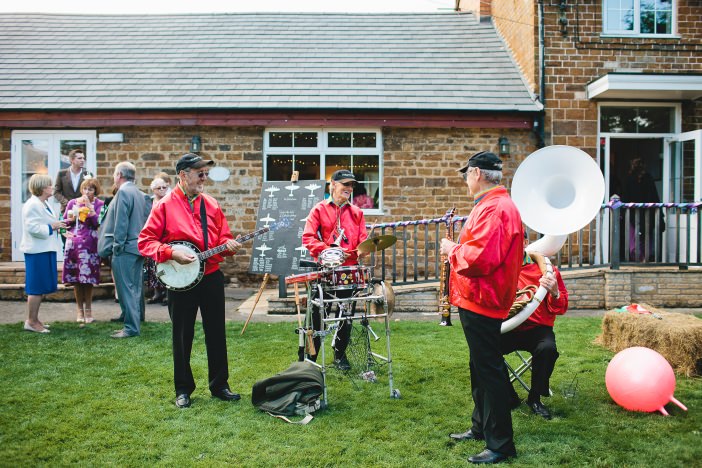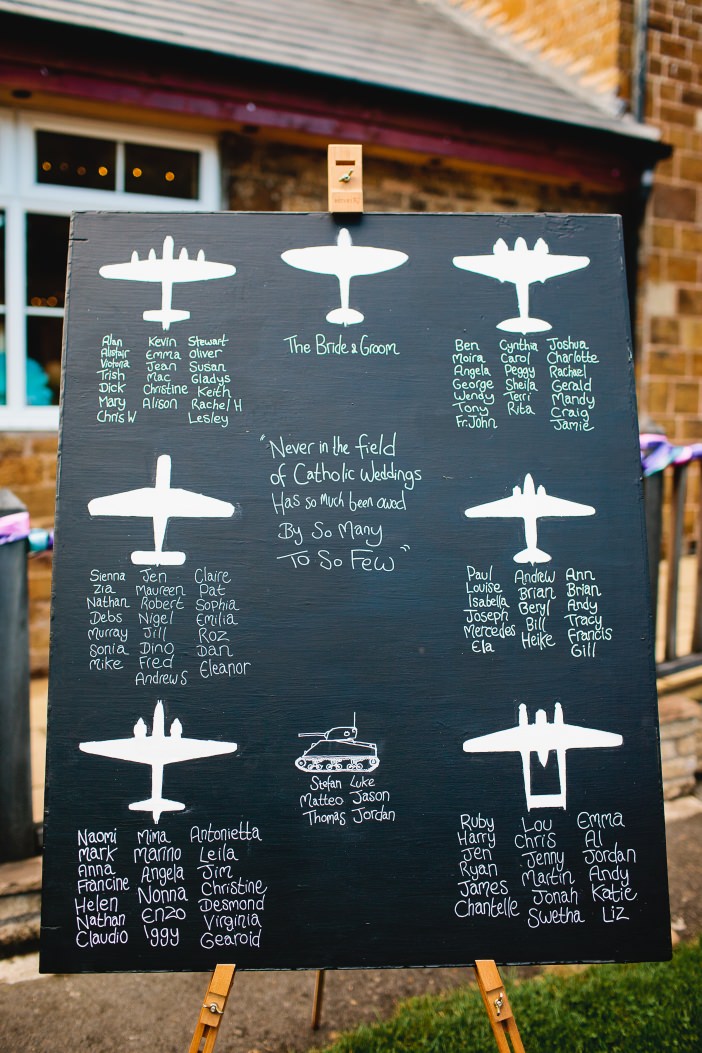 Flowers
I always wanted to get married in spring as I love spring flowers and colours, but the boy couldn't wait till 2013 so we picked autumn, but I still managed to get a few favourites in there. Pale blush English roses. Blue hydrangeas and gypsolphilia. Our florist (Liz at Pollen in Oakham) was very patient when my amazing husband wanted to make my bouquet from scratch himself, he might have been gone 2 hours on the day we were setting up, but it was totally worth it for the surprise of seeing my bouquet on the day.
Decoration
We had a separate marquee (supplied by the very patient Tom and Hannah at Rutland Marquees) area for the bar and chill out area, so we dressed this with bunting, while in the main hall we had tissue paper pom poms (all ordered off eBay and put together by the girls a few nights before).
Personal / DIY touches
• Our beautiful wedding cake was made by Steven's Aunt and it was the most incredible thing I've ever seen.
• As well as the pom poms, I made all the chocolate lips and moustache lollipop favours (with plastic moulds purchased from America)
• I also spray painted all the jam jars for flowers on the tables.
• Steven made and designed the aviation themed seating plan using hand-crafted stencils.
• The hay bales we used for the hall green came from a local farmer.
• We put together a guest book using an instant camera and got our guests to take photos of themselves to add to the book, we got some great images from this.
• We also put quiz sheets (based on the funnier aspects of our lives) on the tables, more for talking points than anything else! I don't think we needed to worry about people mixing though; the free bar did that for us!
Advice
Do what you want to do. No one liked our picnic idea; everyone thought we wouldn't get 120 people seated in the village hall. Guess what? It all worked in the end! Have faith in your plans and don't let anyone change your mind.
Meet with ALL your suppliers. No matter how competent and professional they are, check, check and double check they know what you want and how to fulfil those requirements. You'll be amazed how many think because they have done hundreds of weddings they know what to do; they can still get things wrong, because they have never covered your wedding!
Don't be shy of delegating. Particularly to your best man and chief bridesmaid! With a large group of people this is all the more important.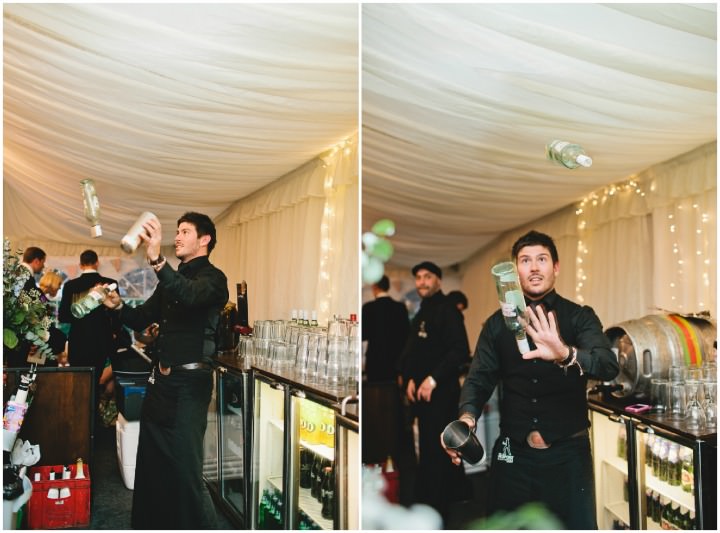 Special moments
We both loved our service which meant so much to us. Steven spent hours choosing all the hymns. We had an organist and choristers from Nottingham Boys Choir. While we signed the register a solo choir boy sang 'From the Bridegroom to his Chosen' which is really beautiful piece of music. I'll never forget walking down the aisle with my Dad and seeing Steven and my Mum at the end with tears in her eyes. Another favourite memory is seeing my dad, groom and mother in law with flashing glasses and glow sticks after enjoying the cocktails! It's the most surreal moment walking into a building and having everyone you love in one place. It's amazing and the reason we got married in this country.
Biggest surprise
How much I cried! My family has had a very difficult year, after both my parents had heart attacks at the same time and other members of my family suffering serious illness I was overcome with emotion. Ultimately they were happy tears. Seeing my husband having the time of his life really made my day. He was bouncing off the walls for days.
Boho Planning Details
What planning service did you book from me
Partial Planning
What made you decide that you wanted to book a planner?
We really needed someone neutral to talk to, someone that could offer another perspective based on experience. We also recognised early on that we needed someone to manage the reception venue and finish the setting-up while we got married.
What do you feel were the biggest benefits of having me involved with your wedding?
You handled events superbly on the day and at no point were we aware of any of the little niggles there might have been!
Dee + Steven // God, I love mass…. from Philip White on Vimeo.
Supplier Shout Outs
For more information on Shell De Mar go to
www.shelldemar.com
www.shelldemar.com/blog
FACEBOOK
@ShelldeMar

[jprel]