Happy Friday everyone. I do hope you've had a good week and are now looking forward to the weekend ahead of us! Personally I can't wait, as we have lots of festive activities planned and I really do LOVE Christmas. To bring a bit of warmth and sunshine into your life, I'm sharing this gorgeous wedding from Mexico with you. An intimate wedding with just 21 guests and the most amazing backdrop a bride could wish for. The sand and sea look so inviting, and makes me dream of our summer holiday next year. I am totally in love with the cake table and that donut bar, the foliage, the flowers and the overall look of this fabulous wedding. Big thanks to Fun in the Sun Weddings and Fresa Weddings.
Our wedding day was beautifully relaxed, everything I could have imagined and more for a beachy, boho wedding!
Emily and Clay were married on 15th June, 2017 at Grand Coral Riviera Maya, Playa del Carmen in Mexico. Clay's family are from Canada and Australia and mine are from Australia. We decided on a destination wedding as that way everyone had to travel and could have a holiday at the same time. It made it fair for both sides of the family! We decided on Mexico because Emily loves the beach and warm weather! We had 21 guests and it took us just under a year of actual planning and lots of research prior to pick a destination that would work for our families.
How they met
We met for the first time when our mutual friend introduced us at university. Clay had moved from Canada to Australia with his family 5 years prior. Although it wasn't "love at first sight", we knew we wanted to be together. Three years later after developing a close friendship we decided to start seeing each other.
The Proposal
We got engaged just over a year after getting together. We were living in Australia with plans to move to Canada in the coming months. Although we had spoken about getting married, I wasn't expecting anything so soon. Clay was working away and was gone for two weeks and only home for one, and had bought a diamond several months earlier. He planned to propose once he'd quit his job working away but once he had the engagement ring he couldn't wait. On one of his weeks home he proposed on a walk through Kings Park  (a park overlooking the city skyline in Perth, Australia).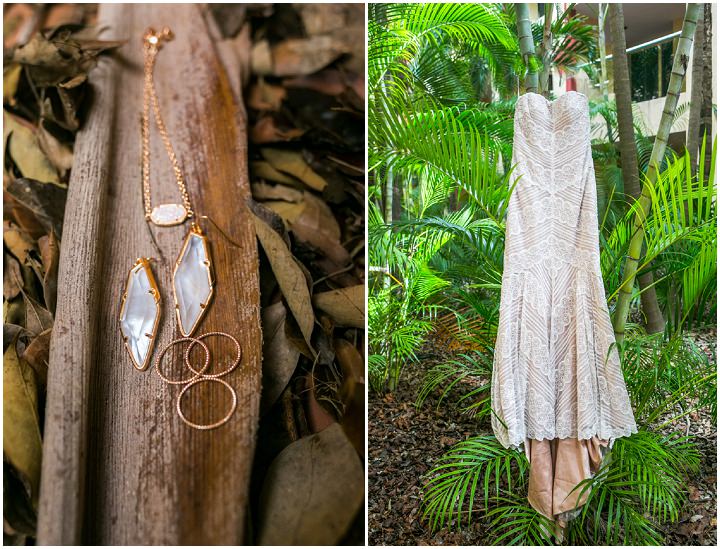 How did you allocate your budget?
We had an excellent wedding planner who was able to spend our budget and ensure that we got everything we wanted within it. We told her what we would love and what our ideal wedding would look like and she set to allocating our budget in the best way, so that we got the most of what we wanted but didn't go over budget.
Where did you splurge and how did you save?
We saved by having an intimate wedding. With only 21 guests we were able to save quite a bit on food, drinks, chairs etc. Photography and videography were very important to us. We had a bit of our budget left at the end of the planning so we decided to splurge a little on some of the table details, the crochet style napkins, blue plates, pink goblets and gold cutlery were all little extras that really made our table setting special! Clay also decided he would love a Cigar Bar and I think that really added a big touch of his personality to the wedding.
Why did you choose your photographer?
Our photographer, Fun in the Sun Weddings was suggested to us by our wedding planner, among a few other photographers. We looked through all of the photographers previous work and decided that Fun In The Sun fit our style the best. We are so happy with the photos. They captured the soft, boho style we were going for perfectly!
The Dress
My gown was also better than i could have imagined! I wanted something "crochet-style" and different, and I loved the gown I ended up with! Super comfortable and although I never planned on wearing a strapless dress, I loved it! It came from Watters Wtoo from Bridal Centre in Calgary, Alberta.
The Suit and the Bridesmaids
Clay wore pants and belt from Zara, shirt from Topshop and shoes from Spring. He wanted to be relaxed and semi-casual. Bridesmaid's dresses were from  Show Me Your Mumu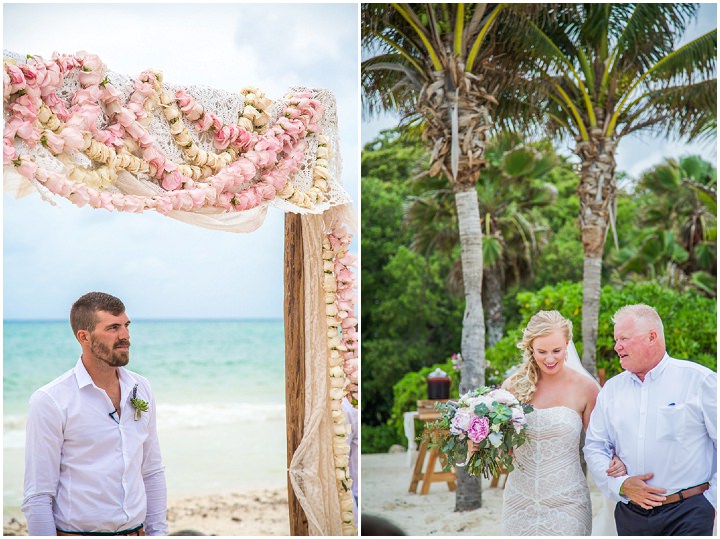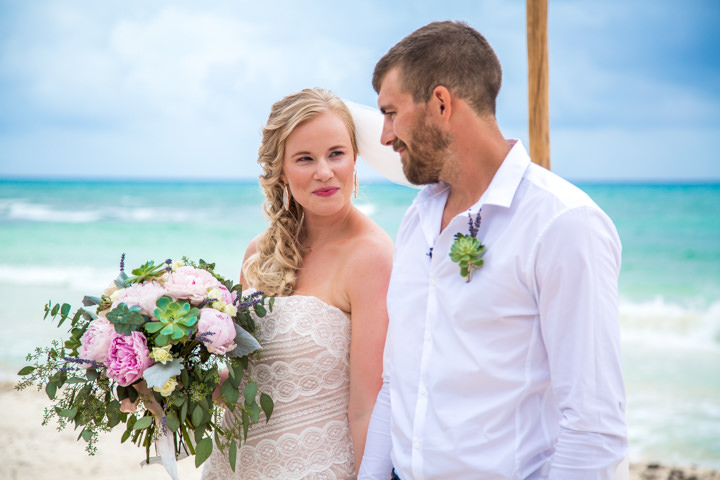 Theme or colour scheme
To be honest my "vision" for the wedding day changed at least 5 times before settling…. I blame Pinterest for that! I always had the "beachy boho" idea but that definitely evolved as we planned! Our colour palette was greenery with soft pops of pinks and purples.
Flowers
Our flowers were stunning! Better than we ever could have imagined. I really wanted succulents as a large part of the florals, so we worked with our wedding planner/florist to include as many as we could on our budget. Our florist was Vanessa Jaimes.
Decoration
I wanted "beach boho" lots of wooden and natural elements, lace, macrame, succulents and soft pops of colour!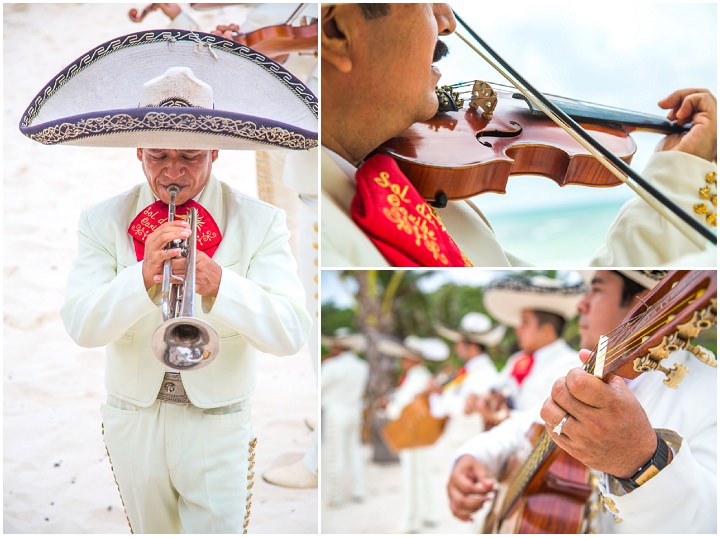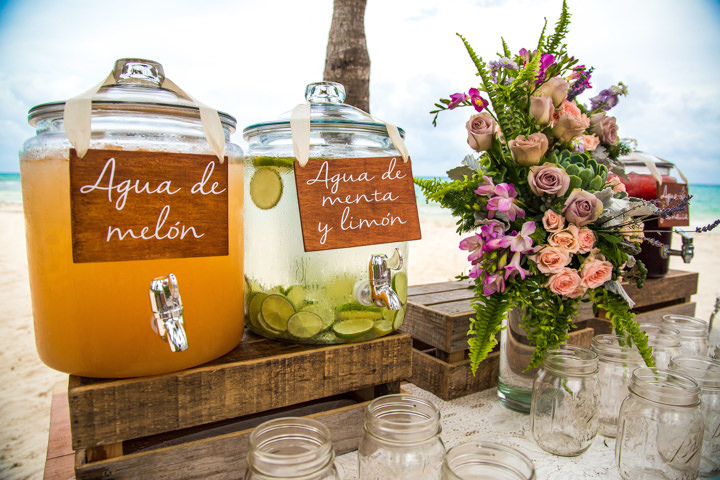 Food
We had Carpaccio of salmon, followed by stuffed chicken breast with mashed cauliflower and pearls plant or spinach and ricotta ravioli with putanesca sauce.
Wedding Cake
We had a wedding cake and donuts! Clay and I love donuts. When we first moved to Canada we visited Tim Hortons on the regular for donuts, so we figured they had to be a part of our wedding dessert. We also had a beautiful semi-naked cake; carrot for the bottom layer and coffee for the top and both were absolutely delicious!
Entertainment
We had a DJ who managed to keep most of the guests on the dance floor for a majority of the night.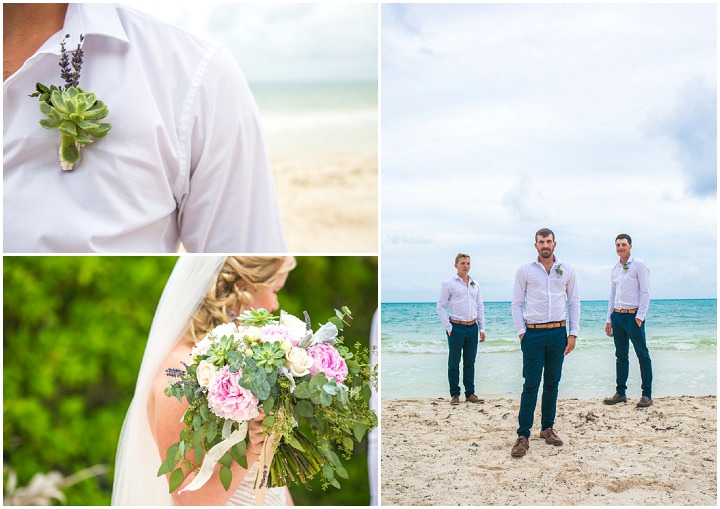 Who supplied the stationery?
I made the menus myself and for place cards we used wooden coasters which my husband made and I painted each guests name onto.
Personal Touches
Our favours were handmade coasters. Clay has a woodworking business with his brother in Canada so he made all of the coasters and I painted each guests name on them as a place seating and favor. The wooden signs were also all made by us. The "his one" and "her only" signs were made by my friend in Australia and the donut stands by Clay's brother, Chuck.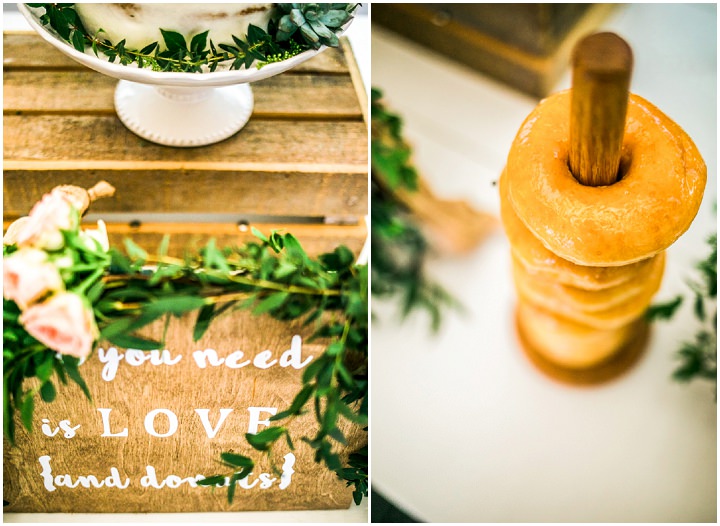 Special Moments
Clay and I snuck away to the beach to watch the festivities alone for a few minutes and take everything in!
Advice for other couples
If you can, use a wedding planner! I can't imagine planning a wedding without the help of someone. Kristee at Fresa Weddings was phenomenal, not only at planning and putting together an amazing event for us but also for all of her vendor recommendations. All of our vendors (especially Fun In the Sun) were awesome and so great to work with!
Biggest Surprise
Honestly….. the biggest surprise was how relaxed the entire day was. There was absolutely no stress or pressure! Also how quickly the entire day flew by….. I would love to go back and do it all again.
SUPPLIER SHOUT OUTS
For more information about Fun in the Sun's work go to:
www.funinthesunweddings.com / www.funinthesunweddings.com/blog  / FACEBOOK / INSTAGRAM / PINTEREST / TWITTER
Fun In The Sun Weddings is a destination wedding photography company shooting on the sunny shores of Playa del Carmen, Mexico. We specialise in professional wedding photography on the tropical beaches of Cancun to Tulum, and all points in between along the beautiful Riviera Maya.  Our belief is that the best wedding photographers deliver not only professionalism but also an experience! As our name implies, we have fun while we work! Phenomenal photos are born from a carefree environment of smiles and laughter, and that is our ultimate goal. We especially love to work with clients who have an adventurous spirit, who aren't afraid to walk on the wild side!