This afternoon I have a real treat for you in the form of this Gorgeous Stationery from Sarah Wants. Sarah started her stationery business last year and in a short space of time has created some really gorgeous stationery collections. I love the rustic nature of her work, and the homespun designs, I'm pretty sure she has a wonderful future ahead of her.
Sarah has been kind enough to answer a few questions for me, and to share with us a few of her stationery collections. I hope you love them as much as I do.
'Sarah wants… is a collection of whimsical and rustic stationery to make your wedding guests squeal with delight! By the seaside, romantic lovebirds and scrummy cupcakes are all part of the heart-warming range digitally created with cut out fabrics and illustrative doodles. Everything is printed using FSC papers and 100% recycled envelopes. Sarah is based in south west England but can send her pretty stationery anywhere!'
What made you start your business?
I have always had a love for paper and pattern for as long as I can remember, and I have hand made cards and wedding stationery for friends over the years. I got engaged in 2009 and set the wedding date for 2012 and that sparked the search for invitation inspiration. I thought that finding a lovely invite design to suit my wedding would be easy, but I just couldn't find what I was after, so in the end I decided to design my own. I loved what I had designed and was really pleased with how the invites had turned out. Once my guests had received them the feedback was really positive and very encouraging. So after a lot of thought and a lot of late nights putting my ideas on paper, I decided to bite the bullet and take a chance at doing what I love for a living – I decided to turn my hobby and passion into a business. I went to business classes and read lots of books, and I wrote a business plan that I even impressed myself with! I haven't looked back since.
When did you start?
2012: the best year of my life. The year I got married and started my own business!
Where are you based?
I live in beautiful Cornwall and I am very lucky to have been brought up on a farm in the country. I wake up to the cows mooing and the birds singing every day. My designs are often inspired by what I see around me, which is probably why there are quite a few little birds in my work!
What sort of geographical area do you cover?
Although I'm down at the far southwestern tip of the UK, I take orders through my website and can send stationery anywhere. The world is my oyster!
What were you doing before?
I studied Interior Design at University and previous jobs were mainly admin based roles; which I knew weren't forever. I always knew I wanted to use my creative skills and one day have my own business. Working in admin wasn't a total waste, as I learnt a lot of skills that I use today. Now I'm super organised and love writing lots of lists!
How would you describe your style?
Rustic and whimsical; I have always been drawn to rough, natural looking papers rather than shiny or sparkly ones, and tend to use them a lot in my work. There is something about things in their raw, natural and untouched state that I just love! Natural papers seem to create a sense of nostalgia and work really well as subtle backgrounds to compliment the pretty & colourful fabrics I use to create the designs.
What is your biggest achievement so far?
As I am a fairly new business, I guess I would say that the biggest achievement would be that I actually started my business in the first place and that I'm doing what I love; I still can't believe it. A lot of people think about starting a business and say what they would and wouldn't do but don't actually do anything about it and just stick to their normal job which they hate and then moan about! It takes a lot of dedication, time and hard earned savings to start a business – and sheer guts to make the decision to just go for it. It's not been plain sailing but life never is; it is all experience and if there weren't any downs there wouldn't be any ups!
What makes you different to your competitors?
I use a lot of fabrics in my work, so my stationery has a crafty feel. The wobbly freehand lines add a playful and informal touch set on a backdrop of natural style papers. The scenes I create convey a sense of 'cute', with whimsical words to warm the hearts of every guest that opens their invitation. It's not just words and colour on paper – it's almost like a picture, an idyllic little scene.
What do you enjoy most about your job?
I like talking to couples and hearing about the plans for their day – I get just as excited as they do! Everyone's wedding is so different and that's what I love; no two will ever be the same as no two people getting married will ever be the same. I also like that I can spend hours in fabric shops looking at all the pretty patterned materials; it is my idea of heaven! The flexibility of having my own business is great too; sometimes I'll be in the studio at 9pm on a Saturday night but then I could have Monday off!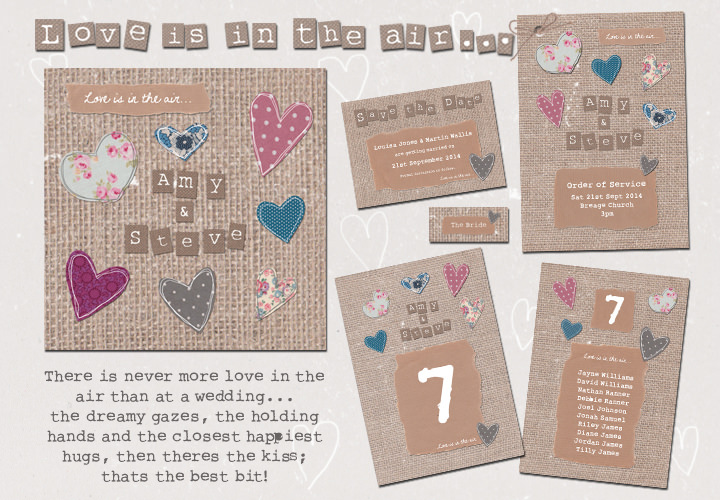 What sort of couple do you think you attract?
Couples that like to pay attention to all the little details and want that something a bit different and unique. I would say that my stationery is most suited to a vintage, country and rustic style weddings.
What would be your ideal wedding to work on?
I do believe she is already married but I would absolutely love to have designed wedding stationery for Kirsty Allsopp. I think her homespun, reclaimed and handcrafted style would be a perfect match, and I think we'd get on like a house on fire!
Can you give me some information on your pricing structure?
I understand the accelerating costs of a wedding so most of my range has a budget and a premium option. For invitations there is the choice of having a square postcard from £1.25 or a folded card from £1.85. Order of Service are available in shorter or longer versions from £1.85 and place names can be printed or left blank for the couple to write the names for just 55p each.
What is your ideal way to spend a day off?
I would have a lie in and get up around 9am for my usual muesli with yoghurt, then go for a bike ride with my husband. We would come back and have a picnic lunch sitting in the garden and maybe have a snooze in the sunshine in the hammock for an hour or so. Then in the evening, dress up and go out for a nice meal with some friends. When we get home I would get in my pj's really early (sometimes I do that as early as 6pm!) and snuggle up on the sofa and watch a film. Perfect day!
What can you never leave the house without?
Some lippy! I guess I like to be prepared; I never know where I might go or who I might see, so I always like to have a quick swipe of lip gloss at hand!
Who would be your 5 dream dinner guests dead or alive?
The Queen (just because), Miranda Hart (hilarious), Mr Moray from The Paradise (he is hot!), Einaudi Ludovico (the most amazing pianist to walk this earth), and Neil Armstrong (for his epic achievements). I think that is a recipe for a good night!
What would you do if you won the lottery?
I would love to buy a big castle with lots of rooms, so that I could have all my family in one place. Our parents could have their own wing and so could all our brothers and sisters with their children. Life is just so busy and even though my family live close by; it is often hard to get to see them. In the castle we could all congregate around a big dining table every evening for a banquet meal together. I am dreaming a bit here!
If you weren't running your business, what would you be doing?
I think it would probably still be wedding related; I have always thought it would be amazing to create a treetop wedding venue where you could have a platform up in the canopy of trees for the ceremony, maybe even at night under the twinkling stars and it would be lit by lanterns and fairy lights. There would be a luxury tree house for the couple to stay and little log cabins for guests. It does sound sublime doesn't it! That said; I love my business and what I do and right now I don't want to do anything else!
For more information on Sarah's work go to
www.sarahwants.com
[email protected]
FACEBOOK
@Sarah_wants
07510 678019