Today I'm really pleased to welcome Jen back to the blog. Her own wedding was featured here last year  Jenny and Josh's Relaxed, Handmade and Crafty Cambridge Wedding and since then she has bee creating some wonderful DIY tutorials for the Blog. Jen also has her own craft Blog called Tea For Two which she runs with her twin sister Elena.
Today Jen is going to be showing us a quick and easy way to make cupcake stands which can be used at your own wedding, party, or just to have around the house.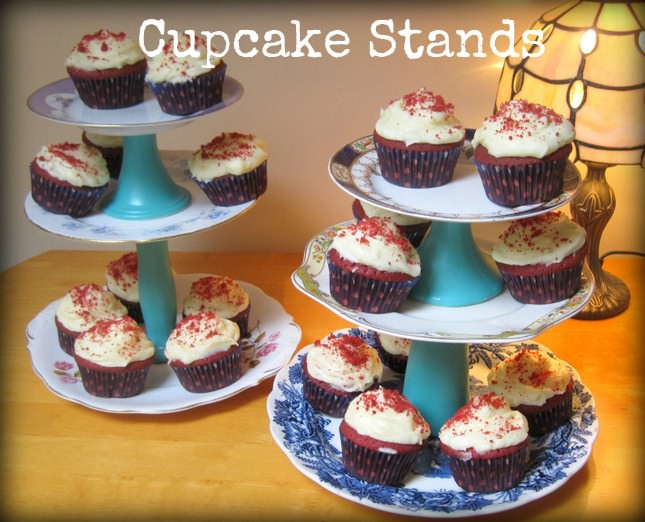 I'll pass the Blog over to Jen………..
Hey guys!
If you're having cupcakes as your wedding cake of choice then these DIY cupcake stands will be right up your street! I made them for my own wedding and it was so much fun, and they looked fantastic on the day – colourful and individual. Here's how to make them…
You can find lots of  lovely vintage crockery at car boot sales and in charity shops
Pillares can be anything you like – e.g. candlesticks, shot glasses, etc.
Step 1) The first step is to spray-paint the items that will adjoin the three plates to make the stands. I found mine in charity shops and used a couple of candlesticks, a shot glass and a couple of small glass vases. I used five so that I would have a bit of choice once they were painted as to which ones looked best. You need to make sure they're tall enough so that the plates stand high enough apart from each other on the finished stands.
Put newspaper or an old sheet down, in a well-ventilated area, and spray each of the items. I used a couple of coats in the end just to achieve a strong even colour. I chose a bright turquoise so that they would really stand out next to the chintzy, floral plates I'd chosen.
Step 2) Next, glue your chosen "bottom pillar" to the bottom plate. I made sure it was in the middle by measuring where it would sit in the centre and then marked with pen. You need to make sure to use a really strong glue, apply it to both surfaces and wait a little until it gets tacky, press them together and hold for a while and then leave it for 24 hours to dry. I then did this for each pillar and plate, glueing them all together until I had my finished product.
Woo, finished DIY cupcake stands – easy and fun! I hope this inspires you to make your own. And after the wedding they're perfect for storing trinkets and toiletries!
Enjoy crafting!
Jen x
Thanks so much Jen.  Jen will be back in a few weeks to share with us another one of her fab creations.
For more ideas from Jen go to:
http://teafortwodiary.blogspot.co.uk
[email protected]
PINTEREST