Today's wedding is a fabulous array of DIY projects where the bride has been influenced by a million wedding blogs (including this one!) The theme is very rustic and full of amazing vintage details including a 1970s wedding dress. What's more the whole thing was planned in 2 months! The bride found Sue Kwiatkowska via the Boho Blog, so thanks so much to Sue for these fabulous images!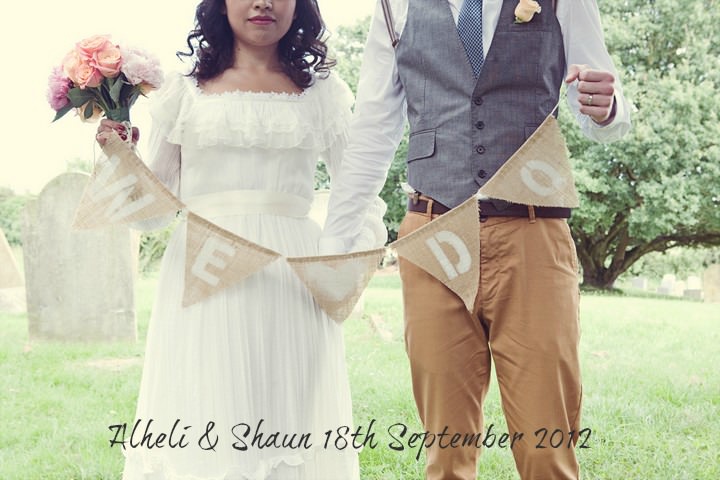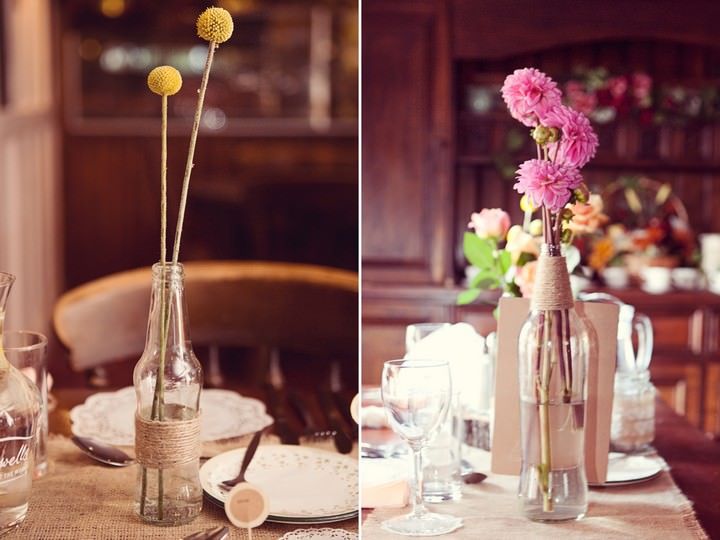 'Despite the high temperatures it ended up being just perfect to share our day with the ones we love and to enjoy all the outdoor activities.'
The lovely couple are Alheli and Shaun who were married on 18th August. The ceremony took place at  St. Michael's Church, Fobbing,Essex with the reception at Seabright's Barn, Great Baddow, Chelmsford, Essex. We spent quite a lot time deciding on which church because the parish where Shaun's parents got married didn't have a vicar at the time, so we decided to get married where Shaun got baptised. We had around 40 guests.
How they met
We both studied Msc International Finance at University of Essex, in Colchester back in 2010. Even though we were classmates in almost all the lessons we didn't actually speak to each other until mid May of 2011 during examinations periods when we spent a lot more time at the uni library. Shaun finally asked me out after we had our last exam on 6th June 2011. We formalized the relationship on 18th July 2011.
The proposal
This was  quite odd because at some point we talked about getting married on 12/12/12 and that was it, there was no proposal or serious thinking about it. But when my visa ran out in February 2012, we both knew that I had to leave England. Before I left Shaun asked me to share the rest of our lives together and I said yes! To be honest, those three months away from each other were the most stressful and saddest we have ever had but it wasn't until the 18th June 2012 when Shaun officially proposed on the River Thames in Reading. We had spent a couple of days there back in August of 2011 at the Reading Festival so it meant and still means a lot to the both of us. It was all very romantic! Shaun held my hand and followed me onto the path next to the river, the next thing I knew he was bending down on one knee and asking me to marry him. I was all shocked and feeling like the luckiest girl in the whole world.I think I had a big smile on my face all day.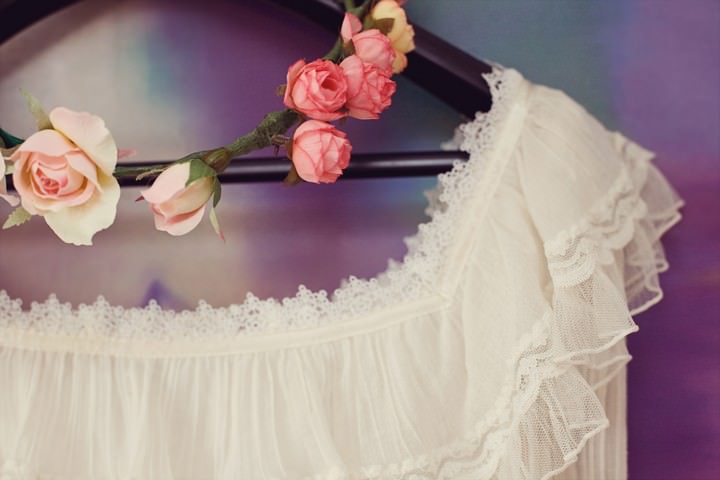 The Planning
In February 2012 I went back to Mexico to submit my application for a fiancée visa. By the end of March we started to plan the wedding. I was getting ideas from wedding blogs, whilst Shaun was visiting venues in South Benfleet and then sending me photos so we could decide on a venue together. This didn't turn out to be a very good idea in the end so we just waited until we got back together. I came back to the UK in May but setting up the church took more than a month and we couldn't actually work on the wedding plan until mid June. So yes – we spent just two months putting everything together! It was a big challenge for us but it was fun at all times.To be honest, sometimes I did get way too stressed out! As a bride you always want everything to be perfect, luckily Shaun was too kind and most importantly he shared the whole idea of the wedding theme and that made everything go a lot more smoothly.
How did you choose your photographer
After doing lost of research on the Boho Wedding Blog, and I found Sue's photographs in one of your posts. When I saw her photos I said to myself, she takes such stunning photos and I couldn't believe it was affordable for us at the same time. The next step was to research her work and surprisingly I found she had been working with Joanna Brown the year before so I emailed her and luckily for us she was available on our wedding date with such short notice. From that moment I knew that nothing else could go wrong. For me having a good photographer on your wedding day has to be at the top of the priorities list whether you're working on a tight budget -like us -or not.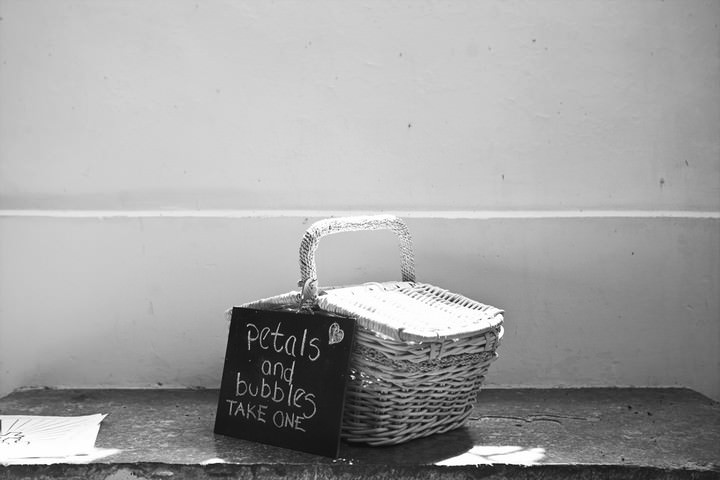 The dress
wedding dress: vintage 70s Gunne Sax by Jessica McClintock from Etsy
bridal floral crown: I made myself
shoes: Modcloth
tights: Pamela Mann
The suit and bridesmaids
groom's suit: H&M and ASOS
groom's accessories: Zara and Debenhams
bridesmaids' dresses: all different styles but within the same range of coral colour from Lob and Mango.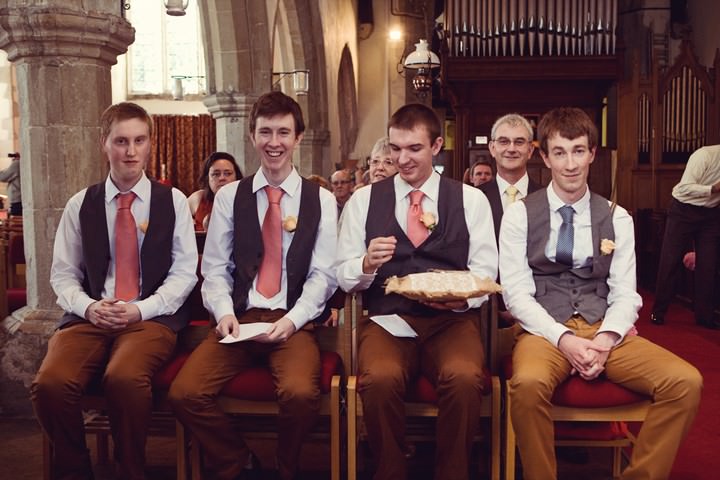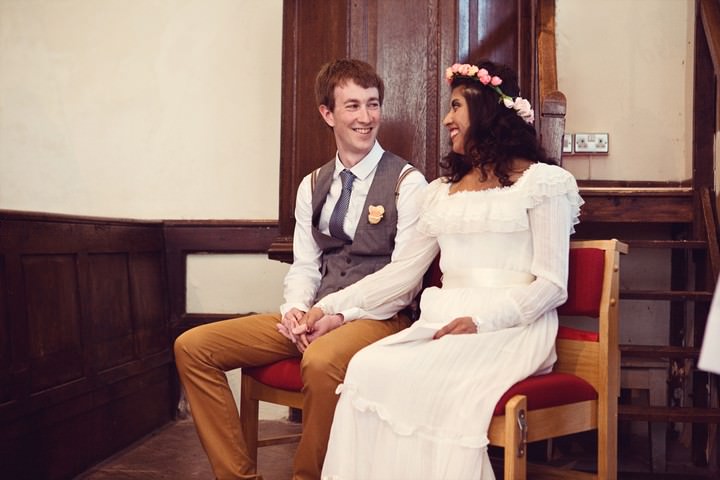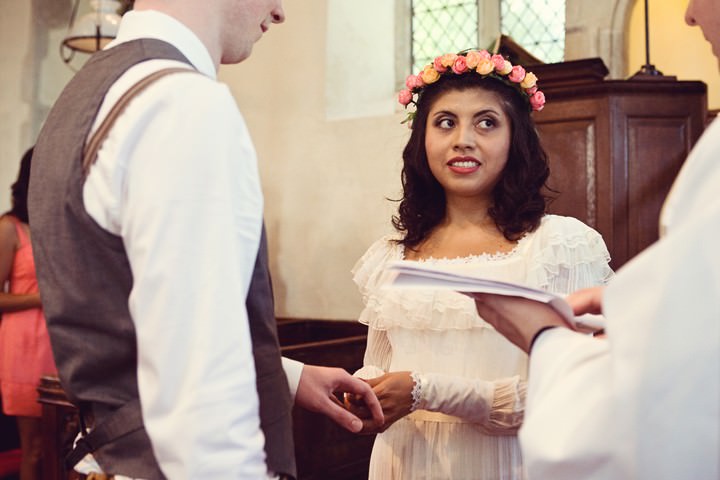 Theme
I tried to set a range of colours of peach, pink, coral and yellow, and since the reception venue was in a barn, it was important for me to have rustic elements so the brown worked very well with the set.
Food
The reception was at Seabright's Barn, a restaurant, so we had to limit the menu to traditional English food. It consisted of two different three course meals, as an entree we had chicken soup or prawn cocktail. The main course was either steak and ale pie, beef with yorkshire pudding, or guests could also have ricotta cannelloni in case they didn't fancy meat. As a dessert we had orange and amaretto torte or vanilla ice cream.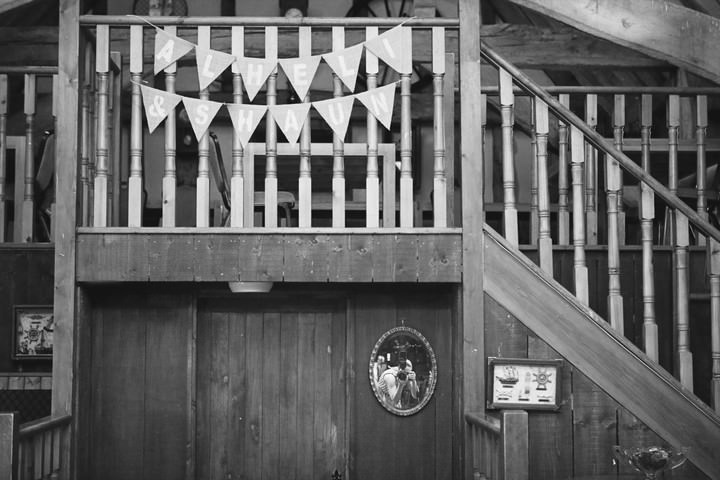 Flowers
This was another aspect that I wanted to be perfect. Since we were working on a tight budget I struggled to find the right vendors. Luckily, I found a wholesale website called Triangle Nursery. It's very friendly and quite good and has a wide variety of flowers on auction.You can search for flowers depending on the type but also on the colour which in this case was pretty useful. I just had to look for peach, coral and pink and found the prima donna and miss piggy roses, which were a perfect combination for the colour theme. Also, I had craspedias which I think are really cute and the yellow colour added a good contrast to the pink. Finally, I also had dahlias which is my sister's name as well, and since she couldn't travelled from Mexico I wanted her to be part of the big day in some way.
Entertainment
We wanted to hire a DJ but  thought we wouldn't find someone who would stick to the kind of music we like so I put together a music list on spotify to be played on the wedding day. After the first dance we decided to stay outside, since the barn lacked fans it was too hot being indoors, so everyone followed us outside. We had the bouquet toss, the piñata and finally the chinese sky lanterns. The funny thing was that we spoke to friends the following day and they thought we'd replaced the DJ with the rest of the activities which made for  a nice change.
Decoration
We wanted to keep it very simple with vintage and rustic touches but at the same time we wanted to combine both the mexican and english cultures. So for the wedding ceremony we had tissue paper pomanders instead of natural flowers. For the reception we had wooden centrepieces and table numbers, hessian bunting and runners, wood and blackboard signs, vintage china, suitcases and accessories. We had a photobooth, mexican and english props, and a croquet set. We also had a piñata and chinese sky lanterns.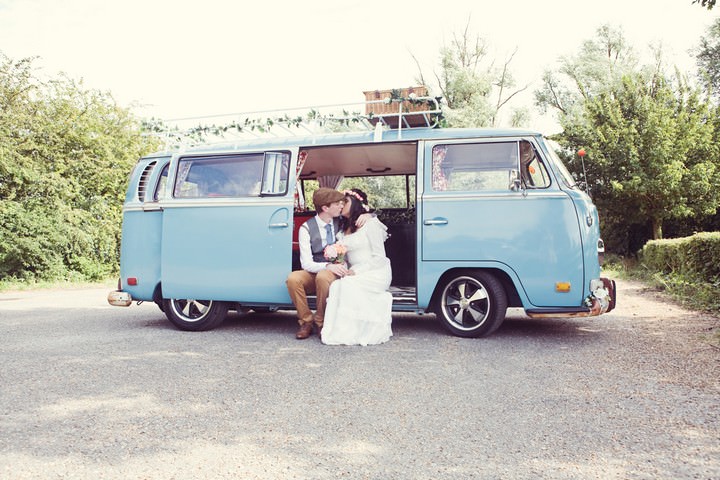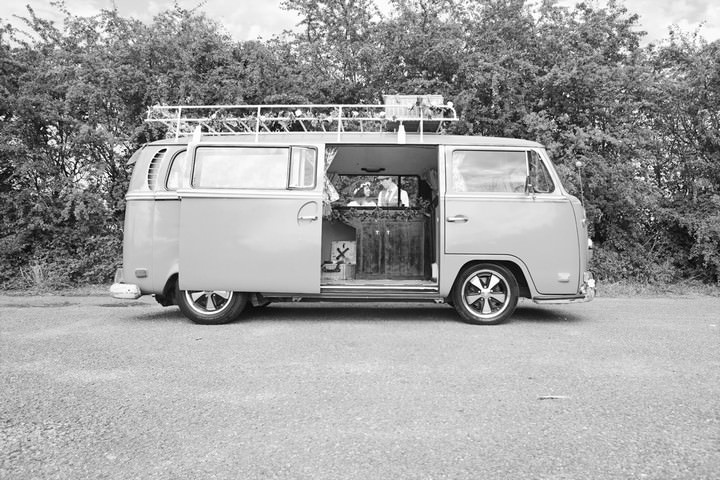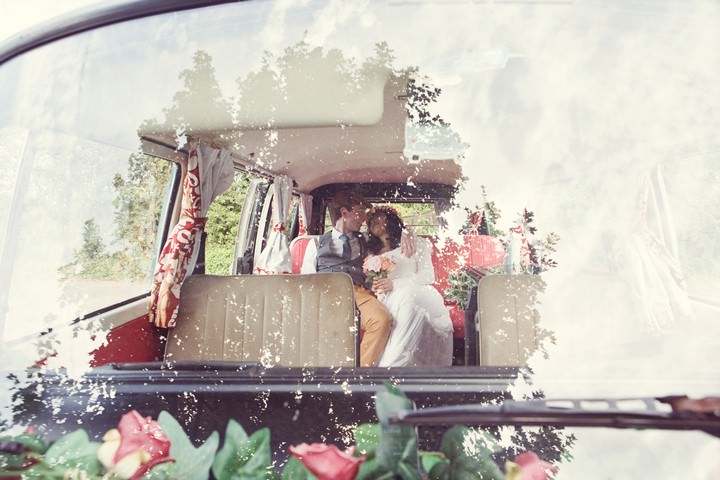 Personal touches
I was lucky to have Shaun and his parents support throughout all the process, as well as my sister, Violeta, her boyfriend, Tony, one of my bridesmaids, Adriana, and the best man, Rob, to put everything together just two days before the wedding date.
Nearly everything was DIY'ed because we wanted to add our personal touches and let guests know how involved we were as a couple and as a family. I spent quite a while gathering for DIY projects on wedding blogs and then searching for all the supplies which were basically got from etsy, ebay, amazon, hobbycraft and b&q.
The list of all DIY projects made and the Blog we found the idea from:
Invitations: Myself and Shaun  – The Wedding Chicks
Cushion ring, table runners, napkin rings, table centrepieces, candle holders, flower vases,table numbers, bunting signs, string sign, blackboard signs, favour and petal bags: Myself and Shaun – Boho Weddings, Boho Weddings, Once Wed, Ruffled, Green Wedding Shoes , Green Wedding Shoes, Polka Dot Bride, Rock n Roll Bride , Once Wed, The Wedding Chicks.
Hair and make up: My bridesmaid  Adriana
Bouquet and boutonnieres: Adriana and myself
Bridal floral crown: Myself – Green Wedding shoes
Pomanders, piñata, place cards and escort cards: my sister, her boyfriend and myself – Ruffled, The Wedding Chicks
Wooden signs: Best man and Shaun
Photobooth: Groom's father – Ruffled Blog
Cupcakes: Groom's mother
As a special detail, Dalia, my sister who couldn't come to our wedding, managed to hand make the braid that was used as a prop for the photo booth.
All DIY projects are not a replica of the source links but instead they were useful to get an idea of how to make ours with rustic and vintage touches.
Overall, I got inspiration from the following weddings: Green Wedding Shoes-Stacy & Paul AND Green Wedding Shoes-Vintage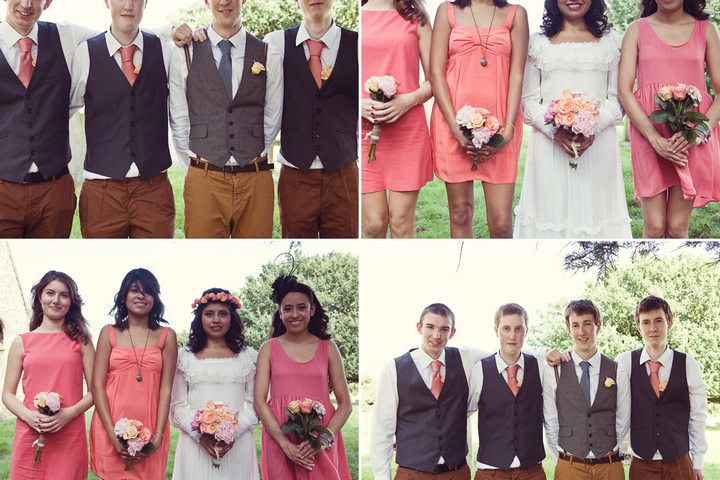 Special moments
All in all, everything worked so well with the guests, the photo booth, the croquet, the piñata and sky lanterns. If I have to decide on the best part of the day it would be the ceremony just for the simple fact that we didn't have any idea of how it was going to be and the vicar gave such an excellent service. It was so emotive that we both ended up joyfully crying. It really meant a lot to us, all the love we put into it, all the ups and downs we had to get through since we started to plan and then before we knew it we found ourselves reciting our vows in front of the ones we really love.
Biggest surprise
Definitely after the first dance  when my sister gave me a letter on behalf of my family who couldn't come to the wedding and then a song was played which my mom dedicated to me to remind me that they were all happy for me even if they weren't physically in that moment with us.
Advice
Since I planned everything myself, there were some aspects that didn't work out as planned. Therefore, I would highly recommend that everyone get a wedding planner or to plan the wedding at least six months in advance. In my case, that was just impossible due to the time frame in which I had to get married –  the fiancée visa only lasts for six months maximum.
Supplier Shout Outs
I would love to add that this experience has allowed me to realize that we so enjoyed doing all of the DIY projects that we are thinking of creating our own etsy shop in the new year. If anyone is interested in any of our projects that are featured on your blog, for example, the invites or place cards, and want their own personalised ones, they can contact us at the following email address:  [email protected]
For more information about Sue's current offer go to:
www.suekwiatkowska.com
www.suekwiatkowska.com/blog
FACEBOOK
TWITTER
t: 01273 700593
m: 07764 189502
 ♥  You can see more Real Weddings featured on the Blog HERE  ♥