Today we are off to Scotland for this gorgeous Edinburgh wedding courtesy of Zoe from Photos by Zoe. It's a wedding in 3 parts that spread across the city of Edinburgh, starting off with a stunning Humanist ceremony, then the wedding breakfast in an Indian restaurant and then the evening do in a nightclub! So something for everyone! I am LOVING the brides Biba dress, it's amazing! I am a big fan of Zoe's work and have been wanting to feature her work on the blog for a while now, so I am delighted to be able to share this wedding with you.
'From serene to raucous in a matter of hours! A beautiful combination of love and debauchery!'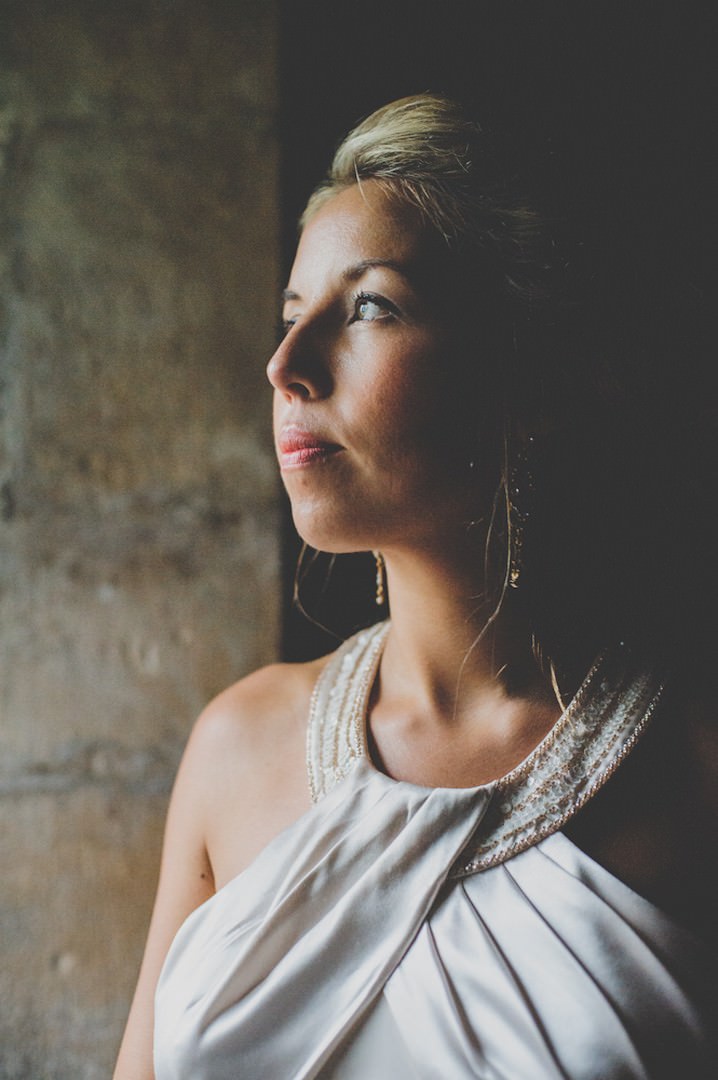 The lovely couple are Melanie & Gordon who were married on 5th of August. 'We held the ceremony at Seton Collegiate Church with the wedding breakfast at Khushi's Indian Restaurant and then a reception at The Dirty Martini, Le Monde. The staff at Le Monde were amazing! From last minute decorating of the cake to ensuring that the guests all ate at the buffet (even administering some emergency bacon rolls to the most lubricated of guests!) We had 75 guests in the church with 150 to the receptions and it took 6 months to plan.
How they met
Been together for 13 years since university, friends since the age of 15. Met at high school.
The proposal
Shattering the pain of the morning of my 31st birthday, Gordon presented the most amazing engagement ring. I couldn't have chosen a better one. An emerald and diamond art deco cluster ring from Joseph Bonnar in Edinburgh.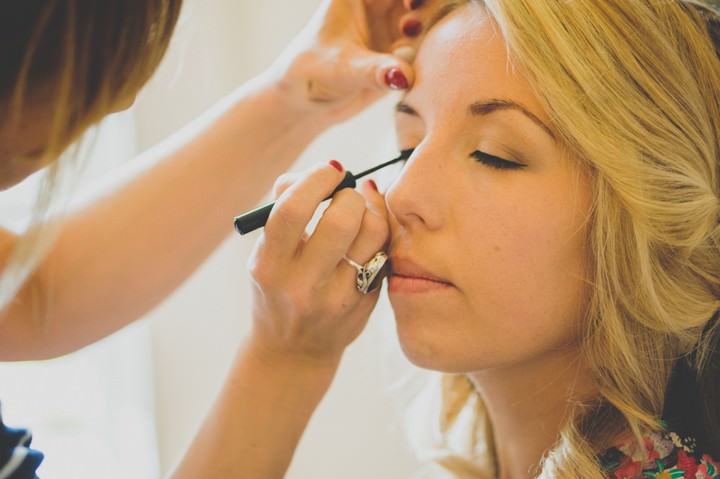 The venue
Seton Church was the most romantic setting we had seen. I had dreamed of a church wedding but Gordon wasn't keen on inviting God! As it's deconsecrated, we could have a humanist ceremony. Khushi's has been a favourite of my family since my childhood and as one of Edinburgh's most popular Indian restaurants, we knew the guests would be well fed with something different and not the usual wedding fare.
(Been together for 13 years, had a long time to think about it first!!!)
Why did you choose your photographer?
Researching the church I found Zoe's photos of a previous wedding. Zoe's photos have a dreamy, ethereal quality that I knew would match the beauty of the church setting.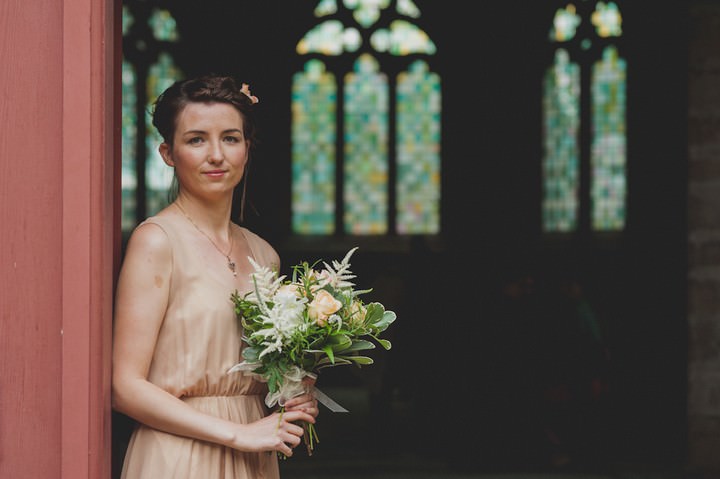 The dress
My dress was the first and only dress I tried on. A lover of vintage fashion, the Biba Amber dress had an art deco look to it that matched my ring. There were 100 of each dress made by Biba to celebrate the royal wedding. My shoes were from Dune. My hair and make was done by Beehive, Out of the Blue, 36 Dalmeny Street, Edinburgh.
The suit and bridesmaids
Gordon's suit was by Paul Smith, Gordon also wore a tie clip and shoes by Hudson. The bridesmaid dress was by ASOS.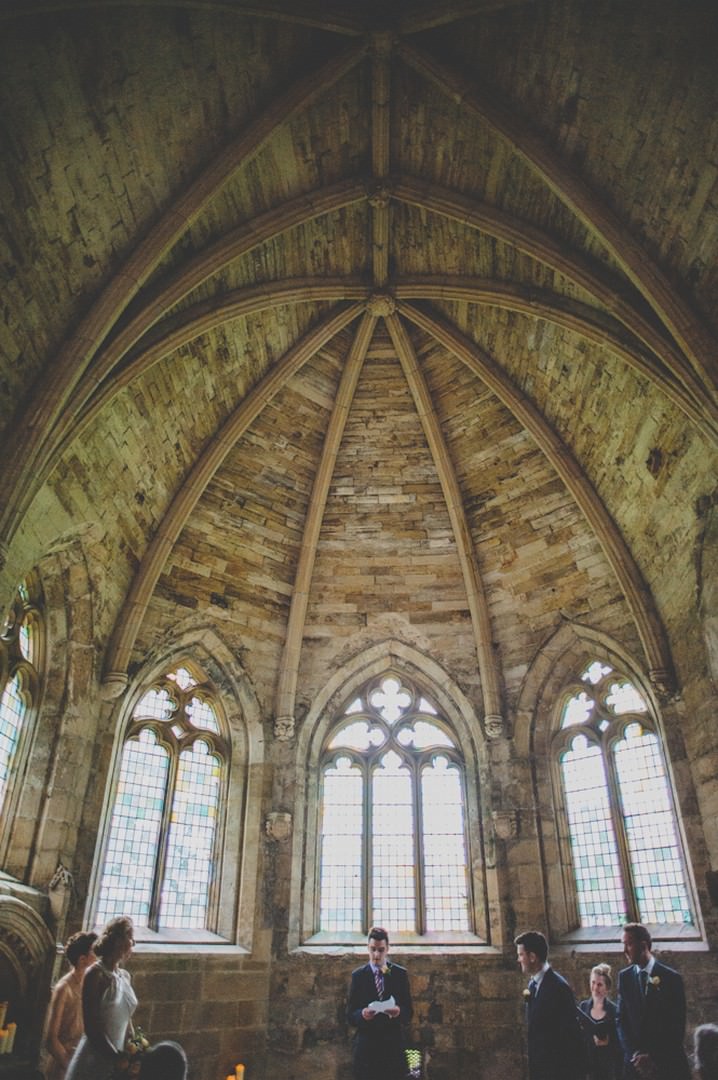 Theme
The wedding was in three different places and each venue had its own individual style that we tried to compliment. The church was decorated with flowers by Flowers by Rae in Portobello and I went with light peach roses that matched my HUGE bouquet. I wanted a loose bouquet that had a bohemian and vintage look to it. The candles in the church were actually electric and they come with the venue. They added a gothic and romantic feel to the ceremony.
Khushi's is already themed in bright colours of pink, turquoise and lime. To complement this, we made chilli jam favours and decorated the jars in bright fabric to match the colours of the restaurant.
Le Monde needed no added decoration. It's an amazing wedding venue, as it is full of candelabras, blue velvet couches and a twinkling star curtain.
Food
An Indian Banquet at Khushi's then chips in cones and bacon rolls for the evening guests. We had a 5 tiered Victoria sponge for a wedding cake that was a joint effort baked by both mine and Gordon's Mums .It was decorated with a 1920's bride and groom and peach roses to match the bouquet.
Entertainment
A D.J for dancing and since it was the first night of the Edinburgh Fringe, we had a magician doing close up magic mingling with the guests.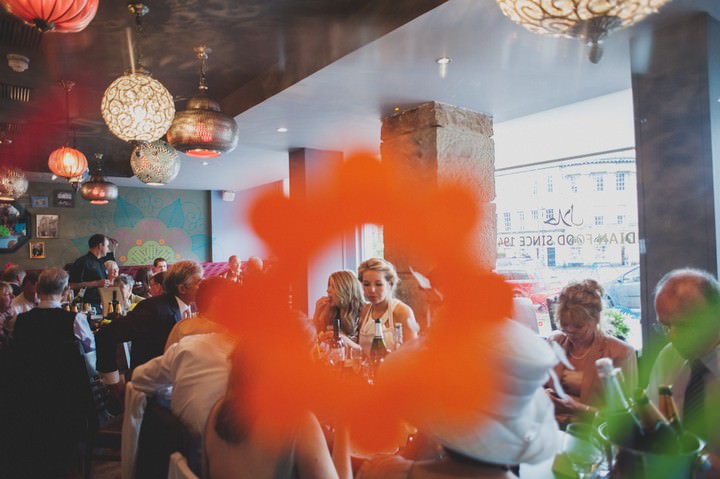 Personal touches
Homemade chilli jam favours, wedding invites and menus were designed by a friend who is a designer (Claire Thomson).
Special moments
It was a humanist ceremony (Juliet Wilson) so it was very personal, humorous and unique (there were lots of tears and laughter in the church) . The Best Man (Roddy Henderson) had people in stitches and there are some amazing photos. Zoe captured of me howling with laughter as Roddy recounted a story from his and Gordon's youth!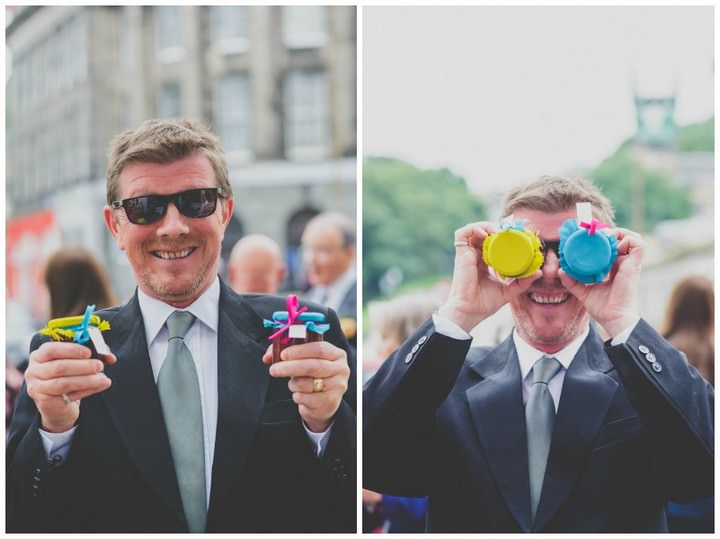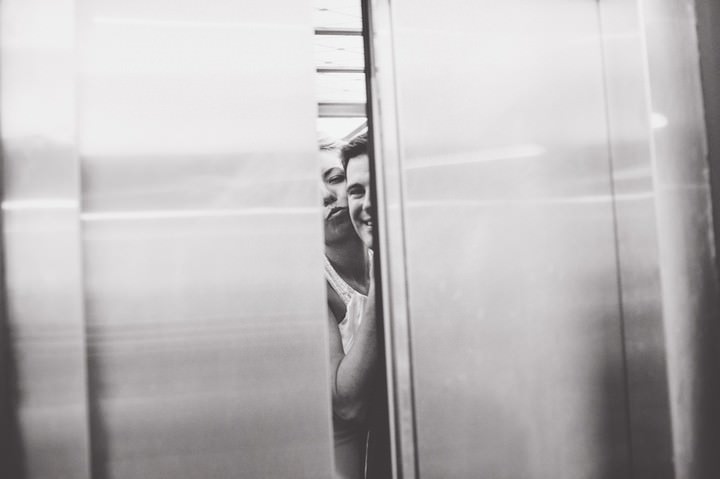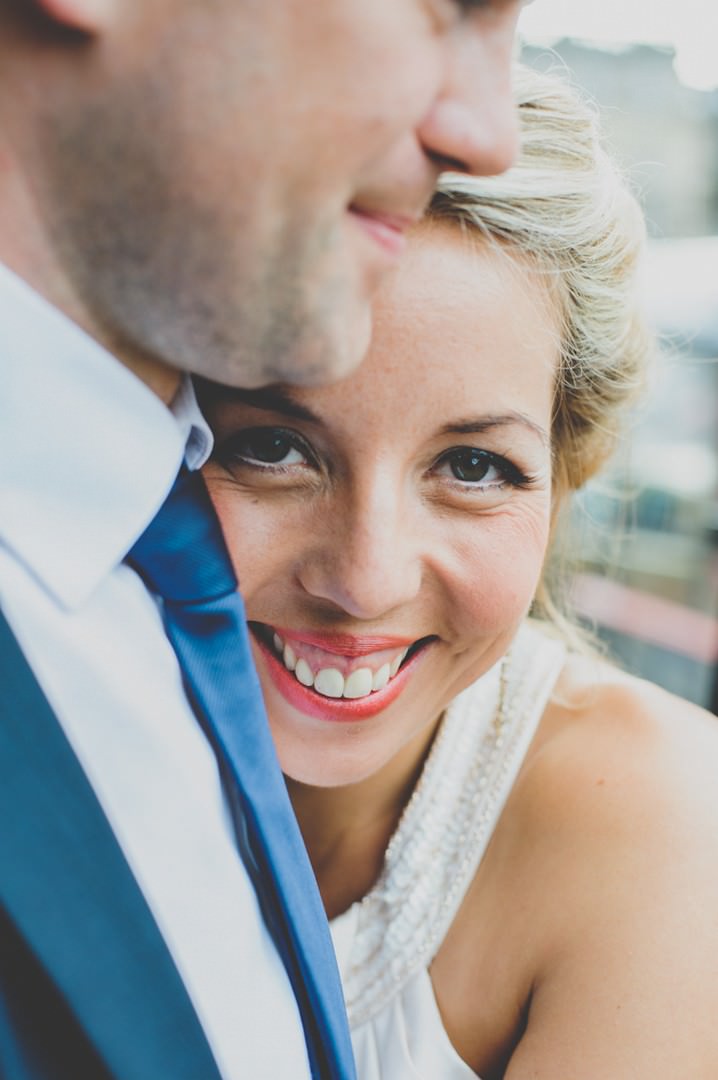 Advice
Plan a wedding that reflects the both of you as a couple and don't get caught up worrying about the minor details. At the end of the day, as soon as the wine starts following, nobody notices the wee things that go wrong.
Biggest surprise
The biggest surprise was that it all went according to plan and there were no surprises. I think I have my elite team of would be Bridesmaids/friends to thank for that, who kept the day on track and sorted out any problems as they occurred.
Supplier Shout Outs
Venue – Khushi's Indian Restaurant  and The Dirty Martini,Le Monde
Photos – Photos by Zoe
Dress  – Biba Amber dress
Suit – Paul Smith
Hair and Makeup – Beehive
Flowers – Flowers by Rae
For more information on Zoe's work go to:
http://photosbyzoe.co.uk
http://photosbyzoe.co.uk/blog
FACEBOOK
TWITTER
 ♥  You can see more Real Weddings featured on the Blog HERE  ♥