Today we head of to York for this GORGEOUS DIY Barn Wedding courtesy of  Tux and Tales Photography. It's a wedding full of so many little details and so many personal aspects that the bride and groom have really thought about and I just LOVE it! With so many weddings the families really got stuck in and helped out, not only in the set up but with the making as well. Jaye from Tux and tales has done a wonderful job of capturing the whole day so beautifully, and has given the whole day a light, bright and crisp finish to it, just beautiful!
'A DIY rustic English country wedding with a hint of nostalgia, created with love for our family and friends'
Claire and Don who were married on 18th August. 'The Ceremony was held at St Catherine's Church and the reception at Barmbyfield Barn both in Barmby Moor, York. We used to live in York and we knew we wanted to marry somewhere near by and we also liked the idea of using a barn. When we stumbled across Field Day Site Hire on the Internet we fell in love with Barmbyfield barn. We'd spent months looking at barns they were either booked or were full of animals:) St Catherine's Church being on Barmbyfield Barn's doorstep was the icing on the cake. We had 100 guests and it took a year to plan.'
How they met
We met in a local nightclub in Huddersfield in 2004, Don recognised me from school. We went to the same high school but there's 4 years between us….yep I'm the older one:)We didn't see each other again for a few months as we forgot to exchange numbers, in the taxi on the way home I told my best friend Steph I would end up marrying him (cheesy but true). Luckily Don tracked me down through a friend of a friend and we've been together ever since awwww.
The proposal
He got down on one knee at home-we'd just become a mummy and daddy to our gorgeous little girl Freya. I was having a teary moment when he asked, mascara running down my face the works; he didn't half take me by surprise.
Why did you choose your photographer?
We found Tux and Tales on the internet whilst searching for a Photographer, we were really drawn to the website especially the vibrant and quirky photographs.
We were asked to do an engagement shoot with Jaye and Matt, they were very professional and we were extremely happy with the photos they took.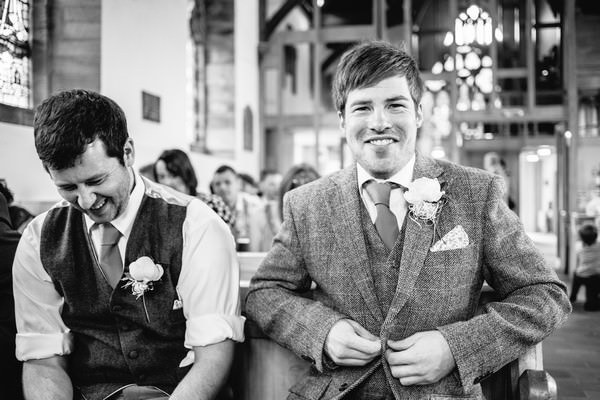 The dress
My dress called Willow by Coco Couture at Mia Sposa-I loved the shape but not decorations on the dress so they made me one without the flowers and diamantes and put a huge bow instead. My veil was also from Mia Sposa and my bow and net headband for the evening was handmade by the dressmaker at Mia Sposa she used the same fabric to match my dress. I really thought I would have a 50's tea length dress but I ended going for something more traditional. My day shoes were Carvela by Kurt Geiger and I wore the same shoes as my bridesmaids for the evening by MEL.
The suit and bridesmaids
The mens and page boy waistcoats and trousers were made by James Ashley Tailors of Leeds. Don's suit was a Harris tweed jacket with a matching waistcoat also made by Ashley James Tailors, their pocket squares were made my mum out of some vintage fabric I found in a charity shop. The bridesmaids wore nude lace prom dresses and flower girls wore ivory lace and chiffon dresses they were all from Next. Our tiny flower girls wore nude chiffon dresses from Monsoon. The flower girls each wore a head band also from monsoon.
Theme
White and muted tones of browns, nudes, pinks, greens and blues.
Food
We sat down to afternoon tea which consisted of dainty sandwiches, savory and sweet pastries and macaroons. For the evening we had a fish and chip van.
Entertainment
We had Johnny B Goode a swing rock 'n' roll band followed by In Echoes an indie band who also do covers. Our DJ played music all day to fill in any gaps and then did a dance set at the end where everyone was dancing on straw bales and tables.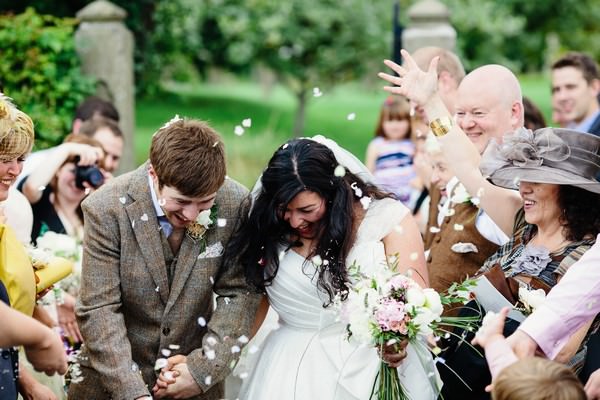 Flowers
The Flower Garden made our bouquets and button holes they also drove to the barn and filled our glass jars. We had an array of peony roses, gypsophelia, mint, lavender and wild flowers.
Decoration
We decorated the barn with bales of straw and rustic furniture including a large cart wheel, a church pew, writing desk, old type writer, vintage luggage, old books and crates, jam jars decorated with lace or raffia and French bistro furniture outside.
Personal touches
• We made our invitations, name tags, table plan, candy bags, using brown luggage tags and brown paper bags a stamp and some distressed ink tied off with raffia.
• We also sourced or borrowed all of our furniture and crockery.
• My parents helped us to decorate the barn – My dad covered the large breeze block wall in the barn with hessian that we had bought and my mum stitched together voiles for us that we hung from the beams.
• My mum also bought lace fabric and made metres and metres of bunting. She even made bean bags out floral fabric for my homemade tin can alley and hopscotch for the children.
• Don hung fairy lights from the beams and he also decorated the trees and fences outside with fairy lights.
• our signs we had made and hand painted with chalk paint.
• Farmer Billy the owner and James and Lauren from Field Day Site Hire gave us a hand and our beautiful bridesmaids came to the rescue on the evening before to help with setting the table and filling the sweet jars.
• Don and I lugged straw bales around to make a seating area in the bar and we hung giant paper pom poms inside and wicker hearts from the trees outside.
• Friends and family baked cakes.
Special moments
The Church ceremony was amazing, our lovely Reverend Gail Dalley had told us to take in everything and remember our vows. We had visited the church for 12 months prior to our wedding as we had no qualifying connections so it was such a special moment when we got to say I do. The long journeys every fourth Sunday was definitely worth it and we remember every second of it. Our vintage bus we had hired happened to say Paignton on the front and our lovely family had travelled up from Paignton in Devon so that was really nice. Escaping the whirlwind for half an hour for photographs under the trees with Don and Freya was wonderful. Above all seeing all of our family and friends having fun-the hard work definitely paid off.
Advice
I wish I had kept a little mirror on me as I was really conscious that my bright red lipstick was on my teeth:}
Allow yourself enough time, on the morning of the wedding I had to go to the barn to add the finishing touches to the outside as the weather had been torrential the days leading up to the wedding.
I didn't leave enough time on the day I did my bridesmaids make-up and then had to quickly apply mine and pin my hair up. Don and I were so tired on the day from spending time decorating the barn I wish we had gone to bed earlier on the run up to the wedding. Try and enjoy every minute-everything happens so fast.
Biggest surprise
I was given a gift from Don and Freya on the morning of the wedding it was a photo book named Part One with the date we met up until the day of our wedding. It's filled with images of the first restaurant we went to, the pub where Don asked me out, every film we have seen at the cinema, gigs that we've been to. Don's favourite music and my favourite music, Freya's baby images and every special occasion we have shared together. It's the best present I've ever had I couldn't believe it.
Don's surprise was the music at the church he thought a CD was going to be played but I'd arranged for In Echoes to perform an acoustic set during the ceremony. Don is obsessed with guitars and Pink Floyd, when Darran the lead singer sang his favourite song Don got very teary-I thought he would have cried saying "I Do" but oh no just when he heard Pink Floyd hee hee.
Supplier Shout Outs
Field Day Site Hir York – www.fielddaysitehire.co.uk/Site/  for letting us hire the barn and all of their extra support (and Farmer Billy for doing so much for us)
Tux and Tales Photography,Selby – www.tuxandtalesphoto.co.uk  for capturing our memories so wonderfully
Vehicles of Yesteryear – www.yesteryearcars.co.uk  for our beautiful vintage coach
Elite Toliet Hire, York – http://luxurytoilethireyork.co.uk for our posh loos filled with flowers an music
Blacks Furniture Hire, York – www.eventfurniture.com  for our tables and limewashed chairs
Swiss Cottage Antiques, Leeds FACEBOOK for letting us hire their wonderful shabby chic furniture
The Flower Garden, Brighouse – www.flowersbrighouse.co.uk  for making us feel so welcome for our gorgeous flowers and travelling from our home town all the way to Barmby Moor to fill our jam jars and all the other lovely extras.
Mia Sposa, Huddersfield – www.weddingdressesleeds.com  for making me feel beautiful and going above and beyond to create my dress and headband.
TruFood Catering, Keighley – www.trufoodcatering.com our lovely friends Megan and Ian who put a lot of thought and time into the afternoon treats.
Terry's of Bedale, the Fish and Chip van for providing scrumptious fish and chips.
The Boot and Slipper, Barmby Moor for providing our bar and an excellent service
St Catherine's Church and the Flower Guild Barmby Moor. – www.barmbymoor.net/churches  Everyone made us feel so welcome we are going to continue to visit the church and Reverend Gail. Gail has become a family friend and helped to make our wedding perfect.
Johnnie B Goode www.jbgoode.co.uk -travelled from Huddersfield,the band were brilliant, extremely professional and we would definitely book them again for future events.
In Echoes- www.inechoes.com  travelled from Halifax. What can we say -loved them they sounded amazing in the church and great in the barn. Really friendly and professional.
Fox Disco, York- Our DJ was lovely he played our requests and kept everyone entertained.
To find out more about Tux and Tales Photography go to
www.tuxandtalesphoto.co.uk
www.tuxandtalesphoto.co.uk/blog/
[email protected]
FACEBOOK
TWITTER
Tel / Txt: 07590410102
 ♥  You can see more Real Weddings featured on the Blog HERE  ♥