Hello you lovely lot and welcome to another week! I hope you all had a great weekend? I'm starting the week off with this gorgeous back garden wedding that was sent into me by Kari Bellamy. The Wedding took place in the brides parents back garden with the whole family lending a helping hand with every aspect of the wedding, even the catering! I love the soft tones of this wedding, Kari has done such a great job of capturing it in a light, bright and airy manner, just beautiful!
Jo and Darren who were married on 4th August. Our ceremony was in St James church in Merton park. Literally a stone's throw away from my parents' house where we held our reception, in their back garden. We had a beautiful marquee
'Our wedding was the best day of our lives, totally unique and a family affair entirely, mum and godmother did the catering, dad built part of the marquee, uncle was the chauffeur and all the family pulled together to make my parents' home into a dreamland. The ceremony and the reception had the right mix of fun, laughter and most importantly, love.'
How they met
Oh dear, not very romantic I'm afraid! It was outside a cheesy nightclub in September 2000, so 12 years ago! Darren came to rescue me as I had lost my friend, was upset and rather tipsy! A mortgage, business and two fur babies later we are still together.
The proposal
It was a big shock considering Darren hates valentine's day, the day he proposed on! After faking illness I went to work worried about my other half. Meanwhile he was back at home making our flat into something very special! When I came home from work he surprised me with ten vases FULL of pink stargazer lilies. 10 vases, one for every year we had been together, and exactly 125 flowers, one for every month! Our flat was literally full of flowers, petals all over, Amazing. There was a card on the table. I opened it…. To my fiancé was written on the front. A beautiful, heartfelt message inside. I turned around and Darren was on one knee. The most perfect ring, a candle lit bath, a three course home cooked meal, as you can imagine, I was a very happy bunny and of course said yes!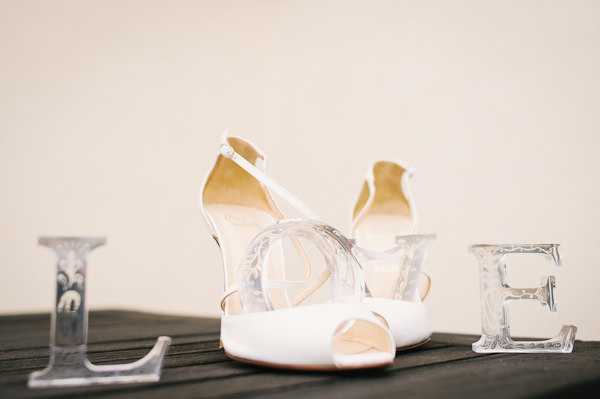 The Venue
What made you decide to get married where you did? We chose our local church. As soon as we met our vicar(Jonathan Easton Crouch) we were sold! He was an absolute hoot. Our church being on the same street as our reception was very handy! We are quite a fun couple and didn't like the idea of our wedding party ending early, so having the reception at my parents house meant we didn't have to answer to venue rules as such. Also, this was my parents way of contributing to our special day. By having it at home we saved a lot of money on venue costs, which meant we could spend it on things that were important to us, such as the DJ, photographer, videographer and also alcohol! Our guests had a free bar all night long
We had 88 guests for the church service and wedding breakfast, then 60 more guests in the evening. Needless to say, our marquee was packed! Darren proposed in February 2011 so it was around 18 months to plan
Why did you choose your photographer?
I saw Kari's website and loved the look of her pictures. Kari offered us a free engagement shoot and we loved our pictures so much that we knew we wanted Kari to capture our special day.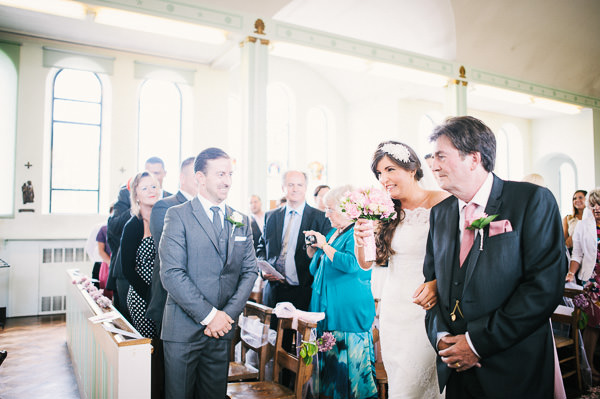 The Dress
My dress was by Pronovias and was a bargain! It was a sample, which I had altered to fit by the lovely ladies in the wedding dress shop in Wimbledon Park. I bought the matching jacket from a lady in Poland which I also had altered. My veil was also by Pronovias. My shoes were a Christmas gift from my now hubby and were by Christian Louboutin. The lucky lady that I am! He chose them all by himself. He also surprised me with some diamond studs the morning of the wedding, I wore these with a beautiful pearl and crystal bracelet that my parents bought me. My headpiece was by Jannie Baltzer, I was soooooo lucky as I won it in a competition ran on want that wedding blog!
The suit and bridesmaids
Darren was also very lucky. He entered a competition on I am Staggered and won a made to measure suit by Hugh Harris! His shoes were by Ferragamo, and I surprised him with some Mont Blonc cufflinks on the morning of our wedding. Our bridesmaids dresses and shoes were by ASOS. My mum customised thier dresses slightly by sewing on some pretty sparkly ribbon we bought from Liberty. Their jewellery was hand made by a lovely lady called Laura who owns Lobster Love.
Theme
We didn't have a particular theme, but our colour scheme was all different shades of pink and grey.
Food
My mum and godmother did the catering, and what a good job they did! We had a real mix of food to suit all tastes, ranging from quiche to jerk chicken!
Entertainment
We splashed out on our DJ, Max from the Wedding Smashers. Best decision ever! He was brilliant, and kept the party going all night long.
Flowers
We had a mix of hydrangeas and roses. For the church we used hydrangeas from my sisters garden to decorate it. We used our local florist, Allium in Raynes Park for the rest of the flowers. For my bouquet I had a mix of pink hydrangeas and roses, my bridesmaids had pure white hydrangea puffballs and the buttonholes were all roses. Our centerpieces were made in our own vases which meant our guests could take them home at the end of the night! They were also a mix of roses and hydrangeas.
Decoration
Along with the flowers we had a huge grey J & D on our top table along with scatter crystals on every table. Around the garden we hung glass bauballs with tea lights inside. We hired a genuine royal mail post box for our cards which looked fab. Our dance floor was a huge focal point because it was massive, white and flashed LED lights! We kept the lights still until our first dance which created such a fun party atmosphere!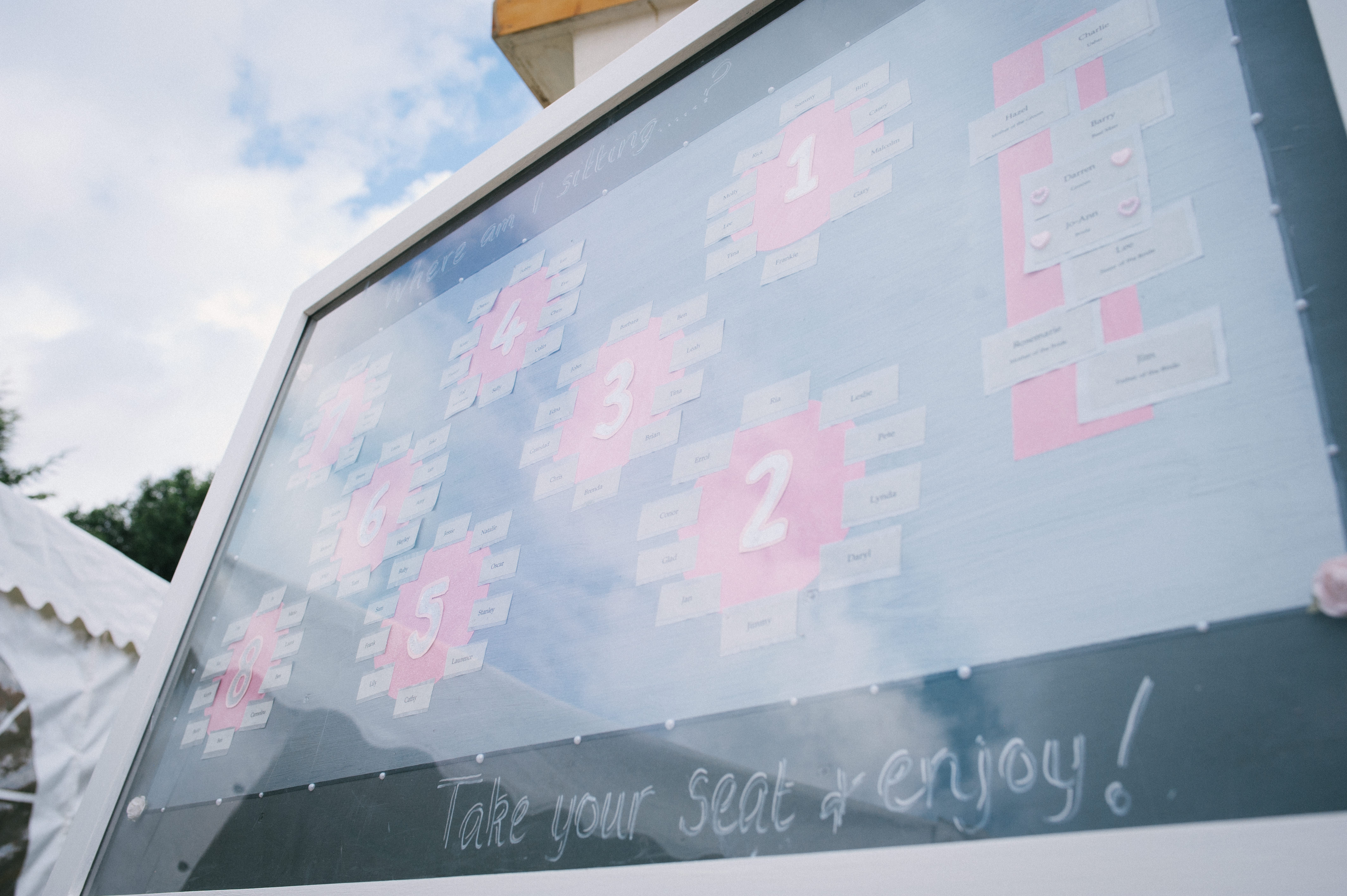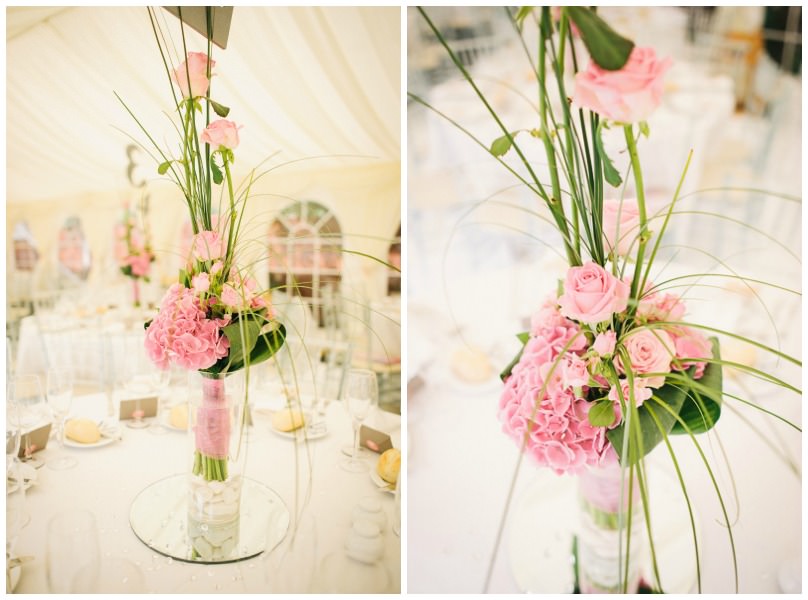 Personal touches
Oh God loads.
• My sister made our gorgeous table plan. My dad built the easle that it went on.
• We had hanging table numbers which we spray painted grey and hung them from the marquee ceiling.
• My mum and I made our order of service fans, my other half told me afterwards that he was very greatful as it was very hot in the church!
• For our favours some lovely friends of mine helped me to make gingerbread cat cookies. We have two fur babies (cats) who we wanted to include in our special day and this was our way of doing so!
• I also made our place names. I bought tiny grey envelopes, with the guests names on the front. Inside, was a breakthrough breast cancer bow pin. We made a donation on every guests behalf, a nod to loved ones who couldn't be with us on our special day. I also included a little letter letting the guests know what we had done and why.
• I put together a 'boudoir' table for the ladies which included plasters, paracetamol, hairspray, all the necessities you can think of that might be needed throughout the day. This went down a storm, so many people thanked me afterwards!
• Guests also loved our DIY photo booth, we bought a Polaroid pogo which allows you to print instantly from a digital camera! This meant we had some hilarious pictures alongside our guests messages in our guest book.
• Guests also appreciated comfy flip flops for their tired dancing feet.
• A yummy sweetie bar that we put together ourselves.
• I think the most unique thing was our wedding cake. We had a Krispy Kreme tower instead of a cake! My mum made a little cake to go on the top so we had something to cut. Guests loved taking home doughnuts at the end of the night. Gotta love the doughnuts! And my sister made the pink cup cakes
Advice
When we got engaged my other half and I made a list of all the things we love in life. We tried to include as many things from the list in our day to make it as 'us' as possible. We must have done something right as so many people have commented what a great wedding we had. On the day, just go with the flow and most importantly ENJOY it! Also, brides I would totally recommend you get someone in to do your hair and make-up. My make-up artist Sabrina was fantastic and kept me calm whilst the craziness was going on around me!
Special moments
I loved the moment when our vicar pronounced us as man and wife. The emotion and happiness I felt was totally overwhelming. A feeling I will never forget! And to hear our guests whooping and cheering was awesome. Also my now hubby's speech, it was unbelievable. I don't think there was a dry eye in the marquee!
Biggest surprise
Definitely the morning of the wedding, being surprised with my gorgeous diamond earrings from my future hubby.
Supplier Shout Outs
Photographer. karibellamy.com
Videographer .  sidneydiongzon.com
Dress. theweddingdressshop.co.uk
Florist.  alliumflorist.com
Marquee. alexandermarquees.co.uk
Invites. vowswithwow.co.uk
Headpiece. janniebaltzer.com
Shoes. christianlouboutin.com
Bridesmaids dresses/shoes. asos.com
Bridesmaids jewellery. lobster-love.co.uk
Suit. hughharris.co.uk
Shoes. ferragamo.com
Cuff links.  montblanc.com
Hair&make up. sabrinalily.co.uk
DJ. weddingsmashers.com
For more information on Kari's work go to
www.karibellamy.com
www.karibellamy.com/blog
[email protected]
FACEBOOK
TWITTER
078100 16098
 ♥  You can see more Real Weddings featured on the Blog HERE  ♥