Todays wedding is just beautiful, it is full  of so many well thought out aspects from the decoration, to the food, to the outfits to the entertainment. It's certainly one of those wedding you look at and wish you had been a guest at! It has been sent into me by Kari Bellamy who's photography I just love. Her soft tones fit this english country vintage wedding perfectly! and I'm sure you will agree she has done an amazing job.
Emily and Matthew are the lovely couple filled with so many stunning ideas and they were married on 7th July (aka Monsoon Season!!!) The ceremony was held at St Marys church, Barkby. Leicestershire, with the reception at Scraptof Hill Farm, Scraptof. Leicestershire. There are so many things to love about this wedding and I think Emily has done an amazing job, despite the terrible weather she had the week of the wedding to pull together all of her ideas, her attention to detail is second to none!
'Our wedding day was filled with good food, good drink, good music, good company and therefore a great atmosphere. It was evident from the outset that we had both influenced the day with our personal LOVEs- vintage meet Rock n Roll.'
How they met
Matthew and I had known each other for many years though our brothers being friends and moving in the similar friendship group but never really spoke much, nothing more than acquaintances. It wasn't until early 2008 when we got together as a couple. Up to that point in our lives we hadn't noticed each other in a romantic capacity. I'd been at university and had been concentrating on establishing myself in my career and Matthew was in another relationship. We both fell in love very quickly and we knew from that point that we were a match made in heaven and we'd be together forever. So in short, about 3 1/2 years.
The Proposal
Whilst together Matthew and I have travelled quite a lot and have embraced our mutual love of food, eating our way around the world. December 2011 was no different. We booked to go to Cologne, Germany to visit the Christmas market. Cologne and its 7 different themed markets was beyond my wildest dreams. The Friday we went out and about for the day walking around the entirety of cologne. Once night fell we found ourselves at the market in front of the huge gothic style cathedral. THE biggest of the markets. A live band played and we stood under a mass of twinkling white lights listening for a while. The smell of the food and mulled wine was intoxicating. We went up to the cathedral and walked through the vast building where we lit a candle for our loved ones. Walking down the aisle linked arms I playfully hummed the wedding march thinking I was being subtly suggestive of my desire to get married – little did I realise! On leaving the cathedral Matthew suggested we went into one of the dark arched doorways I went with it. He was rummaging in his bag 'looking for his gloves'. By this point I started to get suspicious, it was only a small bag and the gloves just couldn't be that lost. He then got down on one knee and took my hand, told me how much I mean to him and how much he loves me then popped the question. He produced the most perfect vintage style sparkler, shame I had to wait till I visited a mobile porter loo to get my first real glimpse of it! I couldn't have wished for a more beautiful setting. It was the best!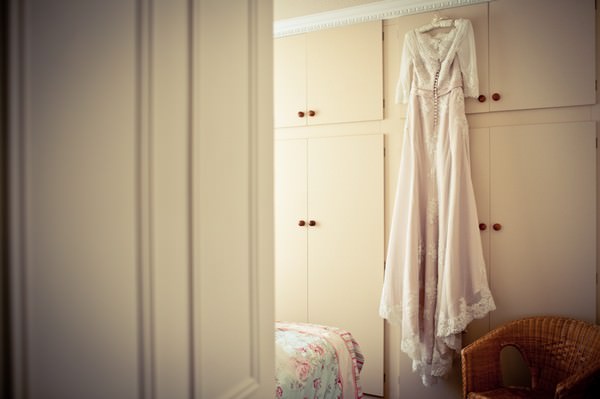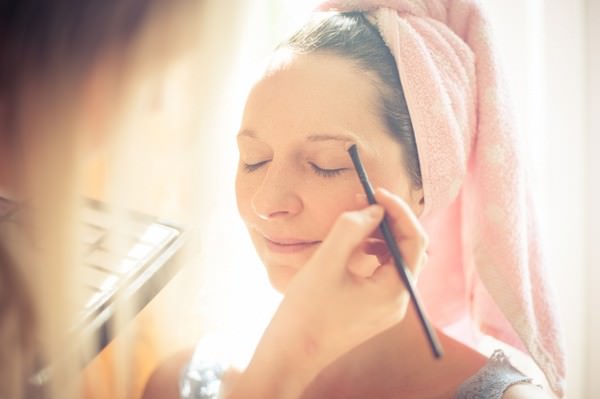 The Guests
We had 100 guests come to the church and the wedding breakfast. Then a selection of friends and colleges arrived at night to join in the celebrations. The venue enabled us to have no restraint on the number of guests we were able to invite people to pop in for a drink right up to the day. I was able to invite everyone that helped us to make the day happen which was important to us!
The Planning
We got engaged in the December 2011 and started planning shortly after Christmas. We both were of the feeling that we were 'engaged to be married' and so planned a short engagement. We thought we fancied a September wedding but after seeing the vicar we opted for the date free in July. Plus I thought 7.7.12 was an easy date to remember maximising my chances of anniversary gifts for years to come.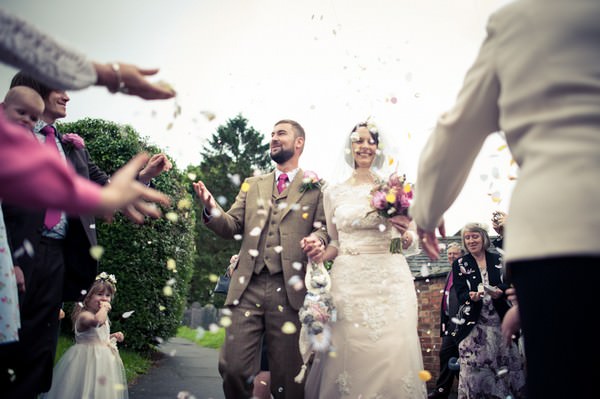 The venue
Barkby church was a local church in our parish and it sits in a beautiful village location. Ideally located very close to home and a village I spent a lot of time walking though and dreaming about living in as a youngster with Mikylla – my bridesmaid. My dad also had strong feelings towards this church.
The reception venue was a very simple decision. Scraptof Hill Farm was one of two venues we went to see, the owner were so enthusiastic. The Land that they offer at the farm is a large flower filled meadow surrounded by a stunning wood were you can walk through the trees. Very romantic and fabulous for photos. We were immediately love struck with the idea of the children running though the long grass playing and guest mingling outside drinking their Pimms, watching the day unfold.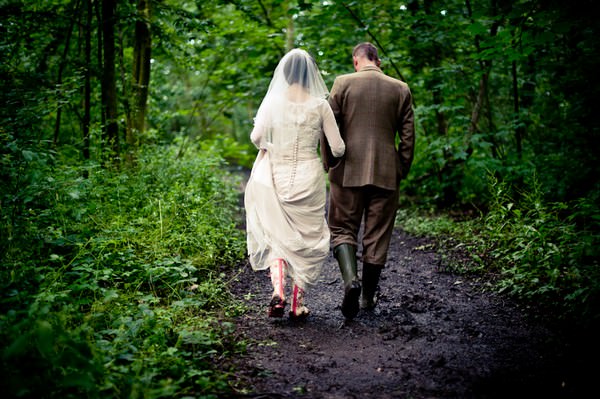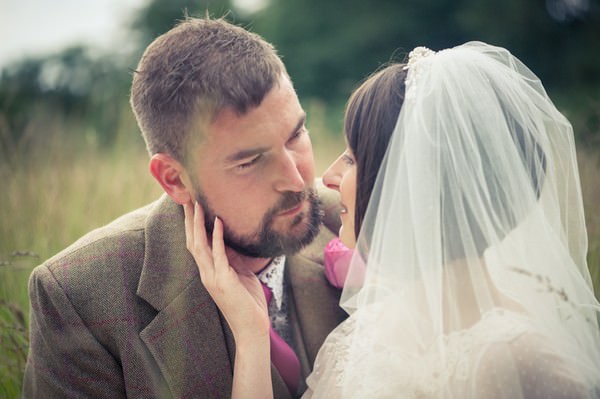 How did you choose your photographer
With Matthew being in a band he suggested that we use the photographer that they use for albums and promo stuff. I was apprehensive to say the least.I found Kari following a little internet surfing. Her images were stunning and exactly what I wanted. We met up with her and the deal was done! She was the most fantastic of people and photographers. I'm so pleased with my choice. She excelled on the day. Every time I saw something I thought she should be capturing there she was snapping away!
The Dress
Anyone who knows me knows I have a hatred for the 'typical' wedding dress, however as I came to realise they're hard to avoid with these being all many shops stock! I went dress shopping and looked at everything that was on offer in the surrounding area. I tried on some sunning gowns, but wasunable to find my dream frock i went to see Krystyna and Julia at pretty maids, Leicester. Krystyna (a long lost friend from many moons ago) was more than happy to make me a bespoke gown to my design and created the masterpiece that it now is!
I had my hair band made to match the brooch on the waistband of my dress,
As a wedding gift, krys and Julia presented me with a beautiful draw sting purse to match my dress! It was so unexpected and finished off the outfit.
Further more to this at the wedding Krystyna was there with her bag of tricks to do some on site tailoring. My garter had parted company with my leg! Krys took the garter and during the service did some last minute alterations to make it smaller for me. Also due to the flooded mud filled marquee in order to stop my dress dragging on the floor Krys sewed in a few tucks and pleat and repositioned my handle, definite damage limitation! 4 bottles of cleaning solution and many patient hour later krys and Julia have returned my dress like new! For that I am eternally grateful!
The suit and bridesmaids
Matthew can make any outfit look good! Due to this and the non traditional, miss match theme I was leaning towards, we opted for a three piece tweed suit. After trawling the internet I came across the company Brooksters, who make made to order suits. We perused the massive selection of different tweeds, I had to rein Matthew in a few times as I think he was basing his style on Rupert the bear. We finally agreed on one and when it came I couldn't get over how good he looked when we teamed it all up with the lavender/pink floral shirt and cerise Thomas Nash tie which match the satin lining perfectly.
For the bridesmaids dresses I didn't want to go for the traditional long dress and I love my floral fabric so I picked some made to order 50's style dresses from an amazing online shop called 'Electric gypsy.' I added cerise ribbon and a flower around the waist to match in with the groomsmen.
The Groomsmen all wore brown Prince Edward , they each had a white and blue floral shirt but they were all different patterns and styles. They all had matching cerise ties to match in with the groom.
My Page boy matched in with the groomsmen with his brown suit and my flower girl wore a spotted tulle dress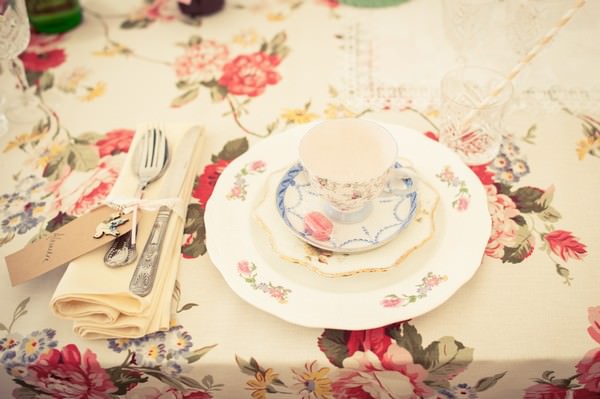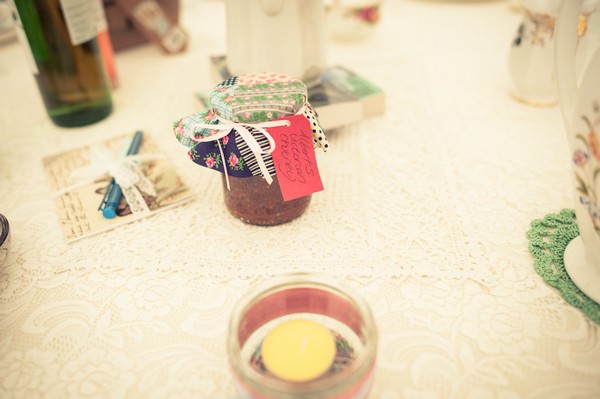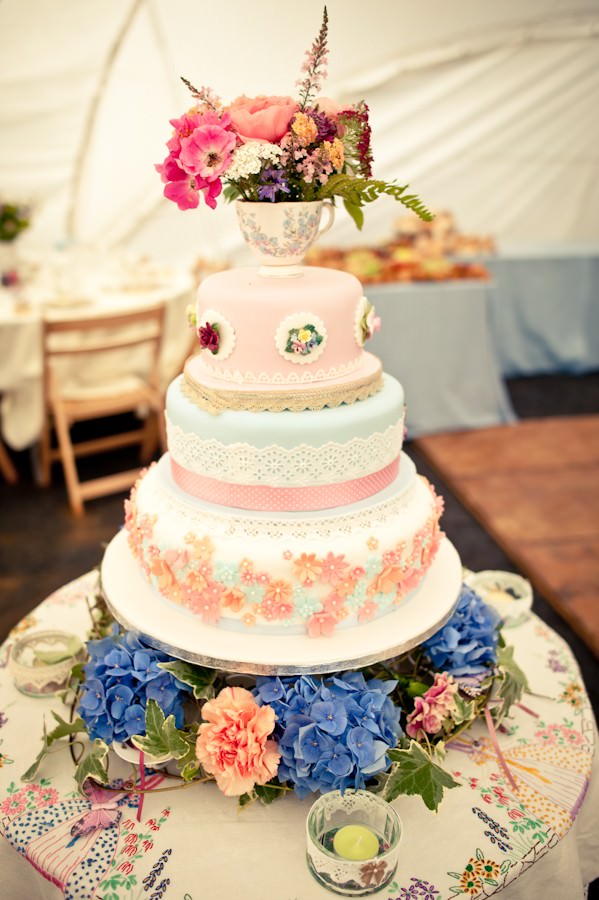 Theme
My wedding was just a realisation of everything 'Matthew and Emily'! I Love my vintage, floral, shabby chic style and attention to detail. Matthew loves his beer and rock'n' roll and we love our food, family and friends. So these things were the driving force for our wedding. We were our theme! I didn't intend to have a colour scheme or theme particularly but a mixture of unintentional schemes appear for instance the bridesmaids and groomsmen co-ordinated in the blue and pink which then lead on to match my cake etc. I love making thing work together and compliment each other without matching them!
Flowers
The florist was a recommendation from one of Matthew mums friends. Stuart was outstanding. He got to know me and my style in no time at all and reflected this in his beautiful bouquets. Mine was an unstructured bouquet with an eclectic mix of flowers – lavender, mint, old English roses, hydrangeas'. I Was happy to have any flowers as long as there were no Gerberas in sight! Mingled in amongst the flowers where brooches and earrings that I'd collected which looked better then i could have imagined. There were some of sentimental value for instance on the handle was a blue forgot-me-not brooch which my dad brought for my mum, and a venetian micro mosaic one which Matthew and I got during a weekend away in 2011 to Venice.
Stuart covered the sweeping archways of the circus style marquee in ivy, hydrangeas and carnations which transformed the space. The tables where a mass of colourful displays in miss match jugs and vases which were stacked on old books and croqueted doilies. The Groomsmen all wore 'Emily' David Austin roses. My little flower girl had a delicate rolled rose hair band with a little pair of silver earrings in the centre which tied her in nicely. The Bridesmaids bouquet were a slightly muted tones based on mine.
Food
Initially our guests were handed cucumber sandwiches and helped themselves to jugs worth of traditional or ginger Pimms.
Once we had the meadow on the farm, the idea for the food was screamingly obvious, A ploughman's lunch! We had our local butchers come and calve 3 meats – ham, turkey and beef onto the guests plates which was a real spectacle! I brought all the food myself and on the day of the wedding Rose Renner along with two hard working friend undertook the mammoth task of putting it out on the buffet table. I brought loads of gingham fabric which draped across the 24ft buffet table which was in the shape of a horse shoe. Ploughman's pie, chicken and bacon pie, pork pie two huge bread baskets , all cut in to hearty wedges. These spread out either side of the butchers. At the other end was the cheese selection – 9 different cheeses in total. Foraged between all this was all you'd expect from your ploughman's – vine tomatoes, celery, pickles, apples and so on. Each table had its own jar of chutney to finish it off. I can honestly say nobody was shy, every plate was staked high as they all gorged themselves with rich food.
I brought a large side board from a local charity shop for £25. My dad and I painted it up. On the day this was covered in sweets, giant lolly pops and cakes. I asked my Grandma to make me some of my favourite jam tarts which I have grown up with, and Matthews aunty produced a beautiful fresh cream and strawberry filled Victoria sponge. My Mum made me some of what we call 'favourites' but they're like a cakey version of shortbread, again from my childhood to share with everyone. They all did me a brilliant job. There was also 2 huge cheese cakes but I think we ate them whist cleaning up on the Sunday!
As an extra special treat I organised for an ice cream tricycle to come and serve home made icecream. 6 different scrummy flavours. The company Vintage English came and set out a hole host of sauces and sprinkles.
The cake
The Wedding cake was the show case of my DIY projects. I must admit – I impressed myself! It was a 3 tier fruit cake, the recipe was from a wedding cake cookery book Matthew had brought me for Christmas knowing I'd want to make my own cake. The bottom covered with hand cut flowers in pastel colourers, painstakingly stuck on to the white iced base individually. The middle was a blue iced tier with my grandmas vintage Broderie Anglaise surrounding it with some pink spotted ribbon and a butterfly. The top tier was iced in baby pink and based on one of my Cath Kidston mugs of all things in the Provence rose style. I added some floral brooches which looked fabulous. I had brooches in my bouquet so again I wanted to reflect this in my wedding cake. It stood pride of place on a lovely wrought iron table which was covered my one of my grandmas hand stitched table cloths of beautiful women in pretty dresses on. I was guttered when it came to cutting the cake! But it tasted mega!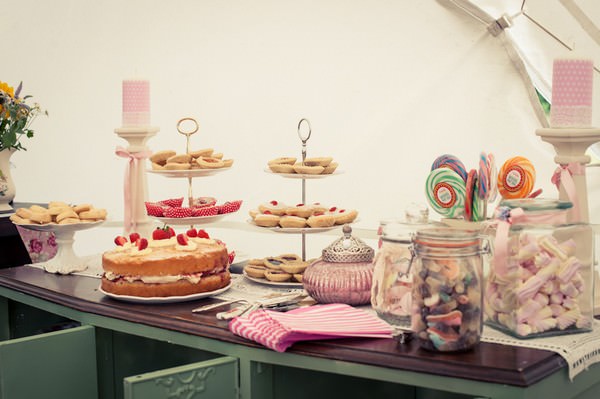 Entertainment
We had Ten2Ten, a brilliant rock covers band whom we are friends with play for the evening and needless to say they got everyone toe tapping with some classic rock tunes. In between their two sets Skam (Matthews heavy rock band) got up and played 3 songs. One of their own. The middle song was the classic ACDC 'whole lotta Rosie' for which John Potter from the incredible covers band 'Devils advocate' got up and sung with his astounding voice, shocking and impressing the crowd to say the least. Skam ended on one of my personal favourite 'freebird' by free and Bad co which was a monster mash of the two bands coming together as one! Once the bands had played we had a disco; giving everyone a bit of time to ease their craving for a little cheesy music which has to be done at any good wedding.
Decorations/personal touches
• We hired a traditional mahogany bar which we stock with enough booze and pop to sink a battle ship, everyone loved the free bar. Including 3 barrels of ale on hay bales which really looked the part. Kayleigh and Amy did a super job of being our bar maids for the day. The bar was dressed with authentic vintage bar mats and bar towels from my great grandparents pub, and a large kilner style jar with a tap to ensure there was a constant supply of fruit filled ginger Pimms though the day/night. The Bar was surrounded by bunting which looked lovely as was the table set out for the arrival drinks.
• Each round table was dressed with a floor length cream table cloth and directly on that covering the top was a vintage style lace cloth.
• I made the table numbers all different. Some were simply wood with flowers, some were a lot more ornate with everything but the kitchen sink on them.
• Each place setting comprised of a vintage china dinner plates, side plate and tea cup staked up on top of each other, with 3 lead crystal glasses.
• The cream napkins placed at the side of the plates encased the Vintage cutlery (precisely placed) and held the place names I made.
• These were all different – they were brown tags with lace to secure them around the napkins with either a bow and a just married sign on them. Or they had pretty fabric covered wooden doves and butterflies on them.
• My sister in law set about the task of writing all the names on them. In the centre of the table was the flowers vases and like I mentioned there was all different jugs and vases stacked on old books with crocheted dollies.
• Each table of 8-10 people could enjoy some homemade peppermint creams DIY by my Mum. Also all the bits and bobs for the pots of tea and coffee that were to come out with the meal, such as bowls of white and brown sugar lumps and milk jugs.
• Each table also had a lovely vintage cordial jug filled with water and a cute little beaded crochet jug cover.
• Instead of having the traditional guest book I bundled together beautiful postcards with a pen and tag asking for well wishes for the bride and groom.
• And finally each table had it own pretty fabric covered jar of chutney which we made.
Special moment
The most special part of the day has to be the church without a doubt. Walking down the aisle was so wonderful, I really enjoyed it. Our vicar David White put us at ease so we could enjoy the service and the vows. My brother got up and did a bible reading which meant a lot to me. The piaster d'resistance was Matthew poem that he'd wrote for me and his mum managed to read in a composed fashion whist the rest of the congregation blubbed.
Advice
My main advise would be wedding insurance, we almost had a very costly day on our hands because if we had of had to cancel then we'd have lost the whole lot! My second would be have a wedding bible, I had my book full of everything! Numbers, records of the money we'd spent ect. Maybe a little anal but I've now attached in the speeches so I can look back on it as a keep sake. And finally, do what you want to as a couple! Whatever that may be. Dare to be different.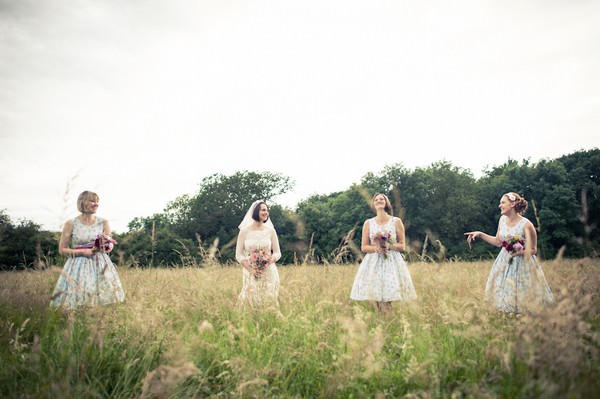 The Weather
I always had a real worry about not being able to go into the venue first. I wanted to see everything in its glory before everyone divulged in and I didn't get to see all the hard work at its best! The Week leading up to the wedding was crazy to say the least. I had the week off and I had everything in order and I knew everything that needed to be done. Up until disaster stroke when we got a phone call from the farm saying that a wedding that weekend couldn't use their marquee and had their wedding in the working farms barn. because of the torrential rain. The weather was freak to say the least and unfortunately for us the rain kept falling. We met up with the marquee company to review the beyond saturated meadow. Funky tents – the marquee company felt there was a patch of ground dry enough to take the marquee and by the Wednesday we had our marquee erected. The Problem being no guests could get in without wading though water first. So a walk way was built with the help of some good people
Matthew was in the depth of despair due to the emotion tied up in the disappointment our wedding was no longer a beautiful vintage affair but had reminiscences of the flooded download festival we'd been to a few weeks before up to our ankles in mud
when we arrived on the Friday morning we had a completely mud and water filled marquee. One area was that flooded we had a stream flowing though it! After much deliberation – to cancel or not to cancel we decied to go for it and embrace the wet. We had family make emergency calls to our guests to bring their wellies!
As a result of the disastrous week, I got my wish to go in the marquee first So there are some perks to it all. We all had a ball, in comfy shoes! Matthew and I, Our usher Gavin, best man Steve and bridesmaid Gemma all camped the night on the dance floor. Gemma jazzed up our Tesco value tent with fairy lights and rose petals.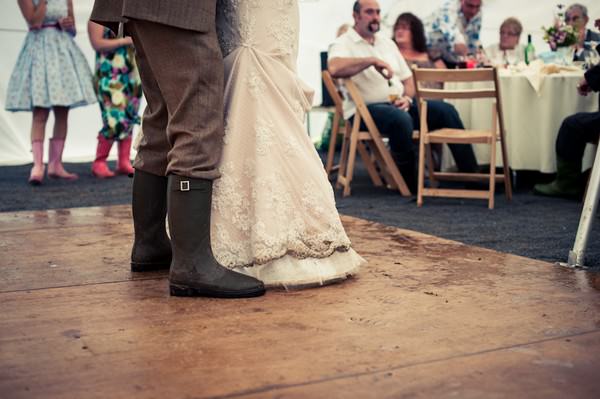 Biggest surprise
Firstly, that everyone enjoyed themselves and embrace the weather and wellies! If it wasn't for the attitude of the guests and the bull dog British sprit our wedding would have been a wash out.
Secondly, I was so surprised that my beautiful page boy and flower girl walked up the aisle in front of me hand in hand at the age of 3 and did their job perfectly. They were exceptional, steeling the limelight from me a little one thinks!!
Thirdly, my dad's speech! For a shy and retiring type he performed his speech articulately and even got a laugh from the crowd. I could tell that hours of work and meticulous thought had gone into it, I'm very proud.
For Matthew his biggest surprise was without a doubt his new guitar! His wedding present of a new stingray Bass went down very well.
The childrens biggest surprise was 'smudgy' the clown. She came and performed for the children and adults alike. Her balloon sculptures were out of this world! Monkeys climbing up trees, Barbie dolls and dog. And as if this wasn't enough she then put on a magic show. Well recommended.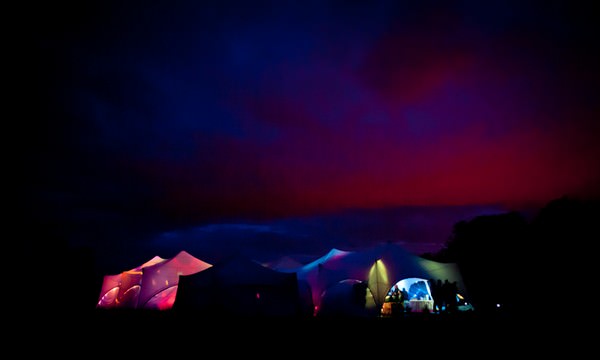 Supplier Shout Outs
For more information on Kari's work go to
www.karibellamy.com
www.karibellamy.com/blog
[email protected]
FACEBOOK
TWITTER
phone number: 078100 16098
I am based in London and offer a nice mix of documentary, classic photography with a bit of a vintage flair
♥  You can see more Real Weddings featured on the Blog HERE  ♥