Welcome to another week! I hope you all had a good weekend and feel rested and ready for another busy week ahead? Today's wedding has been sent into me by regular to the blog Jonny Draper and it features a fun scrabble themed wedding with lots of fun, pink accents!
'The best day of our lives! It was a fantastic day full of constant laughter and smiles, made all the more special by spending it with our closest friends and family, some of whom we don't see often enough.'
Kelvin and Katie were married on 29th September. Both the ceremony and reception were held at Mitton Hall, Clitheroe. 'I grew up in Clitheroe and when we saw the venue, nothing else came close! It had everything we were looking for in a venue and was in such a beautiful setting. The reception interior was all wood panels with a huge roaring fire and the wedding breakfast room was a blank canvas to fit any theme. Plus no horrible patterned carpets in sight! We had about 80 guests for the ceremony and the wedding breakfast and then invited a few more to join us for the evening party.' 
How they met
We met in Sheffield, in June 2004 where I went to university with Kelvin's best friend Robert. Robert and I had known each for 3 years but this was the first time that Kelvin had been up to visit him when I was around. He had invited a few of his school friends up for his birthday and we got on really well. A few weeks later Kelvin invited me and a group of mutual friends to his parents holiday home in Christchurch for a holiday and we had all arranged to meet at Kelvin's flat in Birmingham the night before for a few drinks before driving down the following morning. Suspiciously, after I got there, one by one all our friends were unable to make it until the following day, so that turned into our first date!
The proposal
Kelvin proposed to me in York just before Christmas 2010. Kelvin chose York as it was the location of our first weekend away together. Kelvin had it all planned; propose outside the York Minster or near the main Christmas tree following a meal at the Blue Bicycle. Unfortunately I caught flu the week leading up to the weekend away, so couldn't be persuaded to take an evening stroll around the city – as a result of this (and not wanting to propose in the York branch of the Slug and Lettuce where we were heading afterwards!), the proposal was made in the warmth of the Blue Bicycle over desert! I was so shocked I couldn't finish off my chocolate soufflé pudding!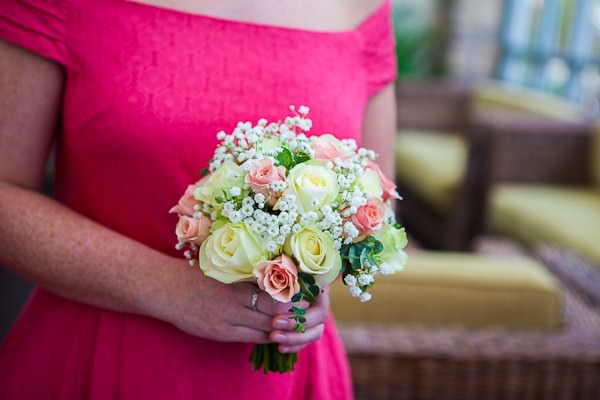 The Planning
We got engaged at Christmas in 2010 and it took us a while before we started looking at venues. We decided we wanted to get married towards the end of September/early October as this fit in best with our work commitments and September is often one of the nicest months of the year weather wise! To get a Saturday at the venue we wanted you had to book a long way in advance as they were so popular so we had 21 months to plan the wedding!
Why did you choose your photographer?
Jonny was recommended by a family friend of my parents who had booked him for their wedding. As soon as we met Jonny to discuss what we wanted over some eggs benedict at the Met pub in Manchester, we knew he was the right man for the job! He certainly lived up to expectations!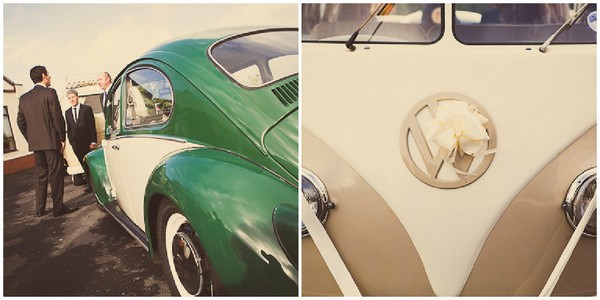 The Dress
The dress was Christina by Enzoani. I tried on about 80 dresses before I found the one! I just loved the fit of the dress and how simple it was. The shoes and hair accessories were bought off ebay and the earrings were a bargain £12 for a set of 6 from Accessorize. The necklace was a gift from my mum as a child and it had a photo of my parents on their wedding day in.
The suit and bridesmaids
We didn't want anything traditional with the suits so we decided to go with standard suit in brown from Slaters. We spent quite some time looking for ties to match the bridesmaids outfits but in the end we found a perfect match in Debenhams – the last of about 15 shops we tried! The bridesmaid dresses were a risky buy from Kiki's boutique shop in Lymington. We were down there on holiday and we were looking through the sale racks and the colour and style really stood out. The only problem was I didn't know what sizes I needed so I bought a selection and luckily they all managed to find one that fit! The Bridesmaids shoes were from Faith. – I loved the bows on the front! The earrings were from Accessorize.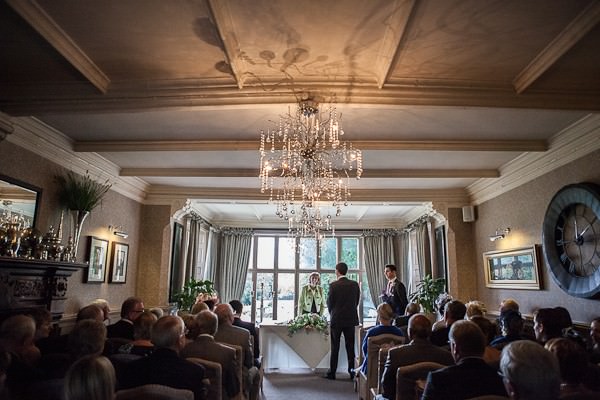 Theme
We wanted a fun retro theme, but the colour scheme came from finding the bridesmaid dresses. I bought a scrapbooking pattern book to make all the place names and table numbers and wanted a lot of colour so I used a different pattern for each of the tables. There was also a Scrabble theme, which ran throughout the finishing touches for the day! The giant lollipop favours finished off the retro look!
Food
We went for a meal tasting session to decide on the menu for the day and all the food was delicious but we decided to go for Duck to start, Beef for the main and a lemon tart for the dessert. I was starving by the time the food was served as I'd been too nervous to eat more than a couple bites of fruit for my breakfast. We had traditional Lancashire hot pot and vegetable lasagne for the evening buffet.
Entertainment
Chris, the resident Mitton Hall DJ. We wanted some good old pop and dance tunes with nothing too cheesy. After a lot of deliberation we chose Your Song by Ellie Goulding as our first dance song and had many evenings practising our moves the kitchen!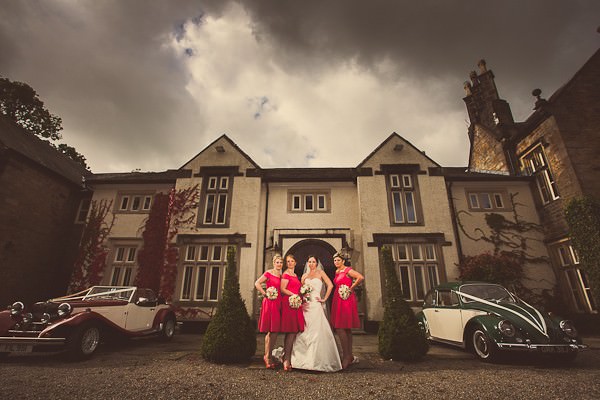 Flowers
I don't know anything about flowers so I was happy for the florist to recommend what would best work with our theme. The bridesmaids had Ilse Roses which really complimented the bridesmaid dresses, Ivory roses, and gypsophilia. My bouquet had the same plus white anemones. The button holes had a some gypsophilia and roses.
Personal touches
• We bought an old vintage suitcase for the cards and presents to be left in, as we have arranged a tour of Australia for our honeymoon
• Decopage K&K letters, handmade with supplies from Hobbycraft
• Table numbers, table plan, place names etc all hand made again with supplies from Hobbycraft and hundreds of Scrabble letters purchased off Ebay.
• We designed our own invites (special thank you to the guys at Core Design in Birmingham for doing these)
• We took wellies and colourful umbrellas in the event of rain (Bridal Parties own!)… we decided to use them regardless!
Special moments
It was a day full of laughter from start to finish! The photo sessions with the bridal party were brilliant fun, with some taking Jonny's instructions of 'have some banter' to the extreme! The speeches were all fantastic and Kelvin even managed to squeeze a tear out of me!
Advice
Don't worry about the small things, enjoy the day, take notice of what is going on around you, it will all be over too quickly!
Biggest surprise
The weather! It rained loads leading up to the wedding, and the day after! I surprised Kelvin with a camper van and beetle to collect him and his groomsman from their hotel in the morning. Kelvin has his own Beetle that he is restoring but unfortunately it wasn't ready in time for the big day.
Supplier Shout Outs:
More information on Jonny Draper's Photography go to:
www.jonnydraper.co.uk
www.jonnydraper.co.uk/blog
[email protected]
www.facebook.com/JonnyDraperPhotography
twitter.com/JonnyDraperfoto
♥  You can see more Real Weddings featured on the Blog HERE  ♥
Due to an email issue if you have emailed me between the 2nd & 9th of December, please resend it.
X