Today I have THE most awesome wedding for you, a Rock n Roll DIY wedding from South Carolina and I know you are going to LOVE it! Sol and German wanted a wedding that was truly them, so they picked Friday 13th as their wedding date and chose a Rock n Roll, meets vintage, meets 1920s theme.  They then mixed in leather jackets, stars, metallic colours, amazing flowers and added as much DIY magic to their day as they could. They invited their dogs to the ceremony, rocked an 8 foot tall moon prop along with a path of hand cut paper stars, mini tambourines, tassels, glitter and the most stunning outdoor ceremony, followed by a crazy cute outdoor reception. So many amazing elements to this wedding, all captured perfectly by Philip Casey Photography.
Rock n Roll Metallic DIY Magnolia Plantation Wedding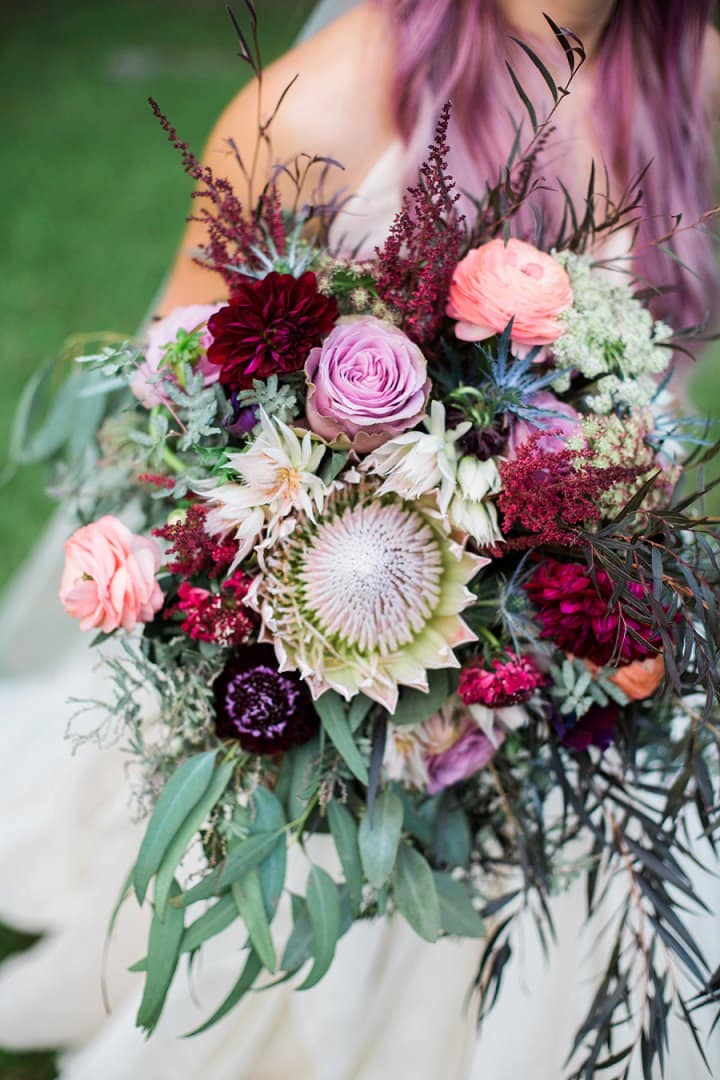 Sol and German were married on 13th October 2017 in Charleston, South Carolina. 'We wanted something a little out of the ordinary so we decided to go with a Friday the 13th, Rock n Roll, Vintage 1920's theme. We really did not plan it all out from the beginning, pieces started coming together as we thought of colors and styles. Metallics was our color palette rose gold, copper, chrome, and antique gold, anything shiny!'
How they met
We met studying for our entrance exam to Med school in Argentina, we have been together for almost 10 years. We actually never had a real proposal per se, but we are one of those couples who just knew that forever was for us.
The Outfits
Rock n roll and vintage glam! As the bride it took me a very long time to find my dream dress, shiny bling and tulle was just not cutting it! I finally found my Carol Hannah Senara gown in NYC and it was love at first sight! Gold threaded linen, gold paint splattered veil, a gorgeous gown to say the least that totally fit my vibe! As for the groom we wanted something vintage and ideally a pair of Leather Pants for Men but ended up finding the coolest suit that looked almost leather like, black on black with skull socks and a top hat we found at goodwill for $9 , we were so excited how we pulled his outfit together so nicely!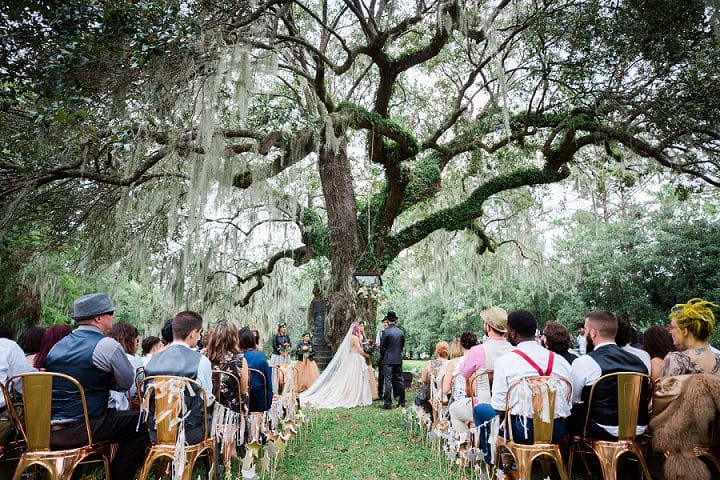 Decoration 
Stars, flowers and metallic colors was our main focus! We DIY'ed so much, looking back it was crazy how much we did! We made a path of hand cut paper stars stuck in the grass on little sticks, we made flower crowns for the guests, had mini tambourines and tassels, all pretty glitter and metallic colors. We had copper chairs which were incredibly cool! We made our own flower chandelier out of wood and wire and hung it from our gorgeous ceremony tree.
Flowers
Proteas, lavender roses, dahlias and lots of greenery. We kept the colors in the purple and vintage pink hues, they matched my purple hair and gave everything a dark romantic vibe. The giant proteas for my bridesmaids and bouquet were the most beautiful flowers I have ever seen!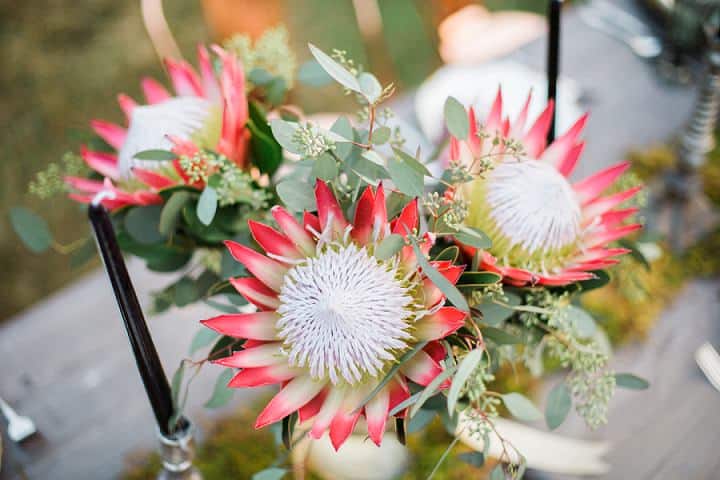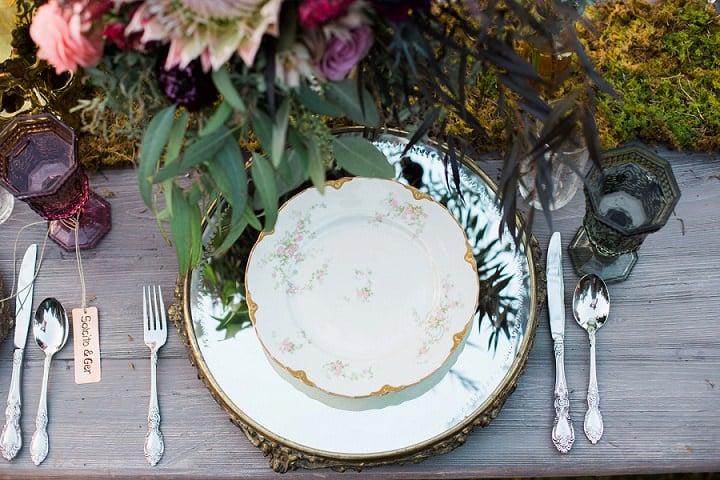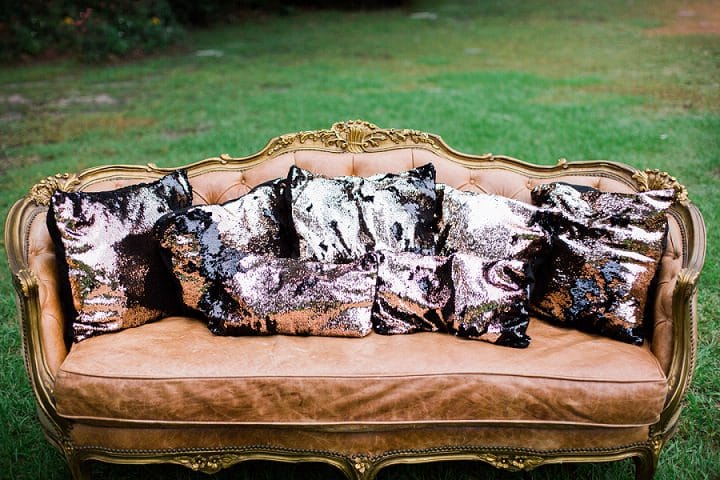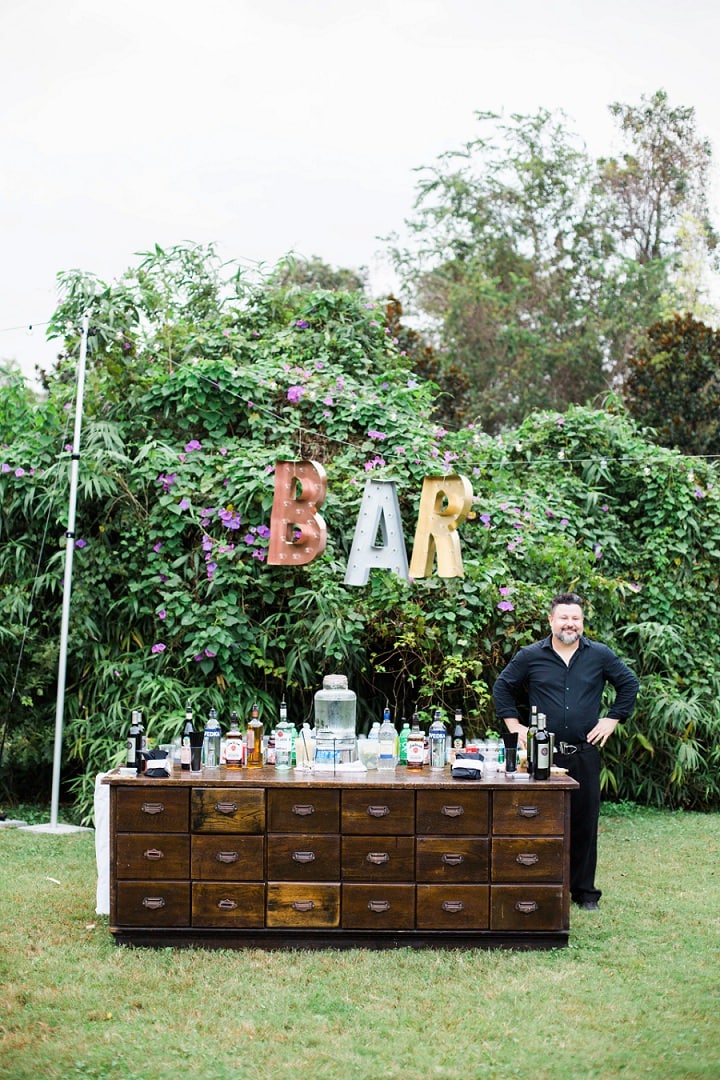 Personal touches
My favorite part by far was our 1920's Moon prop, we made it with plywood and hand painted it with a friend it was 8 feet tall, everyone loved it so much! We had cotton candy, handmade our giant jenga and cornhole games. Everything we had was made with love and our guests seemed to enjoy it so much, it was so worth it! Best part is we got to keep everything and currently have the moon as décor in our house!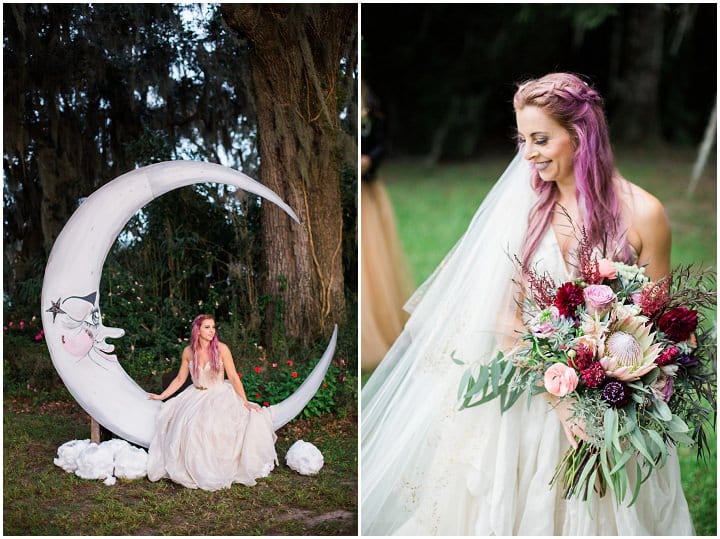 Special moment
Definitely my walking down the aisle song! My bridal party entered to Welcome to the jungle by Led Zepplin, and I walked in with my dad to The Adams Family Theme Song , it was perfection, everyone was so surprised and loved how we were ourselves even through or music!
Advice for other couples
Planning is a ton of work, especially DIY, I suggest that you make real timelines and try to enjoy as much as possible since the planning is the majority of the time! On your wedding day take a moment and look around you will never feel so loved on any other day in your life!
Supplier Shout Outs
For more informaton on Philip Casey Photography go to