Today we are talking Honeymoons again with our monthly honeymoon feature. last time we went across to Africa for a spot of glamping, today as I have recently booked a holiday with Nik to Marrakech I thought it would be quite fitting to cover Morocco as a honeymoon destination. Set in North Africa, Morocco is hot in summer yet still warm enough in winter to visit and it is only 3 hours away, so you could go for a week, two weeks ro just a long weekend. There is a variety fo things to do and places to visit while you are there so today the lovely people at Luxe Travel will explore this amazing country and tell you the best places to look out for.
Your wedding day is all about you, and the honeymoon is the perfect celebration of your special love. Celebrate your once-in-a-lifetime special day with a uniquely exotic honeymoon to lovely Morocco. Stroll through a bazaar, see local carved art at the Museum of Moroccan Arts, and be seduced by the brilliant scents of authentic Moroccan spices, all while hand-in-hand with the one you love.
Experience the best of this beautiful destination with your new husband wife with this sample itinerary for the perfect exotic honeymoon tour of Morocco
Casablanca
Explore the heart of Morocco, starting with the Hassan II Mosque, the world's tallest religious structure, home to an incredible glass floor overlooking the ocean. Experience the romance of Casablanca with a horse-drawn carriage ride for just the two of you followed by sweet conversation shared over a cup of mint tea.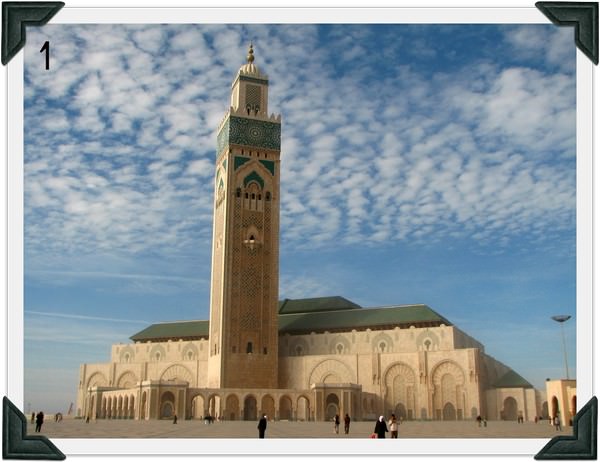 Fez
Enjoy the romance of the old city, the former capital of Morocco which was the center for learning in the Middle Ages. Share your romance with others as you attend a dinner show where you witness a traditional Moroccan wedding ceremony, and then view the magnificent Nejjarine Fountain and its incredible mosaic tile work before heading past the Royal Palace to the Museum of Moroccan Arts.
Meknes and Volubilis
Experience the rich history of Morocco with tours of these two imperial cities. Be sure to check out the incredibly preserved Roman Moroccan ruins as well as stunning mosaics.
Rabat
Bring your camera when you view the Mauresque-style Hassan Tower, a 12th-century tower and Rabat's most popular attraction. Then view the mausoleum of Mohamed V, the founder of modern Morocco and the current king's grandfather, followed by a viewing of Oudaya Kasbah, which overlooks the Atlantic. Try a romantic dinner in Rabat with authentic dishes such as lamb and cous-cous, and then indulge in a couple's massage at a luxurious Rabat spa.
Marrakech
This "Pearl of the South" offers a variety of architectural attractions within its medina, the older walled section of Marrakech. To view examples of 12th-century Islamic architecture, visit the minaret at Koutoubia Mosque and Dar Si Said. Then tour the Saadian Tombs, Bahia Palace, and Djemaa el-Fna Square. You'll also have the option of joining a philanthropy effort at a Marrakech shelter assisting homeless and destitute children.
For a second day in Marrakech, join a cooking class with a local chef and then take a private tour just for the two of you through the stunning Menara Gardens and Majorelle Garden. Enjoy a romantic dinner afterwards where you and your new spouse will be serenaded with a lute and entertained by belly dancers while a serene fountain trickles in the background.
Essaouira
This Portuguese-influenced town has an old quarter with labyrinth pathways and whitewashed houses with blue doors.  Its rich history includes 7th century island inhabitants, verified by remnants of Carthaginian and Phoenician pottery. See where crimson dye was made, and learn how the city was conquered by both Muslims and then Portuguese. Visit the Jewish quarter, and explore the rich culture of Moroccan artists and musicians. End your day with a special dinner with your special partner at one of Essaouria's many romantic restaurants offering private dining nooks as well as exciting dinner shows with authentic Moroccan and European-inspired fare.
For more information on Moroccan holiday with Luxe Travel go to
www.luxetravel.com
www.luxetravel.com/blog
[email protected]
1-866-365-8747
Photo Source: Photo 1,   Photo 2,  Photo 3,  Photo 5,  Photo 6,  Photo 7,  Photo 8,   Photo 9,  Photo 10,  Photo 11.
If you are a holiday company and would like to share your honeymoon tips with my readers please get in contact at [email protected]