Todays wedding comes from my good  friend Shelly from Toast of Leeds and its bloody amazing! an outdoor ceremony in the UK in an old Abby with no Roof! Oh yes! Shelly has done a fantastic job at capturing not only the beauty of the venue, but the beautiful couple and some amazing moments between them. With the reception in an urban come rustic style pub in Leeds this wedding screams awesome! I just love everything about it!
The lovely couple are Kate and Neil who were married on 30th June 2012, 'however this was our second wedding! The first was where we live in Grand Cayman in April'. The celebration was at Kirkstall Abbey in the church and the reception was at the Cross Keys pub in Leeds. They had 54 guests. It took 10 months to plan both weddings.
They describe their day as 'A perfect (second!) day. Very laid back and great fun!'
How they met
We met just over 14 years ago in Leeds. Neil had just finished Uni in Leeds and I was about 6 months away from leaving Leeds to go to Uni in Warwick. We met in Jumping Jacks and later in Majestyk nightclub, which was 70's night – not exactly a romantic setting! I asked Neil if I could borrow a bar stool from his table (my feet hurt), he gave me his friend's bar stool in return for a kiss if I saw him later on. When I did see him later on I gave him my telephone number instead!
The proposal
We went to Vegas last year. We had a horrible journey there which left us arriving about 24 hours late. The hotel (the Cosmopolitan) was lovely about it and upgraded us to a suite with a mahoosive balcony overlooking the whole of the strip – that was where Neil proposed on our last night.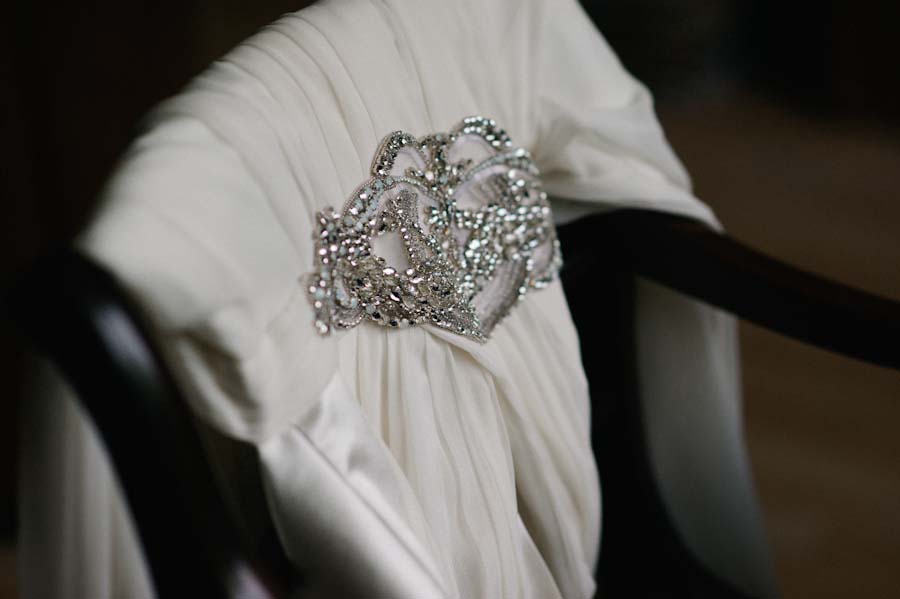 The venue
What made you decide to get married where you did? We wanted to do something a bit different and non-traditional as it was a non-wedding wedding – We used to live opposite Kirkstall Abbey when we first met, so it just seemed perfect
How did you choose your photographer.
I saw some pictures Shelley had taken of a wedding at Kirkstall Abbey when googling the venue to see if we could get married there.
The Dress
My dress is Jenny Packham (with the headdress to match for the UK wedding – for the Cayman wedding I had my hair up with a peacock feather clip instead). Both were bought from Chloe at the White Room in Sheffield (her blog of our first wedding is on her website HERE), which was a fantastic shopping experience. My shoes were Faith and my handbag was Accessorize.
The suit and bridesmaids.
Neil's suit was from Slaters. The bridesmaids were all in Lola Rose at Dessy from Cottage Brides in Wakefield.
Theme
It was a bit tricky deciding a theme as certain things (my dress, the bridesmaids' dresses, etc) had to work for both a Caribbean beach wedding and a British do too, whilst other stuff would inevitably need to be different (partly because we were limited as to what we could carry from Cayman to the UK decor-wise). The feel of both events was extremely laid back, which made things easier (as we weren't desperately trying to match stuff up or colour code things). There were overlapping colours – green for the bridesmaids and lavender (dried in Cayman and a big part of the fresh bouquets and the table flowers at the Cross Keys)
Food
At the Abbey after the celebration, we had canapés made by my mum (quails eggs with celery salt, pastrami and gherkin pastry cups, smoked mackerel with horseradish brushette and Manchego cheese on flatbread shards with chilli jam), which were snaffled up in a matter of minutes!
At the Cross Keys everyone had their choice of roast (lamb, beef, pork or nut roast) – the food was absolutely fantastic and Jen was amazing at making sure everything ran like clockwork.
For dessert we had a bit of a buffet. There was a choice of carrot, chocolate and guinness or ginger wedding cake, plus film themed carrot cup cakes (for me – I'm a bit of a film fanatic) and Manchester United player cake pops (for Neil – who doesn't exactly hate football!). All of the cakes were made by my mum who has a celebration cakes business (Mrs. P's Cakes & Bakes – 0113 2825600). They were all absolutely fantastic (both to look at and to eat!).
We also had a choice of cheeses (provided by the Cross Keys) and a ton of our favourite sweets.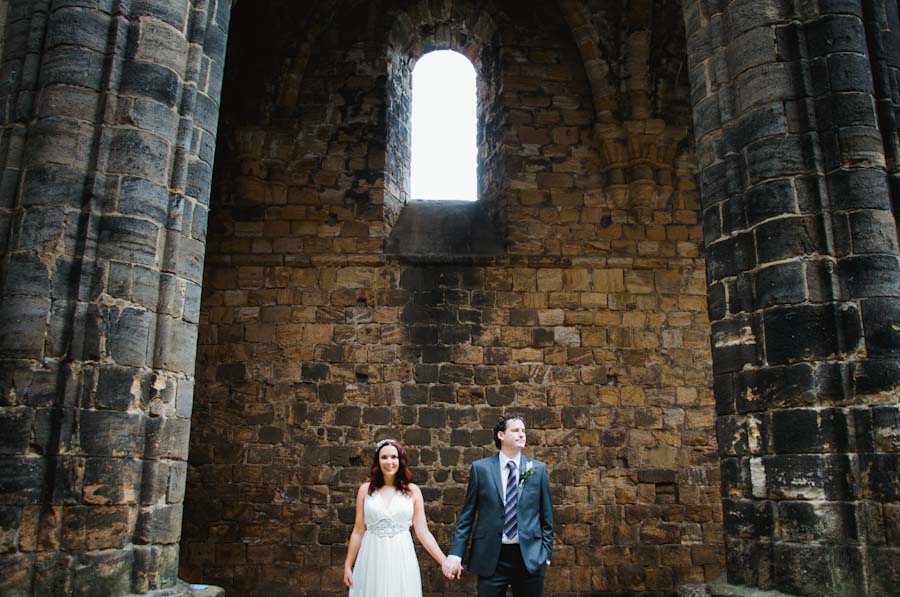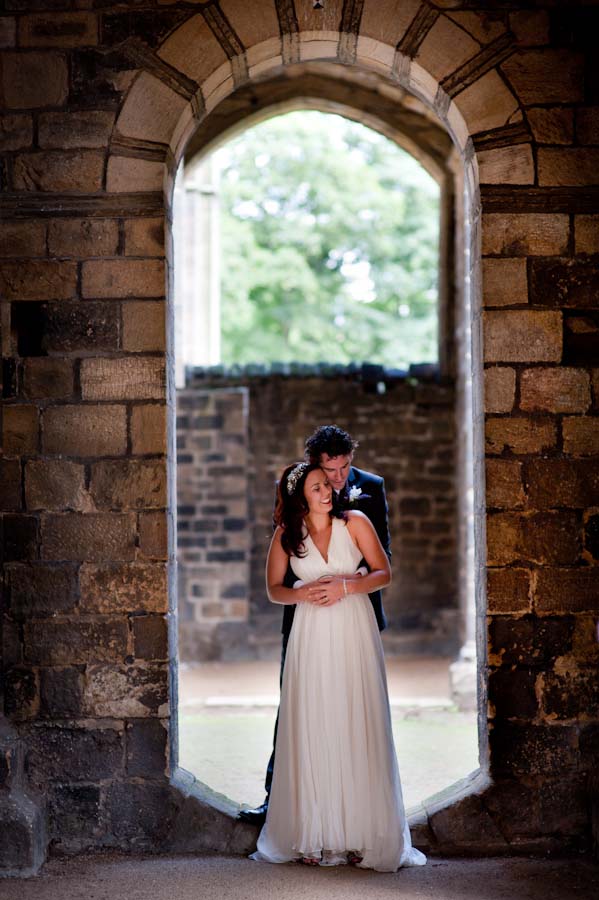 Entertainment
Not much really – we relied on people having good chat! We just stuck to an i-pod at the Cross Keys – we had intended to create a dance floor once dinner was over, but it didn't really happen in the end as people kept chatting and not moving! Those who wanted to headed into town for some dancing and more drinking after the Cross Keys closed.
We did have a photo booth, which was a DIY affair and created some flippin' brilliant polaroids of everyone. The fez was particularly popular! And I've said it before and I'll say it again: bridesmaids in moustaches – brilliant!
Flowers
Andrea at Flower Power in Rothwell created the beautiful bouquets and buttonholes. My bouquet was a mix of whites and greens (peonies, sweet peas, veronica, stocks, lambs tongue, rosemary and eucalyptus with a small amount of lavender) and the bridesmaids' bouquets were purples and greens (veronica, stocks, lavender, lambs tongue, rosemary and eucalyptus).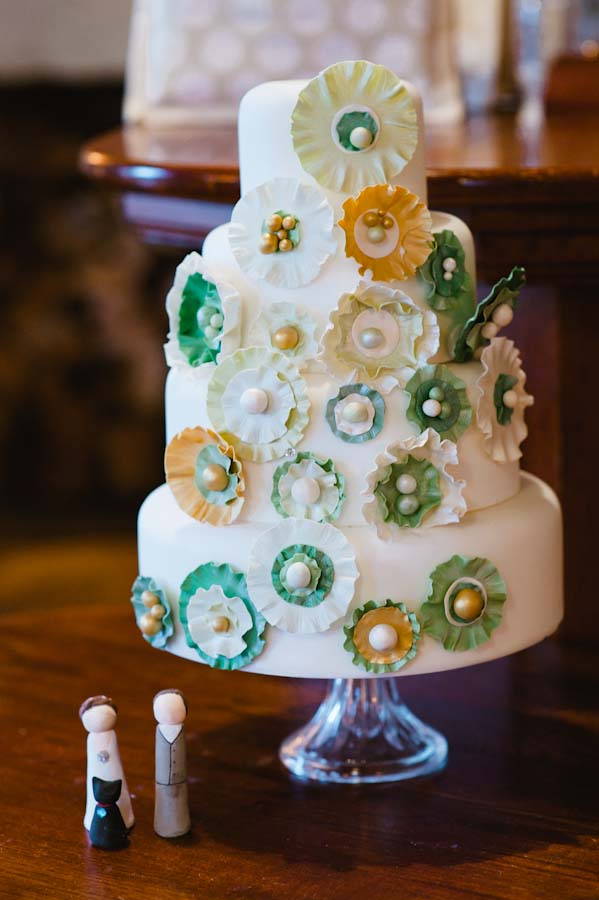 Decoration
We had hand cut flowers (lavender, pink peonies, blue delphiniums, lambs tongue, white sweet peas) in lots of mismatched bottles plus cacti in little pots on the tables and the windowsills. We had lots of tealight holders including mason jars decorated with black and white photos (of the wedding in Cayman and our parents' weddings). We had used these as our main form of decoration in Cayman, so it was nice to have a couple dotted around.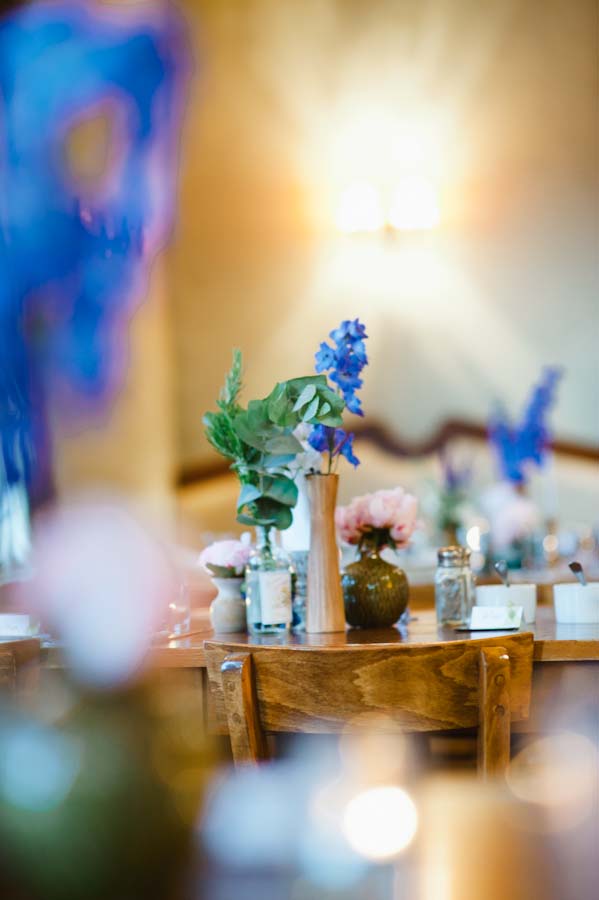 Personal touches
Pretty much everything! We made the photo jars, collected the bottles, arranged the cacti, arranged the loose cut flowers in the bottles, made the programmes, did the i-pod playlist, made colour-in books for the kids … and my mum took on responsibility for all the canapés and cakes.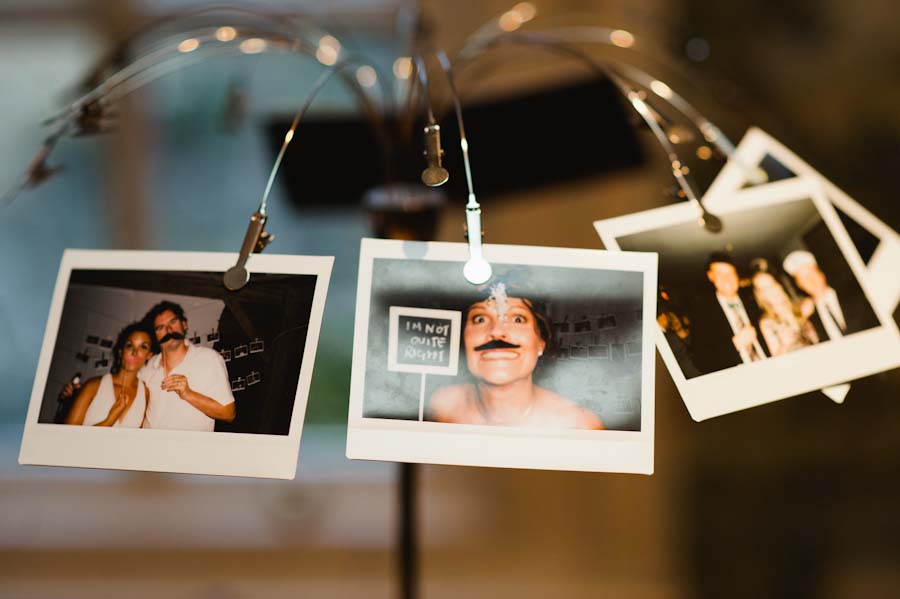 Special moments
The whole thing was fab – such great fun. It was a perfect counterpoint to the first wedding – the two days could not have been more different (excepting that they were both really good fun, no-fuss days). I thought Neil and my dad's speeches were both fantastic. The ceremony itself was lovely too – Maria at One Life was a great celebrant and the readings were lovely. And the vintage bus trip from the Abbey back to the Cross Keys was such good fun (though I seem to have been the only person with the foresight to bring my champagne glass with me for the trip!).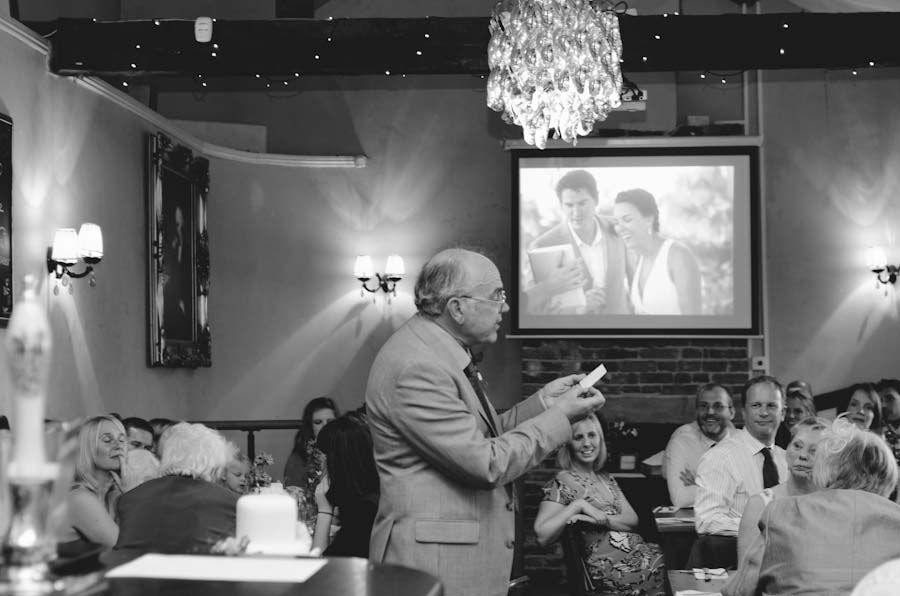 Advice
Don't worry about doing things the way that you feel you're expected to. We didn't go with lots of the traditions (first dance, last dance, "I do's", best man's speech the second time around, cutting the cake, tossing the bouquet, etc …) and no one really notices these things.
Supplier Shout Outs
For more info on Shelly's work go to:
www.toastofleeds.co.uk
http://toastofleeds.com
TWITTER
FACEBOOK
[email protected]
0113 3560157
♥  You can see more Real Weddings featured on the Blog HERE  ♥