Today I would like to introduce you to Latvian born fashion designer Katya Shehurina. Katya is one of the Eastern Europe's rising stars and an expert in evening and bridal wear.
Her work is graceful and elegant, with very delicate lace elements, handmade embroidery details and floating silk.
A Brief History
Originally from Latvia, Katya Shehurina, graduated from ESMOD fashion design school in France. During her studies she worked as an assistant for famous French designers Nicolas Faffiotte and David Purves. Having gained a wealth of experience in these roles , Katya graduated in 2007 with a specialization in "haut-couture and developed her own brand.
TKatya Shehurina makes two seasonal collections per year, actively takes part in many local and international fashion events: Riga Fashion Week, fashion exhibition «Who's NEXT» in Paris, and others. After participation in the fashion week in Saint-Petersburg «Defile on Neva», Russian audience got very interested in the designers` creations.
Now the brand "katyakatya shehurina" is sold in fashion boutiques of the cultural capital of Russia, Saint-Petersburg, along with the world-famous fashion names.
In 2009 she created costumes for one of the most popular Russian contests for young singers in cooperation with Russian TV channels. For today, womenswear by Katya Shehurina is sold in Riga, Saint-Petersburg, Dubai and Kuwait.
Since then, her collections have gained significant recognition in the UK, where her first independent boutique was opened in 2011 as well as in Russia, Europe, the USA, Middle East and Asia .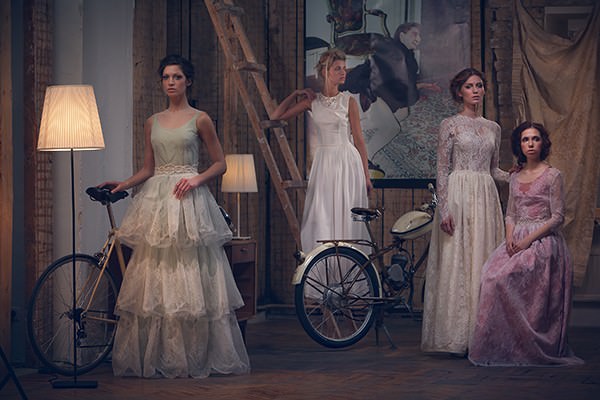 The dresses
Often inspired by the 1920s, the KATYA KATYA SHEHURINA brand primarily focuses on bridal and evening wear. Her collections can be characterized as 'exclusively feminine and uniquely designed' with most garments being hand-made. Her creations can be distinctively recognized by several key attributes, such as having a special vintage and delicate feel, but at the same time remaining highly versatile and practical.
Collections of the designer are feminine and playful, sometimes very extravagant, but cosy at the same time. A Woman by Katya Shehurina is bright, charming, mysterious, graceful, but vulnerable and sensible. She attracts by her overwhelming power, freedom beyond the limits and her unpredictable being.
KATYA KATYA SHEHURINA dresses are graceful and elegant, employing very delicate lace elements, handmade embroidery details and floating silk. They can be complemented by jackets that will make your choice look absolutely complete and stunning.
In addition to demi-couture garments, she offers exclusive tailor made wedding dresses that a bride to be will certainly find as being truly one-of-a-kind.
You can find her creations at KATYA KATYA SHEURINA at the Kingly Court Store in London and online at www.shehurina.com