Happy Friday everyone! Am I glad to see the back of this week and welcome in the weekend! I have had a very poorly 2 year old to look after this week. You may have noticed the blog has been a little light on posts this week, well that's the reason. He is back to good health now thank goodness so the blog is all back to normal, just in time for this weekends Halloween celebrations, I can't wait! Have you got much planned?
Todays real wedding is a rather special occasion, a 3 day festival style wedding which takes place in a circus tent! Samuel and Sarah's wedding was sent into me by Sarah's dress designer Katya Katya Shehurina, with not one but two gorgeous dresses. A wonderful celebration of love with lots of help from friends and family and the most touching first dance I have ever seen! Thanks to Nancy Ebert for the photos.
The whole weekend was a Loveweddingfestival, everyone was just celebrating love and especially our love. The people connected so good with each other, the sun was shining, we're getting married. The sporting field changed into the festival field like a place to be. Our dream became true….of course, it was better than we could ever imagine.
Samuel and Sarah had a three day wedding celebration from the 26th August 2016. 'The register office ceremony was outside on a small hill, only with our families in the very morning, the church ceremony was in the church of Mappach, where Samuel had is confirmation and his father did the wedding ceremony. The reception was in a circus tent we built with family and friends on a sporting field in the small village Wintersweiler. It happened all in the community Efringen-Kirchen next to Basel in Switzerland. In this area Samuel grew up and his family still lives there. It is a very beautiful place with a lot of vineyards and I still love the fact, that I was getting married to my new hubby hometown. It is quiet romantic. My husband grew up there, that his family still lives there and there are a lot of friends who helped us with our crazy lovely DIY Circusweddingfestival. Also the beautiful nature was a good point for that. We had 200 guests and we took just over a year to plan the wedding.'
How they met
We met at work, two and a half years ago at a daily soap as actors. I had been in that soap opera for two years. Everday we memorized our lines together for the next day, so many hours. We were just talking, learning, talking. We first met on the 18th of May 2014. In the end of June we had our first kiss and on the 8th of August 2014 he asked me to be his girlfriend. Exact one year later, he proposed. Some people told us, that would be too early but we could married after one week, two month, or a half year. It doesn't count when you met the right person.
The Proposal
It was one of the best days of my life. It happened on our one-year-couple-anniversary. Samuel told me we should met in Cologne. I suggested that we could order a pizza but he wanted to go out. Suddenly he told me, he was not feeling well, he had to call his brother…..and left me alone for about 50 minutes. It was a little bit sad and I started wondering, tried to call him and was afraid that something happened. Than Angelo Kelly (my favourite singer) came close to me, playing a song on his guitar. Angelo signed me to look to the door and there he was. Angelo started playing "Because its love",  one of Samuels and my favorite song. I could not believe what was happening and started crying…. and than he asked. It was awesome. All the guest gave us the red roses from their table and I got a huge bouquet of red roses. Samuel organized that the whole days before, the location, the ring, the musician. And also two of our best friends were there, as our best man and maid-of-honor. After the romantic dinner we spent the night in a wellness hotel and so the story began.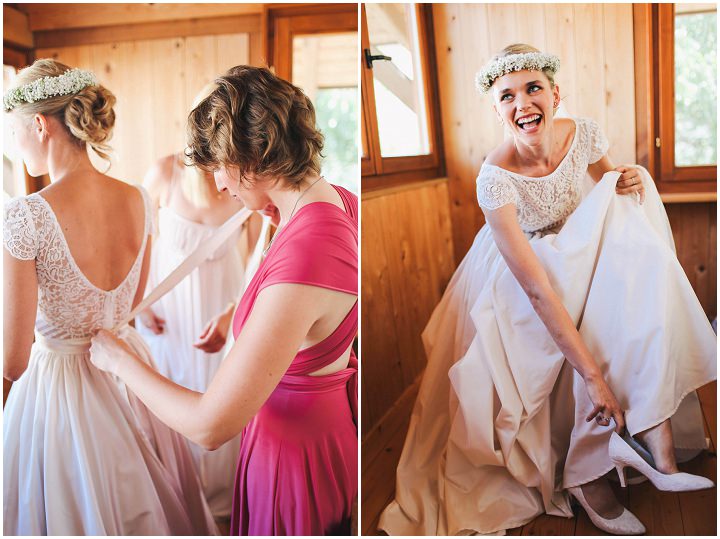 How did you spend your budget?
We always looked at what we can do on our own and asked a lot of people we knew for help in their business (musicians, actors, technicians). We decided to do it simply. But a circus tent costs a lot of money so we asked a lot until we found the cheapest one.
Where did you splurge and where did you save?
We splurged with the circus tent (everyone told us why are we doing this, why don't you book a normal room, later they had tears in their eyes because they loved what we did). We saved with all our DIY things, had a lot of friends who helped with the service, arranging the festival area. We used every connection we had and ever made in our life to let our dream wedding become true. I did all the decoration thing on my own and Samuel arranged all the technical things. We arrived with our families one week before the wedding, everyone helped to built everything up. That was a very important thing to us, because so our families grew up with each other in that week and get to know each other better.
Why did you choose your photographer?
We saw her in a magazine. I totally fell in love with her pictures. So did Samuel and he just called her. I think a month before the wedding!
The Dress
My dress was by Katya Katya Shehurina. I love her dresses and recognized her a year before. I tried dresses from her in Dusseldorf and Vienna but I just decided to fly with a good friend to London in her flagship store to see the whole collection. It was a perfect weekend, I have never been to London before, it is so beautiful, the store and the people were so friendly that I bought two dresses and definitively will come back. One for the register office and one for the church. The shoes were from Fiarucci and the accessories from "I am".
The suit and bridesmaids
Samuel was wearing "Cleofe Finati", the bridesmaids had dresses by "Two birds" and a no name label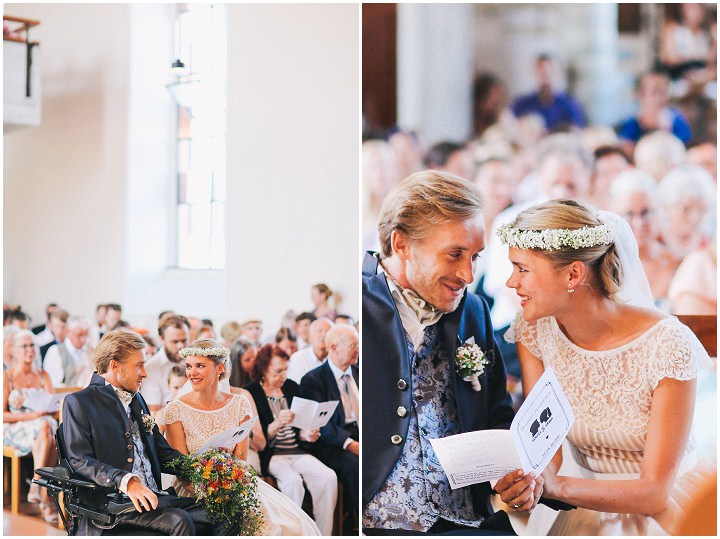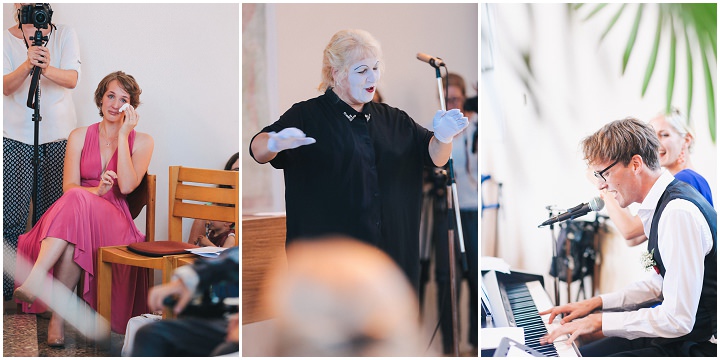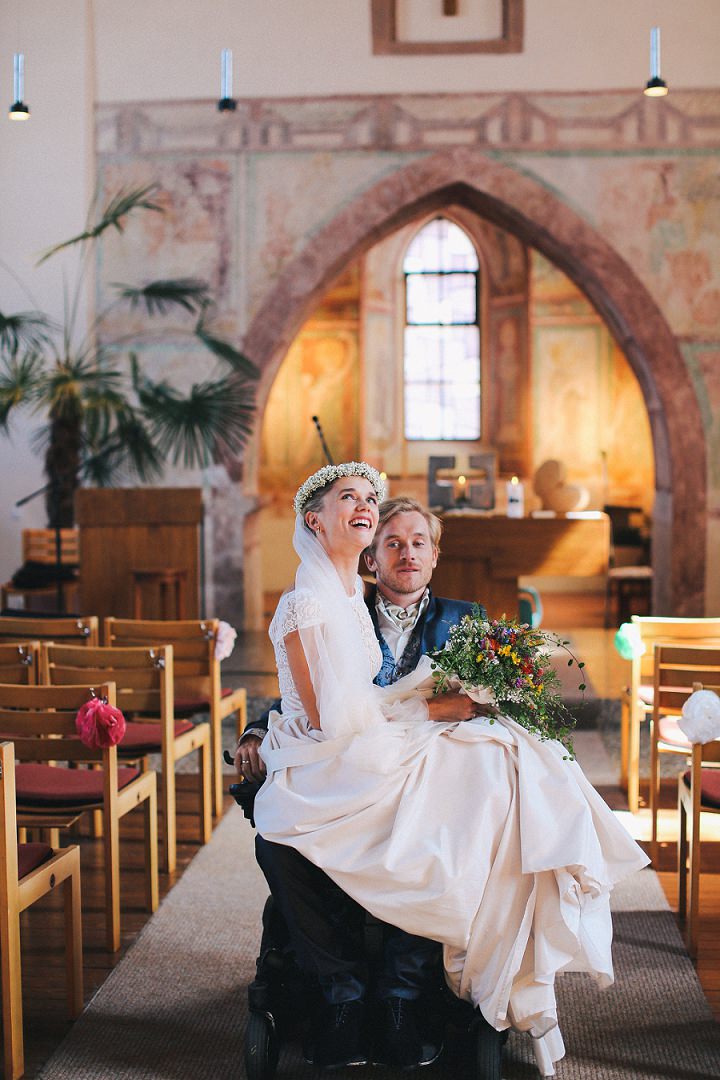 Theme or colour scheme
Our colour scheme was strong colourful. Everything mixed up. But honesty, there was not a scheme, everything was allowed and possible.
Flowers
Mixed up wood and meadow flowers. Very simple from the streets of the village.
Decoration
Pompoms, Garlands, signpost, ballons with our silhouette, lights, fire, self made napkins, jam glasses painted, lampoons … everything was created by myself with help of my family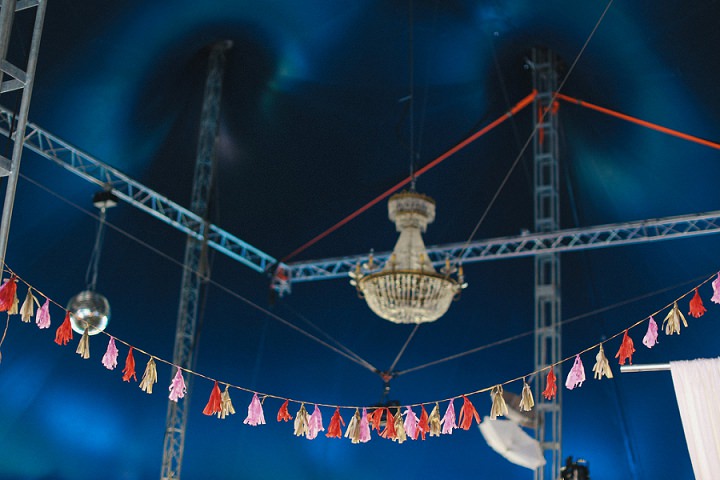 Food
We decided on street food: stick bread, marshmallows, vegetables, chicken, salads, sweet potato fries, spaghetti ice cream, sloppy joes, … It was all great food, Samuel and I love to eat and where we had a story about that. And a lot of food was vegan. It was served by an american schoolbus.
Wedding Cake
Our cake was made by my grandfather. He was and is the best baker in the world. He did my favorite cake for us: marble cake.
Entertainment
We decided to marry and celebrate over three days. Because we knew a lot of creative people, we had the idea to organize a variety / cabaret evening on the first night with guest acts. That there were not too much program on the wedding night. My brother played the circus director (he is an musical actor) and sang some songs, for example "cabaret" from the musical or "The elephant love song" from Moulin Rouge with my sister. They changed the lines with our names. There were also other guest who sang songs, played scenes, or a game, Samuel's father was a magician, I did a ballet and a belly dance, Samuels best friends did an awesome gymnastic show on the bar. Samuel and I did our wedding dance on the trapezial that we can both stand.
Stationery
I created the stationery on my own
Personal Touches
We organized everything on our own and made the decoration. We had a wedding planner, Fabienne Rost from "Glückskonzepte". It was my wish to have a headmaster for the wedding day, that we can relax and enjoy everything. She was perfect and fit so good to us and the whole festival. From the beginning she always was so positive and believed in our thing and gave us a lot of tips how to manage and reminded us about things we should not forget. Samuel and I are not so good in making decisions so it was really good to have a person behind us.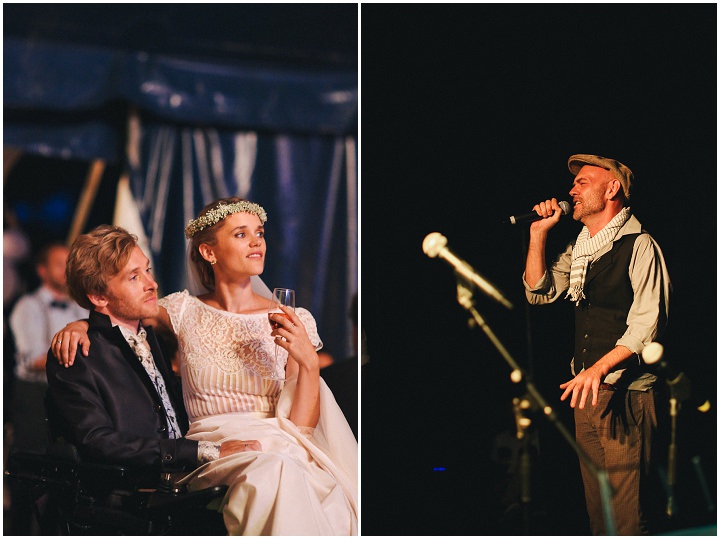 Special Moments or Highlights
The moment of the register office, when Samuel and I met in the fields. It was Friday morning, nine o'clock and the perfect beginning of the Festival.
The church ceremony. The kiss. The promise. To see how the people connect with each other and how everybody was celebrating love. Every smile. Our wedding dance. That I knew tomorrow is a another wedding day. The getting ready with my family and girls. The night before with my mum. Every moment Samuel and I spent together.
Advice for other couples
Don't give up. It is your time and your day. Let your dream become true. It is possible and made so much fun. Spend a lot of time on that day with your partner. Cause it is your moment and day.
Also take a wedding planner. She can help you with a lot of things and is organizing the day that you can give up responsibility and just relax and enjoy.
Celebrate your wedding not only on one day….and after the wedding fly or drive or go directly into your honeymoon.
Biggest Surprise
The helicopter which took us from the register office to the breakfast restaurant. That everybody was celebrating so much and that the weekend really turned in a festival of love. That it is the best day ever, but it is only the beginning of the best time ever. Happily ever after.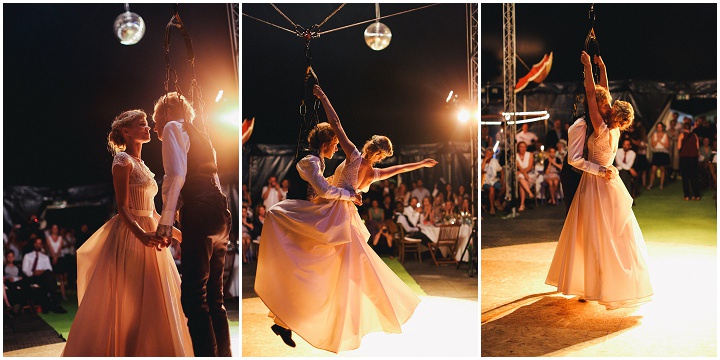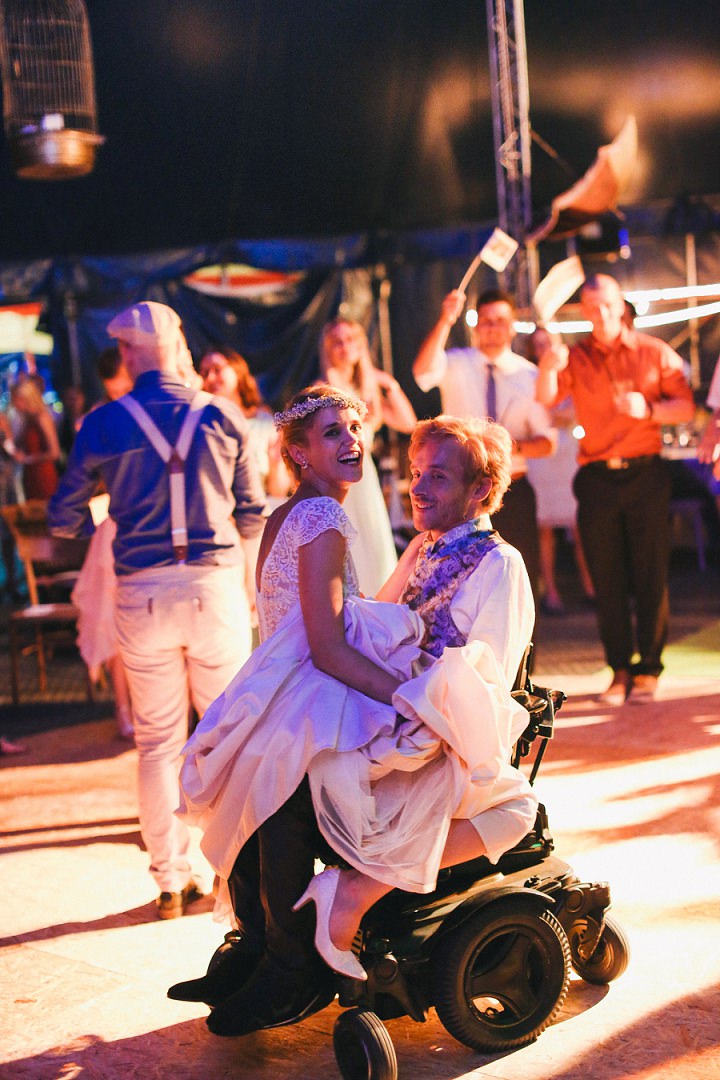 Supplier Shout Outs
For more information on Nancy's work go to:
www.nancy-ebert.de / blog.nancy-ebert.de / [email protected] /  FACEBOOK /  PINTEREST / I : @nancyebert
For more information on KATYA KATYA SHEHURINA
www.shehurina.com / FACEBOOK / T: @katyashehurina / I: @shehurina / / [email protected] / Based in Soho at 7 Smiths Court, W1D 7DP / 020 7734 1272
All of our vintage inspired wedding gowns are skill fully made under the watchful eye of Katya Shehurina in her Riga studio in Latvia. We only use the finest of materials of modern and vintage inspired French laces, Italian Silks and handmade embellished detailing using Swarovski elements.