There is no Saturday Cinema today; instead I have a personal post, as today is my 3 year wedding anniversary. Sorry if you are board of my personal posts, I know I had a few over the bank holiday, but today I not only want to honour the amazing man I married 3 years ago today, but talk about marriage and what it actually means to me!
I Love my husband with all my heart! Nik is amazing, mostly amazing because he puts up with so much from me, but no really he is the best thing that ever happened to me! I'm not going to call him my best friend or my soul mate, because he isn't but that doesn't make him any the less of a husband, and I know if I were to ask him who his best friend was he certainly wouldn't say me. I am his wife and to me that means so much more.
You see me and Nik are very different, in fact in so many ways we are complete opposites, we see things differently, we do things differently and we often have quite opposite points of view. There are times when he drives me crazy and I know visa versa, but when we come together something just clicks! We make each other laugh we don't take each other to seriously and we both know how to get the best out of each other. He lets me be and I let him be him………and that is what makes our relationship work!
But you know what marriage, just like any relationship isn't easy! And it hasn't always been an easy ride. We have been together for 7 years now and the majority of it has been amazing but we will both admit that there has been time when we didn't know if we would make it!
You see no one tells you about marriage, all the emphasis is on the wedding, getting that one day right, making sure that everything possible is perfect, when in fact we should all be thinking further ahead and making sure the marriage is right!
Marriages take work, not just a bit of part time work but it really is a full time job, to live with one person for the whole of your life that's 40, 50, 60 years maybe for your whole life………..when you think about it too much it really can blow your mind! When I talk to people who have been married for that long I have such respect for them and ask then how they do it, you see 30-40 years to me seems like a life time! And with half of marriages these days ending in divorce there is always that question, 'will I be part of that statistic?' that's why marriage really does mean so much to me!
I didn't take marrying Nik lightly, I was 37 when I married Nik and with some of my friends getting married 10 years before me, I really did make sure I had it right. Having been engaged twice before Nik, and knowing when to walk away from these relationships when they weren't working out, I knew pretty soon into our relationship that he was the one.
I always knew I wanted to get married which is odd as my mum and dads relationship was far from harmonious! Infact it was bloody awful! They split up when I was 14 and it really was one of the happiest days of my life as they were so unhappy together, to hear the constant arguments, see the tears and witness the hatred between the two of them, it's a wonder it didn't put me off marriage for a life time, but instead I buried my head in my dream world and re designed my wedding dress for the 100th time! you see I love love, I am a true romantic and I am a firm believer that love will find a way!……………so I always knew that somehow I would find my prince……and that I have done!
They say that your wedding day is the happiest day of your life, well it's true, I had the best day on 16th June 2009 in Ibiza, it was amazing, but it's the days, the weeks, the months, the year after that that matter! The last three years have been amazing, unexpected, full of surprises, full of smiles, full of laughter and good times most of all filled with love. It sounds like a cliché but I really do love Nik more and more with every day I am with him. Sometimes I think my heart will burst because I loves him so much. But I am also aware that we have a long way to go yet! Our baby journey has been a hard one, and I know that it is still early days; I know that when we are at last blest with a child it will completely change the dynamics of our relationship, but I am ready for that! And I hope he is to!
Communication and honesty is key, and without these two things we would be nothing!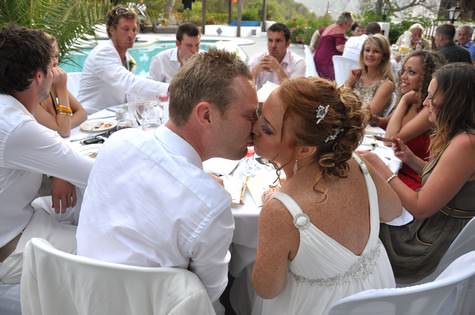 So Today I'd like to say a massive Congratulations to my amazing, wonderful, handsome and all round awesome husband, you make my life so much better, you support me (in your own way) you make me laugh, you make me feel like the most beautiful women in the world and you make me believe in myself and make me believe that togther we can get though anything!
And that's what marriage is about!
Kelly xxx