Another Tuesday DIY Tutorial for you and this one is from one of my lovely readers! I always love to hear what you have  been up to, and it's alwasy lovely to hear stories from you about what you have planned for your wedding and also how your weddings turned out once everything has been planned, made and styled. Do get in conatct if you have a DIY feature you would like to share with everyone, I'd love to hear from you!
Todays DIY comes from Emma who runs her own wedding site called Hearts and Buttons. Emma is recetly married and has been kind enough to share with us one of her many DIY elements that made her wedding so beautiful. Today she will be showing us all how to make a Bird Cage Table Plan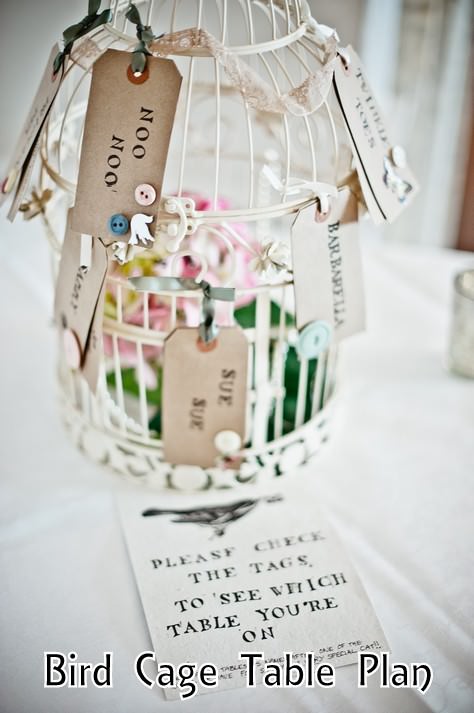 I'll pass the Blog over to Emma……….
♥ A birdcage- these can be picked up in home ware stores for not very much or for a bargain, dig around your antiques rooms and flea markets to find an old one. If you want a more worn aged look, then sand down the metal slightly and leave outside for the elements to do their thing for a while.
♥  Ribbon matching your theme- I used a mixture of colours and some antique lace. Cut to 20cm but can be longer.
♥  Luggage tags- Available from many stationers and the Post Office- remove the string from them.
♥  An assortment of decorations- I used butterflies for decoupage which I had in my materials box, but cuts outs from wrapping paper, old books, even wallpaper will so the same thing.I also used buttons, a reoccurring theme in much of my design and some beautiful decorative birds for table dressing that I found at Velvet store Brighton.
♥  Letter stamps and ink- I bought mine at the on-line store Cox and Cox but again these are readily available from good craft stores and stationers and you can choose ink in a variety of colours to match your theme.
♥  Pearls,ribbon or flowers- to fill the bird cage.
♥  Glue and Scissors
♥  And a little bit of spare time!
Step 1) You will need 2 luggage tags for every table you are having. The first is for the front decorative name or number of the table so start with this first. Using your decorative bits, arrange 2 to 3 items on the corner of the tags. I would alternate each tag so that for some tags you have items on the left, some on the right and where possible mix up the objects and images you use to create more variety across the whole set.
Try to choose things which compliment each other and don't be afraid to stray a little from your colour theme and style as your ribbon will bring it all back.  Stick these down and wait to dry,  this a pretty good time to make your self a cup of tea or pour a glass of wine.
Step 2) Now to add the table names or numbers. You can get rubber letter stamps in all sorts of fonts and styles from Italic to Typewriter. Try and choose a style which most suits the theme of your wedding. I would suggest you practise the names first to judge length. Cut paper to roughly the same size as the tag and print onto these first, they will help you get a sense of the space you will need. My tags are named after the many names I call my crazy cat, who was incredibly helpful by playing with the ribbon when I was making this.
Do this for each tag trying to keep the writing roughly in the same place on each on.
Step 3) Now for the second tag for each table. This is for the names of the guests on your table. Again work on the front of the tag, make sure the hole is in the same place as your first. The idea is that the first tag will be able to be slid to one side to reveal the names underneath. You can either hand write these , I used an italic pen or use smaller stamps, which looks great but is a little fiddly.
Step 4) You will need to pair the two tags together you have created for each table. Then take a piece of your ribbon and fold  it in half. Push the loop through the hole, pulling it out a little way but not fully. Then take the two ends and feed them up through the loop, pulling tight to secure. If done properly this should give an even length of ribbon to then use to tie onto the bird cage.
Step 5) Finally decorate the inside of the birdcage BUT don't over complicate it as you want the attention to be on the tags not on the contents of the cage. So a few flower heads such as Hydrangea, fake or dried would be just fine and some pearls draped from bar to bar is beautiful. Then arrange your tags around the bird cage, making sure to vary the height at which you tie them and to mix up their order, for example don't go round from left to right 1,2,3 etc. This makes it more exciting for your guests to find their table, the kids will love it.
Whats more when the wedding is over the tags are beautiful reminders of your day and great mixed in with your photos in an album and the birds cage can become a decorative part of your home. My guests loved it I hope yours do too.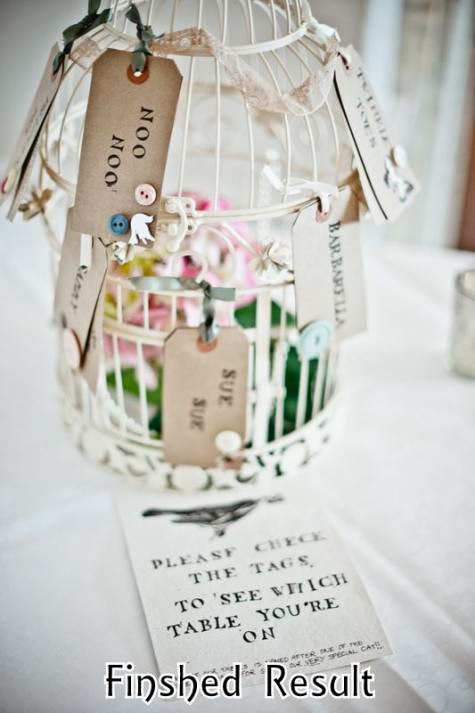 Thanks so much Emma, do let us knwo what you thought of this beautiful DIY feature.  There will be mroe DIY projects coming up from Emma in the next few weeks.
Emma can be found on
www.heartsandbuttons.com
FACEBOOK
TWITTER