Just over a month ago I  ran a competition with Specialens where wedding photographers were given a chance to showcase their work with a little "twist".  More details can be seen HERE
Specialens called the competition "The One With The Unseen Footage". It was all about those funny moments where you think the camera is not looking!
"We really want to find an image which captures that Oops moment on that special day …. Which brings tears to your eyes not so much tears from emotion but more from laughter!"
And that is exactly what they got!  I catched up with the owner of Specialens, Pericles, and he was very pleased with how the competition went. They received an overload of pictures sent in from their members.
'I totally enjoyed opening emails and see those amazing shots! And even better the creative titles that made the whole image even funnier.' 
'I would love to run the competition again! I appreciate the time and effort from all members that took part and I'm happy to say there are more to come. In the meantime, if you have any ideas on a competition or a project you would like us to start just drop us an email at  [email protected]'
They had a great selection of entries, here are a few. For more you can jump over the Specialens Facebook page
And the Winner is
The title goes to Ian Jeffrey from  Something Blue Photography. Ian is based just outside Cardiff in South Wales and covers South Wales and the South West of England including Bristol and Bath……….Congratulations Ian!
And here is his winning Photo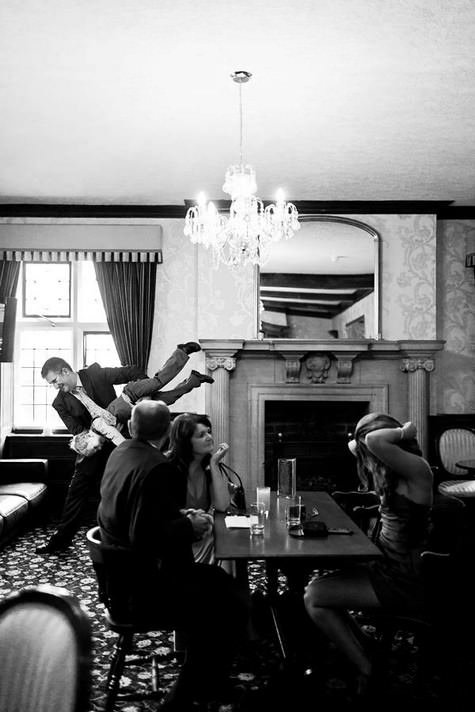 Ian says: 'I found the competition through the awesome Boho Weddings Blog. I've only won two things in my life before this competition, a rather fetching timber frame housing company fleece (in navy blue, yuck!), and £10 on the lottery.  I am over the moon to have won the competition, there were some fabulous shots in the competition and I am just chuffed to have come out on top.'
'Specialens is growing into a brilliant resource for top of the line wedding photography. I'm pleased to be part of it and can see it being a brilliant resource for folks looking for wedding photographers.
A bit more about the man behind the winning photograph
I am Ian, dog fan, cake addict, cereal pick & mix consumer and  photographer behind Somethingblue Photography.
Somethingblue Photography is contemporary, reportage wedding photography that tells the story of your wedding through the use of documentary style photography. I capture that split second, fun-filled moment that so often can go unnoticed throughout the day. The moments of nervous laughter, the raw emotion and the small details that make your wedding day what it is. I shoot in a discreet and unobtrusive style, meaning you can enjoy your day without worrying about being photographed. You probably won't even notice I am there, which is when the best, most relaxed moments happen. I do not shoot endless formal photographs, instead I concentrate on documenting your day the way it really was, capturing the true atmosphere with as little fuss as possible.
You can see more of Ian's work here
www.somethingbluephotography.co.uk
www.somethingbluephotography.co.uk/blog
TWITTER
FACEBOOK
For more information on Specialens go to:
Website: www.specialens.com
Facebook: www.facebook.com/specialens
Twitter: www.twitter.com/specialens
Pinterest: www.pinterest.com/specialens
Email: [email protected]
*This is a Sponsored Post*