I have a lovely wedding to share with you today and it comes from the lovely Cambridgeshire countryside. It's the wedding of Anna and Dan who planned a fun and informal day with a festival Theme. They chose a gorgeous mix of neutral colours with lots of lovely bright detailing to give a relaxed feel to their day. They added hay bales and blankets and a tin bath full of beer as well as a campervan and their own cider bus!
The wedding took place on  3rd Sept, and was shot by Ickootu.The ceremony was held at St Pandionia and St John the Baptist Church in Eltisley with the reception at Anna's mother's house in Cambridgeshire with 100 guests. It took 9 months to plan. They describe their wedding as 'Traditional personal ceremony in local village church followed by fun, creative, informal reception in marquee in the garden. We aimed for a festival atmosphere at the reception and it really felt like everyone was having a great time'
How they met
I worked in London at an events company and Dan came to work there as an intern whilst at Bournemouth university. We've been together for 8 years
The proposal
Sunday night at home over chicken curry (my favourite meal) the evening before our 7 year anniversary
The venue
I grew up in Toseland so it has good memories. Having a marquee in my mum's garden meant we had complete freedom regarding the whole reception – we could do whatever we wanted!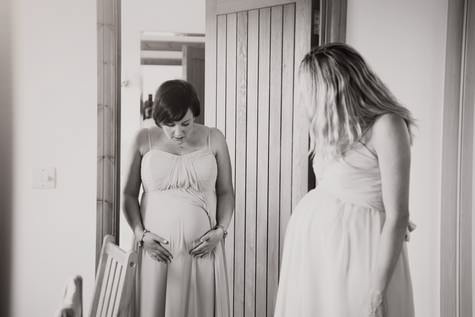 Dress
Was by  Cymbeline. I made my hairband, borrowed big sister's veil and bought shoes online from Next. I bought matching bracelets each for myself and my three bridesmaids and also had a small locket containing a photo of someone very special to me who had passed away the previous summer.
The suit and bridesmaids
Brown tails hired from Jack Bunney's in Barking and bridesmaid's dresses from Dessy.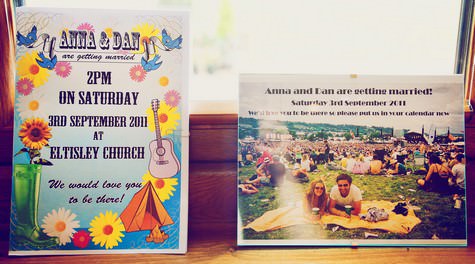 Theme
Very natural colours – browns, cream/white and greens for wedding party and in church, however, for the reception we wanted it to feel relaxed, fun and informal so the more colours the better!
Food
Roasted veg tart, Locally reared sausages with veg, mash and gravy (we wanted the vegetarian option to look the same as the others to avoid food envy for any anyone!). Ice-cream man on a bike cycled into the marquee to give away ice-creams for dessert.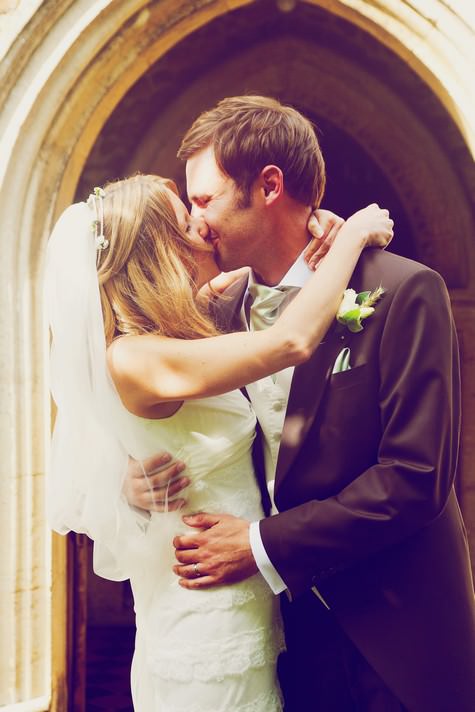 Entertainment
The Kounterfiet Kinks and then local DJs (then Dan later on)
Flowers
One of my bridesmaid's close friends, Zannah, is an Art teacher and wants to get into floristry so offered to do the flowers free of charge (apart from her costs). She did an amazing job and managed to create my dream flowers– absolutely perfect.
Decoration
In the Church: Pews ends made by Zannah, pots of ivy (grown by my auntie) and candles and white flowers on window ledges,
Marquee: Paper garlands round the marquee, artificial flowers on the table in little jars and vases (sourced from family, friends, car boot sales and charity shops), jars of sweets we filled and hand-topped with material, hand-made napkins made of approx. 14 different floral fabrics, floral clips on napkins (which looked so pretty as all the guests had them clipped on throughout the night),
Garden: Re-useable light-up lanterns in trees, decorations and artificial flowers in trees, bunting in trees, 'campsite' and tents decorated with wedding and pretty stuff!
Personal touches
• Cake – made by the mum of one of Dan's best-friends. The cake was delicious, 3 tiers of fruit cake with colourful, delicate handmade flowers and then on the top-tier an exact replica of our campervan with us sitting next to it. Unbelievable!
• Cider bus – our campervan with help yourself cider and real ale in tubs and old iron bath outside.
• Table with pickled eggs and nuts and crisps.
• Haystacks for people to sit on.
• Royal wedding scene – surprise from my aunties and cousins. The royal wedding scene was re-created with all the guests shouting for 'the kiss' and my family wearing masks of the Queen (definitely more shambolic and amusing than Will and Kate's)
• Ice-cream man cycling into marquee to the sound of 'just one cornetto'
• Campervan as transport for bride and bridesmaids to church and then bride and groom to reception
• We made the seating plan – had a photo of each guest as well as their name. Great source of amusement and ice-breaker as everyone was laughing and trying to work out when/where the photos had been taken.
• The place names were coloured cardboard made into tiny campervans with people's names on – all hand-cut, hand stuck and hand-written.
• Paper garlands round the marquee bought online and hung up by my cousin,
All tables decorations:
• Artificial flowers on the table in little jars and vases (all sourced from family, friends, car boot sales and charity shops)
• Collected more jars to be filled with sweets and hand-topped with material,
• Hand-made napkins made of approx 14 different floral fabrics, tied with different ribbons, floral clips on napkins (which looked so pretty as all the guests ended up wearing them throughout the night),
• Candles in more jars and tiny lanterns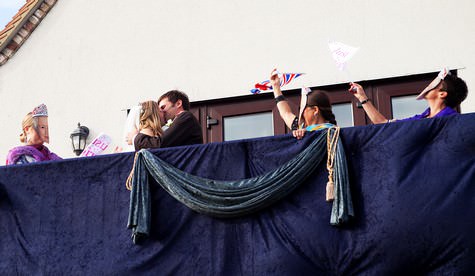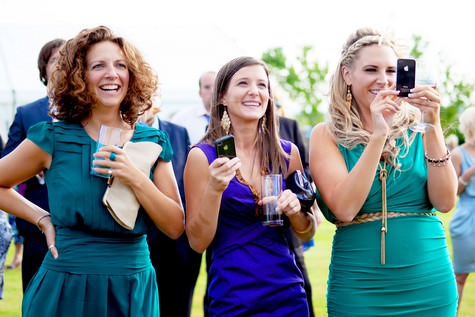 Special moments
The church ceremony – really personal, beautiful, touching, funny – just perfect and so special. Also, that Dan and I were the last people standing at about 5am. We had our last dance, last glass of wine and then walked round the marquee and turned off the generator together. It was good to know we'd made the most of it!
Planning Advice
Remember to enjoy all of it – the planning, the day and then the good memories. Don't leave things till the last minute or even the week or month before. If you're planning creative touches stop planning and start making!
Biggest surprise of the day
The balcony scene… and just how much fun and special the whole day and night was.
Supplier Shout Outs
For more information on Eleri's work go to
ICKOOTU Photography
www.ickootu.com
http://ickootu.blogspot.com
FACEBOOK
07966 594 603
ICKOOTU are Caroline Addison and Eleri Tunstall and have been shooting weddings together for 7 years (not to mention being best friends for 15 years too!). Caroline is expecting a baby so from the next few weeks Eleri will be going it alone for a while! See her new Facebook page  for details of her new website coming soon. Looking back at this wedding not only brings back memories of a great day for a wonderful couple but for Caroline and Eleri it also reminds them of the great times they've had working together.