Welcome along to another week, I can't believe the weekend is over already! To start the week off I have an AMAZING wedding for you! it's sooooooo beautiful! As my readership across America grows I am finding I am getting more and more weddings submitted to me from the US and this makes me very happy, as the weddings over there are just so gorgeous! it does help that the weather is SO much better than it is in the UK, that coupled with the weddings laws being so much more  relaxed!
This gorgeous wedding of Amanda and Jonathan was sent into me by  Brandon Chesbro they were married on 1st October in Tennessee……….isn't it stunning! I just love everything about it! First of all I thought it was a styled shoot as the couple are so damn gorgeous but then as I looked at more photos I realised this was just one awesome wedding! the venue, the outdoor ceremony, Jonathan's hat! the bridemaides………..but my favorite has to be the animals, how many brides get to have their photo taken with an alpaca!?!?
Amanda has been kind enough to tell us more about her day………..
I am not that girl who had their entire wedding planned at the age of 12, in fact, I had never once looked at a wedding gown or engagement ring. So when Jonathan unexpectedly proposed with his grandmothers ring on our 3 year anniversary, I wasn't quite sure where to start. I enlisted Big Events Inc as my wedding planner. Cory Coyne and I shared very similar tastes so I knew she'd be a perfect fit.
Jonathan and I both wanted a fall, rustic, outdoor wedding. We agreed that the most important things to us on our big day were the music, food, and the photographer. Big thanks to Craig Duncan and his band for the wonderful music. It was imperative to have tasty food, and several options. Chef's Market did a fantastic job in making that a reality.
We interviewed three photographers beforehand, and last to come in was Brandon Chesbro, who my sister found while Facebook stalking. We knew he was the one as soon as he walked in. He had this young, amazing energy about him that meshed with ours so perfectly.
Brandon chose beautiful locations for all of our pictures, but my favorite spot had to be in the pasture with the alpaca. I had to be prepared to get spit on, but it was worth getting kisses from the sweet lady herself. It was such a surreal and unique moment to have captured on film.
Little by little the rest fell in to place. The decor, the flowers, the dress, the food, the cakes, the invitations, etc.
My something old was a necklace we had made from my late grandmothers old jewelry. It is now my favorite item I own. My something new was my Monique Lhuillier lace gown that I chose because it was romantic, classic, and easy to wear. My something borrowed were my mother's diamond earrings, and I had blue on my garter.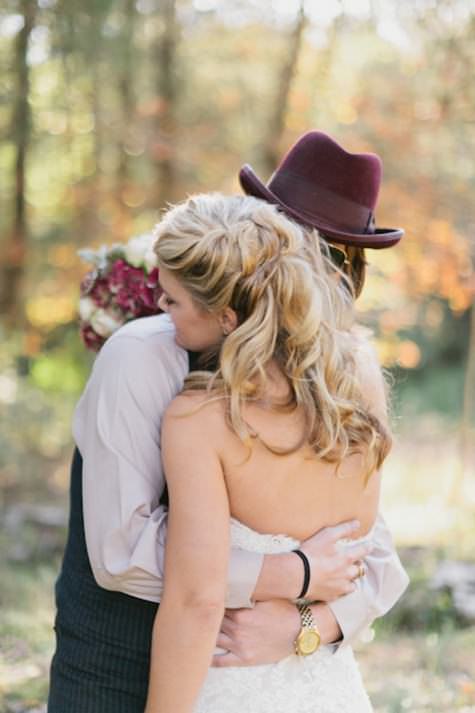 I had been told by several different people to step back often and take it all in because it goes by so fast, and that was what I did all day. I soaked up every memory and every moment, none of it is a blur. It was absolutely perfect.
Supplier Shout Outs:
Photography: Brandon Chesbro
Dress: Monique Lhuillier
Caterer: Chef's Market
Event Designer: Big Events Wedding
Cake Designer: Dessert Designs
Band: Craig Duncan Music
Lighting: Tech Works
Equipment Rentals: Music City Tents and Events
For more information on Brandon's work go to:
www.brandonchesbro.com
[email protected]
FACEBOOK
TWITTER