Only a coupe of weeks ago I was saying that I hardly ever post boudoir shoots, and what happens I get this little beauty land in my in box. It is a beautiful shoot sent into me by Mya at SilverMoon Photography . The shoot was actually commissioned by the model, and there were quite a few other more risqué shots that I couldn't really add to the collection, very tasteful but I wasn't quite sure a wedding blog was really the right place for them.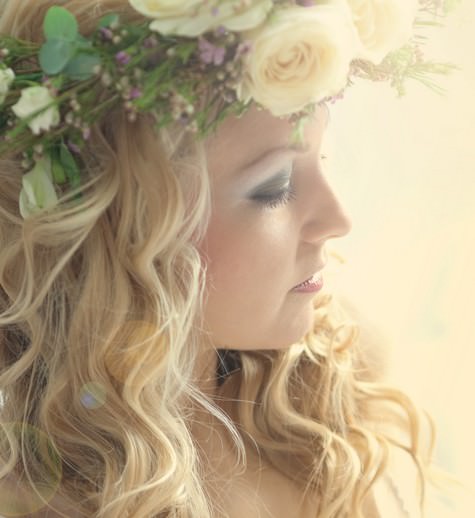 What I love about this shoot is the incredible lighting and the soft feminine editing added to the images. They are all very simply but very dreamy and ethereal at the same time. The whole team worked well to create a beautiful set of images for the model  Natalie Jayne , who I'm sure is over the moon with them.
Mya tells me a bit more about how the shoot came about
The shoot – February 2012
'Natalie Jayne, the model for this shoot, contacted me after she has seen my work on my Silvery Moon Photography Facebook page.  Natalie Jayne has been modeling for some time, but had always worked with male photographers in the past and wanted some of my more feminine images to enhance her work portfolio.  Natalie Jayne makes her own fabulous "Steampunk" jewelry and loves the sub-culture associated with it, so I knew I could give her pictures a bit of an edge…. Hence the amazing star-tipped false eyelashes that I sourced especially for her!!'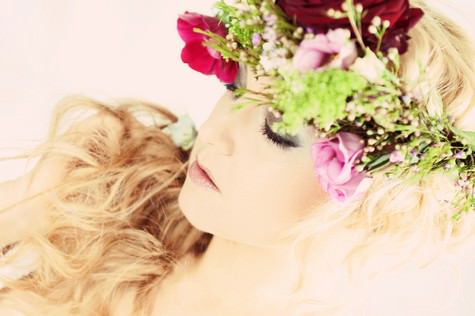 Make Up
Shane Bell has trained and worked as a MUA for all the major cosmetic houses, including Clarins, Mac and Illamasqua.  He is now about to embark on a career as a freelance MUA, specializing in Bridal and photographic make up. Shane can be contacted on 07412 112 865.
Hair
Emma Faulkner was the hairstylist. Originally from Brighton, Emma now works in Leeds and specializes in wedding and Event hair styling.  Emma can be contacted via her page on Facebook "Wedding & Even Hair styling" or by calling 07904 977 589.
Flowers
The wonderful flowers were supplied by the very lovely Ruth Wilde at Daisy Creative who is based in the quaint village of Haworth. Ruth has been in the floristry business for several years now .
www.wildand.co.uk
www.daisy-days.co.uk
[email protected]
01535 644 653
Model – Natalie Jayne
http://www.purestorm.com/profile.aspx?id=summerbrook
photography
Mya at Silvery Moon Photography can be contacted on 07990 548 248 / 01535 274 471 or via email at [email protected] or you can visit my website www.silverymoonphotography.moonfruit.com
FACEBOOK
I've found my style pretty early on …. I love to document weddings with reportage photography, capturing those amazing moments as they happen….. it's more like telling the story of the wedding.  I like to get to know my Bride & Groom's before the wedding, I think it's important to understand what they want and to find out about their individual personalities, so this can shine through in the images…..as a result I get choked up at every wedding I document!
I have the same approach to my other passion, Boudoir Photography.  I like to get to know my ladies prior to the shoot and we will chat on the phone and exchange lots of texts and e-mails.  It's important they feel relaxed and comfortable, as it will show in the final images. I like soft, romantic images and use a lot of focal depth in my Boudoir photography.  I focus on detail and make the most of features like amazing eyes.  Boudoir is very liberating and great for all shapes and sizes … whether you are size zero or size sexy! I work from my Home studio near Haworth, West Yorkshire.