Boudoir Photography is becoming more and more popular, there are many photographers now offering this service, but there still seems to be a bit of a question mark to it! Why do it? what is the purpose of it? what has it got to do with weddings? So today I have enlisted Wedding and Boudoir Photographer Rebecca Lindon to tell us a bit more about this rising art form.
Beccy and I actually go way back, and know each other from a past life when weddings weren't something that we even thought about, she actually stumbled across me a few months ago and it has been a joy getting re acquainted with her. And I can say hand on heart I just LOVE her work. Her use of light is astonishing, and her knowledge  of the female form means that every bride or boudoir client looks like a super star model! her images are soft, feminine and totally jaw dropping!……….maybe one day she can take my picture and make me look as gorgeous as some of the images on her website!
I'll pass the Blog over to Beccy………..
'Shooting boudoir is one of my absolute favourite things. The female form is so beautiful and as a photographer, I love to explore different ways of celebrating that. When a woman approaches me regarding a boudoir shoot it's often with a sense of apprehension, nervousness even – to be honest, those very same feelings often create the most emotive, honest photographs.'
So, what is boudoir?
The origins of the word refer to a private bedroom or dressing room and boudoir photography is just that; an invitation in to a woman's private world. What's the difference between 'nude' and 'boudoir'? Well boudoir rarely involves full nudity and for me, the emphasis is on elegance and subtlety rather than eroticism.
Why and who?
In the wedding world, boudoir albums are often given as a gift from bride to groom on their wedding day. But actually, boudoir can also be the perfect gift to the self – a celebration of your own being and body.
I also adore shooting maternity boudoir; an opportunity to record the wonderful changes that are happening to your body at a time when the true beauty of femininity is most apparent.
More recently, couples are choosing to embark on a boudoir shoot together. For me, that's a rare occurrence but one I look forward to exploring.
What to expect from a boudoir shoot……
Time
My engagement shoots are usually completed in somewhere between an hour to two hours. Boudoir shoots are different – they're about pampering, helping you to relax and setting a woman at ease in order to get the most out of the photographs. You can expect to set aside half a day.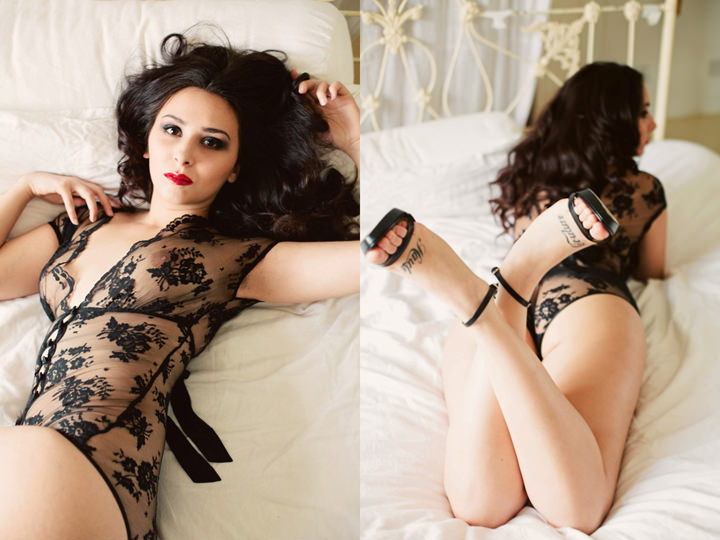 Preparation
Generally an engagement shoot doesn't involve a make-up and hair artist but boudoir usually does. When shooting, we usually start with light make-up and then switch to a more dramatic look with a different set of lingerie. My advice is not to go too overboard – sexiness isn't always ramped up with the more make-up you apply. How many times has your partner told you they find you ultra-sexy in your jogging bottoms and sweatshirt?
Posing
This is one of the worries that clients come to me with all of the time. Don't panic! You won't be expected to turn up and strike your best pose. I always gently direct my clients in to the most flattering and comfortable poses – the more at ease you feel, the more 'real' the photograph. Instead of clichéd poses, my photographs often focus on an abstract body part to imply sensuality.
Props
I always ask my clients to bring items that mean something special to them and their partner. That might be a particular flower, a piece of jewellery, a pair of shoes, a book or an old record. It could be anything! Those items can help to bring their personality through the images and ultimately create results that capture the essence of a relationship.
Most importantly, remember that it doesn't matter one iota what size, age, height or sex you are – there is much to celebrate about our bodies and there is beauty in every single one of them. If you're considering booking a boudoir session then approach it with that frame of mind and I guarantee you'll love the results!
Fore more information on Beccy's work go to:
www.rebeccalindon.com
http://rebeccalindon.blogspot.co.uk/
FACEBOOK
@RebeccaLindon