Today Whesthill talk to us about Stationery Trends and tell us a little more about what they do.
The date is set, the venue booked, invitations need to be designed
In Twenty Ten wedding stationery can be as creative, colourful or as individual as the Bride and Groom. Brides and Grooms are looking to organise a wedding which their guests will remember forever – they want to be imaginative in all aspects of the day, but also being aware of the budget they have set for the great day ahead.
Will the invitations be utterly discreet, in neutrals tones giving no clues whatsoever to your colour scheme or the theme of the wedding or will they be fully coordinated with your bridesmaid's dresses, floral bouquets and table décor?
Popular demands for this season are vivid colours, combinations of two contrasting colours and textured papers.
Colours we have already worked with have been combinations of dark grey and dusky pink, black and shocking pink, yellow and orange, turquoise and hot pink and orange and hot pink – just to get the creative juices flowing.
Remember these colours can be coordinated over the full suite of wedding stationery from Save the Date cards through to the final Thank You Cards.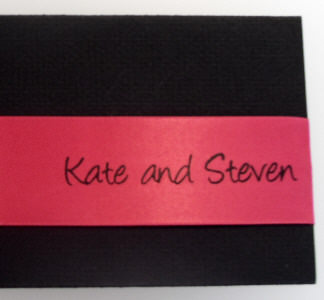 For couple's who don't want to stand out from the crowd and be more traditional, we have been embellishing invitations with ribbon adding the bride and grooms name in silver or gold for a more personalised feel. We can also add the picture of a venue (with the venues permission) to create a bespoke and classic feel.
Whesthill endeavor to make the back of the invite as interesting as the front, colour coordinate the envelopes – why not it's your wedding day! For complete luxury we have heavy weight board envelopes made to measure and made to colour. We never make any invitation design twice, although we may create variations on a theme.
Not sure what you want?! Brides, Grooms and mums if you wish are invited to spend the afternoon with us in the idyllic setting of the Peak District and create your own Wedding Stationery! The only limit to our creativity is your imagination!
So whether you want your invites to be light with a sophisticated flair, bright fresh and juicy or just oozing chocolaty richness come and join us for a coffee and a cupcake and we will start creating!
Handmade to Whesthill really means handmade – every item is printed on our premises, every piece of ribbon and board foiled individually – all while we try not to be disrupted with the magnificent views of the Peak District from our unique office in the heart of a working farm.
With access to numerous papers, we pride ourselves on being are able to design and work within budget's.
………..the start of a lovely event in your life begins when a wedding invitation drops through your letterbox…..
For more information about Whesthill's services contact Kate or Judith on 01298 871 138
www.westhill.co.uk
[email protected]