Today I have a weding from the very lovely Sassy from Assassynation. Sassy as you now is a regular on the blog and  a good friend. She is one of the hardest working people I know in the industry and is an all round awesome person!
The wedding is of the fabulous Kate and Tony Marr who had their new yeras eve wedding at Archbishops Palace, Maistone, Kent with the reception at The Moat, Wrotham, Kent. They had a small ceremony of 40 people and then in the evening there was an extra 30, 'all our closest friends and family were there and we got to talk to everyone.'
Kate and Tony describe their day as 'A detailed, down-to-earth, DIY day. It was a fantastic day and the best start ever to a New Year!'
The wedding is jam packed with personality and personal details. Kate spent a HUGE amount of time basically making pretty much everything for the wedding, She put so much fo her heart and soul into making the wedding totally 'them' that it really does go towards making their day even more special!
How they met
We met on facebook of all places! We only lived half hour away from each other and had so much in common. We spoke for about a month before we finally met and it was pretty serious from the start. We quickly decided to buy our first house together and moved in 6 months after being together. It's now been 3 years and I'm grateful facebook was invented!!
The Propsal
We'd discussed getting married so I knew it was on the cards, although we'd not long got back from holiday so I was expecting it whilst we were away. It was bonfire weekend, November 2010 and we'd tried to go watch a fireworks display but it was so busy we couldn't park so just ended up driving around trying to watch it out of the car window. We decided this wasn't really working so headed home to watch fireworks from our garden! During the display Tony got down on one knee and asked me to marry him!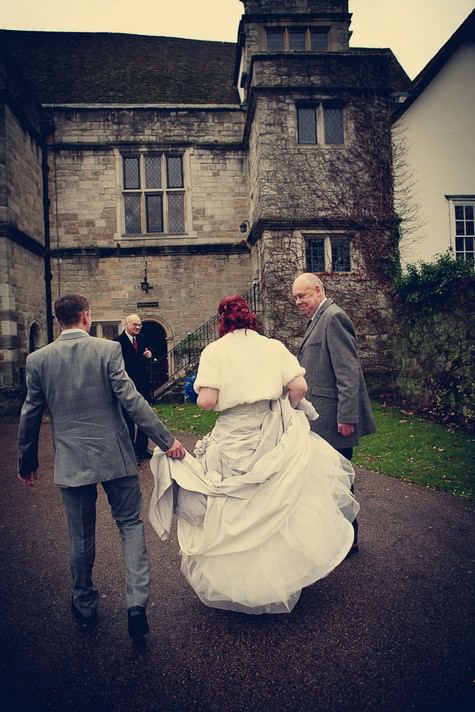 The Wedding Planning
I already knew I wanted to get married in winter so we were looking at the following December, 2011. It didn't occur to us at first to pick New Years Eve, it was only after we saw the Moat and provisionally booked the 30th that it suddenly occurred to us, why not go for the 31st. So, with just over a year to go the planning began…
Venue
We were having lunch one afternoon at the Moat and noticed that they done weddings there, we had already viewed other venues and they were nice but didn't seem very 'us'. We took a look around and fell in love with the place!! As it was a winter wedding I imagined somewhere really cosy and homely, which this place screamed! It had gorgeous beams, quirky quotes painted on the walls and best of all we could have as many lights and candles as we wanted (which was a lot!) We picked to have our ceremony at Archbishops Palace (which believe it or not is a registry office) after finding the Moat and again it was a cosy room that we felt had a lovely feel to it. We knew we'd get some great photos outside and there were lovely fireplaces doted around.
The Dress
As all girls do I spent ages looking for the perfect dress but didn't find anything that was very 'me'. Everyone was expecting me to get something a bit quirky and I just couldn't find anything I liked. I was with my mum and we decided to pop in to a dress shop without an appointment and see if I could try some dresses on. My mum picked one out and I have to say I didn't think I'd like it, tried it on and fell in love!! It was by Mori Lee and was silver!! I'd found something that was a bit quirky but not to over the top.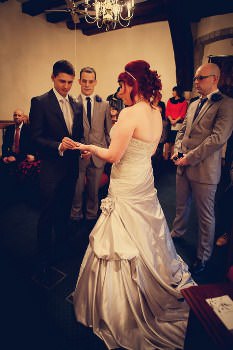 Accessories and shoes
There was a competition being run by Lynsey's Designs to win a gorgeous side orchid tiara so I decided to enter and won!!! I picked up the email telling me I'd won at 3am and woke Tony up to tell him (he wasn't pleased) but I was so excited!! When it arrived I was so pleased, it was amazing and so sparkly (I'm like a magpie so loved it!)
I then had Fiona from Truly Tempting weddings make my jewellery. I sent her some photos of what I had in mind and showed her the tiara so she could match it all in and I couldn't have been more thrilled with what she came up with. You would have thought it was all done at the same time. It was a gorgeous silver pearl necklace with elements that matched my tiara and a bracelet that also matched.
I fell in love with some irregular choice shoes that had been discontinued!! I spent ages trying to find a pair and after a long time came across some second hand ones online. They arrived and were perfect, although extremely high. It was getting near to the big day and I was worried about tripping down the aisle (it was slightly tilted) and ended up buying some sparkly heels by red or dead and some flats for the evening. In the end I wore the sparkly red or dead shoes and I'm glad as my feet didn't hurt until the evening.
And the suit and bridesmaids
This was very much a down-to-earth, budget, DIY wedding and as I was getting a dress it seemed only fair that Tony got to buy a suit to keep. We decided to head to Matalan to look at their suits and he tried on a navy one which fitted him perfectly and he certainly looked the part!!
I spent a long time looking for bridesmaid dresses, so much so that I was panicking I wasn't going to find anything. I spent a lot of time looking at the high street but there wasn't really any 'winter' dresses about. I decided to get them from jjhouse.com and take the risk. My 3 bridesmaids picked the dress they wanted and I ordered them, they turned up so quickly and I was really nervous they were going to be horrendous but they were well made, a lovely colour and all looked how they should.
Theme
I wanted something that looked wintery, with lights everywhere so originally decided on white, silver and light blue. I then changed this to navy after picking a silver dress as I thought navy would make my dress stand out more. Of course I couldn't tell Tony this so had to just pretend that I'd changed my mind as it was hard to find bridesmaid dresses!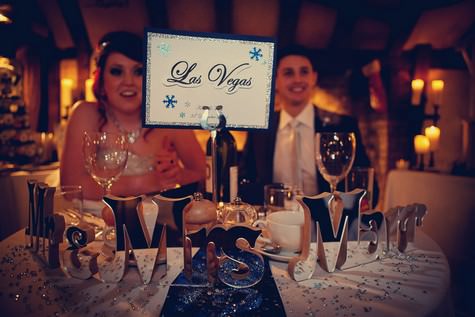 Food
We decided we'd like to give people a choice of what to have. I had duck and herb pate, roast turkey with all the trimmings and cheesecake. Tony had Roasted red pepper soup, turkey and chocolate mousse. The food was gorgeous and the portions were more than generous!! I wish I'd eaten more or asked them for a doggy bag for the next day.
Entertainment
We had a DJ in the evening, a DIY photobooth for people to have some fun and take silly photos, a sweetie buffet and we had a fire in the back for people to toast marshmallows.
Flowers
We didn't have flowers, I like them but I'm not really a flower person and I didn't think it would go with our colours and winter theme that well. I was browsing through off-beat bride and saw a tutorial for a bauble bouquet, I loved it and decided I was going to give it a go. I made the bridesmaids using small silver baubles and blue tulle and mine using medium navy baubles, navy tulle and best of all, lights! I really liked the idea of twigs for centre pieces with crystals or lights and spent ages looking around about how to do it. I got vases from Ikea and stuck xxx salt mixed with glitter to them so it looked like snow/ice, found some brooms and got some lights from poundland! With some cutting, sticking and spray painting I ended up with centre pieces I was pleased with that had cost next to nothing!
Decoration
Because the Moat had lovely beams everywhere they decorated them with lights so that was one of the main things. I also got an aisle runner from eBay and painted our names and date on it myself, we decorated the side with petals and candles. I also made some heart bunting which had 'Live well, laugh often, love much' above our table.
Personal Touches
Everything was pretty much made by me!! It was so worth it though. We got a lot of comments from people about how there were loads of personal touches and everyone appreciated it. After the wedding we even got a thank you card from some guests saying how much they'd enjoyed themselves.
• Save The Dates – a picture of me a Tony with 'Save the Date 31st December 2011' written on my head and 'Or we wrote on our faces for nothing' on his!! Luckily the pen came off easily.
• Invitations
• Place Names
• Table Names
• Centre Pieces
• Painted aisle runner
• Bouquets
• Buttonholes
• Personalised scratch cards
• Personalised keyrings
• Cupcakes picks
• Heart Bunting
• Table Plan
• DIY Photobooth props including, lips, moustaches, pirate eye patch, 'I'm only here fro the free wine' sign and more…
• Sugar cubes in the shape of hearts (from eBay, they were so cute!)
• Heart biscuits (made by Jenny from Jennylovescupcakes) they sat on the side of the cups)
• Sweetie Buffet Signs
• We had an order of the day which including 'terms & conditions' such as keeping the bride in a red wine exclusion zone, dancing for at least 30 minutes and others.
• Our cake toppers were miniatures of our cats which I loved, they were so cute and now a keepsake from the day.
Special moments
I loved seeing Tony for the first time and thinking how nervous he looked! We had a sweetheart table and I'm so glad we did, it meant we got to spend some quality time together on our wedding day which can be extremely hard amongst all the buzz. Our first dance felt really special, it was quite late on in the evening and we'd both been mingling so it didn't feel like we seen each other and then we got to have some time where it felt like there was only us there. The best bit of the day was seeing in the New Year with my new husband!! What a start to what will be a fantastic year and then I got to say we got hitched last year!
Planning Advice
Be organised! Make sure that you do things how you would like them, take a deep breathe and just enjoy the day. Try not to be overwhelmed but it all and remember people will be taking photos all day so don't pull any weird faces (there are a lot of friends pics where I have a rather odd look on my face!). A tip for the Bride, which I'm so glad I did – take a bottle of water for in the car on the way to the ceremony, I got such a dry throat!
Biggest surprise
I'd planned everything down to the last detail besides really thinking much about timings on the day and I'm a bit of a control freak but I surprised myself with how relaxed and calm I was on the day. If something went wrong, it couldn't be changed and there was no point in stressing. The aim of the day was to marry Tony and make sure everyone had a good time and this is exactly what happened!
I'm also delighted to be able to sahre this wonderful video with you from [email protected]   www.ifitmoves.tv
Kate & Tony – The Short Cut from Ifitmoves.tv on Vimeo.
Supplier shout Outs
For more information on Sassy's work go to:
www.assassynation.co.uk
[email protected]
Sassy on FACEBOOK
Sassy on TWITTER
07968948114