Good afternoon and welcome back to the Blog this fine festive Monday. This morning I shared with you a super cute Snow Globe DIY, Well this afternoon I have something rather special for you, this rather fabulous Christmas DIY, courtesy of our resident flower expert, Tracey from Campbell's Flowers.
Tracey invited me over to teach me how to make this gorgeous Christmas table arrangement. We do love a DIY tutorial here at Boho HQ and we especially love them when we can do them ourselves! So I spent a lovely afternoon with Tracey creating this gorgeous arrangement, which has taken pride of place in my house. The arrangement was really fun to put together (I may have found my calling as a budding florist!) Thanks so much to Tracy for taking the time out of her busy day, you are as always a delight to work with and a true inspiration.
STEP-BY-STEP GUIDE TO CREATING YOUR VERY OWN CHRISTMAS TABLE ARRANGEMENT
For this design you will need:
Florists foam
A florists plastic tray
2 tapered candles
Cocktails sticks
Floristry 'pot' tape
A selection of foliage such as eucalyptus, pine etc
Flowers!  We used some snowy twigs, a few stems of wax flower, 2-3 stems of lisianthus, scabious seed pods, sparkly thistles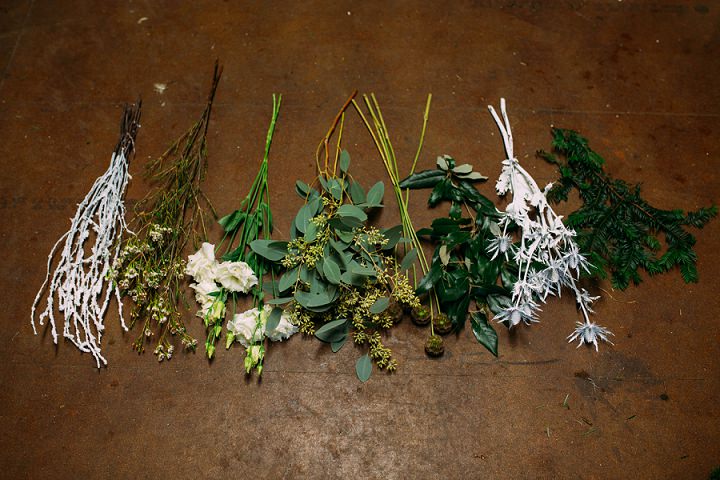 Step by Step instructions
Step 1:  Soak your foam – it's best not to poke it or push it into a sink full of water, just let it sink to the bottom, that way you know it's soaked fully.
Step 2:  Strip the bottom of  your foliage making sure you have a clean stem of around 1.5 cms to push into the foam.
Step 3: Secure three cocktail sticks to the end of each of your candles to help anchor them into your foam. Push the candles into your foam.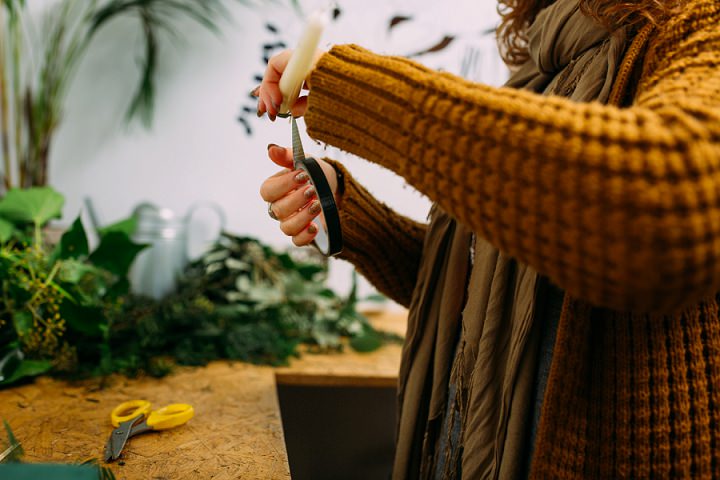 Step 4: Start 'greening up' your design by adding your foliage at an upwards angle so that your greenery flows downwards and covers your foam.  Do this all the way around the outer edges of your floral foam.
Step 5: Continue to add different foliage to create texture throughout the design.
Step 6: Choose your flower combination and start to add the flowers throughout your design making sure that they are evenly distributed and that you don't have all the same blooms in one place.
Step 7:  Once you have covered all your foam you can add any nice Christmassy bits and pieces to your design – Kelly chose these really natural pine cones and some pretty birch twigs too.
Our thanks to Kelly for coming along to our studio to create a pretty design for her Christmas table.
If you'd like to have a try at creating your own masterpiece, why not pop along to our YouTube channel for lots of handy hints or check out our Flower School on the website, where you'll find all our upcoming dates.
As always you can find Campbell's Flowers in a number of ways
Website, Instagram, facebook, twitter, pinterest, YouTube
Happy Christmas all
Much love, T xx