Today I am taking you off the Sunny Mexico for the quite stunning wedding of Sabrina and Gabe who were married on 22nd February 2022 at  Akiin, Tulum. 'We love the beauty Tulum has to offer. One of our favourite things to do is visit Tulum with our kids, so we wanted to share the beauty and experience with our extended family. We had 60 guests and it took a year to plan.' And share it with their family they did with this beauty of a beach wedding. From the first look to the party reception, this wedding not only screams out love but is bursting with style, sophistication, beautiful flowers, amazing décor and the most gorgeous couple (not forgetting their super cute children!) Big thanks to Kelcie Jean Photography for the gorgeous photos.
A day filled with love and one big fiesta, big family, big love, and an amazing party on the beach with laughs and drinks to go around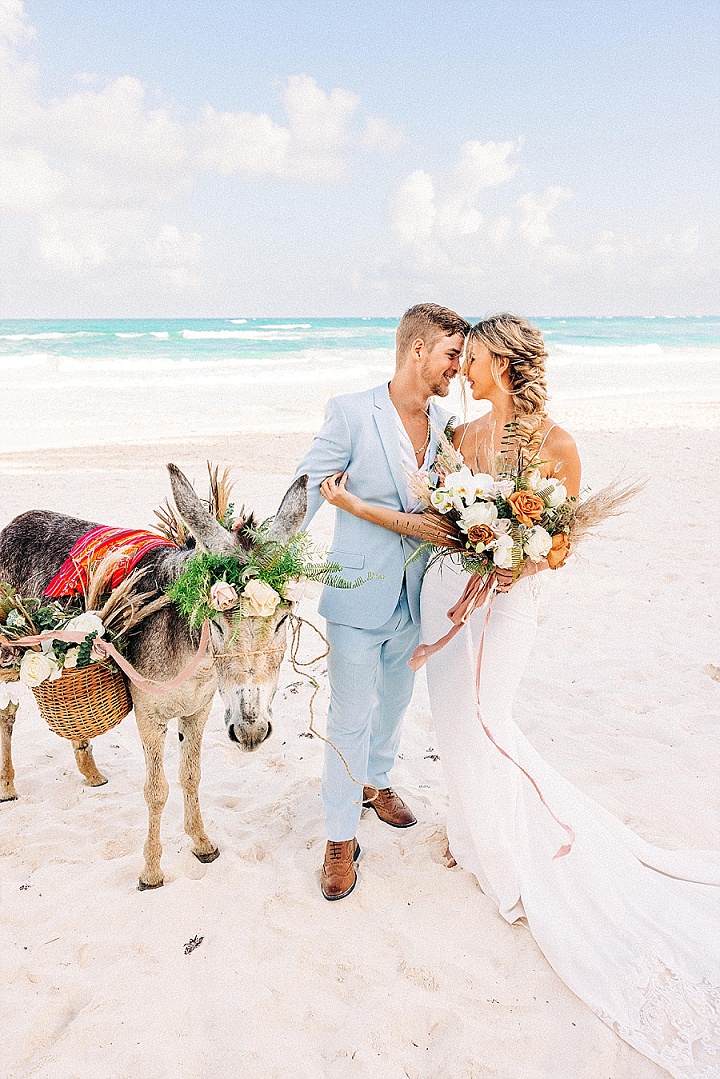 Kelcie the Photography tells us more
This Oregon couple brought a little bit of home to Tulum for their intimate and lively wedding! Utilizing amazing vendors, many of which from their home state, Sabrina & Gabe, amongst their dearest family and friends, exchanged vows and partied until the wee hours of the night on the beautiful beaches of Tulum!
Their love story starts in a small town in Oregon where they met in school and fell in love. After successful careers and two beautiful children, they decided to make it official in their favourite place in the world!
They worked with many vendors from their home state as well as other US and Tulum vendors. Each detail was thought out and executed to perfection.
The Bride and Groom had all of their most important guests with them as they got ready at their favourite tropical hideaway, Zorba Tulum. With the ocean and native plants as a backdrop, they had a first look with each other and both of their darling children. The architecture and white sand continued to be the perfect backdrop for details and photos with the bridal party and family!
Everyone continued over to Akiin Beach Club to watch as Sabrina and Gabe exchanged vows and promised forever. A Burro named Frida and a full mariachi band surprised the guests as they made their way to a fabulous 4-course dinner hand selected by the couple.
The party continued and went well into the night thanks to a well-stocked bar, filled with high-quality booze, and a midnight churro, and a taco bar! Along with their guests, Sabrina and Gabe danced the night away! It was truly a one-of-a-kind event they will never forget!
Supplier Shout Outs
Kelcie Jean Photography
www.KelcieJeanPhotography.com / 541-287-1002 / FACEBOOK / INSTAGRAM