Happy Monday everyone, I Hope you all had a wonderful weekend and survived the terrible storms. We have a fun packed week for you planned on the blog with some fabulous real weddings and excelent articles to keep you inspired and help plan your big day. I am starting off the week with this, quite frankly, awesome wedding from Paul from Paul Joseph Photography. Paul as you know is the husband to our very own Kelly C and (I'm not just saying this) is a bloody amazing photographer. I always love featuring their work, it is clean, atmospheric and really tells a story. For this wedding Paul was flown over to Estado in Mexico to capture Claudia and Rafael's big day and I'm sure you will agree he did an absolutely wonderful job!
'The best party I have ever been to and amazed how all the attendees were connected and got engaged with each other during the reception'
Claudia and Rafael were married on 28th February 2015 at Templo de Santa Maria, Valle de Bravo followed by a reception at Las Gilas, Valle de Bravo, Estado de Mexico, Mexico. 'Our family has a lake house in that town and we usually go with our friends & family during the weekend. Have been going there since we were born. We had 400 guests and it took 6 months to plan.'
, Mexico. 'Our family has a lake house in that town and we usually go with our friends & family during the weekend. Have been going there since we were born. We had a total of 400 guests and it took 6 months to plan the wedding.'
How they met
We have lots of friends in common, we met about 15 years ago we don't actually remember when and how we met. We went out during high school for 3 years, broke up for 5 years and rejoined after that, we have been together about 5 years
The Proposal
It was any given Tuesday so that she would not suspect it was gonna happen; I had just bought a new condo and was refurnishing it and invited Clau for diner to celebrate. She did not know that I had decorated the place with rose petals and champagne to propose.

How did you allocate your budget
Most of it went to the banquet but I'm glad to say it was money well spent
Where did you splurge and where did you save
Definitely allocate most of your budget to your honey moon, your wedding is an awesome moment but let's face it, it's only a party!! There is nothing better to spoil yourself with some good vacays, spas, fancy diners, good wines, you name it. It's one in a lifetime opportunity believe me when I say this.
How did you choose your photographer
Claudia saw some photos in a destination wedding from a friend of ours, so we did a little research and so we started from there and we flew Paul over from the UK to shoot our wedding in Mexico.
Theme or Colour Scheme
We like neutral colours, and as it was an outdoor wedding, we stayed with beige, green and white, to make it look as natural as we could
Flowers
Lafloreria.com was our flower supplier, they use Lisanthus, daisy, queen lace flower, ranunculus, craspedia and seasonal foliage
Decoration
We tried to focus our décor towards a rustic set. We had horses, lots of trees, even fruits. All of our wedding was furnished with vintage type wooden tables and chairs
Food
We started with an artichoke salad or tuna tuna tartar, soup was brie with grapes and the main course was a filet with a mustard sauce
Entertainment
We hired a DJ and really put our sweat with him to find the correct music we wanted for us and our guests. We literally spent a couple of hours going through on what we exactly wanted
The Stationery
We did most of the work, we had a logo made and used it in about everything related to the wedding, we just printed our invitations and handed them out personally
Personal or Handmade Touches
We had a bar just beneath the DJ booth and added two letters that lit up in the dark, they read C&R. The wedding invitations were all designed and wax sealed by us, we had a special logo made for this
Rafa and Claudia's Mexico destination wedding in Valle de Bravo By Paul Joseph Photography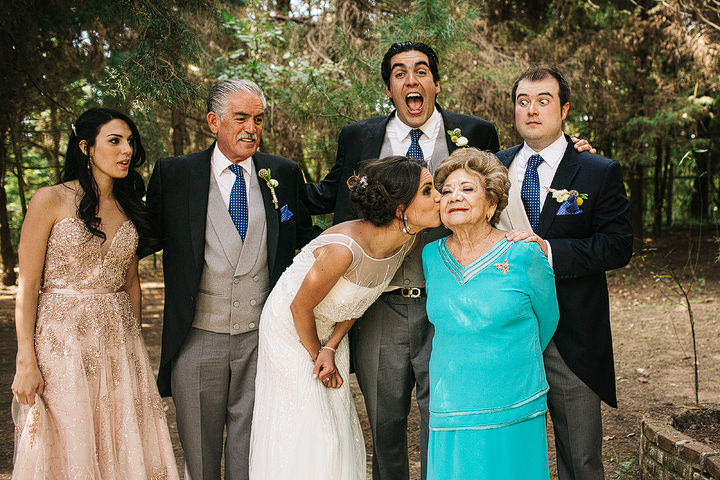 Special Moments
It goes by so fast you don't realize when it ends, there are so many emotions during this event that every moment counts since you wake up, dress, eat, dance, drink to you go to bed
Advice to other couples
It gets really frustrating to see that some things don't go according to planned, believe me, guests don't even notice if something goes slightly wrong. My best advice is, on the wedding day it is what it is, don't try to change o complain for what's going on around you and just enjoy your day
Biggest surprise
The best surprise was that both our grandmas, our only grandparents alive, who both are 90ish were up and about until the wedding was over
Supplier Shout Outs
For more information on Paul and Kelly's work please go to:
www.pauljosephphotography.co.uk / www.pauljosephphotography.co.uk/blog / FACEBOOK /
PINTEREST / @Kelly_PJPhoto / @Paul_PJPhoto / I – pauljosephphotography / I – pauljosephphoto
Due to an email issue if you have emailed me between the 2nd & 9th of December, please resend it.
X