What a gorgeous styled shoot I have for you today. If you are looking to hold a festival style wedding then today's shoot is right up your street! The shoot took place place on 17th of May 2023 at Riverside at Turvey, Turvey House, Bedfordshire. It was put together by Tara Gillen Photography and a wonderful collection of wedding suppliers, all working towards creating a festival vibe, while showcasing this gorgeous new venue. The shoot is full of beautiful boho detailing, like flower crowns, gorgeous gowns and a stunning tablescape, while incorporating the festival theme with bell tents and laid back decoration.
A stunning blank canvas venue in the heart of the Bedfordshire countryside provided the perfect setting for this festival-inspired styled shoot. With its gorgeous scenery and boho-inspired details, this shoot is sure to inspire couples looking to create a festival-style wedding that is both elegant and relaxed.
Tara the photographer tells us more about the shoot
We were excited to hear about Riverside at Turvey – a brand new outdoor wedding venue in Bedfordshire that's perfect for relaxed couples seeking a festival/boho-inspired wedding. We were particularly drawn to the completely blank canvas that the venue offers, which allows for endless possibilities when it comes to creating a unique and beautiful wedding day. As a team, we wanted to showcase the potential of Riverside at Turvey and give couples a glimpse of what we can all create there.
Riverside at Turvey's countryside rustic charm screamed out for an injection of boho-delight and the grounds by the riverbank are just made for a festival style wedding.
The romantic 18th century cottage on-site can be hired for the weekend or used to get ready in the morning. It was the perfect location for Bespoke Bridal by Valentina to work her magic on bridal hair and make-up creating an elegant make-up look and injecting the boho bride feel into the hair. The rustic charm of the cottage provided Photographer Tara Gillen the perfect backdrop to capture the bride and groom's preparations making use of the beautiful natural light cascading in through the cottage's windows. Butterworths Bridal hand selected a few different wedding dresses to showcase the different styles and fabrics that can work with a boho/festival inspired theme.
Shhh…Events had a clear vision of the boho wedding inspiration, and she brought Miss Carlysle and Co into the shoot. The ceremonies at Turvey are outdoors based and they wanted to bring this to life. Miss Carlysle and Co provided Persian rugs, wooden crates, brass lanterns with LED pillar candles, wooden ladders with draping, 'pick a seat, not a side' sign, and pampas bud vases. With a dry hire venue, you have to think about what you need to hire in, simple items such as chairs. So, they brought in benches and folding chairs from Rosetone. The floral arrangements were lovingly created by Queen and Eden who took inspiration from the beautiful English countryside in spring. And the stationary was provided by Pink Peony Weddings who injected the boho vide with natural tones and textures.
They created a few different tablescapes to showcase different options. The perfect style for Turvey is the wooden trestle tables provided by Rosetone as you can create more of a banquet style for the wedding breakfast which is perfect for the sharing style of food or food vans.
The purpose of the shoot was to bring local suppliers together to showcase a new venue and to show potential couples what you can do with this beautiful location and venue. We feel we have accomplished this and have beautiful photographs to showcase it.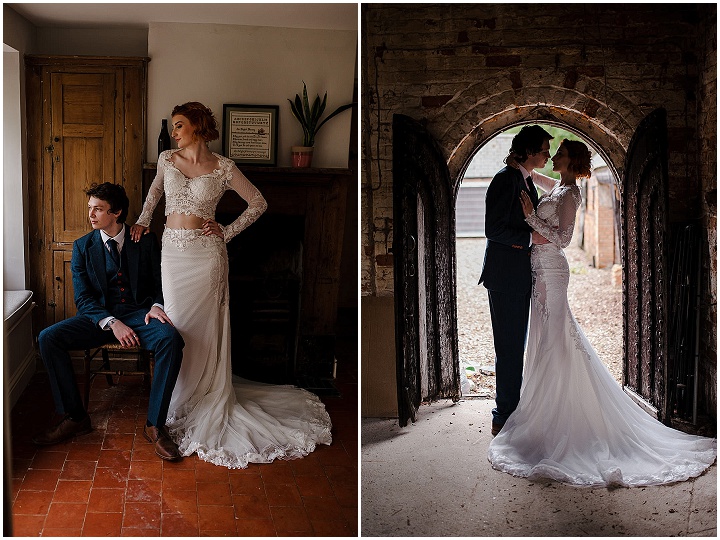 Supplier Shout Outs
Tara Gillen Photography
www.taragillenphotography.com / www.taragillenphotography.com/blog / [email protected] / FACEBOOK / INSTAGRAM