Happy Friday everyone! I hope you have all had a good week so far. It's been a busy one here at Boho HQ, the school strikes have jumbled up my working week, but I am back at my desk today, while Nik takes Dexter out on a bike ride. This weekend Nik and I are off to a disco festival. Dance music in a wood! There promises to be amazing music and lots of glitter and sequins! It's looking like rain at the moment, so we are currently doing a sun shine dance and sending as many good weather vibes out as we can! I will report back on Monday. Today though I have the bright and beautiful, colour filled wedding of Logan and Sydney, who were married on 10th September 2022 at Gatlinburg, Tennessee. The first thing I noticed about this wedding is Logan's salmon pink suit and their super cute dog. The raw emption and love between them is just adorable! Big thanks to Focus on the Moment Photography for capturing the day for us.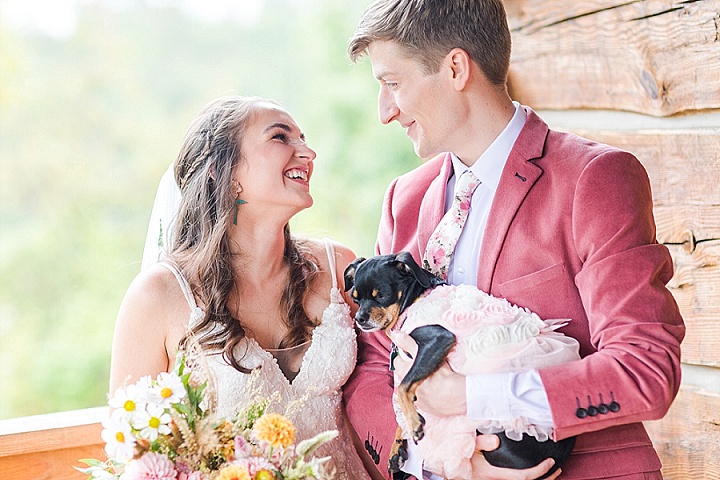 Elena the photographer tells us more
She almost hit him with her car, which is how Logan and Sydney met! Her vehicle had the brakes fixed the same day, so Sydney managed to stop just inches apart from Logan's skateboard, leaving him shocked and bewildered -either by his lucky escape or by Sydney's beauty. Both science students, they dated through college. The real test of their relationship came when Logan got a job in NYC, and Sydney decided to move with him from her native South Carolina. They lived through the hardest Covid quarantine year in the Big Apple, and by the end of the year-long Covid restrictions, they knew they belonged together. Don't you agree that if you spend a year with someone crammed into a small apartment without many opportunities to socialize and not develop cabin fever, it must be your sole mate?!!
They have opted for an intimate outdoor wedding ceremony with close friends and family in a cabin close to Gatlinburg, TN. They couldn't have chosen a more perfect September day in the Smokies! It was summer-like warm, and the sun was shining. The Appalachian mountains created a beautiful backdrop with their famous blue misty atmosphere and occasional cotton-candy cloud.
The house comfortably fitted their large immediate families from different parts of the US and an intertwined bunch of their college friends. This place was just perfectly suited for celebrations to carry on into the afternoon and evening!
I am so happy I managed to snap the fun and whimsical aspects of the celebration the couple has planned! And there was a lot to prepare for this intimate yet elegant wedding! Every little detail of their blush pink-orange and emerald green wedding palette just came together flawlessly. Everything was in its perfect place: from floral ties for gentlemen to the beautiful pink cufflinks made for Logan by his younger brother.
There were so many surprises stored for guests, including a giant taco pinata and a flower dude dancing down the aisle in sunglasses and with a fanny pack. Their beloved dog, Jynx, dressed as a ballerina (!!!), delivering rings and even custom temporary tattoos of the bride and groom!
Sydney's older sister, Amber, a talented florist, created an incredible flower arch and exquisite table centerpieces that contributed to the summer-like atmosphere of the celebration. The couple was dancing their way down the aisle to an upbeat song! And I almost cried during their vows (Logan's was especially long and touchy!). Enjoy reliving their wedding day through my eyes!!!
Supplier Shout Outs
Focus on the Moment Photography