Today is my last day in the office before I go to Spain tomorrow. I have been busy putting lots of fresh content together so you have lots to keep you busy while I'm away. Today we are celebrating the wedding of Bria and Jamell who were married on 14th November 2021 at The Booking House in Pennsylvania. They had always dreamt of having a fall wedding, as this is their favourite time of year, and they really embraced the autumn colourways and warm tones in their flowers and gorgeous decoration. As for the outfits, they went all out on the burnt orange with Jamell's suit and the bridesmaids dresses, what a stunning bridal party they all make. Big thanks to Tolman Media Pennsylvania for the wonderful photos.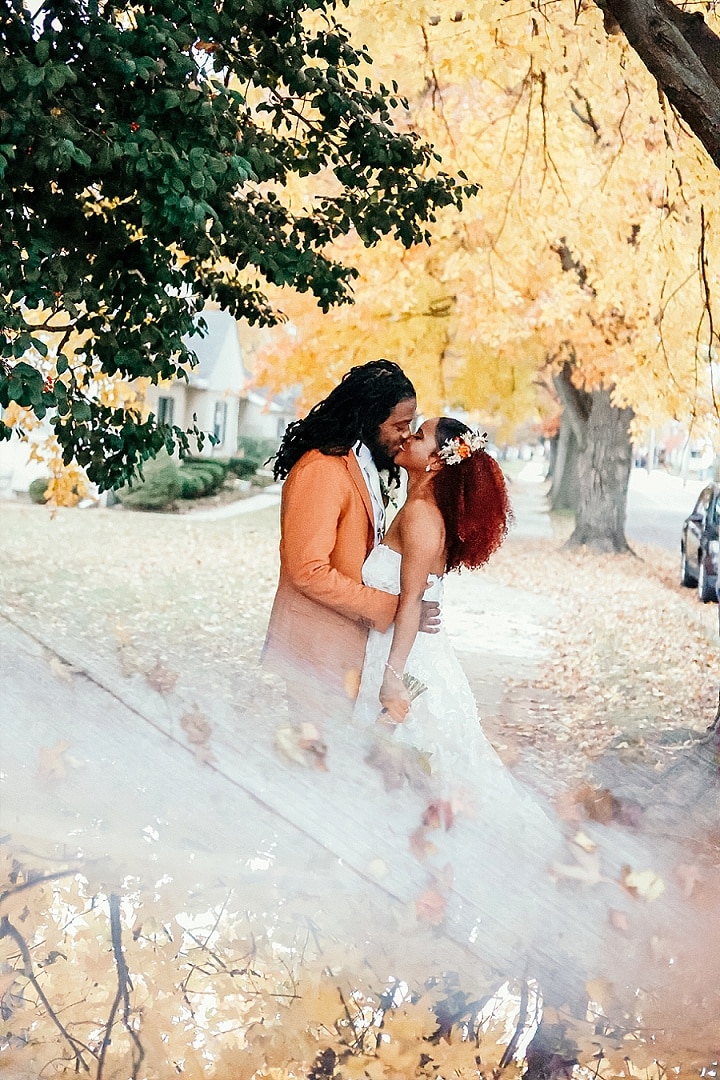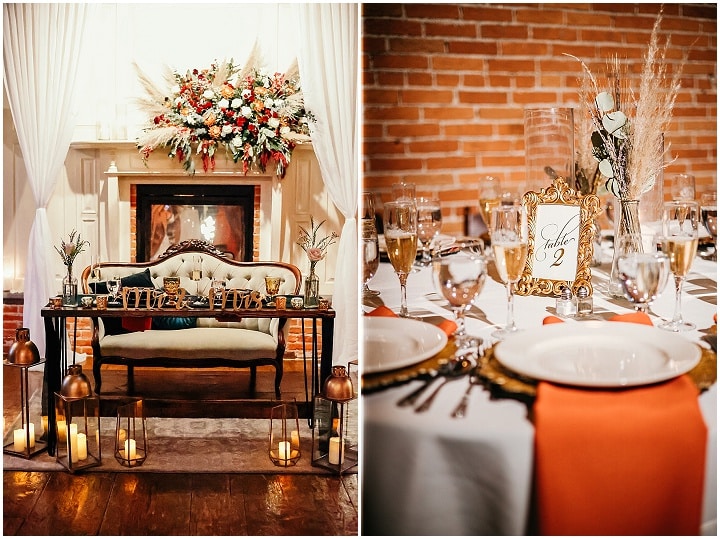 Theme and Colour scheme
The inspiration behind our wedding day was the Fall season. I didn't know if I would ever actually get married one day but I knew that if I did, I wanted it to be during my favorite season with all my favorite earth tone colors–burnt orange, burgundy, mustard yellow, forest green with a mix of browns and creams. In addition, we wanted an urban/contemporary rustic theme which led us to the Booking House that had amazing wooden pillars and exposed brick interior. We didn't necessarily incorporate any traditions into our day–we kind of made our own!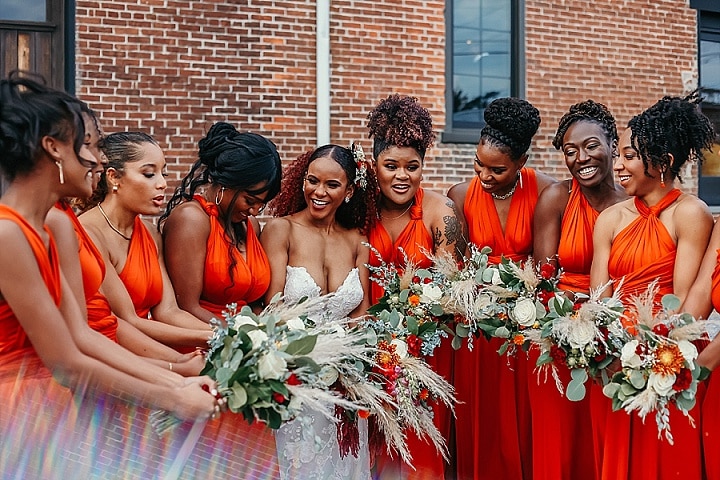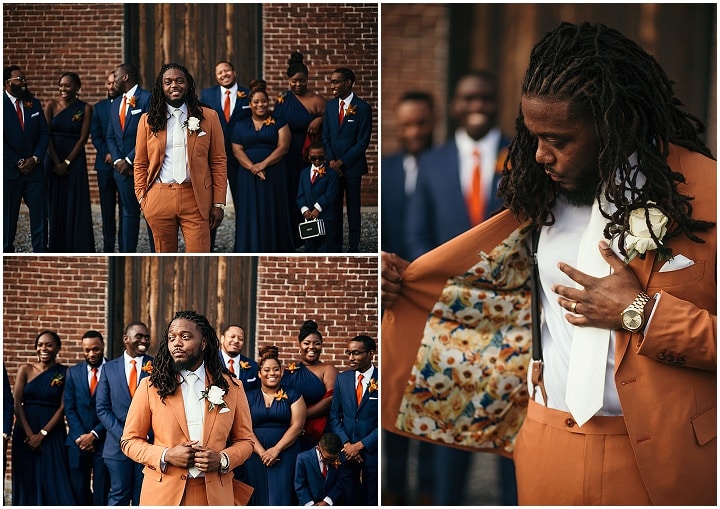 Decoration
Thank God, we didn't have to do too much decorating because the interior of the venue was already set up so nicely with a beautiful chandelier and wooden pillars that were wrapped in soft white christmas lights. We added white drapes to drape across the ceiling to make it look more elegant. Our florist lined the aisle with cylinder vases filled with fairy lights and rose petals at each row. She made an absolutely beautiful and extravagant large mantlepiece that sat on the left side of the mantle. The arrangement included our  wedding flowers and colors and had a saturated fall vibe.
Flowers
Our florals were were a mix of Roes, Dahlias, Mums, Celosia, Pampas Grass, Heather, Spray Roses, Carnation, Veronica,  Mixed Eucalyptus and other greenery in burnt orange, sage, burgundy, cream, and forest green colors. We used these flowers in the bridal bouquets, centerpieces and in the mantlepiece for our ceremony backdrop. They were also used at the welcome table and cake table. They did play an important part as we were looking to bring the fall season that was outside, inside.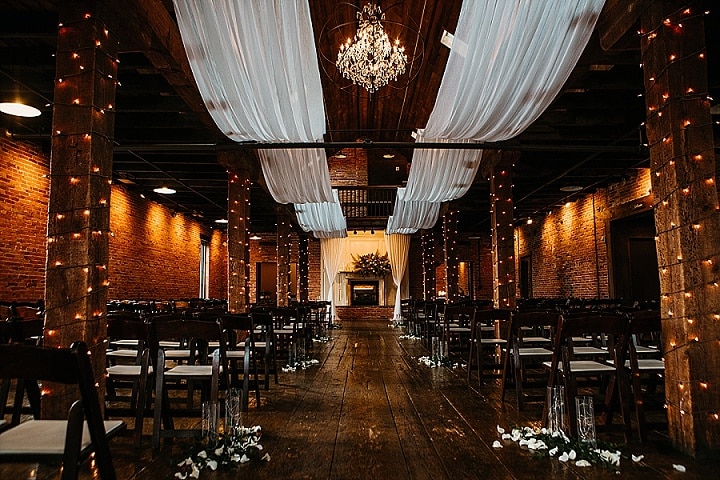 The Outfits
So while we were dating, we established that orange was our 2021 colour because we loved the way it bounced off and accentuated each other's brown skin. When it came time to talk about Jamell's suit, we knew we wanted him to stand out and we weren't looking to do anything traditional. He was very adamant about not wearing a tux. While taking a drive somewhere it didn't take long for us to land on him wearing a suit in our 2021 colour: burnt orange. And it went exactly with the fall, boho, urban rustic vibe that we were trying to go for.
For me (the bride), I started off with taking quizzes to figure out what dresses I would like to try. I was adamant that I didn't want a strapless dress, mermaid style and I knew I wanted lace. But it is a very different ballgame when you actually try dresses on. 4 stores and about 20 dresses later, I found the one I was looking for –strapless, heart-shaped, mermaid that turns into a bit of princess look towards the bottom and full of lace.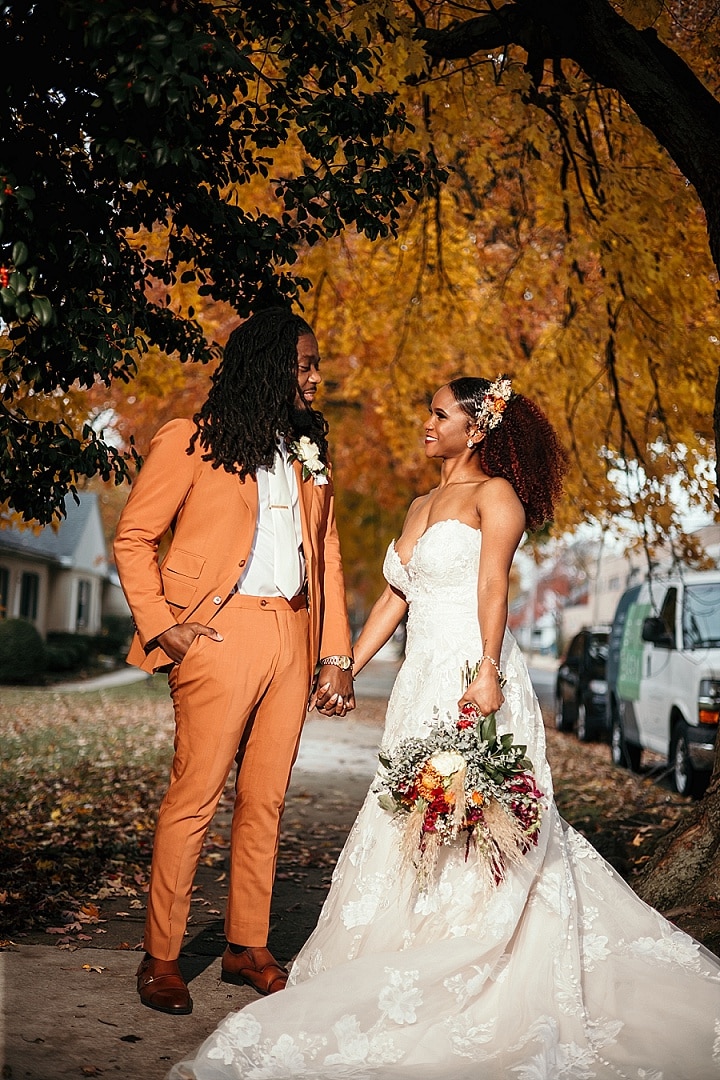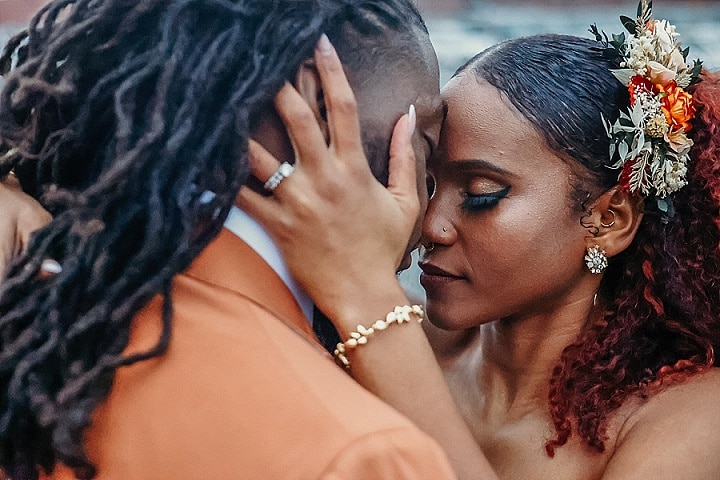 Advice for other couples 
Bria's advice: Wedding planning is a major group project and brings about a lot of adjustment and transition. Don't make issues more important than the relationship. Be gentle, patient respectful, and kind in how you speak and respond to one another. Conflict isn't the issue–it's how you handle it!
Jamell's advice: Two things for a man reading this:  1. From a man's perspective, it's easy to not put a lot of thought into the wedding process and just go with whatever your fiancé wants but be present. This is a celebration for the both of you and you don't want to look back on this day and wish you would've cared more. So care about your bachelor party festivities, choose a best man that knows what encourages you, wear what makes you feel good, pick the music that makes you feel what you want, make a tiny request for your future wife's wedding day attire, put your own character into your vows, walk down the aisle to the song that makes you feel like THE man and make the day fun for the both of you.  2. Protect your wife. Protect your fiancé during the planning process. Protect your wife on the wedding day. The wedding day is hectic. Somehow and someway, someone or something will try to bring anxiety to your wife on this day that she wanted to feel like a princess. Keep her attention on the good because that's all that matters and all you'll both care to remember if you so choose. She'll love you all the more and feel secure with the person she chose to do this with.
Supplier Shout Outs
Tolman Media Pennsylvania