Today I am taking you to Ireland for the most lovely summer wedding of Sarah and Matthew. This gorgeous couple held their wedding in Ireland at The old mill, Carlingford Brewing Co, they wanted something slightly away from the norm, rustic and personal to them. Their love of beer and brewery's made this venue the perfect location for both the ceremony and the reception. With a colour scheme of sage green and a variety of summer pastels, this wedding is bursting with the most beautiful blooms, which really pops against the venue's backdrop. A super elegant wedding with a rustic edge. Big thanks to Iain Irwin for the lovely photos.
The most amazing, emotional day that went by far too quickly. It was so special to have all our important people together in one room on what was the best day of our lives.
Sarah and Matthew were married on 11th June 2022 at The Old Mill, Co. Louth in Ireland. 'We both love beer and brewery's, we stumbled across the old mill when we were in Carlingford one afternoon and made a visit to the brewery. Upon talking to the owner, we realised they have an old mill out the back that they use as a wedding venue and we fell in love there and then! We knew we didn't want a "traditional" wedding and this venue was so different to anything else we had seen. We had 85 guests. We had just under 2 years to plan, but in all honesty, planning didn't properly start to happen until 10 months before the wedding.'
How they met
We sat beside each other on the first day of secondary school! Matthew asked me to be his girlfriend at our local rugby club disco when I was 13 and he was 14 and we have been together ever since – 15 years later!
The proposal
It was August 2020 mid covid-19, and we decided to do a stay-cation in the south of Ireland with our friends. Looking back on it, Matthew had been a bit edgy the whole day. Fortunately for him, we were getting the boat over to Co. Kerry and our friends missed the boat which meant we had some free time just the two of us. Matthew suggested we went to Inch Beach to kill some time (a place we had been together before and absolutely loved). When on the beach I had walked on, and I heard Matthew calling my name but I ignored him as I thought he wanted me to hold his towel whilst he got changed haha! After a few calls, I decided to turn round and there he was on one knee!
I was definitely unprepared (I didn't have my nails done!) it was very emotional, and I couldn't tell you what he said to me but I know it was very special. It was great that we were able to meet our friends that night and celebrate with them too!
How did you allocate your budget?
We didn't!! I really don't know how much our wedding cost all in and I don't want to know either. For us a nice venue, good food and good music were the most important things, so we probably did spend a bit more on this.
Where did you splurge and where did you save?
We definitely splurged on food, alcohol and the venue. Probably my dress too! We didn't go mad on decorating the venue or all the wee extra bits and pieces as we didn't think we needed it.
How did you choose your photographer?
Instagram! Choosing our photographer was probably one of the hardest decisions as there is so much choice out there. I spent a lot of time looking at other people's weddings and got a feel for the photographer styles I liked / didn't like.
The dress
Enzoani designed my dress and I absolutely loved it! I got my accessories from the Dress House (a local boutique) and my shoes were from New Look!! (This was probably an area I saved too!)
The suit and bridesmaids
We hired our suits from Freddie Hatchet and our bridesmaid dresses were motee maids, I got them from the same boutique I got my wedding dress (Petticoat Lane in Hillsborough).
Theme or colour scheme
Our wedding was in a brewery and old mill so it was quite a rustic theme. My bridesmaid dresses were sage green so we paired this with pale pink and earthy tones throughout.
Flowers 
Quite rustic style again we had rustic foliage throughout the venue as well as foliage on our candelabras at our tables. Our flowers had a mix of the sage green, pale pink and earthy tones in them.
Food
Our food was delicious! During the drinks reception we had a mixture of canapes – Local Smoked Salmon On Savoury Scone With Herb Cheese Cream, Vietnamese Beef Patties With A Chilli Oil, Duck Spring Rolls, Crispy Arrancini With A Pesto Aioli. As it was a brewery, we also had mini beer tasters and prosecco.
Four the main event we started with a soup – Cream of vegetable with a chive cream.
We then had pig on the spit which came with all the trimmings! This was quite cool as our guests got to see the pig on the spit as they were heading in to the mill for dinner. We then had a Medley of Desserts (Chocolate Brownie, Raspberry Roulade and Apple Crumble).
In the evening the venue served up wood fired pizzas from their pizza oven too which was a real treat!
Wedding cake
We had a 4 tier semi-naked cake – each tier was a different flavour. We went for red velvet, classic lemon, carrot cake and salted caramel.
Entertainment
One of my oldest school friends sung me down the isle and played during our ceremony and this was just so special. She has her own wedding band called the Bella Caves and the girls are amazing for any ceremonies or drinks reception music. My uncle also is in a band, so he played guitar and sang during our drinks reception. In the evening we had the amazing Drum and Bates 2 piece band followed by a DJ! Everyone commented on how good our band was for just 2 people!
Who supplied the stationery?
One of our amazing friends Hannah created our wedding invites and helped with table cards and stationery. Everything else was courtesy of Etsy!
Where did you go on your honeymoon?
We had an amazing Honeymoon which was packed with a few different places! We started in NewYork, then flew to Austin Texas for a few days. We then rented a car and drove from Austin all the way to Miami with a few stops along the way (including New Orleans which was such a vibe!) After a few days in Miami, we flew to an all inclusive resort in the Dominican Republic which was just out of this world. We then did a quick stop in Orlando Florida for a few days of fun in the theme parks before flying home! We packed in a lot, and it was definitely a trip to remember!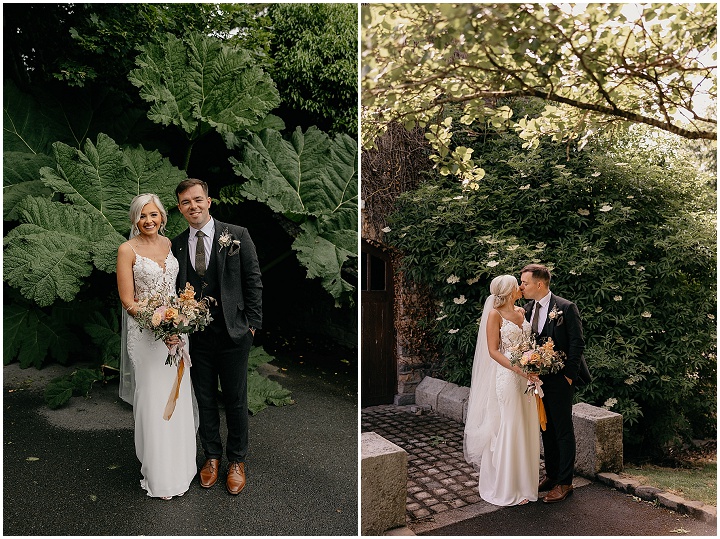 Special moments 
Honestly it was all special. Highlights for us were probably our vows, we wrote our own and a lot of people have commented on how nice our ceremony was. We also really enjoyed the speeches; everyone did amazing and even my bridesmaids had put together a great poem. The whole day was great, and we are so grateful to have spent it with all our loved ones.
Advice for other couples
Don't get caught up in the small detail, it really does not matter, and no one notices. Everyone says this but the day really does go SO FAST, try and enjoy it all and take it all in. RELAX and make sure you get 5 minutes together on the day.
Biggest surprise 
Breaking down on the motorway on the way to the wedding – we had a flat tyre! It was all panic stations but thankfully a kind stranger came to our rescue, pulled up on the hard shoulder and offered to drive us to the venue!!
Supplier Shout Outs
Iain Irwin Photography
www.iainirwin.com / www.iainirwin.com/blog / [email protected] / +44 7749448818 / FACEBOOK / INSTAGRAM 
My name is Iain Irwin, and I am a wedding photographer based in the countryside of Northern Ireland. I am big believer in marriage and the love that it celebrates. I absolutely love pouring my heart and soul into capturing every wedding day. When it comes to my couple's weddings, my aim is to find those same connections between them and their loved ones. I love pausing time on those unique relationships so that my couples can come back and live a little longer in the love of those special moments.