Happy Thursday everyone, I hope you are enjoying the heat wave we are currently having here in the UK! Summer has at last tuned up, all be it a tad late! While you are enjoying the heat why not start your day with this gorgeous handcrafted wedding from Northern Ireland. Caroline and Ryan fell in love with their venue straight away, it just happened to be somewhere Caroline worked as a teenager! They filled it with different shades of blue and the most gorgeous dried flowers and pampas grass. with so much fun and laughter this wedding is pure joy form start to finish! Big thanks to Iain Irwin for the lovely photos.
Our wedding day was absolutely perfect from start to finish, and will always be remembered as our favourite day! It felt like a huge party with everyone smiling and dancing all night, enjoying themselves to the fullest!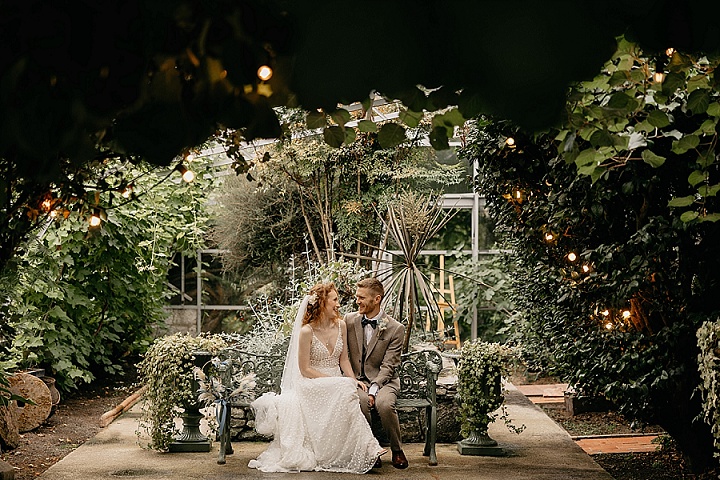 Caroline and Ryan were married on 31st July 2023 at Larchfield Estate in Northern Ireland. 'Caroline is from NI and we live in England so Caroline was adamant we had to get married in NI. On our first viewing of the venue, we fell in love with it. We loved how beautiful the venue was with so many different aspect to it, such as the rustic barn, outdoor sunken garden, outdoor grounds, greenhouse and stretch tent courtyard All of this combined contributed to our fairytale wedding! It also helped that the Estate is next door to Caroline's family home, and she had worked as a waitress at weddings when she was younger. She had always dreamt of getting married at Larchfield! We had 94 guests with more arriving in the evening. Most guests travelled from England over which made it really special. It took about 12 months to plan, this is when we booked suppliers etc but the smaller detail planning started with about 4 months to go.'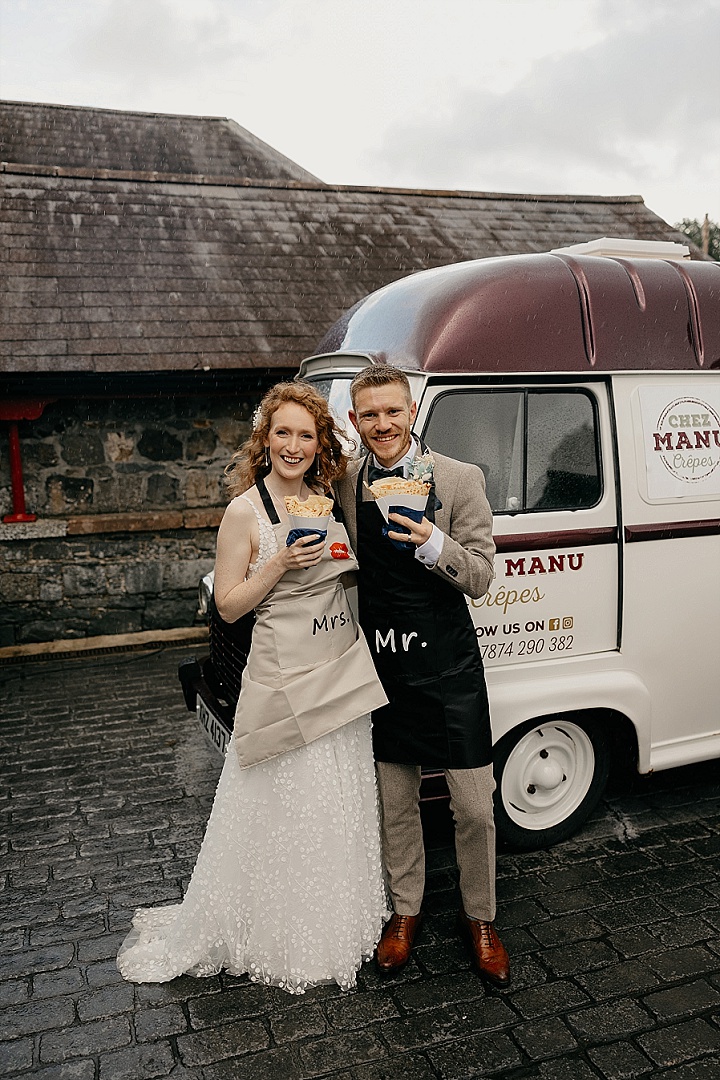 How they met
We met within the first two weeks of our first year at university, both studying primary teaching. We became best friends and soon began to spend most of our free time together, sharing our love of Disney films. That all happened 11 years ago and we have been together ever since.
The proposal
Ryan proposed in April, but it actually started on January 1st. Ryan created a video of himself proposing to me everyday of the year, until the day he got down on one knee. Quite a lot of the time, I was in the background of the video without realising that he was secretly proposing! I am also a big JLS fan so he ended the video with a personalised message from JB (JLS Member) explaining how much Ryan loved me and telling me to turn around. I flew home for Easter weekend and went for a walk around Hillsborough forest park with my best friend. Halfway around the walk, we found the ipad with the video of all the proposals and JB asking me to turn around, to where I found Ryan! He had flown over to surprise me and got down on one knee! It was very magical!
How did you allocate your budget?
We were very unsure of how much a wedding would cost and initially set a budget. However, things were added each month and the budget didn't last long at all. We decided that we wanted to create the most memorable and magical day so decided to spend more than we had originally planned. We were very fortunate that our parents were able to help us with some of the costs.
Where did you splurge and where did you save?
Our biggest splurge was definitely the band – as we are big believers that a band can really make a wedding amazing, ensuring people are up dancing all night! We were quite good with saving on a lot of things, as we are teachers we made a lot of the decor ourselves and even stationary details by designing signs, crepe tickets and menus ourselves online and printing ourselves.
How did you choose your photographer?
Due to living in England, we found a lot of our vendors through Instagram. We also spoke to some friends in Northern Ireland who had recommended Iain as they had wanted him for their wedding but couldn't due to dates! We spent time on Instagram looking at his photos, posts and enjoyed seeing
the style of pictures he took. Upon speaking with him, we realised that he was perfect for us. He was so friendly and inviting. He really helped in the run up to the wedding also, sending advice, tips and updates which we used and reminded us of things to do! He was extremely helpful throughout the entire process, especially on our wedding day where he guided us through each part! He was amazing!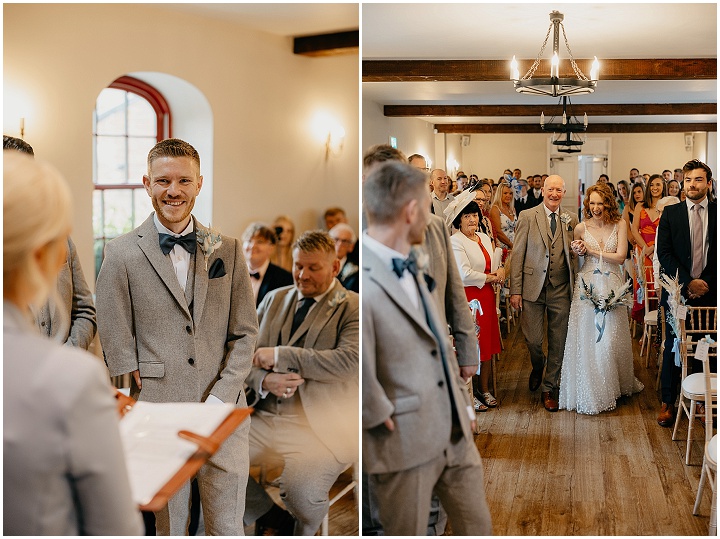 The dress 
I actually bought 2 dresses. The first one I bought in the first shop I went to and panicked. Several months later I realised it wasn't the dress for me! In a mad rush, I went on Instagram and began looking. I saw my dress online and instantly knew it was the one. It was bought from 'The Aisle' bridal in Skipton and is by the designer 'Made with Love'. It is called the 'Louie flowy' and I still absolutely adore
every inch of it and want to wear it every day. My viel was to match and from the same designer and shop.
I didn't wear many accessories, only having a 'Katie Loxton' something blue clutch (which I bought for my best friend's wedding so she leant it back to me), a borrowed bracelet from my friend and a pair of pearl earrings from a jewellery shop I saw one day. I wore flower hair clips from 'The Opal Lilly' which I got off ETSY. Ryan bought me a pearl necklace from Pandora which I wore too. My shoes were just bought off ASOS!
The suit and bridesmaids
The suit was a neutral tweed suit from Moss Bros.
Bridesmaids dresses are from TFNC London and were in the Grey/Blue colour. They wore 2 different styles.
Theme or colour scheme
Caorline's favourite colour is blue – pale blue, dusty blue and sky blues so the wedding was all things blue! We also loved dried flowers such as pampas etc so these were all in blues as well.
Flowers
We didn't really have many flowers. The brides and bridesmaids has hoops, decorated with pampas and dried flowers. We then had a pampas large hoop behind the table in the wedding. The buttonholes matched with dried flowers – of course with some blues in there!
Decoration
We loved the pampas and dried flowers look. Our table centrepieces included log slices, candles in jars, some eucalyptus and each table had some sweets! The large hoop really added to the detail along with the fairy lights from Larchfield.
Food
We decided to order a larger quantity of canapes as we are not quite into
starters. They consisted of:
– Ulster fry on a stick
– Beef and horseradish in a yorkshire pudding
– Pork belly and apple sauce
– Honey mustard sausages
For our main, each of our guests had:
– Chicken kebab with roasted peppers
– Marinated butterfly leg of lamb with garlic, rosemary and fennel
– Sirloin berger in a brioche bap
Sides – Duck fat roasties, garlic cubed potatoes and glazed carrots.
For desert, we had booked Chez Manu Crepes (A crepe Van)
Myself and Ryan were able to make our own crepes, before all of our guests
were able to collect their own with a ticket we had made for them!
In the evening, we had – Pulled pork and apple burgers, with chips,  Chicken goujons and chips
Wedding cake
Fairytree Cakes made the most beautiful wedding cake for use. It was three separate tiers (two chocolate orange and one raspberry and white chocolate). They were decorated with a blue ombre marble effect, complete with gold flakes and pearls. The large tier had a floral hoop attached to the front (matching the one from our ceremony) and one of the smaller tiers had a white icing Mickey and Minnie Mouse topper. They were placed on different levels of tree in the main room at Larchfield Estate.
Entertainment
We had the Nooks band and a DJ who followed. We had lawn games out throughout the day and evening. We had a selfie machine where guests could take pictures, videos, gifs and boomerangs which were able to be sent straight to their phones as well as being saved for ourselves to see the next
day. This kept a lot of people entertained, and especially us the next day, watching their videos!!
Who supplied the stationery?
We created all our own stationery as we felt it would be a nice personal touch, as well as helping us to save some money!
Where did you go on your honeymoon?
We have planned a few 'Mini-Moons', where we have gone on a few spa weekends back in England and stayed in the Yorkshire Dales. We have also spent a relaxing week in Spain. We are currently in the middle of planning our honeymoon for next August where we have booked one week in the
Caribbean, and three weeks touring America!
Personal touches
We decided to make a lot of things ourselves. We created our own invitations, save the dates, signs, menus, table plan, crepe tickets and other decorations. With both of us being teachers, we were excited to make things ourselves and really make the day feel more personal to us. It was lovely how people mentioned how lovely things were and we were able to mention how we had made them! We also decided to decorate each table centrepiece ourselves, where we added a heart shaped tub of sweets. This is due to both of us loving sweets! Each table was named after a sweet and allowed our
guests to tuck in to our favourite treats!
Special moments 
One special moment was we were both invited into the main room (for a sneak preview before our guests). It was just amazing to see how beautiful it all looked, especially after all of our designing and planning. We were simply breathless at how beautiful it looked!
The ceremony was truly amazing, with beautiful words from our celebrant Chloe Cairns, who told our lovely story perfectly.
All of our guests on the dance floor for the entire night! Everyone was very merry and dancing away! It was amazing!
Advice for other couples
Try not to stress! It sounds silly as we know everyone does, but everything works out perfectly! We were disappointed to see the rain in the morning (which continued throughout the day) but even this did not dampen our spirits or the day. No matter what happens, it is going to be the best day of your lives!
Biggest surprise 
Seeing how beautiful the venue was after all of our planning! And the best man leaving his shirt in England and having to run to a shop on the morning of the wedding!
Supplier Shout Outs
Iain Irwin Photography
www.iainirwin.com / www.iainirwin.com/blog / [email protected] / +44 7749448818 / FACEBOOK / INSTAGRAM
My name is Iain Irwin, and I am a wedding photographer based in the countryside of Northern Ireland. I am big believer in marriage and the love that it celebrates. I absolutely love pouring my heart and soul into capturing every wedding day.
When it comes to my couple's weddings, my aim is to find those same connections between them and their loved ones. I love pausing time on those unique relationships so that my couples can come back and live a little longer in the love of those special moments.