To end the week I have an amazingly bright and sunny wedding for you on this cold, windy and rainy December day. It was sent it to me by Jennifer Barker from Fusion Photography and it comes all the way from the tiny island of Formentera which is a very short ferry ride from Ibiza. The couple are Susan and Daniel who were married on September 16, 2011 at Gecko Beach Club in Formentera with 125 guests, it took a year to plan the wedding.
This is such a beautiful wedding, the colours are amazing, the vivid blue of the sky against the white of the ceremony, with the hot pink and orange, very tropical, and very Ibiza! Susan and Daniel describe their day as 'a perfect day with perfect weather for a perfect-for-each-other couple'
How they met
Susan walked into the neighborhood bar with a pizza pie and caught Dani's attention. The bar owner is a mutual friend who introduced us. We met in NYC and now live in Shanghai together. We have been together over 5 and a half years.
The proposal
Very unexpected and intimate at our house on my 30th birthday.
The Venue
Formentera is a magical island and a very special place. To get our closest friends and family from all around the world to celebrate with us on this special little island was truly a once-in-a-lifetime experience.
The Dress
La Sposa wedding dress. 2 pairs of shoes – white by Badgley Mischka and red by Caparros. Diamond bracelet was a wedding present from my mom. Hair pin was a last-minute purchase request from a guest who flown in from NYC.
The suit and bridesmaids
Suit by Paul Smith. Bridesmaid's dress by J.Crew bridal.
Theme
Our color scheme was tropical and purpose was to add punch of colors. We wanted a fun ambience where guests won't take themselves too seriously and can relax. The colors we chose were orange, pink, red and purple.
Decoration
Colorful wedding structure under which we were married, colorful umbrellas for guests during ceremony, lanterns at the reception, candles and tiki torches to line towards the beach and around the chill-out area.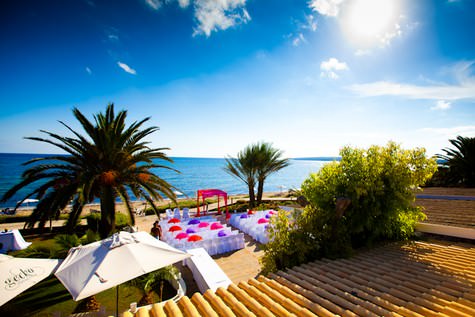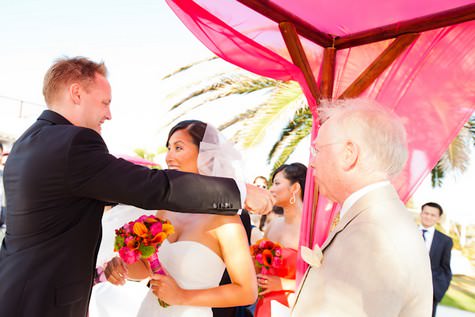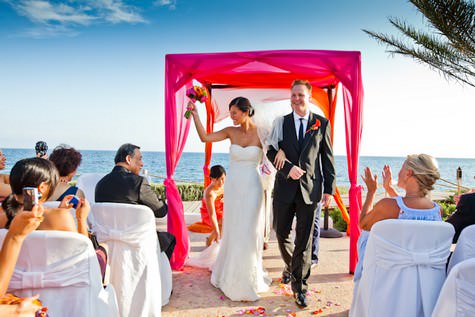 Food
Cocktails and canapes during the cocktail hour with personalize bride and groom drinks: the Susangria and Danijito
Dinner Reception:
Lobster and mango salad with citrus vinaigrette
Sea Bass with caramelized shallots, shitake mushroom and summer truffles
Lemon and mint sorbet
Steak au poivre
Dessert: creamed coconut rice with a passionfruit sorbet, mango mousse with herbas ibicencas ice-cream, + chocolate brownies with vanilla ice-cream.
wedding cake: Cake Show by Caterina Bianchi- Chocolate spongecake with ganache-praline chocolate cream filling
Entertainment
Live band and dj- Bic Fellows
Flowers
Bouquet were orange calla lillies and pink roses (that looked liked peonies)
Personal touches
-The personalize bride and groom drinks- Susangria and Danijito
-Picture area with personally done signs
-Table names and signs were hand-written and reflected places around the world where the couple lived
-Wedding gift was a compass in a little velvet red bag
-Tea ceremony we incorporated into the wedding ceremony to pay respect to our parents and my Chinese culture
Special moments
the moment alone as husband and wife when our photographer whisked us away from the guests to take photos alone on the beach
Is there anything you would do differently?
There are so many things that I shoulda, woulda and coulda done, but what made it more special and memorable were the less-than-perfect moments and how my close friends and family all pitched in to help me decorate, make the signs and buy last minute things.
Planning Advice
Do not get caught up in the details, prioritize and focus on what matters to you the most.
On the day itself- relax, forget about the details and just enjoy the day. Remember that everyone is looking at you and how beautiful and happy you are.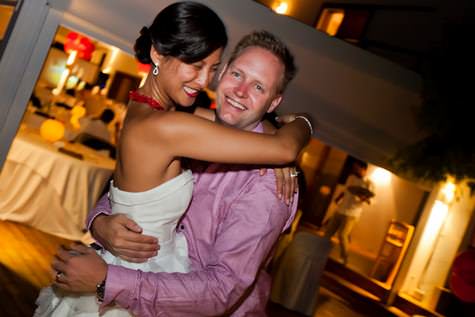 Biggest surprise
the touching wedding speeches from our dear family
Supplier Shout Outs
Gecko Beach Club: http://www.geckobeachclub.com/ ( I didn't hire a wedding planner because Karina at the Gecko was amazingly helpful as were the staff on the day itself!)
Fusion Photography: http://www.fusionphotography.ie/ (Keith from Fusion was very responsive and great personality to deal with)
Cake Show by Caterina Bianchi: http://www.cake-show.com/ (Caterina was such a lovely lady, delivered the cake herself and help decorate the cake on the day itself)
My wedding hair: absolutely loved it!  They don't have a website, but its Paralello 38 in Formentera
For more information on Fusion Photography go to:
Jennifer Barker – Fusion Photography
Stepaside, Dublin 18, Rep. of Ireland
+353 87 7574028
www.fusionphotography.ie
[email protected]