Happy Monday everyone, how are you all this wet and windy Monday morning? I hope you had a good weekend? What did you get up to? Mine was lovely. My Mum came up from Cornwall for the weekend for her birthday. It was spent, drinking, visiting the cinema, going out to dinner and eating birthday cake. A lovely time was had by all. Now it's time to dive straight into the week and start Monday with a bang with this stunning Ibiza wedding. As the weather has been pretty rubbish over the last few days, I thought you might appreciate some Summer sunshine. It's a stunning wedding, very natural and calm with the most amazing backdrop of the famous Ibiza Benirras beach. Maite and Ricardo put their trust in their wedding venue Element's Restaurant, as they planned their wedding from overseas and the results do not disappoint! Sara Lobla has done a fantastic job capturing the day.
We wanted to have something multicultural, bohemian and relaxed. We wanted it to be spent a great day with our friends and family.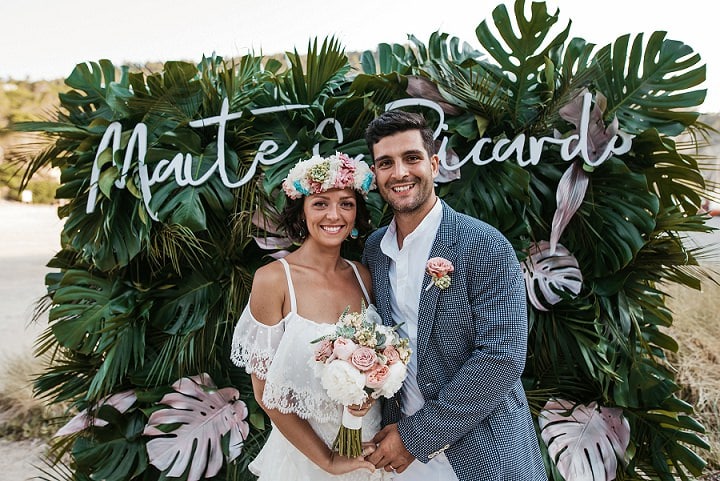 Maite and Ricardo were married on 23rd June 2018  at the dork of Element's Restaurant in Ibiza. 'By coincidence we both wanted to get married in Ibiza. When we had visited (individually) the island, we just fell in love with it. It has a kind of energy and vibe one cannot describe. As for the venue, we wanted to embrace nature and so we decided to pick Cala Benirras, one of the most iconic – if not the most – sunsets in the island. People gather there every sunday to play drums and dance as the sun sets and closes with an applause. The venue itself Elements was just perfect as well. We wanted to have a very natural look that tied to the elements of water, earth, sun.. on the beach. We even included Apachetas around our wedding ceremony to honour mother earth or Pachamama. We had 51 guests and it took just over a year to plan overseas.'
How they met 
We met thanks to a contacts page in Miami bur we lived in the same street for years and we went to the same college every day. It's incredible how life can change! The first year as a couple we didn't see each other so much because I (the bride) was travelling from Texas to Miami every week. He had a car accident the first week we met because he was too busy thinking about me hahaha. We're in love with Spanish food, Iberian ham, cheese… We're in love too with good wine, the groom works in winemaking industries. Now we're living in Australia.
The proposal
My husband took me and our dog on a camping trip to the south of Australia, as we were watching the sunset over Jervais bay (a 102-square-kilometre oceanic bay said to possess the whitest sand in the world) he proposed with his greatgrandmothers ring , which is absolutely breathtaking.
How did you allocate your budget?
Our wedding was a 5 day celebartion so we divided it in a way that we would spread the cost across those days to not just have a lovely ceremony but to enjoy other activities (boats to formentera, a night in ushuaia, etc.)
Where did you splurge and where did you save?
The most expensive items were the venue and the day we spent on 5 yatchs around Formentera. We 'saved' in the catering at the venue, since it was a small wedding (aprox. 50 people) and we had to spend a minimum we were able to divert some of those funds to things like alcohol or specialty items that we wouldn't have been able to afford otherwise. Also, my dress was a bargain since it wasn't really a wedding dress!
How did you choose your photographer?
The wedding planner recommended her
The dress 
Zimmerman Spring 2017, so were the shoes. My earrings had no specific designer, they were made of recycled wood.
The suit and bridesmaids
Suit was Armani. Not sure about the bridesmaids.
Theme or colour scheme
The colours we wanted were pastel colours as green, blue, pink, orange… We wanted to decorate everything with plants and flowers, especially the dork.
Flowers 
Elements prepare the floral decoration too, including roses, succulent plants, peonies… Every plant was chosen according to the colour palette.
Decoration 
We decide to have small tables decorated with pampa flowers, peonies and some candles and Arabic lanterns. The seating plan was made of wood and pampa flowers, with small cards with the guests' names.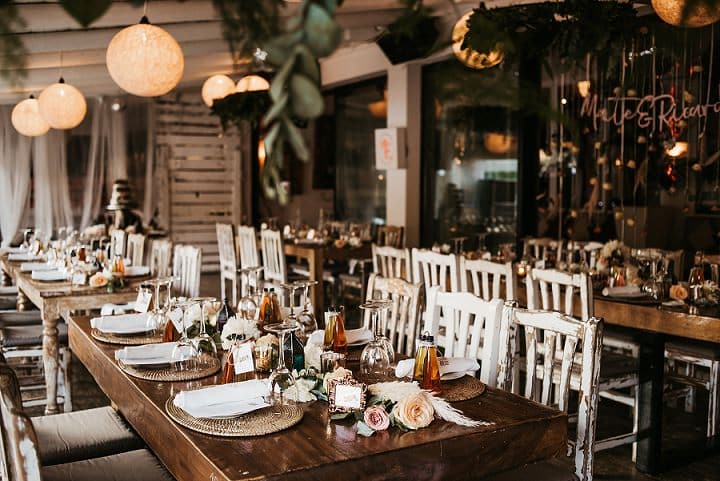 Food 
Elements were the caterer of the wedding and we had an incredible dinner with salmon tartar, bass' carpaccio, Burrata cheese with tomatoes. Roasted fish with prawns and potatoes and tangerine sorbet.
Wedding cake
We had a cake made by Vilacakes and sweet table full of desserts.
Entertainment
We had a person who painted caricatures of our guest, and a fire spectacle in the beach.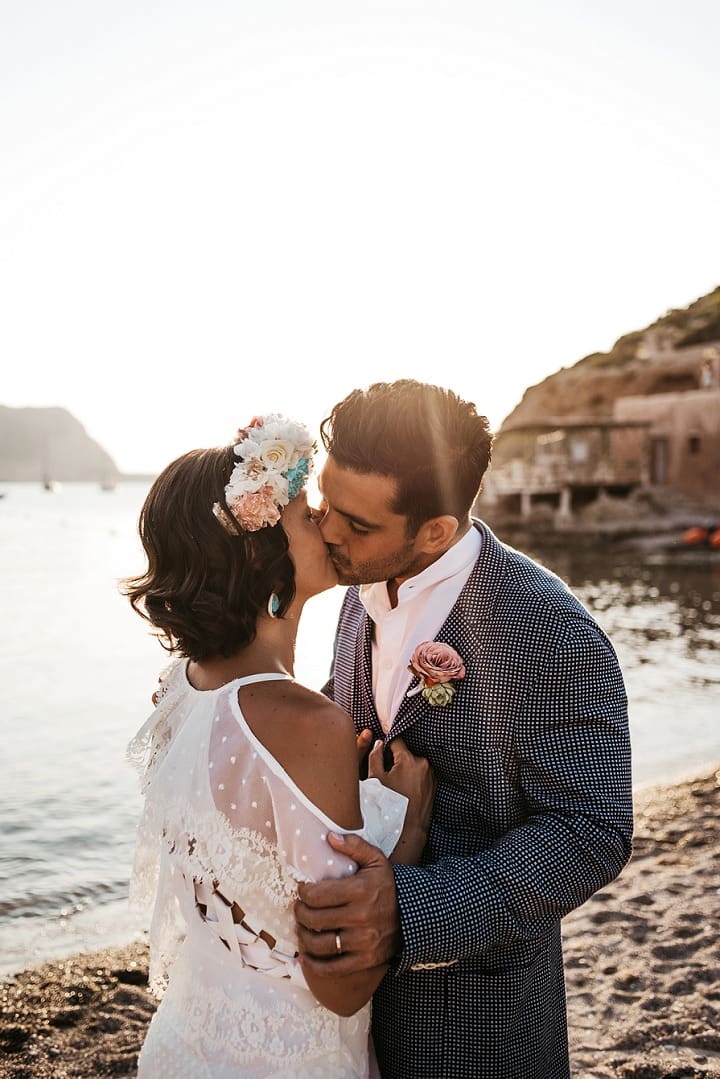 Who supplied the stationery?
We had some help preparing the wedding because of The Ibiza Wedding Planner, they prepare everything for us.
Personal touches
I made personalised robes for my bridesmaids, my aunt made custom white crochet barefoot sandals for all the women's feet
Special moments 
The ceremony was by far my favorite part. The music, the water.. specially my mother's speech brought everyone to tears.
Advice for other couples
We made sure all the plans were inclusive and suitable for all.. that made everything run smoothly with no hiccups. We obviously did everything WE wanted to do but adapted it to our guests. Everyone was very thankful and told us it was by far the best wedding they had ever attended.
Biggest surprise 
My husband and my bridesmaids had a choreography surprise.. that was amazing..
Supplier Shout Outs
For more information on Sara Lobla's work go to
Due to an email issue if you have emailed me between the 2nd & 9th of December, please resend it.
X